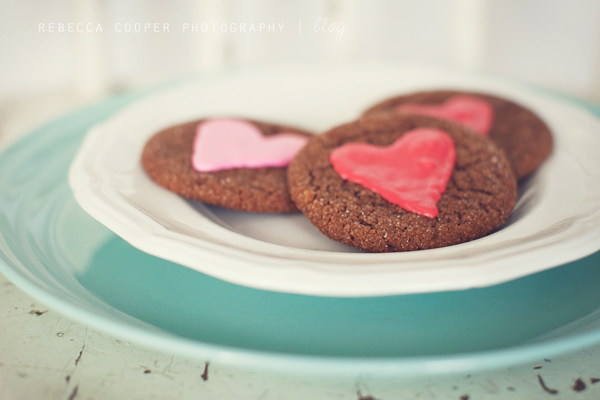 Valentine's Ginger Crinkles
Mix together all ingredients. Chill dough. Roll into balls and dip top half in sugar. For a flatter cookie, use the bottom of a cup to slightly tap down each cookie before baking. Bake at 350 degrees for 12 minutes. Don't overcook, you want them moist and chewy. Allow to cool. To add the hearts on top simply melt red + pink chocolate in the microwave. Using a ziplok baggie with a tiny hole cut out of one corner as a piping bag, draw a heart on the top of each cookie.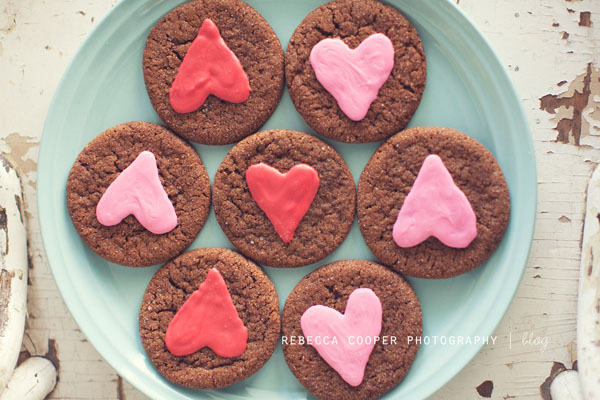 This delicious recipe is from my sister-in-law and its always a favourite around Christmas time, only the cookies are typically dipped in white chocolate. I'd been craving a batch of these yummies and had to think up some excuse to make them after the holidays, so valentine's cookies it was.

This recipe makes a huge batch, but they freeze really well so are perfect for making ahead. We've got our cookies all made and will be giving them out to the kids teachers for Valentine's day. Yippee for getting one thing crossed off the old to-do list.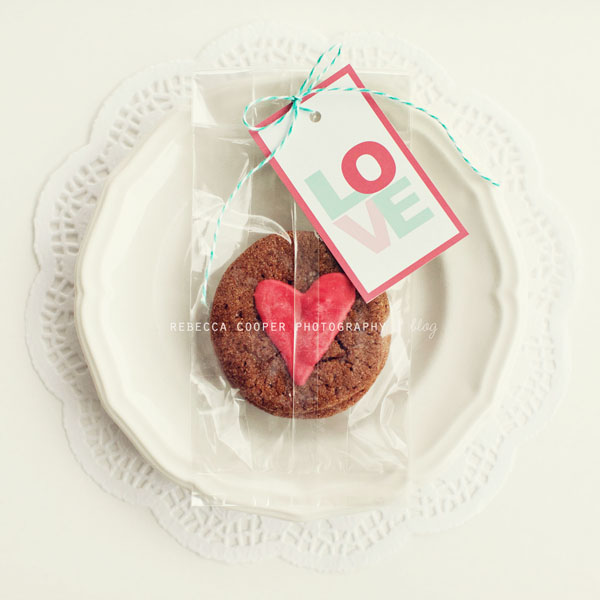 I created these little gift tags to package up our valentine's cookies and thought I'd share them with ya quick! You'll find the download link below. Print size is 8.5 X 11 and there are 3 of each tag per sheet.
Please remember that all free downloads are for Simple as That followers only.
Follow via Google Friend Connect on the left sidebar or sign up to
receive updates via email or through your favourite RSS reader
. Thank you.
. . . . . . . . . . . . . . . . . . . . . . . . . . . . . . . . . . . . .
Enjoy and have a fabulous weekend everyone!
If you have a chance to stop by and visit any of our fabulous sponsors throughout the weekend please do! There's so much fun stuff to discover.
:stylish beach bum:
:bella babies:
:pearenthetical press:
:changing lanes:
:the rusted chain:
:bird + tree:
:penelope lane:
:special moments:
:seven cherubs:
:laura taylor photography:
. . . . . . . . . . . . . . . . . . . . . . . . . . . . . . . . . . . . .
Don't forget about the Life 'n Reflection Boutique giveaway
ending this Sunday!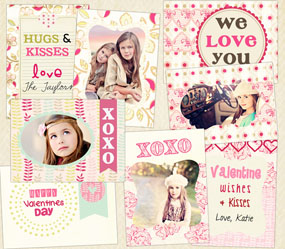 Enter to win a darling set of photo valentine's!
THREE lucky winners will be chosen.