I just love everything about the start of a brand new year and one thing that has me even more energized and excited about 2013 is my brand new
Life Planner from Crystal Wilkerson
. I'm absolutely in love with this planner and how its already helping me to get organized and on track in 2013! Come take a closer look inside my planner and if you'd like to try one out for yourself, then make sure you scroll down to the bottom of this post for details on how you can win a Life Planner all access pass!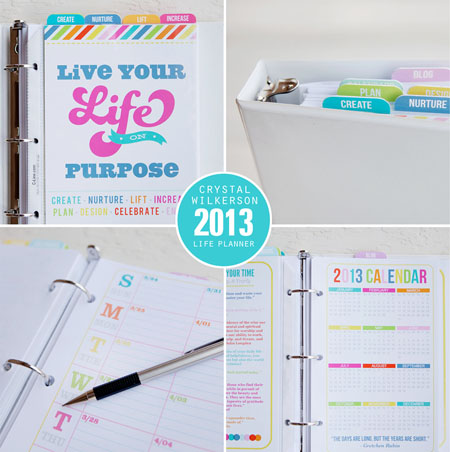 I'll be sharing more details inside my planner in the coming weeks, but for now here are a few images of the inside pages – this is only a small selection as the planner is FULL of wonderful pages + information! For a detailed list of the pages included in the planner, sizes + price go
here
.
One of the sections I love is the "INCREASE" section. There's an exercise journal, pages to record recipes I find, a weekly menu planning calendar, a page for my grocery list, etc. I've printed off images of some of my favourite exercises and included them in a page protector in this section so they're easily accessible when I work out. If I clip a recipe from a magazine to add to the menu that week I also tuck it into a page protector in this section to keep everything handy that I'll need for shopping/meals.
I use the 5.5 X 8.5 size binder and I love the portability of it! It can fit in my purse when I go out and I cart it around the house with me wherever I may be throughout the day….we've become pretty attached, this cute little binder and I.

Not only do I use my planner for household/personal organizing but I really love the bonus blog planner that Crystal has created. I can keep an ongoing blog to-do list, keep track of future post ideas, brands I'd like to work with, upcoming guest posts, social media growth, etc. More details about the blog planner can be found
here
.
On her blog
, Crystal is currently running a 2013 Life Planner Challenge. She'll be going through the planner section by section – so if you're interested in learning more, come follow along! If you already have the planner, stop by her blog to be inspired, challenged and for help in getting the most use out of your planner in 2013! Thank you for all the inspiration Crystal and thank you for creating such an amazing planner and sharing it with us!
If you'd like to try out Crystal's planner for yourself, follow the prompts in the rafflecopter widget below and you'll be entered to win a
2013 Life Planner all Access Pass
. This pass gives you access to ALL the planner pages in JPEG + PDF format as well as access to any updates to the planner throughout 2013! Good luck everyone, giveaway closes Tuesday Jan 22 at 12:00am.