I've been away for a while now and I thought it was about time I resurfaced after the holidays! I've been hiding away at home enjoying a much needed break from online life and soaking up all the family time I could squeeze into the past few weeks.
I'm back, feeling refreshed and ready to kick off 2014 with a bang! I've got all kinds of fun things planned for Simple as That this year, including lots of exciting stuff for the SAT Digital Shop, so stay tuned! First things first, to make room for new products coming in 2014 it's time to clear things OUT! Keep reading for details on a crazy, one-time deal that's going on now!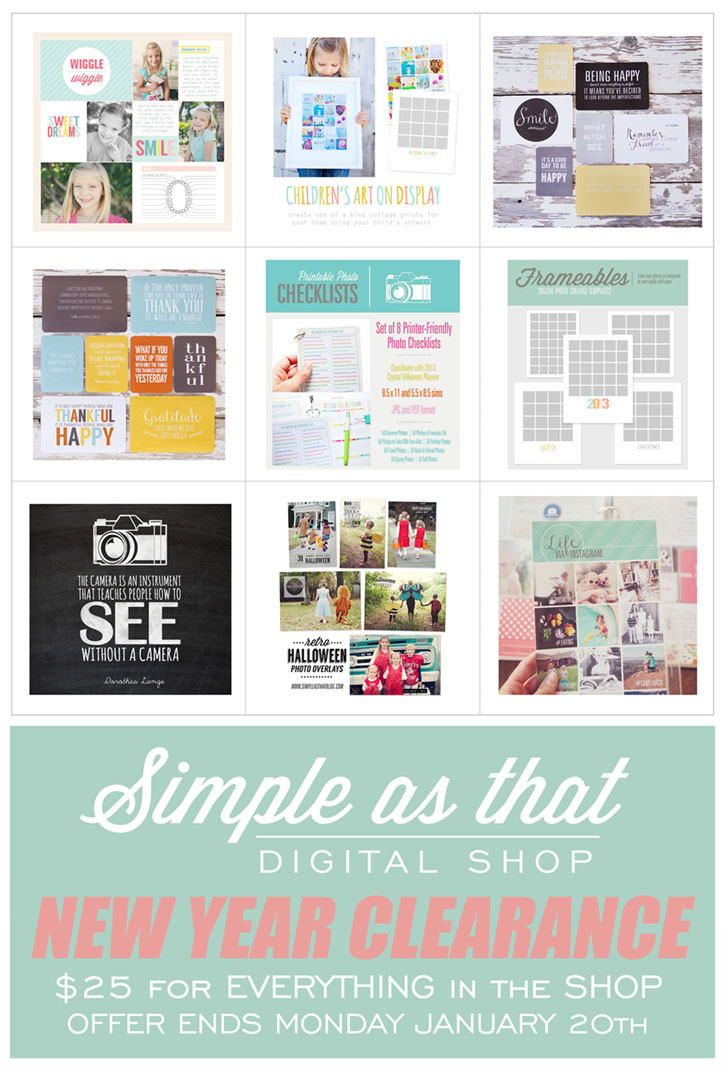 Today through Monday January 20th you can purchase EVERYTHING in the Simple as That Digital Shop for just $25.00! Every single item in the digi shop is included – collage templates, digital prints, photo overlays – EVERYTHING! Total value on all products is over $175.00!! Here's what you get at this one-time, get-it-all price:
Printable Photo checklists
Children's Art Collage Templates
8×10 and 11×14 Frameables Sets
Summer Lovin' Journaling + Filler cards
Summer Lovin' Collage Templates
Summer Lovin' Photo Overlays
Loose Tooth Journaling + Filler cards for Boy/Girl
Everyday Edition Journaling + Filler cards
Halloween Photo Overlays
Simply Stripes Editable Paper Pack
All Christmas Card Templates
Instagram Templates
Personalized Photo Bookmarks for Mom
Personalized Photo Bookmarks for Dad
Give Thanks Printable Quote Collection
Be Happy Printable Quote Collection
Merry Christmas Wall Prints
Family Forever Wall Prints
Photography Quotes Wall Prints
Inspirational Bookmarks and Wall Prints
This is a CRAZY steal so take advantage while you can! Offer ends Monday January 20th at midnight MST. You can purchase everything in the shop here. Once your transaction is complete you will be emailed download links to all the products within 48 hours.
Certain items in the shop will be discontinued in 2014 and will no longer be available for purchase after Monday January 20th. Items that will be discontinued include:
Individual Frameables Templates
Instagram Templates
Individual Children's Art Collage Templates
Father's Day and Mother's Day Collage Templates
Printable Quotes PDF
Family Forever Wall Prints
Inspirational Bookmarks and Wall Prints
I want to take this time to say a HUGE, heartfelt thank you to everyone who has supported my little shop in 2013! Your enthusiasm for my products, your kind emails and your patience with me as I learned the ropes on this new adventure have meant the world to me. Thank you so much and I can't wait to bring you more fun and exciting things in 2014!!