Applesauce muffins – these muffins are my kids most requested after school snack. They're delicious – that cinnamon sugar topping is just the right touch. Bonus: they're so easy that my kids can help make them.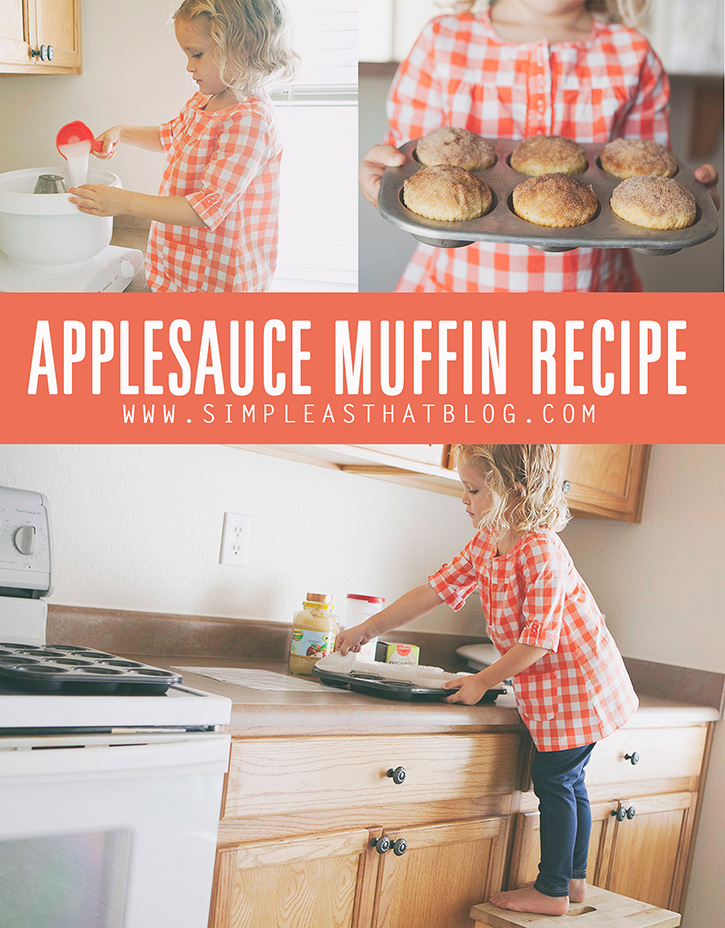 I love baking with my kids! I have so many special memories of time spent in the kitchen with my family growing up and I love creating those same memories with my own children. Whether we're making dinner or baking a batch of our favorite muffins – working together in the kitchen helps foster connections, build memories and teach valuable life skills.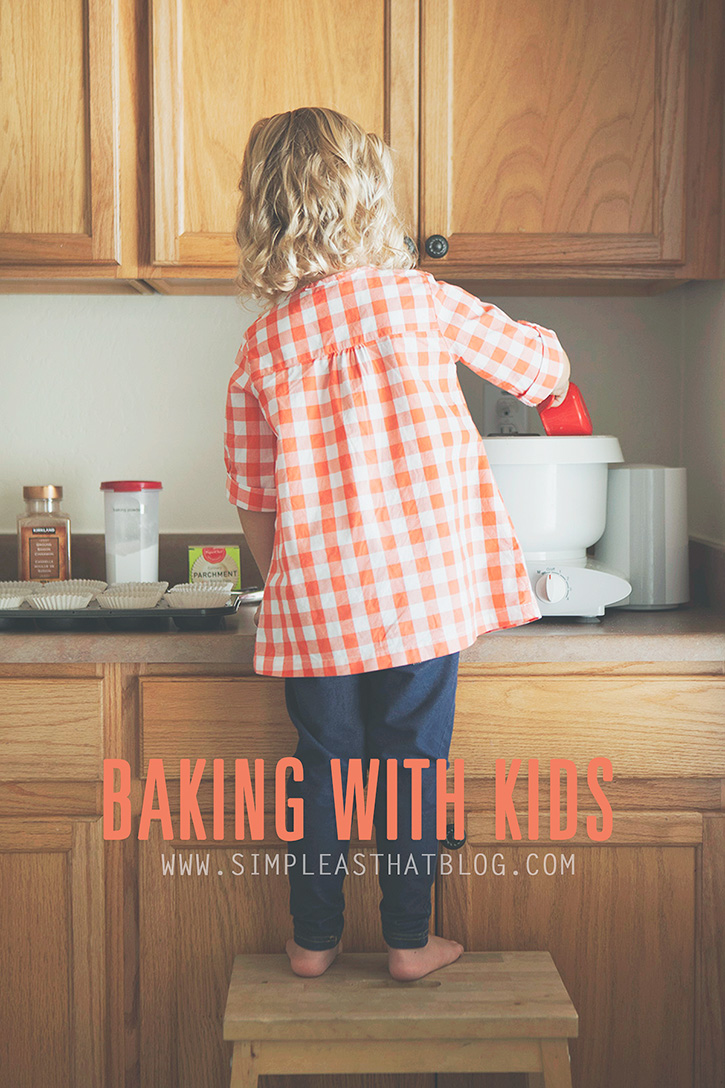 Cooking with kids can be fun and rewarding. Of course, it can also be messy and usually takes a little longer than doing it yourself – but in the end, the benefits of connecting, teaching and enjoying time together are totally worth the spilled flour or the slightly burnt batch of cookies.
Today I'm sharing one of my favourite, kid-friendly recipes. I loved it when my mom would make these applesauce muffins for us as kids and now they've become one of my kids favourites. They're yummy and it's so easy to keep all the ingredients for these muffins stocked in my pantry. They're super simple, with plenty of steps that my kids can help with, which makes them the perfect thing for us to bake together. You can download a printer friendly version of the recipe here.
Cream butter and sugar.
Beat in eggs one at a time until fluffy.
Add applesauce and mix.
Sift in dry ingredients.
Place in muffin tins and bake at 350 F until golden.
While the muffins are still warm dip in melted butter and then in cinnamon sugar mixture.
Quick Tips to Keep in Mind When Baking with Kids.
1. Give them a job. Even the littlest helpers can put muffin liners in a muffin tin, mix ingredients or push the button to start the timer, etc.
 Get the kids involved by giving them specific tasks 
that are at their ability level to avoid unnecessary frustration.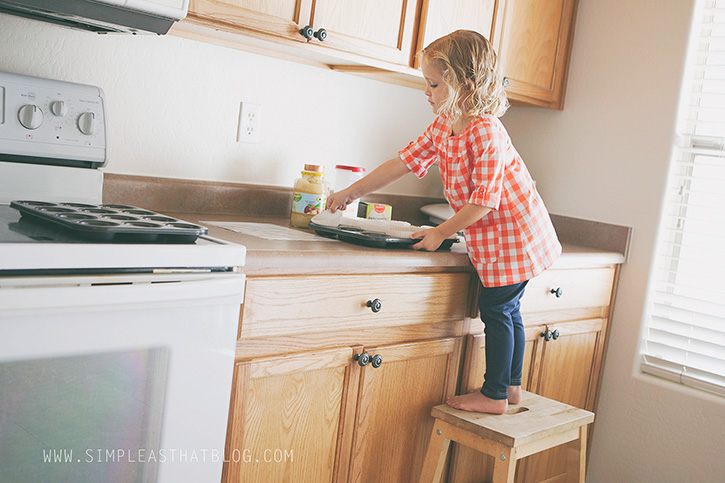 Speaking of muffin liners, I tried out these parchment baking cups for the first time with this recipe and I really loved them. Have you tried them before? They peeled away so easily, without leaving half the muffin behind. They're available on Amazon, but I purchased mine at a local Fry's grocery store.
2. Plan ahead. A little bit of planning can help things run much smoother when you're baking with kids. I really like to have ingredients measured ahead of time. This makes it easy for little hands to pour and takes less time once your helper is in the kitchen with you – which does wonders for short attention spans.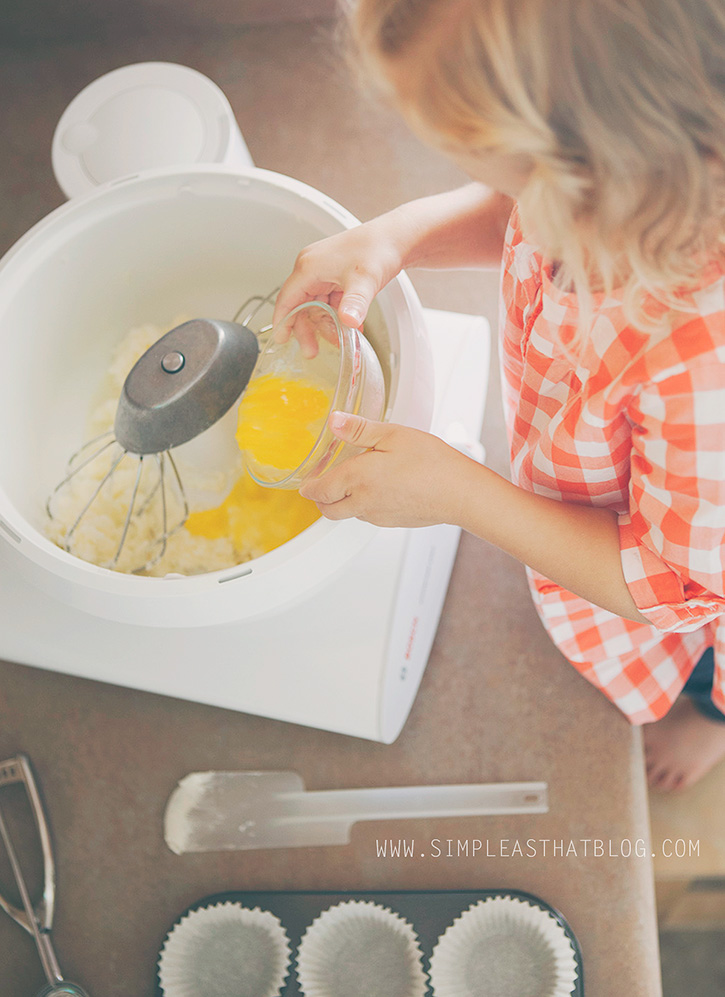 3. Expect a mess. Don't be surprised if there is a spill or clothes get dirty – because it will happen. 😉 If you're concerned about messes, have your child wear an apron or older clothes and keep a wash cloth handy. Relax. Have fun. Allow your child to explore and just embrace the mess. 🙂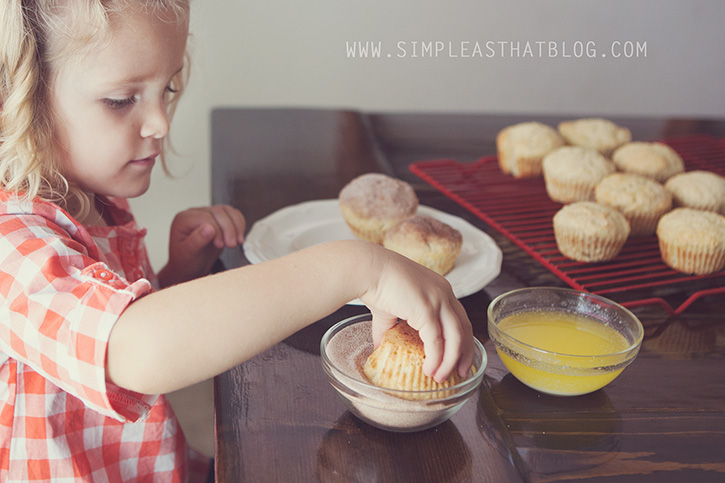 4. Teach while you bake. I love the simple lessons that can be reinforced while creating in the kitchen. My kids like counting out cups of flour, singing silly songs as we mix, practising the letter sounds that correspond with each ingredient. If you have an emergent reader, put them in charge of reading the recipe to everyone.
5. Make it fun. Keeping things relaxed and fun will help you create lasting memories in the kitchen with your kids. I find I'm able to relax when we can take our time and don't have anywhere to be. It also helps when I choose simple and inexpensive recipes to explore with the kids. That way, if things don't turn out quite how we would have expected, it's not a big deal.
ETA: I've had a few people asking what mixer I use. It's a Bosch Universal Mixer. I've had it for several years and absolutely love it! Growing up, my Mom had a Bosch and if you can believe it, it's still going strong, 20+ years later!
I hope you enjoy these simple and delicious applesauce muffins. We sure had fun making them and eating them too! They make a great afterschool snack and also freeze well. I typically freeze them without the topping + add it later, once the muffins are defrosted.