This post is part of the Outdoor Family Adventure Series. Encouraging families to get active and create lasting memories in the great outdoors!
We've been doing a lot of hiking as a family this Summer and we've learned a few things along the way when it comes to packing food for the trail. Bringing food that is both fun and a good energy source is so important when hiking with kids. We love packing our hiking food in Easy Lunchboxes containers and today I wanted to share a few family friendly on-the-go lunch ideas that are perfect for hiking! Be sure to scroll down to the bottom of todays post for an exciting giveaway!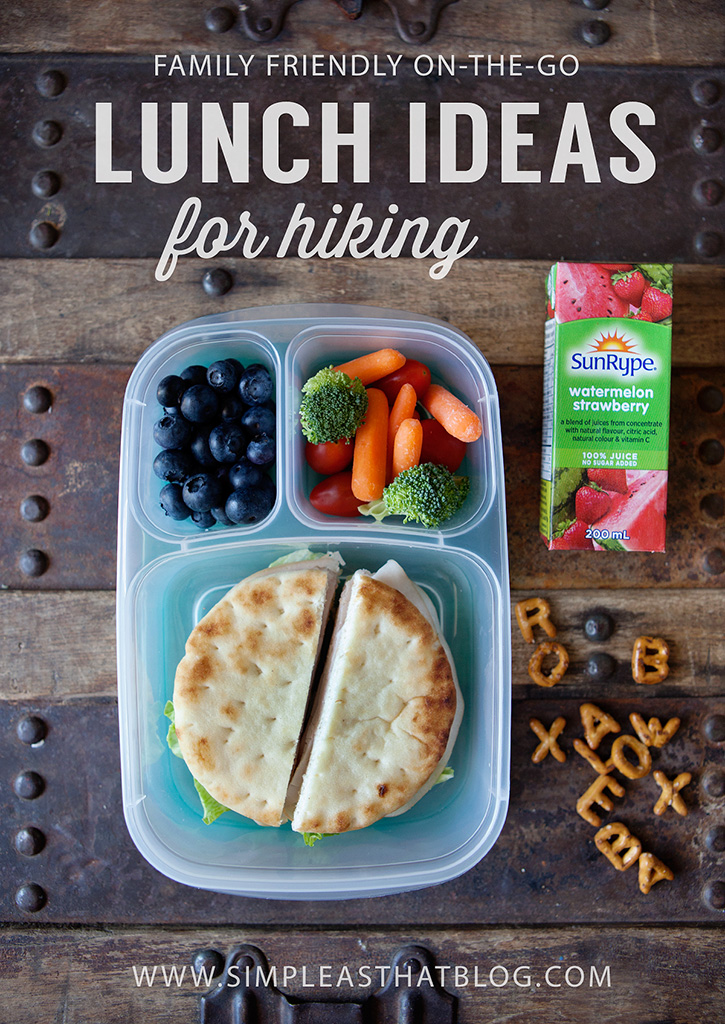 Packing family lunches when hiking can definitely be a challenge, but one thing I've learned with our kids, is that having ample food makes for happier hikers! We've done a few hikes where we decided to pack light and just eat when we got back and that temporary convenience was not worth it in the end when we had hungry, grumpy kiddos.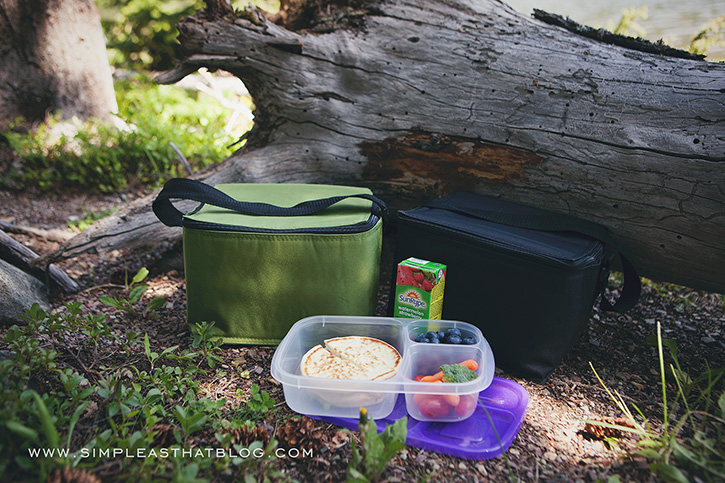 You may have read about how much I love packing my kids school lunches in Easy Lunchboxes containers but what you might not know, is how convenient they are for packing lunches on-the-go! I use our Easy Lunchboxes all the time when we're road tripping, going on a picnic and most recently when we were hiking in Waterton Lakes National Park. We packed a quick lunch in our handy Easy Lunchboxes containers to take with us on the trail around Cameron Lake and it was so nice to sit out in nature and enjoy a quiet moment together as we ate.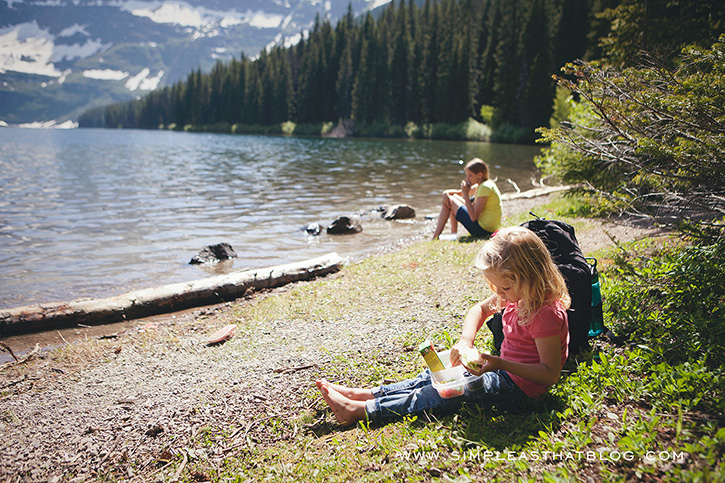 What I love about packing a hiking lunch in Easy Lunchboxes containers:
-Small hands can easily manage lunch on their lap
-Containers are light weight and easily fit in a backpack
-Lunches stay cool in the Cooler Bags which can fit 3 Easy Lunchboxes containers each.
-Less garbage to worry about on the trail when using these Eco-friendly containers
-Packing a variety healthy food is easier knowing it won't get squished in a backpack
-Reduce the need to pack out lots of extra food with these portioned meals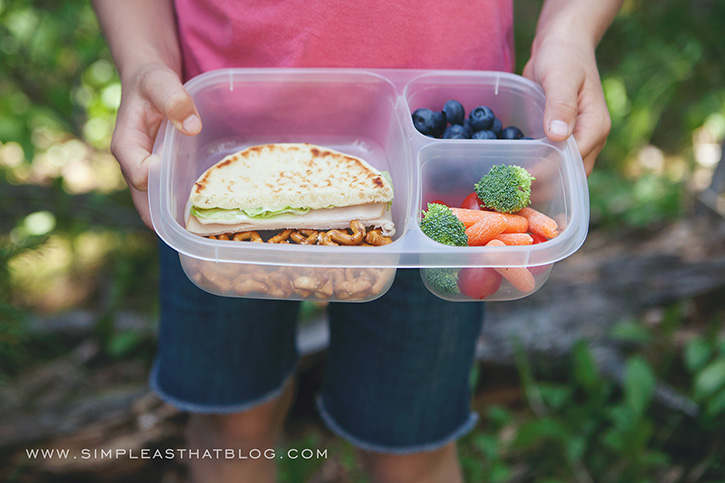 In our lunches I packed turkey sandwiches made on mini round naan bread, alphabet pretzels, fresh blueberries and a selection of veggies. We also brought a bag of trail mix and some fruit snacks packed separately. The lunches stayed fresh, put together and cool during our short hike and were delicious! Just the right amount of midday fuel that we needed!
Things we like to eat when hiking:
-Homemade muffins
-frozen juice boxes
-Trail mix (with plenty of M&M's)
-Fruit leather or dried fruit
-Apples
-Crackers, pretzels or chips
-Beef jerky
What are some of your family's favorite foods to take with you on the trail?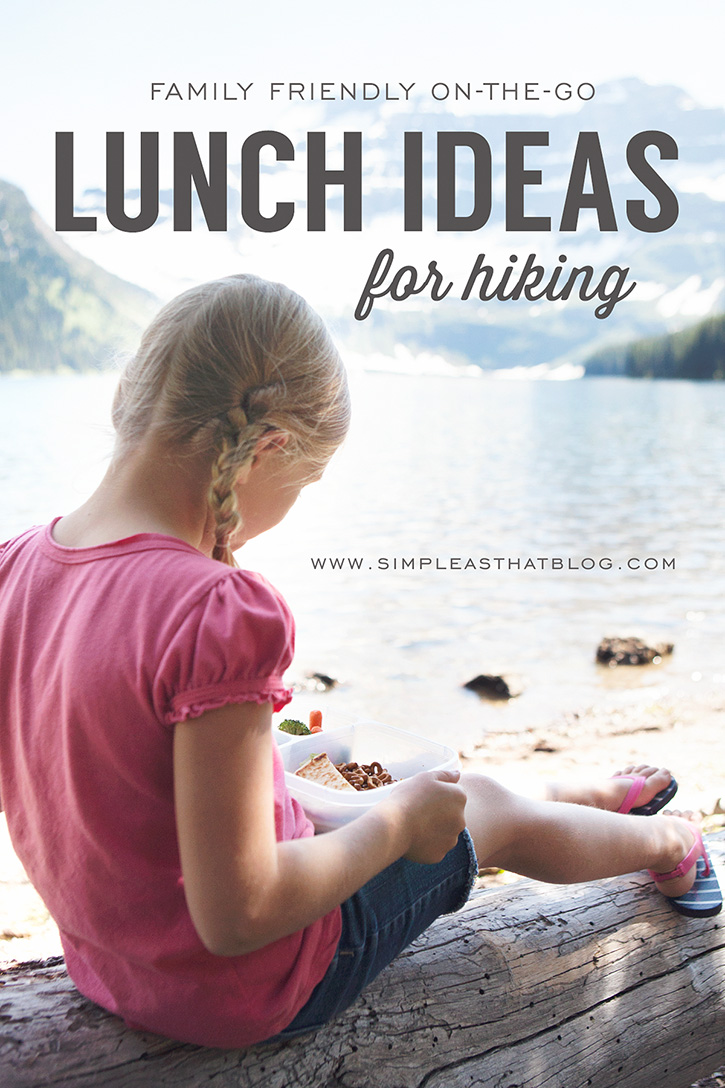 For more ideas of healthy lunches you can pack in Easy Lunchboxes containers I shared a post  with a weeks worth of school lunch ideas right here! One of my kids favorites are these homemade pizza buns which would also make a perfect hiking snack!
More posts from the Outdoor Family Adventure Series:
Post 1: What is the Outdoor Family Adventure Series?
Post 2: Tips for Photographing Your Family in the Great Outdoors
Post 3: Outdoor Family Adventures with Albion Fit
Post 4: Printable Nature Scavenger Hunt for Kids