Happy Holiday Book Page Christmas Tree Banner – this simple Christmas tree banner is made with pages from an old book and a handful of inexpensive supplies. It's the perfect craft project to make with the kids and will add just the right handmade touch to your holiday decor.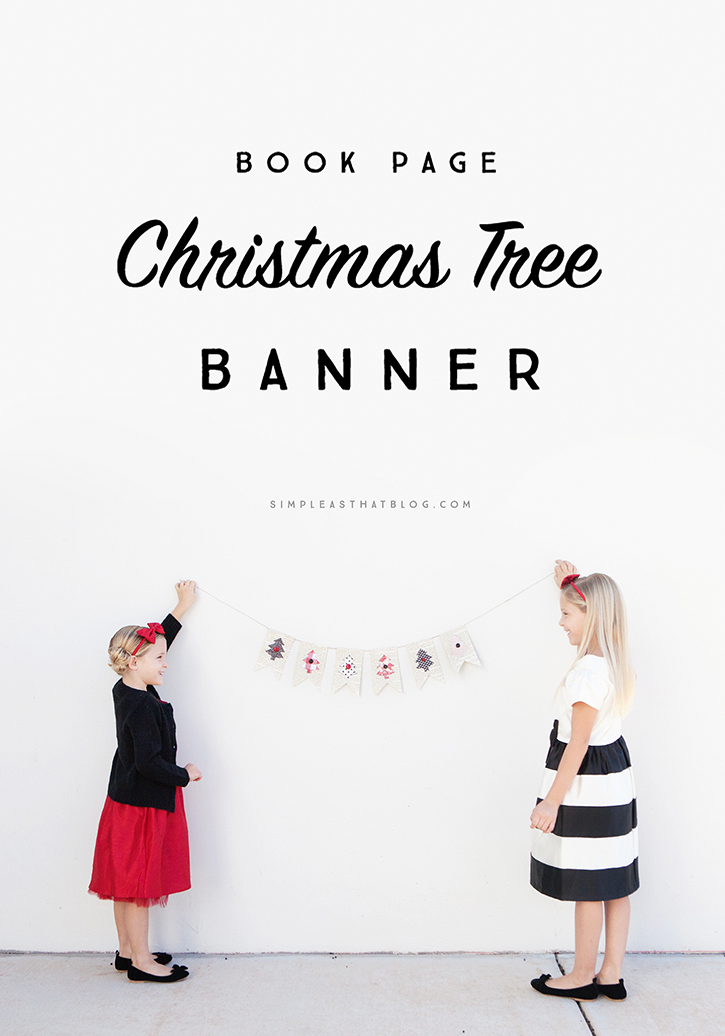 A special thank you to Gymboree for sponsoring today's discussion on creating Happy Holiday moments! Don't miss the fun giveaway they're hosting at the bottom of the post!
For me, the holiday season is closely connected with crafting. I remember making handmade ornaments with my mom as a child and I love sharing those same memories with my own kids.
Our craft projects don't need to be elaborate or take a lot of time. No matter how simple, they're always memorable. Being creative and spending time together is all that matters.
I know that when my kids are grown, some of my favorite holiday memories will be of the times we sat around the kitchen table crafting together.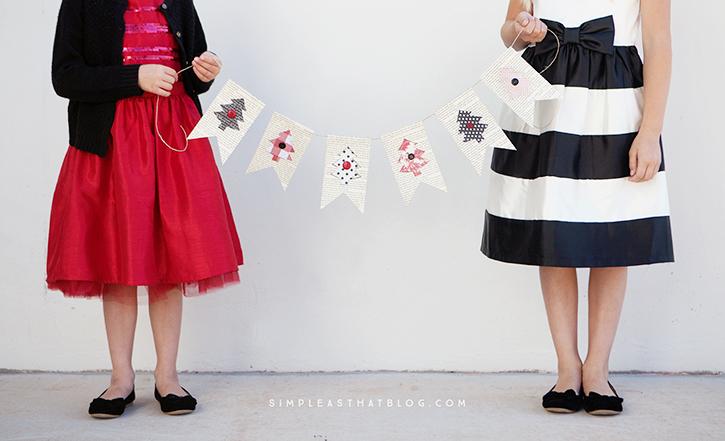 We came up with this cute Christmas tree bunting to make together this year. We have a book page bunting for every occasion and we love them so much, it was time to make a new one!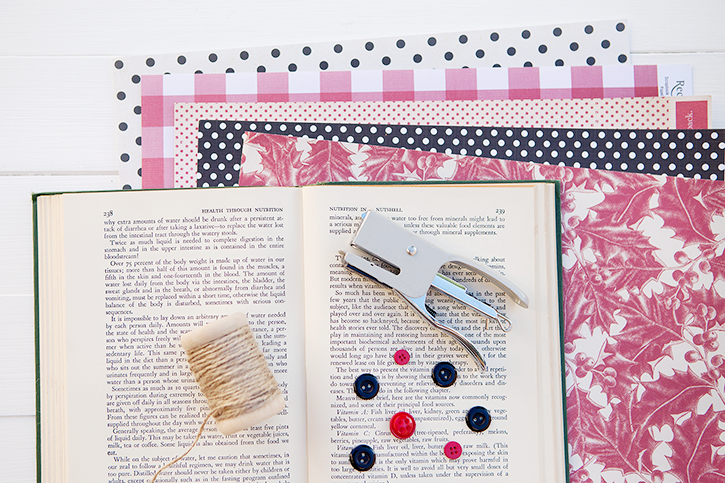 What you'll need to make your Christmas Tree Banner
string or twine
stapler
buttons
coordinating pattern paper
gluestick or other type of adhesive
pages from an old book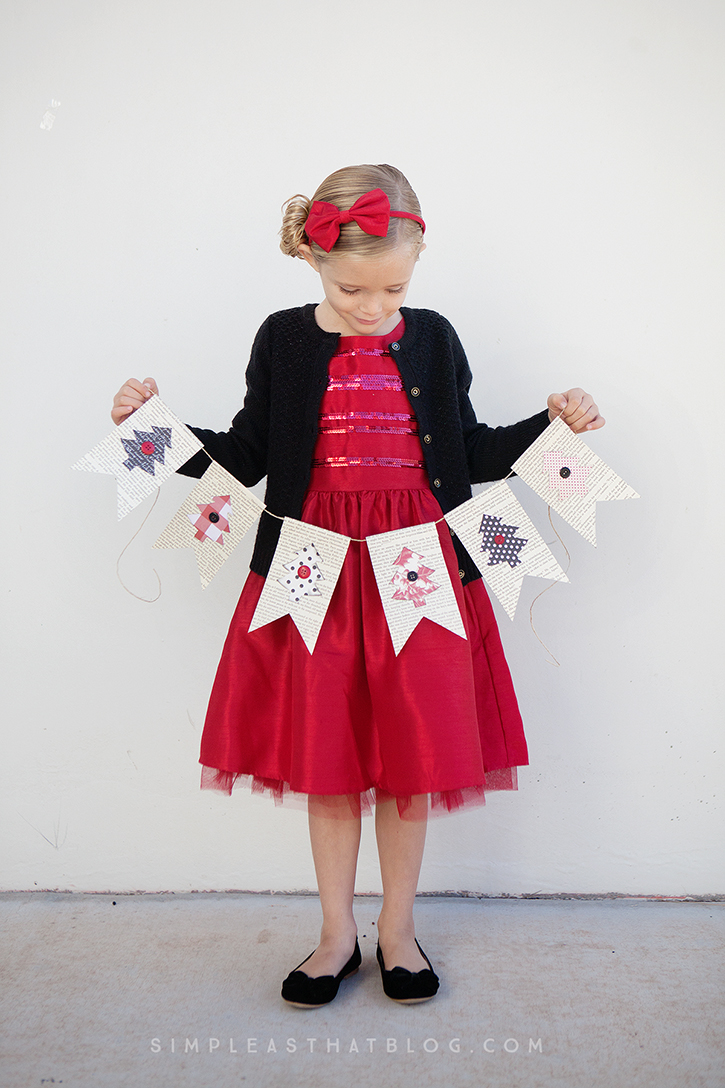 How to put you book page Christmas Tree Banner together
Cut rectangles approximately 3.5″ x 6″ in size out of pages from an old book.
Snip out a triangle shape from the bottom of your rectangles. Hint: From left to right, find the center of your rectangle then measure approximately 1 3/4 " from the bottom to find where the top point of your triangle will be.
Cut out the number of Christmas trees that you'll need for each piece of your bunting.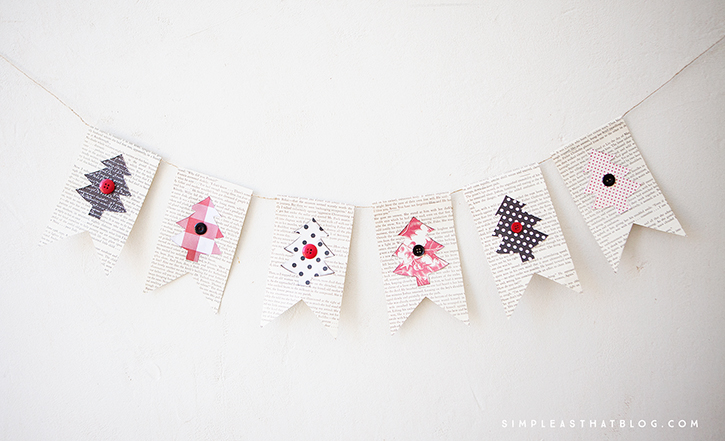 Attach trees to your bunting pieces being sure to allow enough room to fold over the top edges. Place a button in the center of each tree.
Now you're ready to put your bunting together. Cut a length of string and attach banner pieces to string by folding top edge of banner pieces over the string and stapling.
You're finished. Time to hang that cutie up somewhere and enjoy your new holiday decor!
#OneBigHappy Holiday Moments with Gymboree
How are you prepping as a family to celebrate your One Big Happy holiday moment(s)? Is it spending quality time with your family making One Big Happy holiday decor? Is it drinking One Big Happy hot cocoa by the fire waiting for Santa to arrive? Is it writing One Big Happy holiday cards to family and friends? Share your One BigHappy holiday moments using hashtag #OneBigHappy on Instagram!
Gymboree clothing featured in this post
We took the color inspiration for our Christmas Tree Banner from Gymboree's gorgeous Holiday collection. They have so many great mix and match items for all ages (up to 12) perfect for church, holiday concerts or family photos!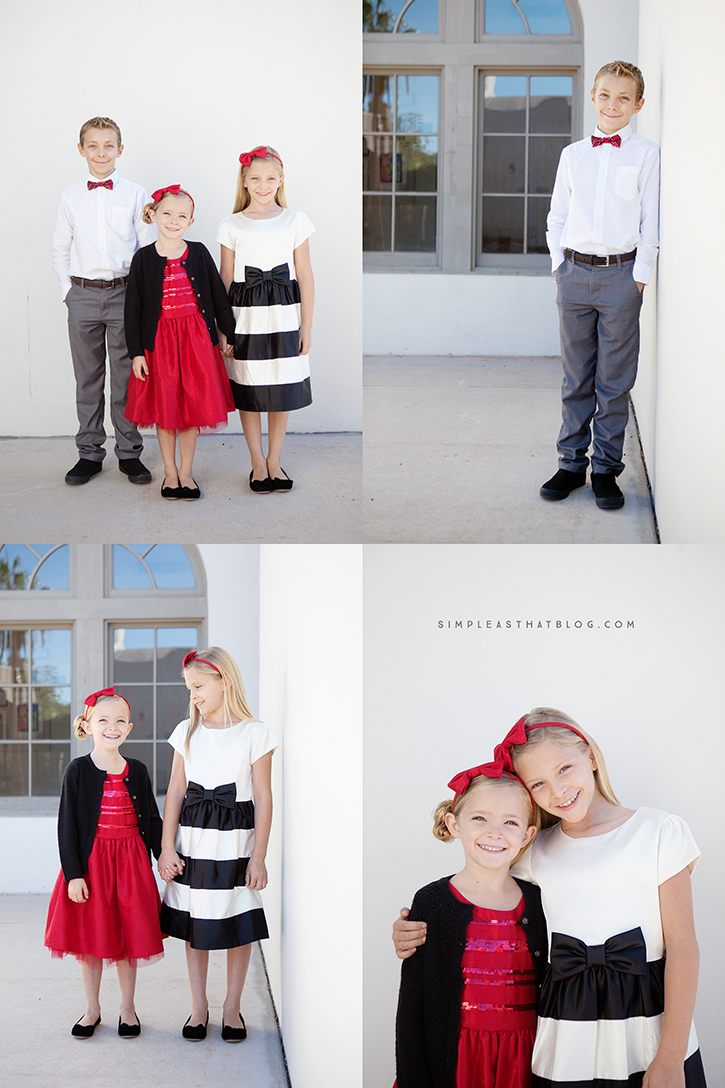 Enter to Win a $75 Gymboree Gift Card
Today Gymboree is giving one lucky Simple as That reader a $75 gift card to spend on their gorgeous Holiday Collection! To enter, simply follow the prompts in the rafflecopter widget below. Giveaway closes December 1st at 12am MST.