This post is part of the Outdoor Family Adventure Series. Encouraging families to get active and create lasting memories in the great outdoors! 
My first love in photography has always been capturing images of my family but a very close second is capturing the beauty of nature. When we spend time together outdoors, taking images of my family members in our beautiful surroundings and recording the special memories we're making is so important to me. Some of my favorite photos that I've ever taken combine these two loves of mine and today I wanted to share some tips that will help you better photograph your family on your next outdoor family adventure!
Last fall we spent some time in Sedona, Arizona admiring the beautiful red rock landscapes and hiking Bell Rock. We visited the Grand Canyon, explored lava tubes and Montazuma's Castle on the same trip, but our afternoon spent at Bell Rock was our kids favorite! It is such an amazing area and the kids had a fun time climbing the rocks, exploring crevices and taking in the desert beauty!
Tips for Photographing your Family in the Great Outdoors
Set yourself up for success. Taking just a few minutes to make sure you're prepared can make all the difference in capturing memorable moments and making fun memories. Give some thought to what time of day you'll be exploring your intended destination. I love to plan our outdoor activities in the early morning or late afternoon, avoiding the harsh midday sunlight if I can. Make sure kids have had a quick snack, your camera battery is charged, your memory card is empty, etc. These are all things I keep in mind before we head out on a family adventure.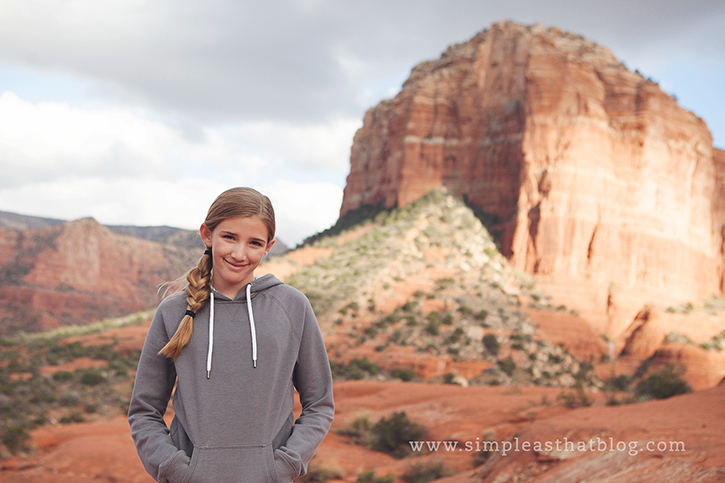 Choose your equipment carefully. My motto when traveling is to keep things simple and this definitely applies to my camera equipment. I typically bring my camera body, one multi-purpose lens that will shoot well in a variety of situations, an extra battery, memory card and my phone. Photographing your family outdoors is a lot different than photographing them at home. You may need to take some extra precautions when it comes to protecting your equipment. I like a padded photo backpack to carry my camera in so that my hands are free while hiking to help kids, to climb or whatever else I might need my hands for.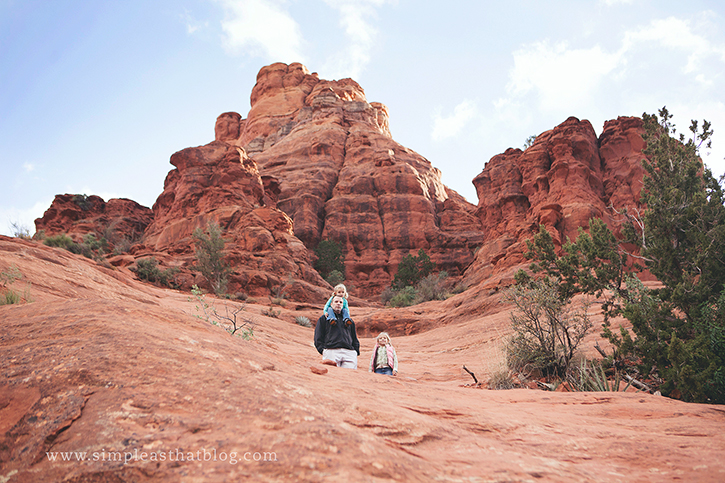 My husband and I bring our phones with us on all our outdoor adventures and we keep them protected in our  Lifeproof Nuud for iPhone cases. They allow us to take beautiful phone photos and have protected our phones while hiking, swimming, caving and more!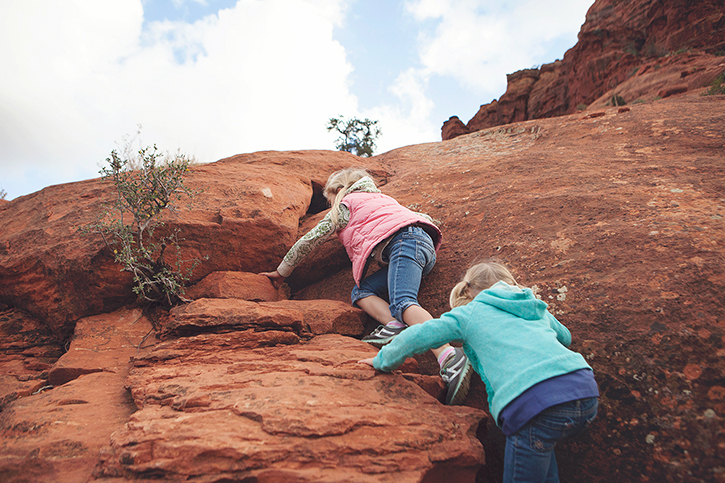 Spontaneous vs. posed photos. When my kids are outside exploring they are in their element and the smiles seem to come more naturally. As we hike or explore I continue to interact, ask questions and have conversations with my kids while I take photos to keep things fun and encourage more natural expressions.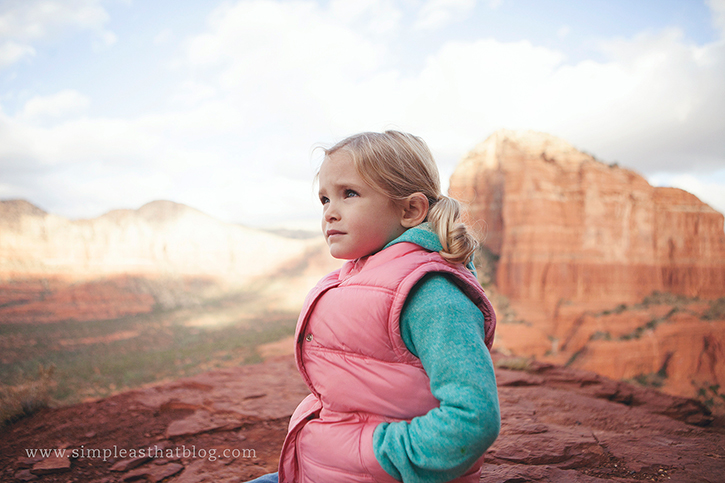 I may point out a particular view and while they look, snap a photo. I tend to lag behind the group and capture images as they make their way down the trail or scale a rock. I take plenty of posed family shots too, but I love to capture my family as they experience their surroundings.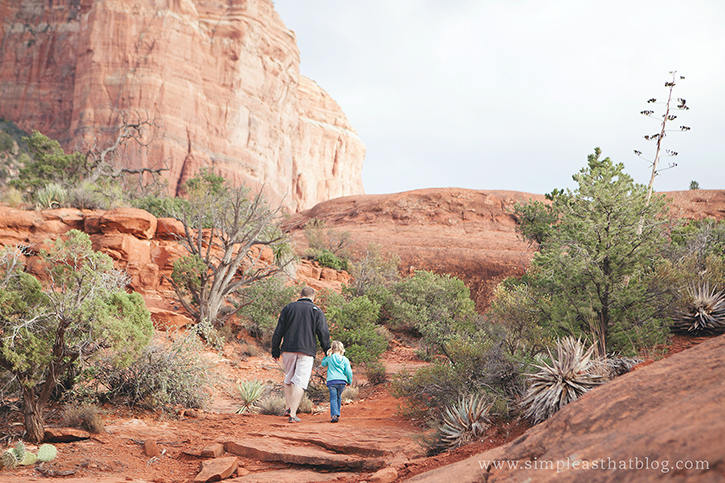 While I like to record our outdoor experiences through my own eyes, I'm also mindful that these family memories are a huge part of my kid's childhood and want to capture the story from their perspective too. The shot below was taken when my two oldest climbed down to explore this crevice. They thought it was pretty exciting and when they called for me to take a photo of them I happily obliged.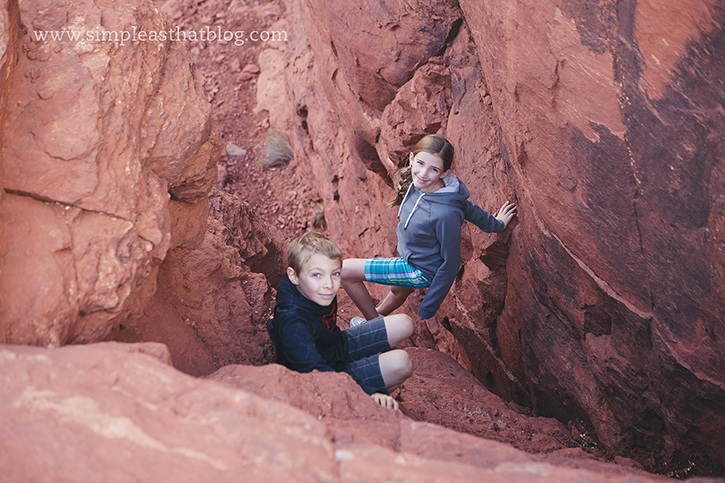 Get everyone in the shot. When we're outdoors as a family it can be difficult to get a photo of all of us together. My husband and I will often trade off and take a picture of each other with the kids, but its nice to get everyone in the shot once in a while. If you're traveling with friends have them snap a quick family photo, ask a passerby if you're comfortable, try a self timer shot or if you have a tripod it's worth setting it up to get that group shot! Someone's eyes will likely be closed, not everyone will be looking at the camera but you won't regret taking that moment to take a family photo!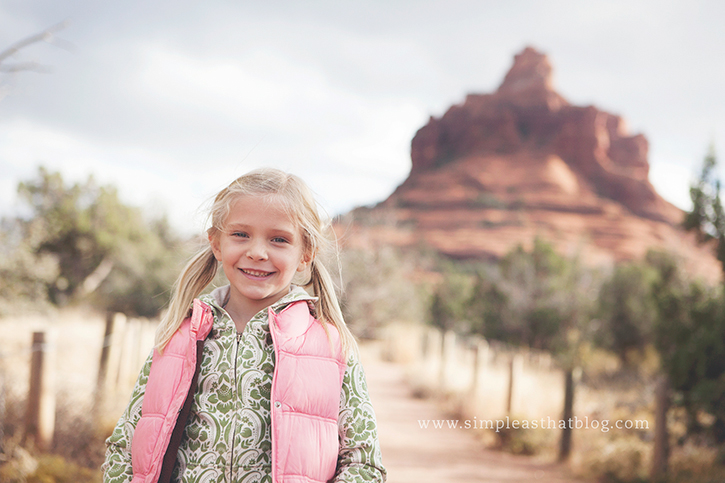 I'm not afraid to ask a stranger to take a quick photo for us, in fact I keep my eyes out for people around us who are using an SLR camera and appear confident in their photographic abilities. Taking a chance on a stranger really paid off on this shot. Near the top of Bell Rock we met a couple who were taking photos of the scenery and we asked them to take a quick photo for us. This stranger did an amazing job! I need to get this photo framed and on our wall very soon!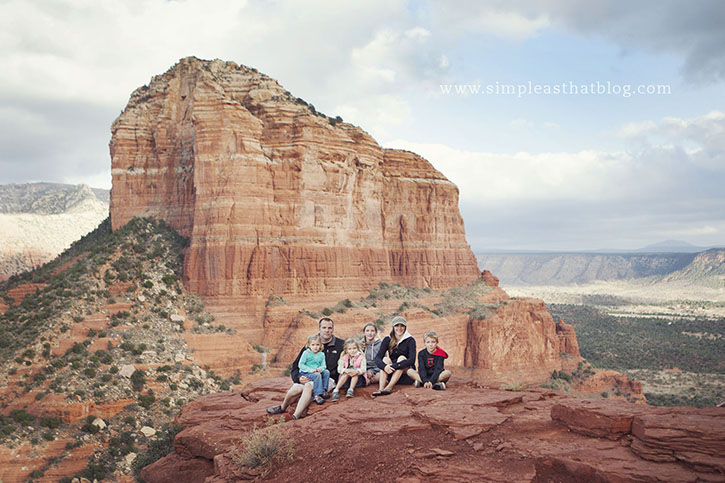 Being out in nature as a family is an amazing opportunity to create lasting memories and capture gorgeous photos! When we get home from a trip we enjoy reliving our adventures through the photos we've taken and I love knowing that these images will continue to bring back special memories as my kids get older.
I hope these tips will help you capture your next outdoor family adventure! Hashtag your photos on Instagram with #OutdoorFamilyAdventures, we'd love to see what you're doing as a family to enjoy the great outdoors! You can follow along with our family's adventures on Instagram by following @rebecca_simpleasthat.
All images for this blog post taken using my Canon 5D Mark II camera body and Canon 24-70mm 2.8 lens. This blog post shares more details about all my photography essentials.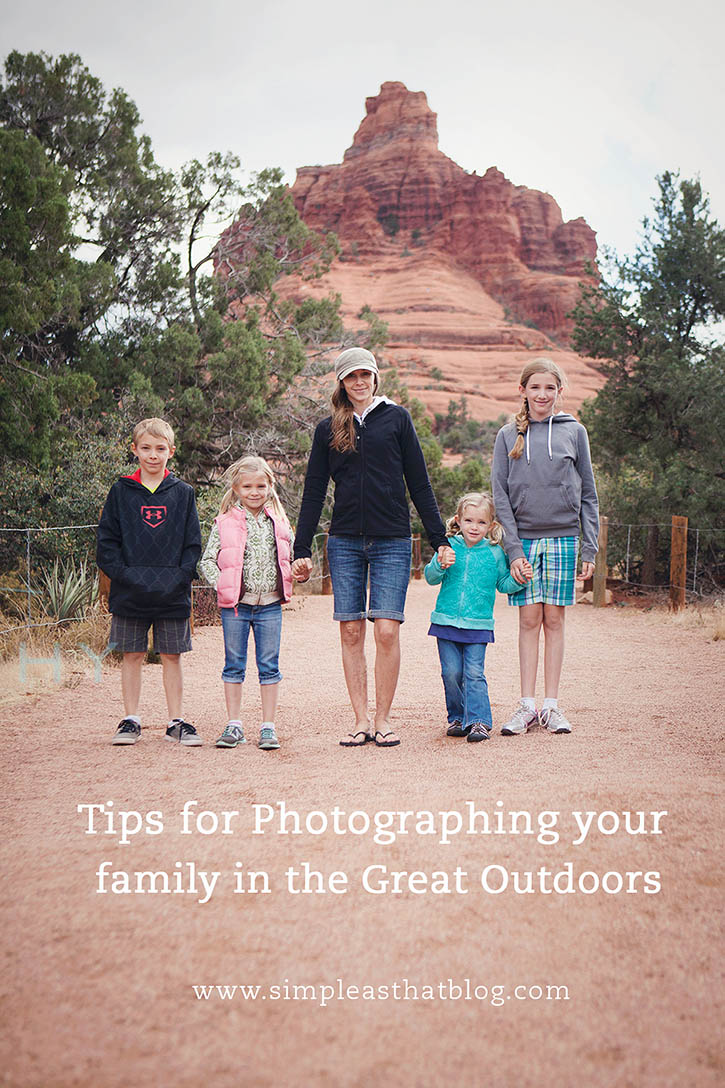 For more Photo tips join me in my upcoming Photography Workshop, Capture Life 2014! In this 12-week online workshop you'll learn to add a touch of magic to your everyday moments, and really bring your photographs to life. I can help you tell better stories with the pictures you take and improve your technical photography skills along the way. For more information about registration and to watch a short promo video click here: Capture Life 2014 Photography Workshop.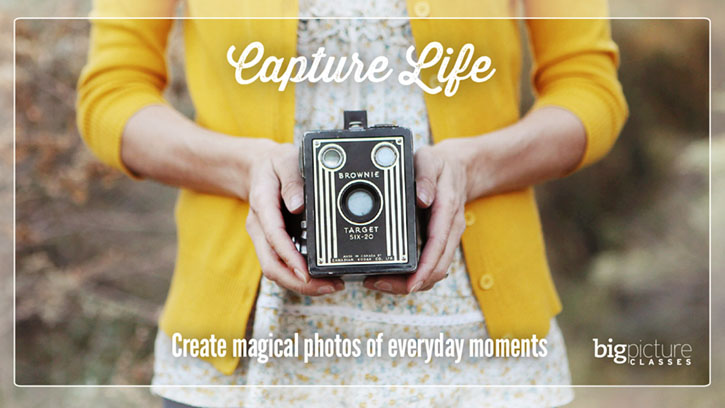 A special thank you to EasyLunchboxes, Albion Fit, Lifeproof and KIND Snacks for being a part of the Outdoor Family Adventure series!