It truly is the little things that matter most. Capture the magical, everyday moments with inspiration from our 50 Everyday Moments You need to Photograph checklist.
Do you ever wonder what memories your children will treasure most as they move into adulthood?  I'm always surprised by the details my children recall.
It's not the elaborately planned birthday party or the fortune we spent at the trampoline park that they remember. It's the little moments that stay with them.
If you think back to your own childhood what moments stand out? Maybe it was the time you stayed up well past bedtime snuggled in your parents' bed, reading the last chapter in your favorite book. Or the moment Mom got teary-eyed and pulled you close when you came out of the fitting room to model a dress—"the one" for prom. Or maybe you remember holding your dad's hand tightly while admiring the staggering view at the end of a challenging hike.
Celebrating Every Day Moments 
These seemingly small interactions are more meaningful than we realize and creating space in our lives so these moments don't pass us by is critical.
The unplanned moments that happen in the middle of our kitchens or our backyards – imperfect as they are – these are the memories I want to hold on to.
Taking the time to photograph these unassuming moments is  important to me. The big milestones and the posed family pictures are great, but at the heart of why I photograph my children is the hope that these oh-so-ordinary, yet incredibly magical pieces of their lives will be remembered.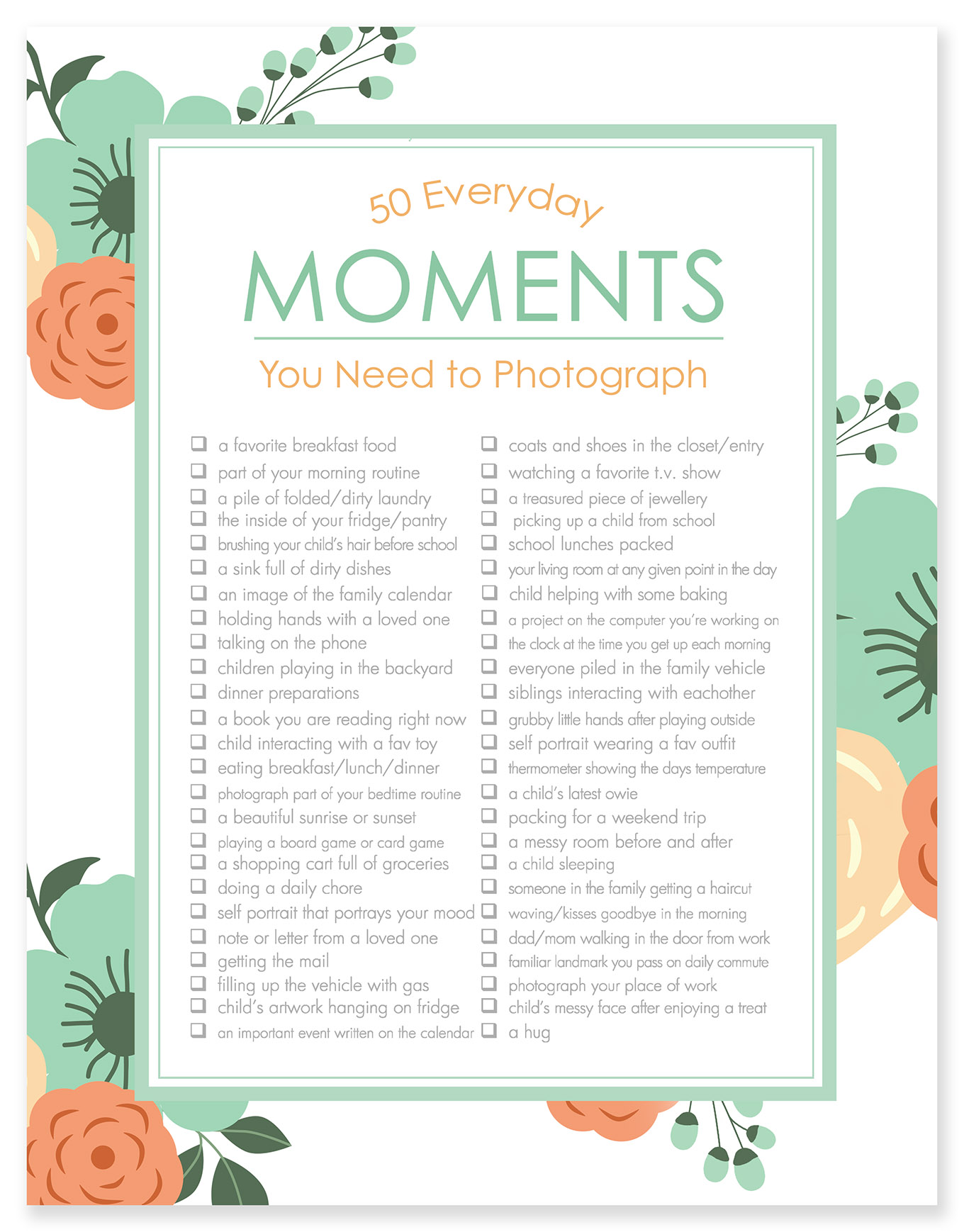 50 Everyday Moments You need to Photograph
To inspire you to capture more everyday moments I've complied this checklist for you. It's filled with 50 photo ideas and photography prompts that are sure to get the ideas spinning and take notice of the little details that are an important part of your family's story.
Download our FREE Everyday Photos Checklist!

If you've been a follower of Simple as That for any amount of time you'll know how much I enjoy creating printable photo checklists just like this one. These lists serve as inspiration to help you get the creative juice flowing while capturing meaningful images of every aspect of life. I have photo checklists available for each season, for your next travel adventure, motherhood and more!
Beyond Snapshots: Mastering Mobile Photography
When it comes to capturing everyday moments it really is about being aware and being ready when these moments present themselves in the midst of daily living.
The best camera is the one you have with you. — Chase Jarvis
I couldn't say it more simply than that. You don't need an expensive camera to capture a beautiful, meaningful photo. Some of my most treasured images have been caught with nothing more than my phone because it's so readily available.
Check out my series on mastering mobile photography if you want to take your phone photos to the next level.
If you enjoyed this post you might also like…