I'm so late with November's collage….yikes! The Christmas rush is on but I'm determined to finish off this month in photos project for 2012! I can't wait to get all these collages put together in a book in the new year!
November was a great month around here! Lots of exciting things happening.
We celebrated Carson's 8th birthday and his baptism.
The hubby and I worked on a little DIY project for the little girls Christmas present.
We spent some time as a family at the skating rink and Carson's loved getting back into hockey.
We trimmed the tree and decorated the house for Christmas. I'm usually a 'wait until december 1st' kind of girl – but we just couldn't wait this year!
We wrote our letters to Santa and have been enjoying all the other little things that come along with getting ready for Christmas.
If you've created a collage of your month-in-photos, simply post your collage
somewhere online, c
opy and paste the html code for the month-in-photos button below and include it in your post,
then come back here and leave a link to your collage so everyone else can see your fun photos!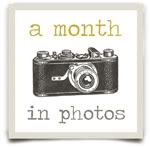 I can't wait to see your month in photos!
For more info about the month in photos project go here.You can download any of my free collage templates or use your own collage and join in the fun with us each month! Just think of the incredible collection of photos we'll have put together at the end of 2012!