Cheesy Cauliflower Bake – this healthy vegetable side is loaded with flavor and low on carbs! This tried and tested recipe is a new family favorite and I'm not kidding when I say it makes the perfect side dish for any meal!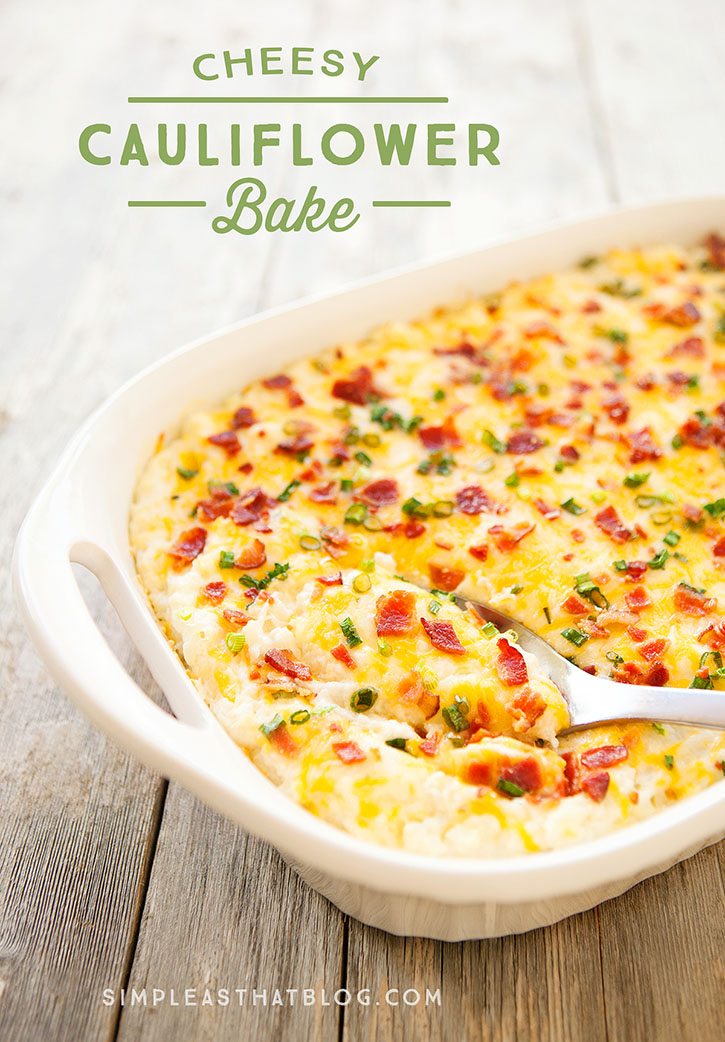 I'm always on the look out for vegetable sides to add to our meals that are healthy and that my kids will actually eat! When I came across this delicious cheesy cauliflower bake recipe I new I had to give it a try – my kids all enjoy cauliflower and my husband is currently trying to lower his carb intake, so I thought this might be the perfect combination – and boy was I was right!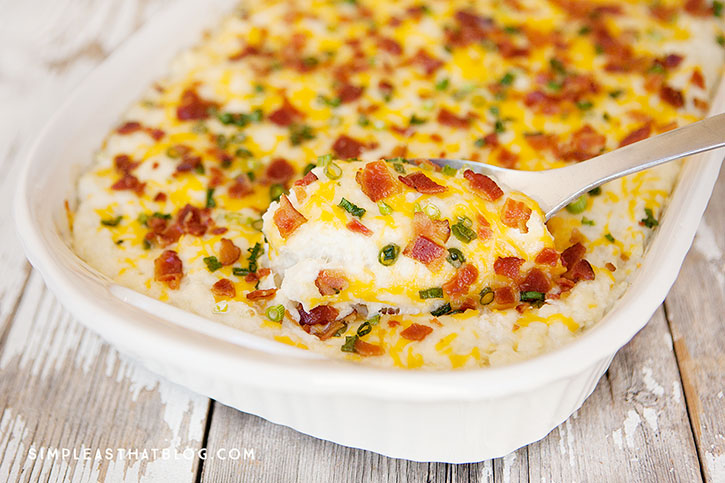 This dish is absolutely delicious! I've made it twice in the past few weeks and the kids have gobbled it down on both occasions. I can't get enough of it either! Just something about the texture of the cauliflower, that yummy cheese and let's face it – the bacon seals the deal!

Cheesy Cauliflower Bake
Ingredients
2 medium size heads of cauliflower or 2 bags of frozen cauliflower florets
1 - 8oz cream cheese
½ cup of butter
1¼ cups shredded cheddar cheese
6 slices cooked bacon, chopped
Chopped green onions
Salt and Pepper to taste
Instructions
Cook cauliflower in lightly salted water until softened.
Cook bacon until crispy and chop into small pieces.
Drain water from cauliflower, return to pot.
Add cream cheese, butter and mash until creamy.
Pour into a baking dish.
Top with shredded cheese, chopped green onions and bacon.
Bake in oven at 350 for 20-30 minutes.
Recipe adapted from the Trim Healthy Mama.
When I made this dish I used fresh cauliflower but to make it even easier buy frozen cauliflower florets or a bag of precut cauliflower – I know I've seen it at Costco.
To mash the cauliflower after it was cooked I used our hand mixer making it really easy. Just add the butter and cream cheese while the cauliflower is still warm and mix it up until it's the consistency you'd like.
When cooking your bacon I'd recommend getting it a little crispier than usual. It will take on moisture when baked with the dish and you'll want it to keep its crunch.
That's all there is to it! I love this dish and am having to hold myself back from making it every single week – it's THAT good!  What I love even more than it's delicious flavor is the fact that it's loaded with all those veggies minus the carbs.
Looking for more easy, family-friendly recipes, check out these posts:
Moist and Fluffy Cornbread Muffins
Easy Chicken and Stuffing Casserole
All-Time Favorite Chocolate Chip Cookies