It's been a slow start to 2014 around here, as I'm sure you can tell from my lack of posting lately. I feel like I'm finally recovering from the craziness of Christmas and starting to feel my mojo coming back. Being sick over the holidays + a road trip to California + a last minute visit home to Canada for my Grandpa's funeral + a husband studying like mad for board exams, have all played a part in me stepping away from the blog for a little while.
I can't say I've been eager to get back into my regular blogging routine. I've been experiencing some major burn out, so I want to go forward slowly. Test the waters and see how much I'm able to balance and be very deliberate about when I share here. I have to say, I've loved this little blogging break. It was needed and the family time we've had, minus the distraction of deadlines and blog schedules, has been a gift – to myself and to my family.
I'll be posting again, when I can. When it doesn't take away from my most important responsibilities as a wife and mother. Cute crafts and pretty photos are great, but the stuff of real importance is what I want to focus on – in life and on my blog.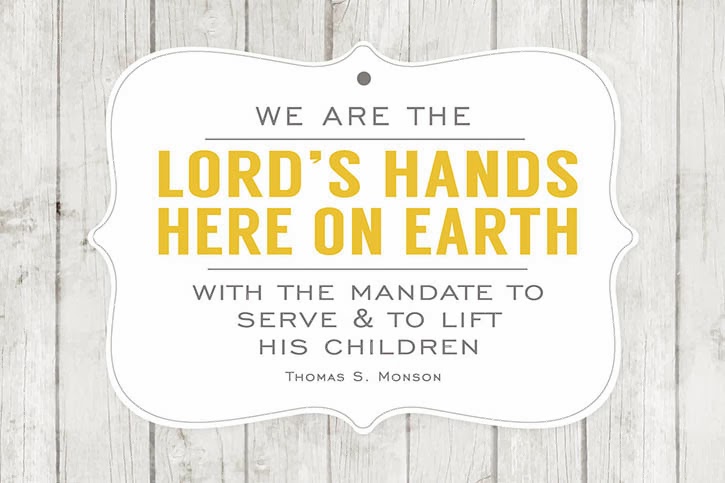 In an effort to post more about what I value most, I want to start by sharing some free printables centred around the Church of Jesus Christ of Latterday Saints monthly Visiting Teaching messages.
What is Visiting Teaching?
A visiting teacher is a woman assigned to watch over and help another woman in her Latter-day Saint ward or branch. Two visiting teachers are assigned to each woman; they contact her at least once a month and encourage her efforts to live the gospel of Jesus Christ. Included in this regular visit is a message of spiritual instruction that is adapted to meet the needs and concerns of the individual woman. In addition to the spiritual aspect of their calling, visiting teachers also help with the temporal needs of the woman and her family. For example, visiting teachers may provide meals after a baby is born or assist with housecleaning if a woman is sick. Quoted: Mormonnewsroom.org
I've totally missed January and here we are mid-way through February already, but I've felt the importance of doing this for a long time and there's no more putting it off! At the beginning of the month I plan to share a 4×6 printable quote that encompasses the months lesson. They can be printed inexpensively in photo format at your local photo lab or they will be available in PDF format for easy printing at home. I'm excited to print them out myself and slip them into my Favourite Quotes album at the end of each month.

February's visiting teaching message can be found here: The Divine Mission of Jesus Christ. A quote from President Monson is pictured above and can be download as a 4×6 here or in PDF format here. If you enjoy these quotes please tell your friends where they can find them by sharing via Pinterest, Facebook and Twitter!