I'm so excited to team up with a fantastic group of fellow bloggers to bring you the Ultimate holiday gift guide blog hop! We've got over 400 gift ideas for your – from the budding photographer to the crafter to the little artist AND SO MUCH MORE! You're sure to find some amazing ideas for everyone on your gift list this year and something for every budget! Scroll down to see our list of must haves for the little artist, enter our fun Kiwi Crate giveaway then check out the links to all 22 bloggers joining in this amazing holiday blog hop for the chance to win all kinds of prizes!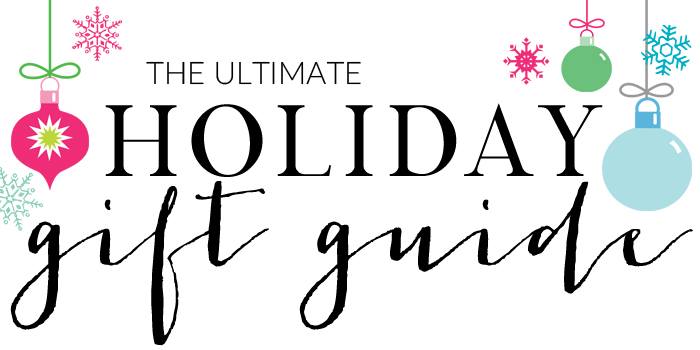 My kids and I love creating together so it will come as no surprise that art and craft supplies are on my gift list each Christmas. Today I'm rounding up 15 of our favorite finds for the little artist – items we use and love on a regular basis and others that I have on my kids gift lists for this year!

1. Kids art smock – First things first, art can get messy so we need a cute and functional art smock to keep things clean. You can go homemade with this tutorial or if you have a Frozen fan in the house (I've got two!) you might be interested in these Frozen themed art aprons.
2. Crayola Twistable Colored Pencils – These crayola twistable colored pencils are my kids favorite thing to color with lately and I love them too! Their finer point is great for coloring in detail and they color so smoothly. We keep well stocked on these – we use them at home, I keep them in my bag for coloring at church or at doctor's appointments – they're well loved at our house.
3. Mindware extreme Dot-to-Dots and Color by Numbers -We use and love the Mindware Color by Number books but have just discovered the Extreme Dot-to-Dots! I can't wait to put a few of these in my kids stockings this year and try our hand at this fun Christmas Extreme dot-to-dot book together – I feel a new holiday tradition coming on!
4. Art Easel – The IKEA MÅLA art easel is a must have. We've gotten so much use out of our Easel, it's a staple in our living room in fact. I painted ours a fun turquoise blue and my kids use it nearly everyday for doodling, practicing spelling words or playing family games. 
5. Fun drawing/art apps – Take creativity on the go with these fun drawing apps. Crayola Color Studio, Drawing with Carl and Drawing Pad are just three that I found while browsing around that looked super fun!
6. Kiwi Crate – We really love Kiwi Crate art kits. As a mom, I love how they simplify craft time with the kiddos and the kids, well, they're all about having fun + exploring with the activities contained inside each kit! Kiwi crates make an amazing gift that continues to delight throughout the year, not just during the holidays! Use coupon code SATB5OFF for $5 off your first crate with any new subscription!
7. Art Paper – When it comes to kids art, investing in some quality paper is never a bad thing. We've recently been using the Kid Made Modern mixed paper pads found at Target and been very pleased with them. I love that you get a variety of different weight paper in on package at an affordable price.
8. Spirograph Deluxe Kit – I remember playing with my spirograph kit for years and it's been a hit with my kids too! In fact, this deluxe kit has been listed as one of Amazon's top toys of 2014!
9. Perler Beads – Perler beads are a staple in our kids craft stash! They love up with their own unique designs but there are all kinds of fun templates out there for girls/boys alike! This is a great basic starter pack for kids wanting to try out Perler beads for the first time.
10. Multi-color Sharpies – We get great use out of regular old sharpies especially when doing coloring projects that involved surfaces other than paper. I've used sharpies on party plates, mugs and to create these fun pentangle art masterpieces. A stash of colorful sharpies is always good to have.
11. Art Books by Klutz – Some of my favorite kids art books are by Klutz. They inspire creativity in so many ways – crayon rubbings, fingerprint art, fashion drawing, Paper Folding (Star Wars Flyers) and many more!
12. Dollar Store Art Supplies – A great place to pick up inexpensive art and craft supplies for your little artist is the Dollar store. They carry a wide variety of products – we often stock up on popsicle sticks, paint brushes, stickers and organizers for our supplies at the dollar store!
13. Mr Sketch markers – I loved to color with these as a child and I've passed that smelly love on to my kids! Mr. Sketch markers are a must have for your art supply list and make a great, inexpensive stocking stuffer for kids old and young!
14. Gluesticks – another art/craft supply staple is gluesticks. We go through these like crazy so I buy them by the box on Amazon. These ones are great for everyday projects, I like this X-treme gluestick when we need something a little tougher.
15. Melissa and Doug Deluxe Art Set – We're big fans of Melissa and Doug products, including their range of art supplies. This deluxe art kit is a great value and includes some of our Melissa and Doug favorites! We also love Melissa and Doug's Jumbo Coloring Pads, Reusable Sticker pads and these Paint with Water books are perfect for mess-free painting!
More ideas for Kids Art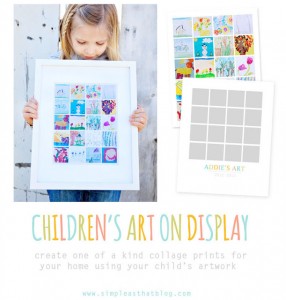 If your looking for a way to conquer the ever growing pile of kids art that is collecting in your home, here's a post I did sharing some of my ideas on how to organize and display your child's art work.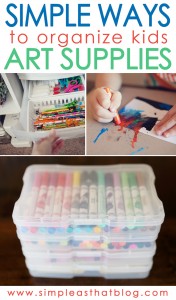 Here is a list of simple ways to organize kids art/craft supplies.
Well, that concludes our list of top 15 kids art and craft supplies! Be sure to check out the rest of the fun holiday gift ideas being shared in this jam-packed Ultimate Holiday Gift Guide! Follow the links below to find each bloggers unique gift guide and enter to win some amazing giveaways, including the one below from Kiwi Crate!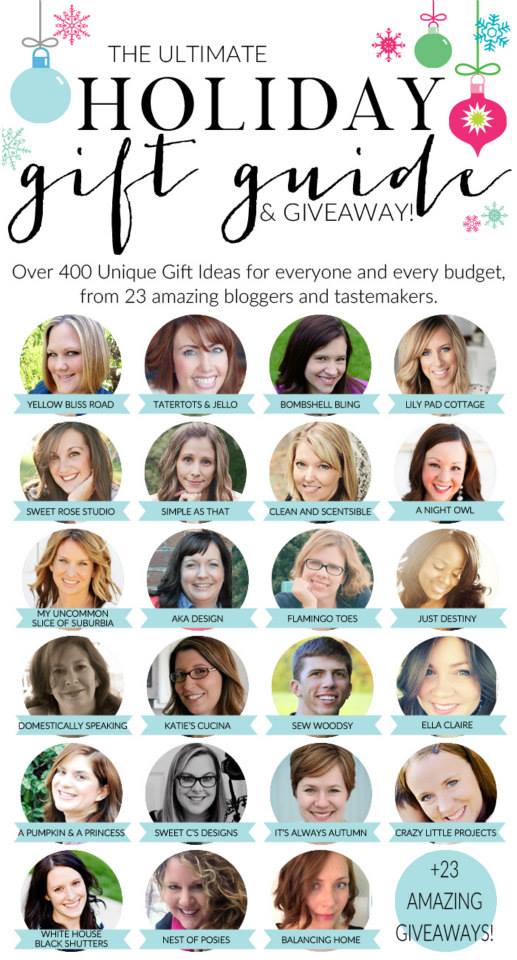 Gifts for the Baker | Stocking Stuffers | Gifts for Jewelry/Bling Lovers | Gifts for the Cook |Gifts for Little Girls (Ages 0-6) | Gifts for the Little Artist | Gifts for Ladies | Gifts for Little Boys (Ages 0-6) | Gifts for Big Boys (Ages 7-12) |Gifts for Big Girls (Ages 7-12) | Gifts for Teen Girls| Gifts for The Decorator | Gifts for the DIYer | Gifts for the Foodie | Gifts for Men | Gifts for the Host/Hostess | Makeup/Beauty Gifts | Gifts for the Entertainer | Gifts for the Aspiring Photographer | Gifts for the Crafter | Non-Clutter Gifts | Gifts for the Blogger |Health/Wellness Gifts
**This giveaway is now closed. Congratulations to Sarah Brandt YOU WON a 3-month subscription to Kiwi Crate! Shoot me an email at cooper(dot)rr(at)gmail.com to claim your prize. 🙂
Today Kiwi Crate is giving one lucky Simple as That reader a chance to win a free 3-month subscription ($60.00 value). Simply follow the prompts in the rafflecopter widget below to enter. Giveaway open to US and Canadian residents only.