This post is part of the Outdoor Family Adventure Series. Encouraging families to get active and create lasting memories in the great outdoors! 
A few weeks ago we spent the day at Writing-on-Stone Provincial Park. We've been to Writing-on-Stone a few times through the years and every time we go we always wonder why we don't visit more often! It's such a neat place to explore as a family!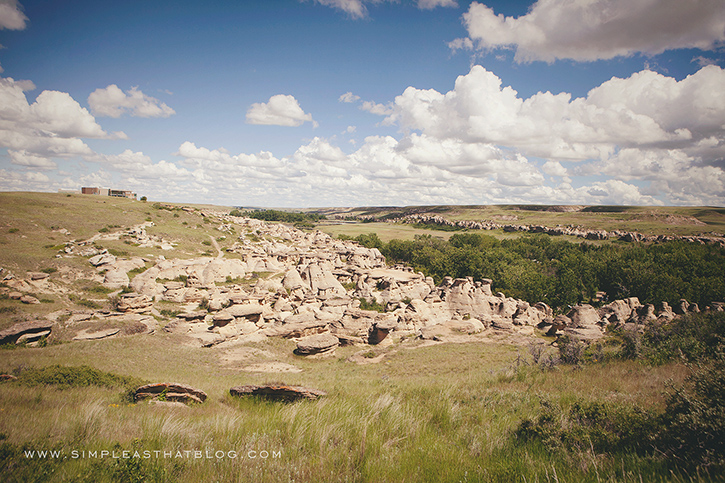 You have to see Writing-on-Stone for yourself to really appreciate this amazing part of the Southwest Alberta landscape! Not only are the hoodoos fun to explore but they're breathtakingly beautiful!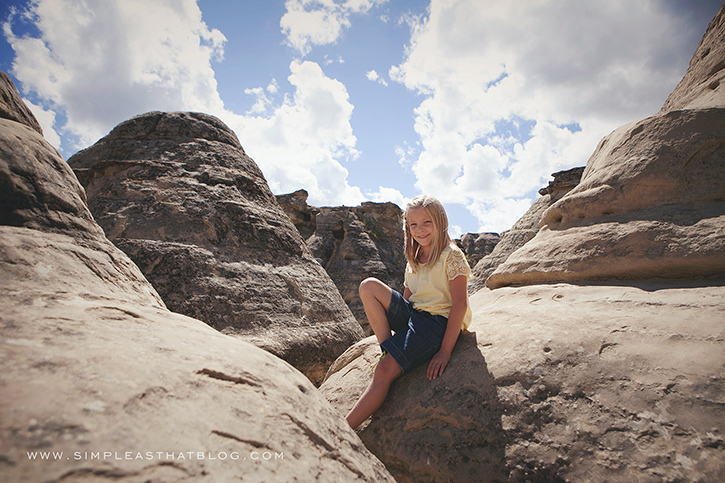 Writing-on-Stone Provincial Park is located 100 km (62 miles) Southeast of Lethbridge. For those of you thinking of visiting from the United States, Writing-on-Stone is 1 hour from the Sweetgrass/Coutts border crossing – Alberta's only 24-hour port of entry.
Writing-on-Stone is a World Heritage site that boasts over 50 petroglyphs dating back as far as 7000 B.C! These ancient drawings were left behind by the Blackfoot Native Americans.
My kids favorite thing to do at Writing-on-Stone is wander through and climb around in the hoodoos! They love running along the paths, climbing the rock formations and admiring the unique landscape from the highest vantage point they possibly can!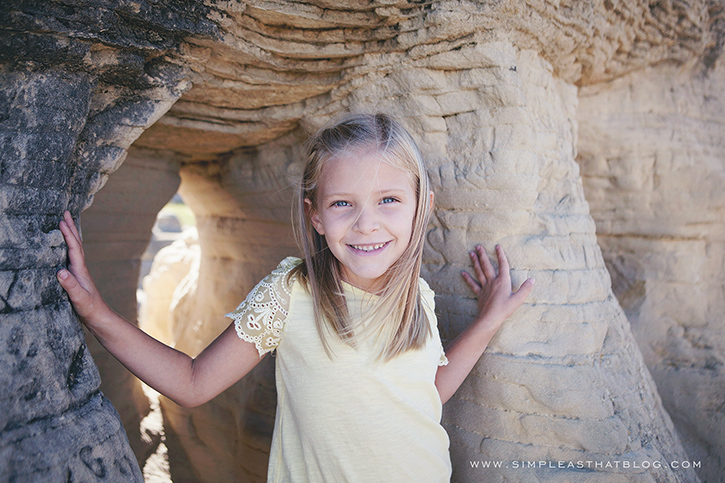 It can get hot at Writing-on-Stone during the Summer months (make sure you've got hats and sunscreen) but if you're there later in the evening it's perfect! Not only because of the cooler temperatures, but because the golden light and longer shadows later in the day are ideal  for taking photos! Check out this post if you're looking for some simple tips to help you capture memorable photos of your family in the great outdoors.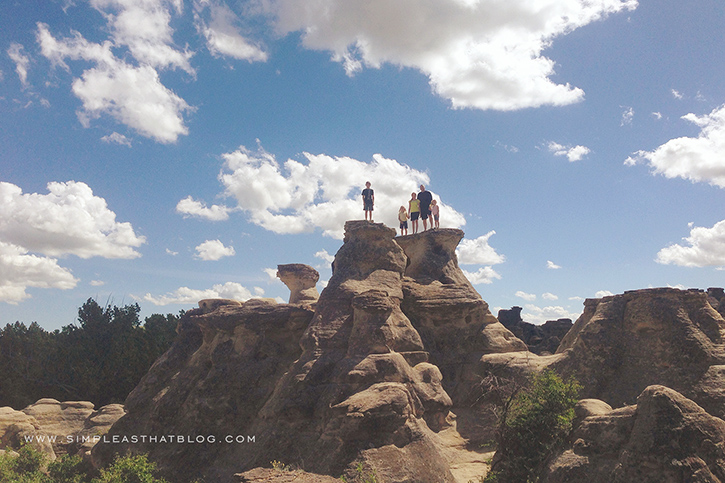 Photo captured with my iPhone 5 thanks to my protective LifeProof Nuud case!
Besides exploring the hoodoos there are many other family friendly activities to take in while you're at Writing-on-Stone.
Things to do at Writing-on-Stone Provincial Park
-Check out the interactive Visitor Center
-Camp in a tent or RV
-Swim, kayak or tube on the Milk River
-Play at the sandy beach along the river
-Take in a show at the outdoor amphitheatre
-Roast hotdogs/marshmallows in one of the day use fire pits
-Kids can enjoy the playground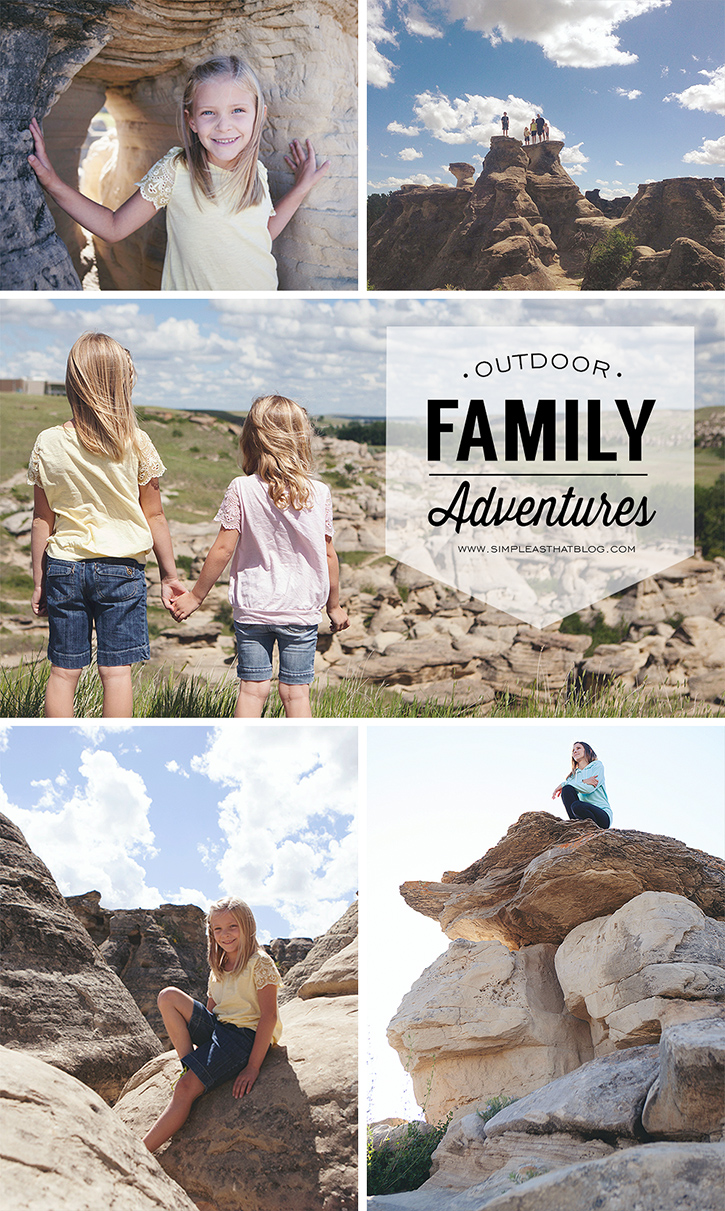 I'm so glad we had the chance to visit Writing-on-Stone while we're in Alberta this Summer and would encourage you if you have the opportunity, to take a day trip out that way! Follow along with more of our Outdoor Family Adventures this Summer on Instagram!
Outdoor Family Adventures and Albion Fit
I love being out in nature with my family and it's very important to me to be comfortable when we're active in the great outdoors. Some of my favorite fitness apparel and active wear is from Albion Fit!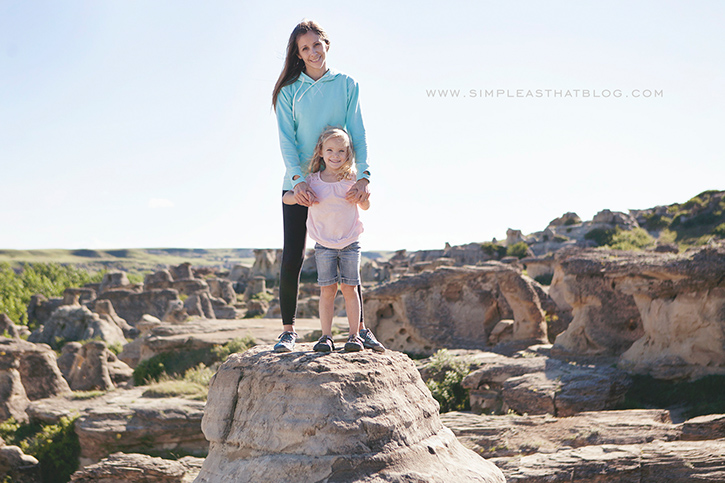 Albion's mission is to provide women with the most luxurious, flattering, and hassle-free fitness and leisure apparel on the market. Their garments are fashionable and unique, but more importantly practical and technical. Designed by women, their apparel is crafted for women wherever they may be in their fitness goals. Their clothes easily transition from work out gear to lounging gear.
I've been living in my Signature Hoodie in Belize Blue and Go Long Leggings in Black all summer! They're seriously so comfy! They're perfect for everyday use or for exploring outdoors. I especially love my signature hoodie – pictured above. I love how long it is and how versatile the color is – it goes with everything!
More clothing I'm loving from Albion right now
Icon Swimsuit in Poppy
Nectarine and Ivory Baseball T
Petal Pant Black/White Stripe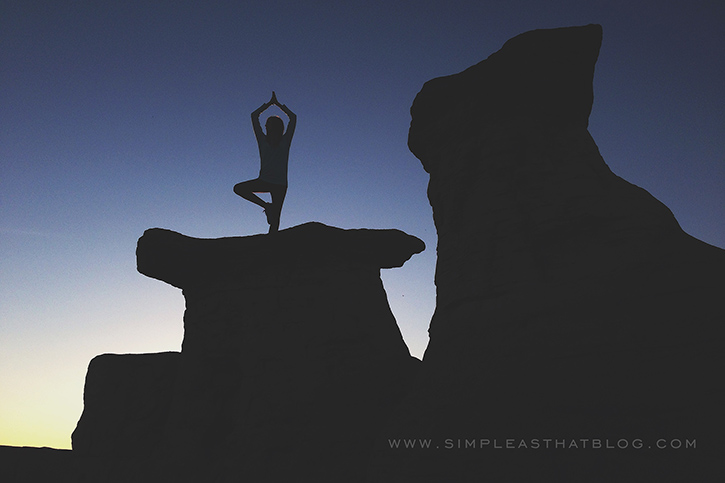 A special thank you to EasyLunchboxes, Albion Fit, Lifeproof and KIND Snacks for being a part of the Outdoor Family Adventure series!