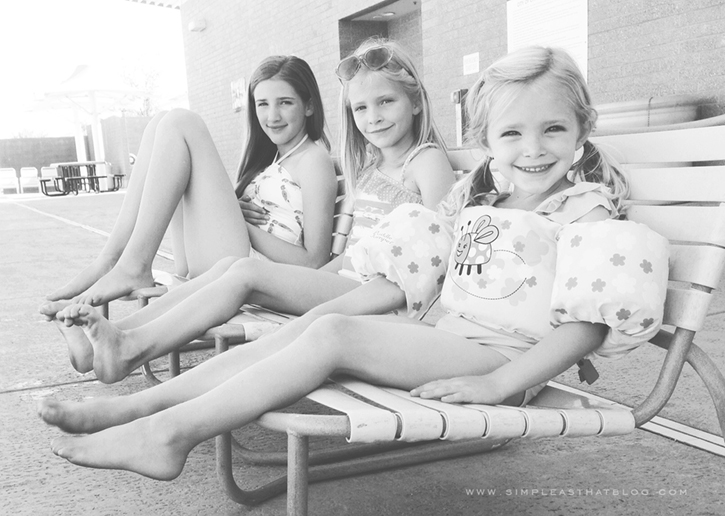 While the boys were away at father and sons camp this weekend, these kiddos and I had some fun girl time together. We cooled off by the pool and watched Frozen (for the umpteenth time) complete with popcorn and slurpees — and plenty of singing! We didn't do anything special, but I couldn't think of a better group of girls I'd rather hang out and do nothing special with! As blessed as I feel to have these girls in my life, I hope they realize just how blessed they are have each other!
Our Paths may change as life goes along but our bond as sisters remains ever strong – anonymous
What simple moments are you celebrating this week?
-Share your photos with us on Instagram, Twitter, G+, even Pinterest by using the hashtag #SimpleThingsSunday. Stacy on Instagram // Rebecca on Instagram

–Post your photos on the Simple as That Facebook wall anytime! I'd love to see what's going on in your world!

-You can also link up here on the blog each weekend starting Saturday nights at 10pm CST!
What is Simple things Sunday?
This weekly photo share is all about taking time to photograph the everyday details that make your life unique, beautiful, and special. We gather here each Sunday to share our photos, to enjoy the beauty found in the ordinary and to be reminded of just how important the simple things truly are. Read all about STS here.