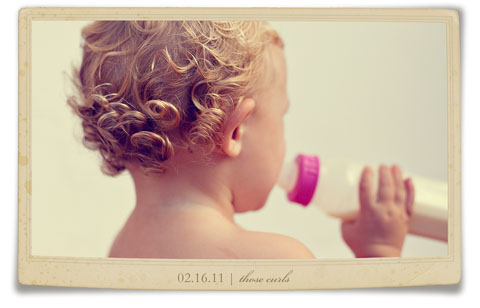 It's been a busy week and while hanging clothes on the line the other day, thinking of the million and one things on my to-do list, I glanced down at my little sidekick who was dancing around by my feet drinking her bottle. Those little curls caught my eye and immediatley I smiled, and that to-do list…well, it just didn't seem quite so pressing anymore. It's hard sometimes, seeing past the busy, everyday details that consume my time, but I'm determined to slow down and focus more on the most important ones.
Starting with those sweet little curls.
Who else wants to join me in celebrating
the simple things this week?
All you need to do is take a photo of a simple thing or a simple moment that made you smile during the week and come back here each Sunday and share it with us! You can find more details about the challenge
here
.
Just a few quick rules to play:
1.
Grab the button below and include it in your simple things post.
2. Link back directly to your simple things post not your blog/website.
3. Be sure to pop by and visit a few of the other blogs & leave a comment.
Everyone loves getting comments so leave as many as you can.