I'm excited to share with you our ultimate stocking stuffer gift guide for kids of all ages! All kinds of tried and true toys, books and games that your child is sure to love! Sroll down for 40+ unique gifts ideas PLUS a super fun giveaway!

One of my favorite things about Christmas as a Mom is stuffing my kids stockings! I love searching for unique little gifts that suit each of my kids personalities and interests and this year I've found some really fun things to fill my kids stockings!
Below you'll find 40+ stocking stuffer ideas for kids of all ages. A lot of the items on these lists I've purchased in the past or will be in my kids stockings this year and I can't wait for my kids to enjoy them on Christmas morning!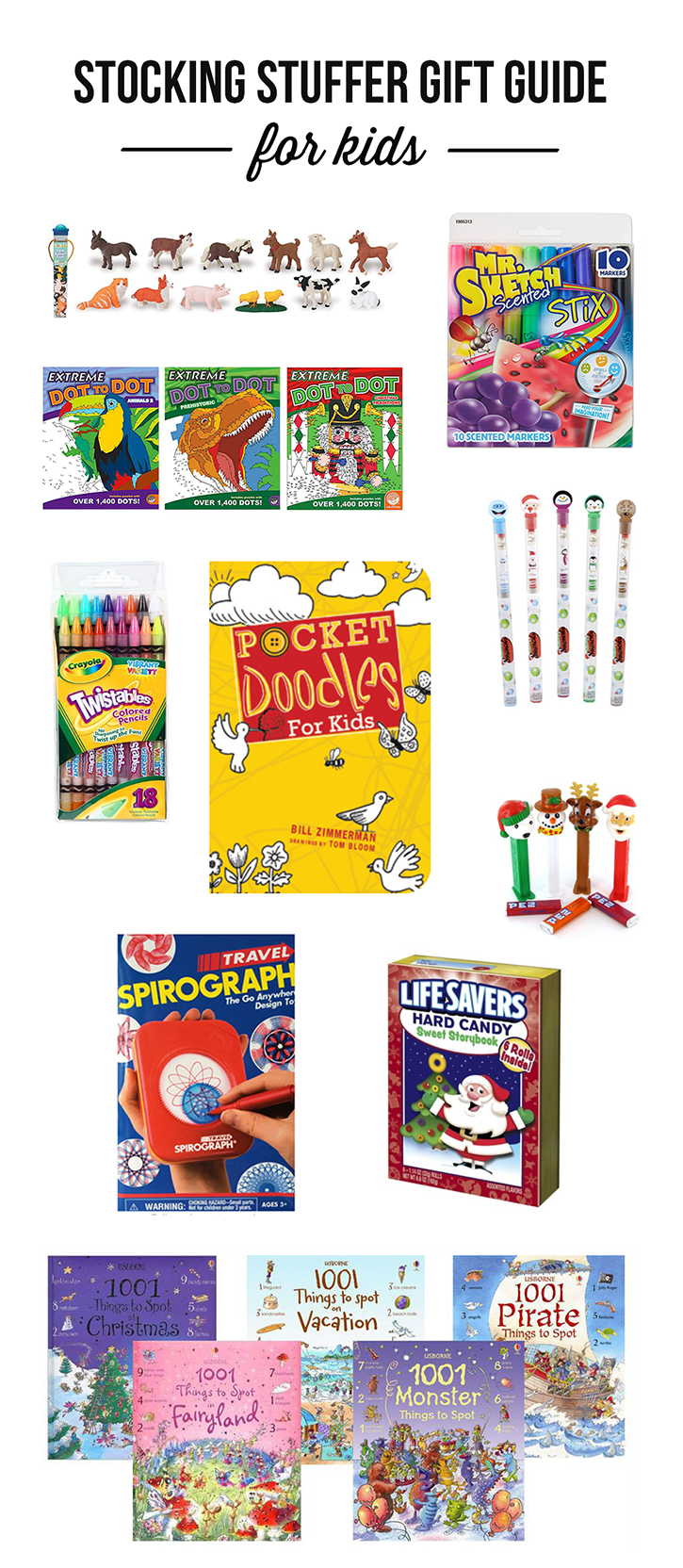 Ultimate Stocking Stuffer Gift Guide for Kids
1. Safari ltd Animal Figurines 2. Mr. Sketch Scented Stix Markers 3. Extreme Dot to Dot Activity Books 4. Holiday Smencils scented pencils 5. Crayola Twistable Colored Pencils 6. Pocket Doodles for Kids 7. Christmas Pez Dispensers 8. Travel Spirograph 9. 1001 Things to Spot Books 10. Lifesavers Candy Storybook

The Ultimate Stocking Stuffer Gift Guide for Boys
1. Lego Minifigures 2. Dinosaur Pocket Doodles 3. Minecraft Socks 4. Minecraft Creep Plush Toy 5. Oral-B Pro-Health Stages Monsters Inc Toothbrush 6. Star Wars LEGO Watch 7. Melissa and Doug Suspend Game 8. Drop Popz 9. Fake Mustaches 10. Diary of a Wimpy Kid Book

Ultimate Stocking Stuffer Gift Guide for Little Girls
1. Disney Frozen Spot-it! 2. Melissa and Doug Fashion Design Activity Kit 3. Hello Kitty Headlamp and Walkie Talkies 4. Disney Frozen Figurines 5. Frozen Little Golden Book 6. Melissa and Doug Fairy Tale Water Wow Activity Book 7. Disney Frozen Lip Gloss 8. Barbie and the Secret Door DVD 9. Disney Frozen Color Wonder Activity Book 10. Fairy Pocket Doodles
Ultimate Stocking Stuffer Gift Guide for Tween Girls
1. Essie Nail Polish 2. Portable Phone Charger 3. Wet brush + Wet brush Squirt 4. LED Book Light 5. EOS Lip Balm 6. Batiste Dry Shampoo 7. Farkle Game 8. Skull Candy Earbuds 9. Pocket Doodles for Girls 10. Taylor Swift CD and Perfume
One of the stocking stuffers I'm most excited about this year are the fun Pocket Doodle books I picked up for each of the kids! I love that they encourage creativity and that I was able to find one for each and interest of all my kids! There are so many different themed pocket doodle books to choose from and I know we'll get so much use out of these little books as we travel, at home and on-the-go!
Today Pocket Doodles is giving away a stocking stuffer prize package on the Simple as That Facebook page! Make sure you follow SAT on Facebook, then CLICK HERE TO ENTER THE GIVEAWAY – entries are so easy! Giveaway closes Sunday 12/7 at 8pm. Good luck!