Back in 2010 I started a tradition of putting together a photo collage at the end of each month to highlight a few of our favourite family memories. It was a quick + easy way to get those photos documented and at the end of the year it was such a satisfying feeling to look back at all the collages I'd created!
You can take a peek at all my photo collages from 2012 here. I plan to put them all together in a photo book but haven't gotten around to that yet, though its a project I can't wait to get done!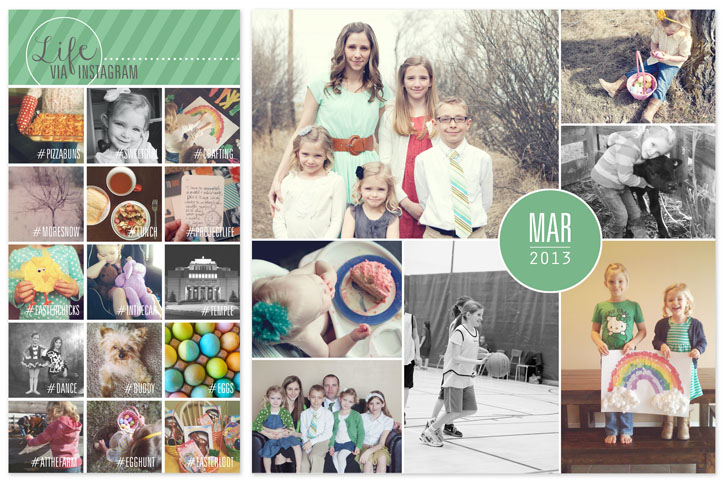 Even though I've joined the Project Life party this year, I still want to keep up with my monthly photo collages – I love them too much to quit now! I have a new template for 2013 available for free download
here
and I've been making my collages each month to add to my 2013 project life album. Along with this collage of photos typically taken with my big camera, I'm also including a 6×12 collage of instagram photos.
I seriously LOVE these monthly instagram overviews! Its such a great way to document a whole lot of photos all at once and the little hashtag photo descriptions serve as my journaling. Simple + quick, just the way I like it! I coordinated my collages each month so I could add them to my album as a two page spread and I'm really loving the way they look!
Here's a peek at the months I have in my album so far, along with a few journaling tidbits for my own records:
celebrating alivia's birthday | starting project life | a delicious dinner out for our 14th anniversary snowshoeing in waterton lakes national park | potty training | addie's first talk in primary | chores
ice fishing with my family | playing hookie from school to go snowboarding + skiing as a family | building a cub car | racing a cub car | valentine's day | hiking bears hump in waterton
rainbow crafts with the little girls | wearing green to church for st. patrick's day | celebrating cousin cait's first birthday | easter egg hunts | emily's first year playing basketball | fun at grandma + grandpa's farm | easter sunday
Not only do I love creating these collages, but looking for photos for my collage at the end of each month is a great opportunity to sort, delete + backup my photos on a regular basis. I typically take an afternoon to go through each of my photo folders from the past month while looking for photos for my collage. I delete any unwanted photos, download + delete images from my iPhone + then do a backup.
For more information about my monthly photos project and to download any of the collage templates I've offered in the past, visit this post.
To purchase a copy of my 6×12 and 12×12 instagram templates, visit the Simple as That digital shop or check out this post for more info.