Chocolate Covered Strawberry Smoothie – All the flavor of a chocolate covered strawberry in a smoothie that's healthy enough for breakfast!
Hey guys! Tiffany from Feel Great in 8 back again with another simple and delicious recipe! I swear it was yesterday I was here posting about the New Year, I can't believe I'm already sharing a healthy Valentine's Day recipe!
Valentine's Day is right around the corner and I'm here to help you with a healthy recipe so you don't have to throw out those New Year's resolutions already! Actually, holiday or not, this treat is a must try. It doesn't get much better than a chocolate covered strawberry!
This chocolate covered strawberry smoothie is just as delicious as it sounds, and it would make the perfect breakfast to kickoff your Valentine's Day celebrations. Yep, I said breakfast! It really is healthy enough to be breakfast for the whole family! Protein from the milk, healthy fruit, and just a few extra chocolate chips for fun. The kids will think you're making them a special treat, no need to tell them the truth. 😉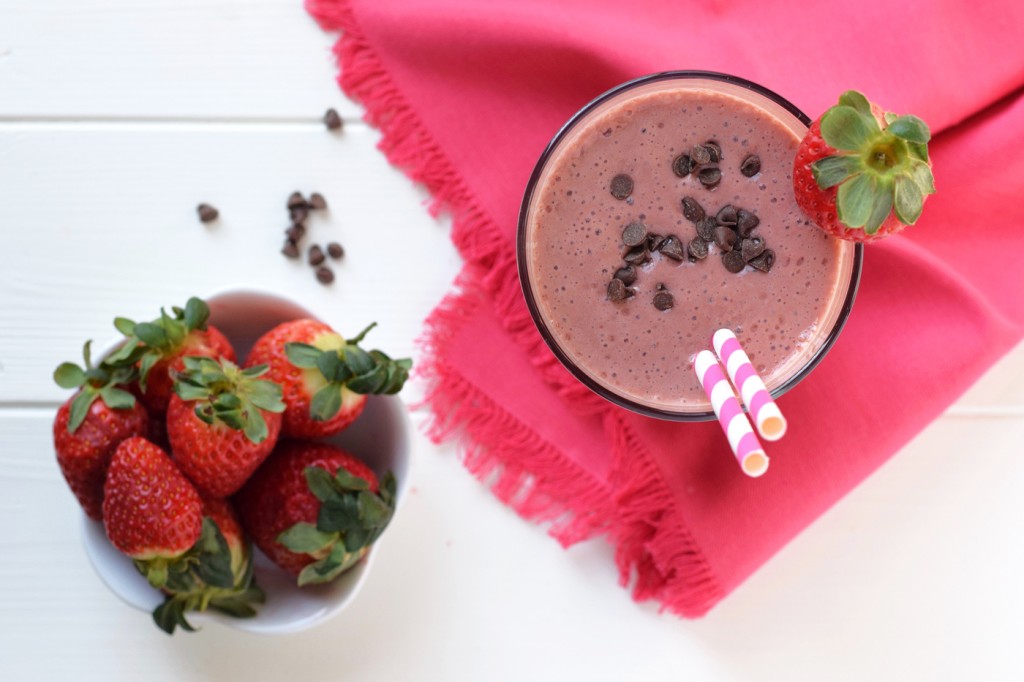 The only extra work you'll need to do for this smoothie is to freeze some ripe bananas. You can make it with fresh bananas, but frozen bananas really add to the creamy texture. I like to chop a big bunch of rip bananas into 1/2 inch segments and lay them flat on a cookie sheet or large plate lined with parchment paper to freeze. Then I dump them into a ziplock bag to keep in the freezer. Since the individual segments are frozen separately is is easy to get out what I need when I make a smoothie or shake.
Chocolate Covered Strawberry Smoothie
All the flavor of a chocolate covered strawberry in a smoothie that's healthy enough for breakfast!
Ingredients
1½ cups milk
1 tablespoon cocoa powder
1 cup frozen strawberries
1 large ripe banana, frozen
fresh strawberries and dark chocolate chips for garnish, optional
Instructions
Put all of the ingredients (except the garnish) in a blender and blend until smooth.
Pour into two glasses, add garnish if you want, and serve immediately.
 I hope you and your loves enjoy this as much as we do!
Looking for more simple, healthy recipes?