Living life at full speed only brought illness, stress and heartache. It was only when I opened the gift my daughter gave me – the gift to slow down time – that I began to be present and participate fully in my life.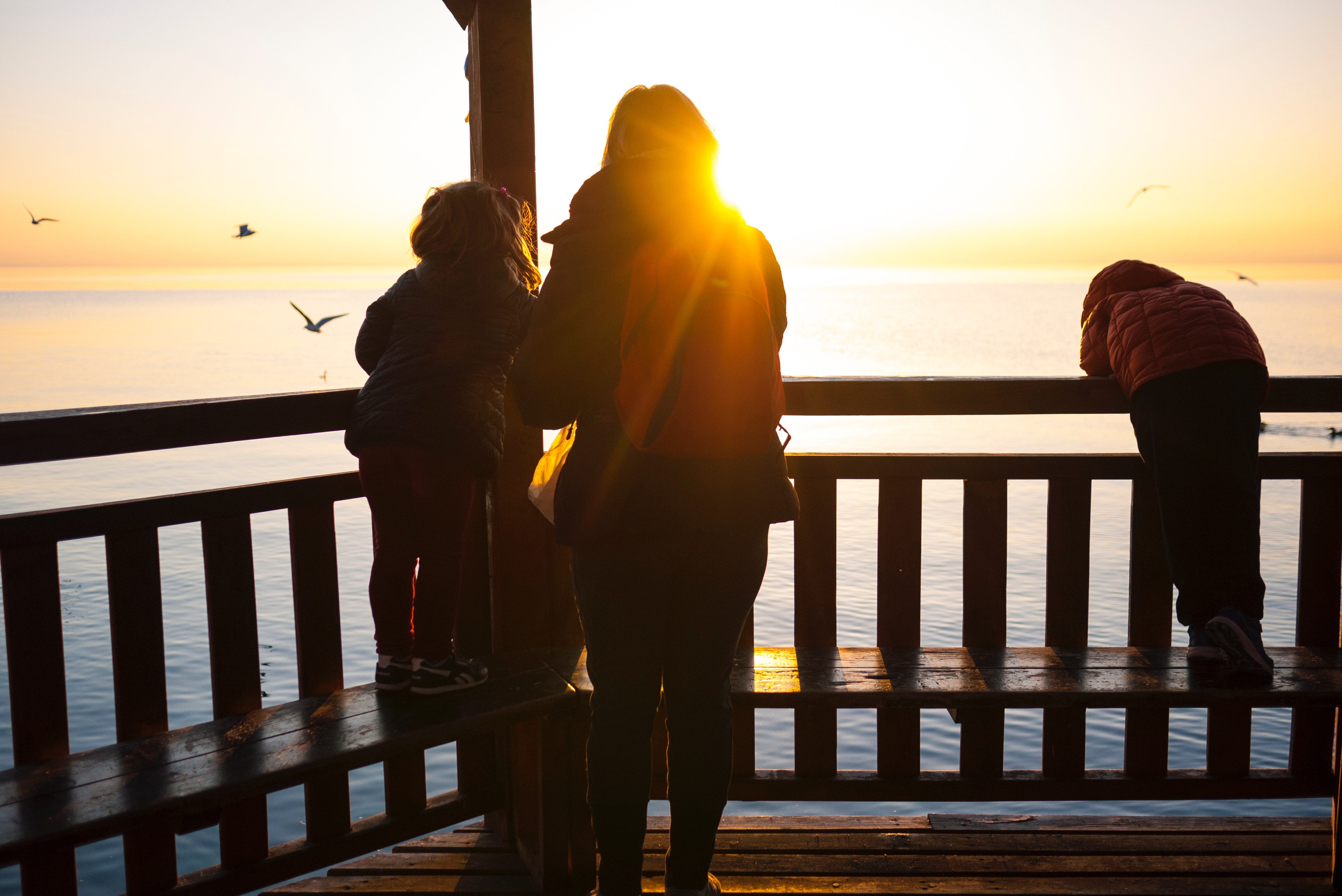 Last week, the baby of our family started school. And as I sat on the floor playing with her, after her first two days, I felt a simultaneous sense of loss and gratitude. Loss for the baby, who was no longer a baby. And gratitude for the gift that she's given me over these last five years.
The gift of slowing down time.
If I rewind back 8 or 9 years my life looked vastly different. Time was my enemy and I was its slave. Full-time work, a master's thesis and a toddler (our firstborn). It was no wonder that I was balancing perilously on the edge of burn out.
I learned the hard way, as many of us do, that living life at full speed all the time is a recipe for illness, stress, and heartache.
As I began to slowly make changes to go a little slower and be a little kinder to myself, I discovered that being in the present moment was my best tool for combating busy and overwhelm.
I'd spent years feeling as though I was just observing my life. Like I was floating above, an out body experience. Seeing and hearing what was happening but stuck, unable to do anything to change.
Being present was the lifeline that brought me back to my body. And now that I had children, I desperately wanted to participate in my life, not just observe. Fully and completely present for all the moments, good and bad.
Because I knew, deep down, that in 20 years I would look back at this time and whisper 'it went too fast'. I knew that I would miss her and her sister's littleness. I could feel the loss already.
Time through a child's eyes
Have you ever had the feeling that as you age, time seems to pass quicker? Or wondered at how your children seem to go about their days unaffected by a sense of timeliness?
Well, this phenomenon is real. It turns out that our perception of time speeds up as we get older.
When we are children, almost everything is new to us. We are intrepid explorers and our only real job is to discover the world. But as adults, most of us, bound by certain responsibilities, have settled into routines, and no longer feel that innate childlike need to explore.
To slow time, we need a return to childhood.
How to slow down time
I get it. Life is busy, full, and often chaotic. And many days it feels impossible to go at any speed but breakneck. Mouths need feeding, bills need paying and the list of jobs seems endless.
But you have a choice. You can choose what speed to live at.
Eight years ago I chose to explore a slower, simpler pace of life. And I have to re-choose this almost every single day. This slower speed is countercultural so it's a conscious movement away from the busy and rush that modern society is built on.
And after years of push-pull, going fast, and choosing slow again, I'm so happy to have received the gift of slowing down time.
It sounds impossible but I promise you, it's not. All you need is a commitment to trying some of these tips (and perhaps a little belief in magic).
1. Be present in what you are doing
Children are often completely absorbed in whatever they are doing. I can tell you with almost absolute certainty that my daughter doesn't sit on the floor, playing, wondering what she'll be doing after dinner that night.
Children are experts at single-tasking. And it's easy to think 'well children don't have a million and one things to do', but that's not helpful. Thinking about the million and one things that need doing, while doing the one thing is not beneficial.
Being fully present for one task at a time means we are more likely to perceive time passing slower.
Try: Cleaning like a Buddhist monk. Japanese Buddhist monks take cleaning very seriously and treat it as part of their spiritual journey. Meticulous cleaning is for them, a form of meditation, meant to encourage a 'cleaning of the mind' too.
2. Look at something as if you've never seen it before
Part of the reason why time stretches long as a child is because all of the experiences we are having are new. The universe and all its wonders are like a gift we get to unwrap day after day.
Think about when your children first tasted ice cream. Or when they saw an animal they'd never seen before. They probably asked questions (what does an elephant do with a trunk!) and were focussed on exploring and making some sense of this new thing.
When we encounter novel things, our brains work to lay strong foundations for memories of the event. It's this processing that will help us recall the experience as a long slow one.
Try: Visiting a place in your hometown that you've never been too. It might be a corner of the beach you've never explored or a coffee shop you haven't tried yet.
3. Be enchanted
When was the last time you were amazed at something?
My daughter is going through a ladybug phase. I like watching her as she searches for them. And when she finds one her whole demeanor changes. She's completely enchanted by this tiny beautiful creature. And for her, time stands still as she 'plays' with her new found pet.
One morning recently, while walking the dog at the beach, I was treated to this sense of pure amazement. All it took was a flock of birds flying in a v formation, back and forth overhead, and being totally present in the moment. It was as if I'd never seen birds do this before!
There is a deep sense of joy and contentment available to us when we watch our natural world and be open to being enchanted by it.  
Try: Going for a walk in the forest or on the beach. If you are blessed to have a backyard, even just a few minutes out the door can lead to enchantment.
If you feeling stuck and overwhelmed, as I was (and still sometimes do) I want to tell you that its okay. You are allowed to feel this way. But you are also allowed to practice some things that will help you move out of this place.
Today, I wish for you to open this gift. I wish you a slower, gentler pace, one where you can be present and participate fully in your life.
I am with you.
If you liked this post you might also enjoy…