If you have a child that loves Minecraft as much as my kiddos do then these printable minecraft valentines with creeper gum wrappers are sure to be a hit! You'll find all the free printables you need below to make these simple valentines as well as new Valentine's Day versions of my Christmas minecraft gift tags.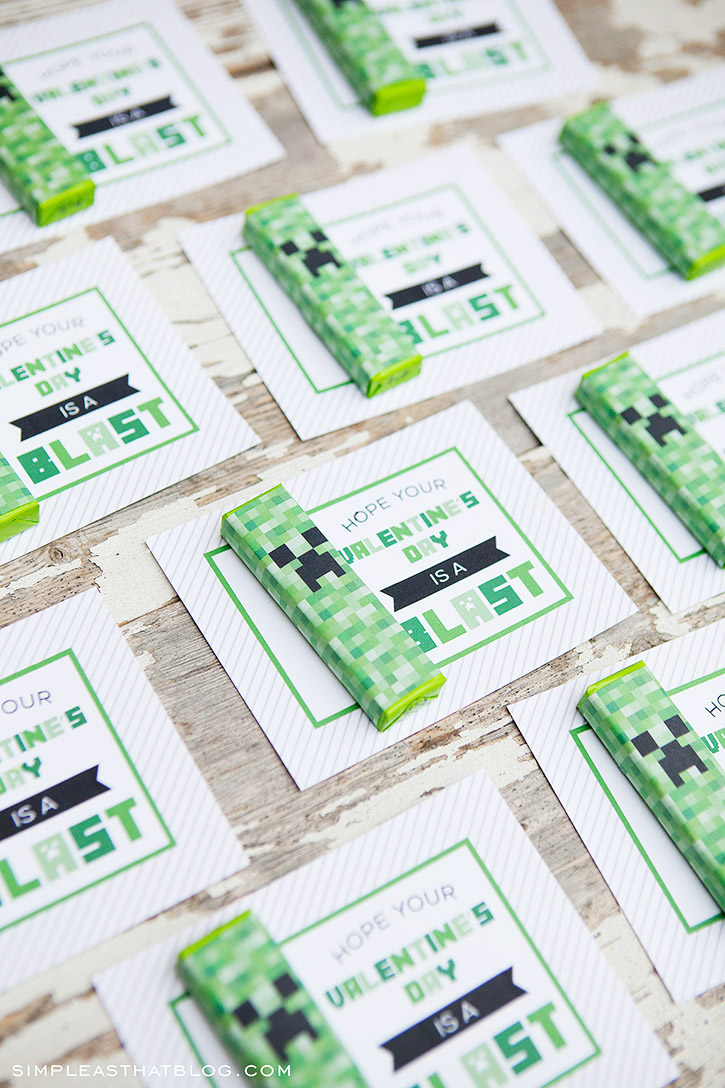 My son will be handing these out to his friends for Valentine's Day this year and he's so excited! They're a smaller scale version of what we did for Christmas and not only are these "have a blast" valentines cute and fun, they're super inexpensive!
We picked up the gum at the dollar store, they come in a package of four for $1. The creeper covers are printed on standard printer paper, they print 6 per sheet and the valentine cards are printed on white cardstock, 4 per sheet.
What you'll need to make your own:
Small Green packages of gum from the $ store
Gum wrapper Printable
Tape
Minecraft Valentine Card
Scissors or paper trimmer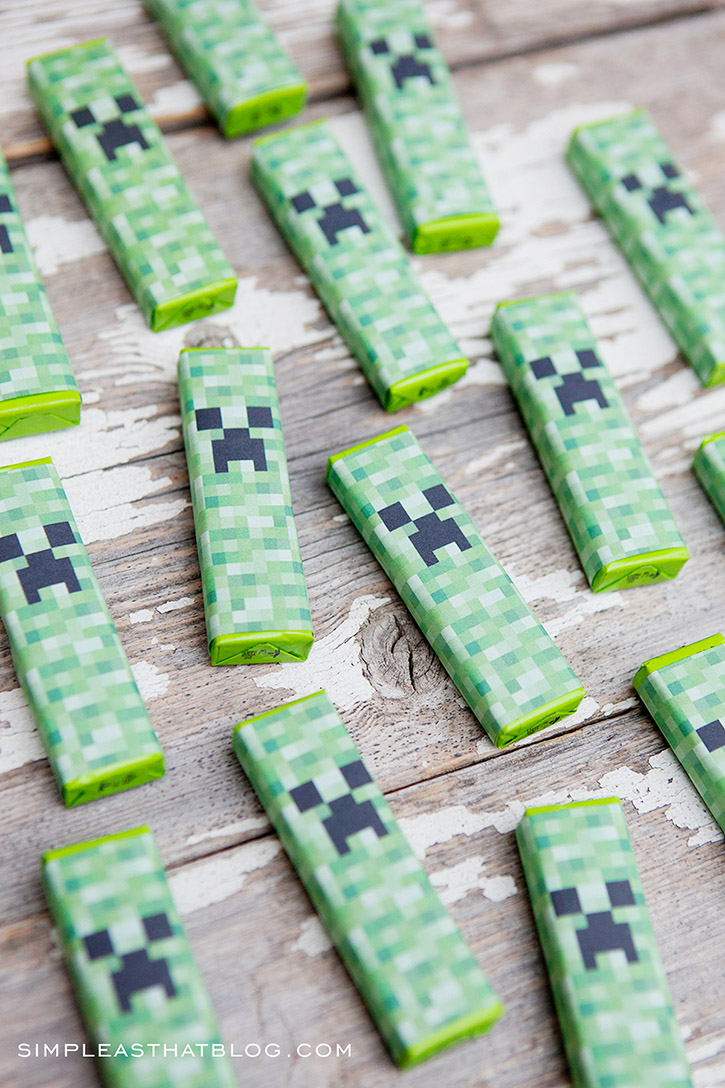 To turn these little packages of gum into creepers, simply print as many Minecraft Gum Wrappers as you need – there are 6 per page. Cut them out, then center the creeper face on the front of the package of gum. Fold over the edges and secure with tape on the back.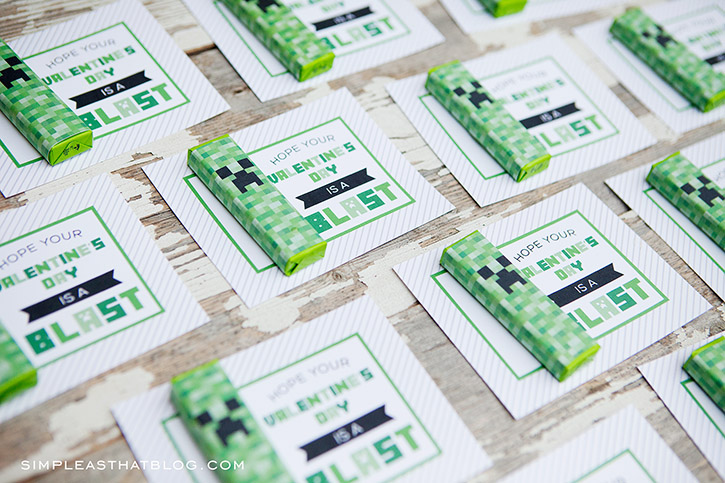 Once you've made your creepers, print out enough of the "have a blast" valentines cards on white cardstock – they come with 4 per sheet. Cut out the cards, secure the creeper to the valentine card in the blank space provided and you're done!
All the printables for these minecraft valentines are free for personal use. There are 4 8.5×11 inch PDF's one with the gum wrappers and one with the cards. You'll find the download links to each of them below. These are free for personal use only!!
Download Free Minecraft Valentines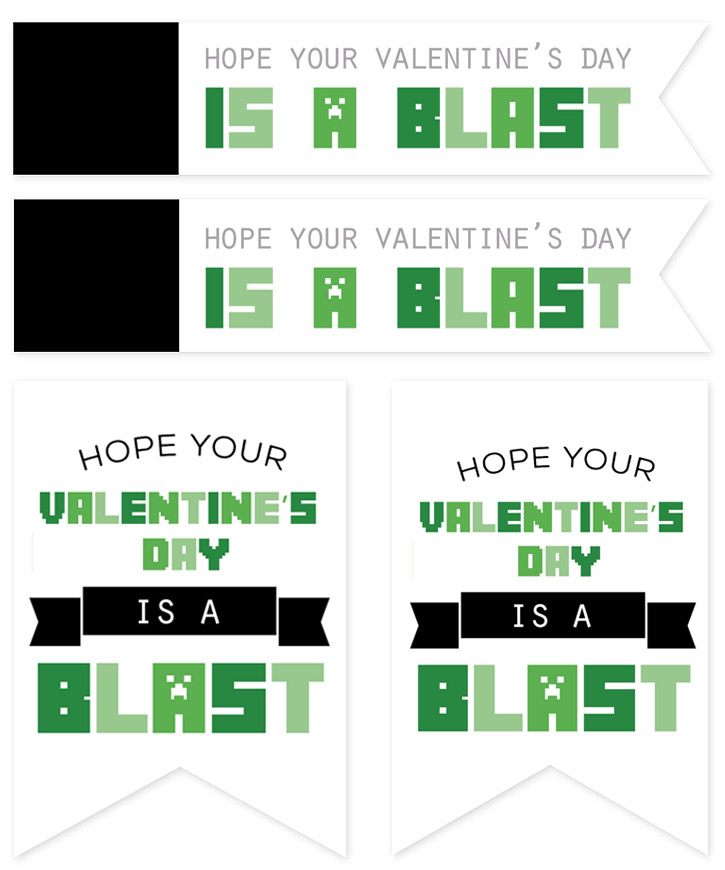 I've also had a number of requests for a Valentine's version of my Minecraft Christmas gift tags, so I've included the free printables for those as well. You can use them along with the candy box covers to create larger size Valentine gifts like these using boxes of Mike and Ike's.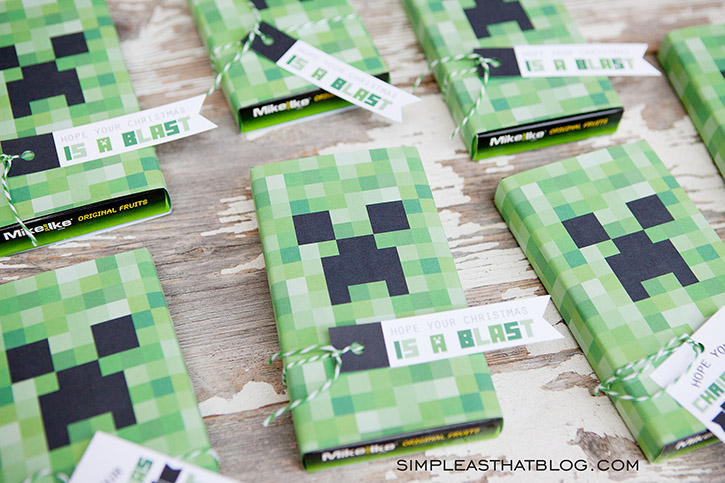 For more Valentine's Day inspiration check out these posts…