Pumpkin Inspired Nursery Mobile – beautiful, neutral colored baby mobile made from scrap pieces of fabric.
Hi everyone, it's me Annika stopping by. I have a cute little craft project for you today, that is perfect for those cooler, rainy days coming up. I find that I decorate more around this time of year, than any other. There are so many colors and fun shapes to be found during fall, and I get excited like a kid every year.
One of my absolute favorite decorating objects, are pumpkins. They come in so many shapes, sizes and colors….I just love 'em 🙂 I'm particularly fond of the green and white pumpkins…they have such beautiful colors….and I felt like making something that was inspired by them. So I came up with this; a cute pumpkin mobile in green and white colors, made from scrap pieces of fabric I had laying around.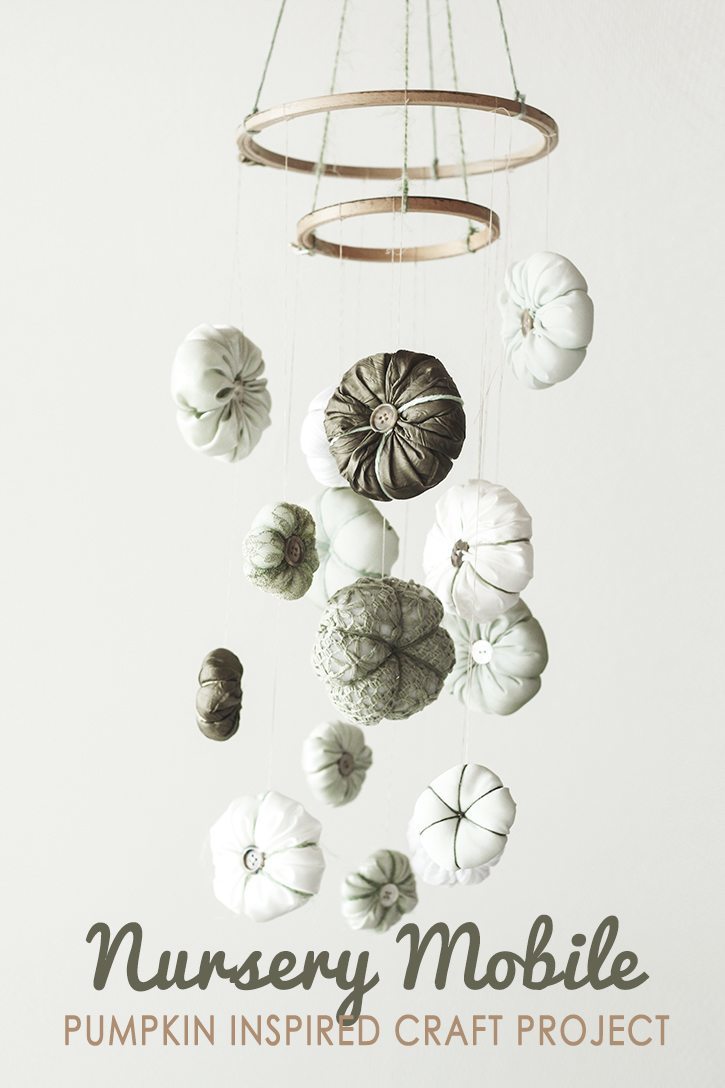 I have collected lots of fabric and yarn through the years, so I didn't really need to buy anything for this project. If you are not a collector of craft materials like me, don't  worry. Go visit a thrift store and I bet you could find some interesting pieces of fabric, buttons and yarn to use for a project like this. You could even get the pillow-filling at the thrift store, by buying an old pillow and take out that filling. There are of course also the craft stores, which will have everything you need for this project.Now, let's start and I'll show you how to make this cute pumpkin mobile for the nursery or  your kids room.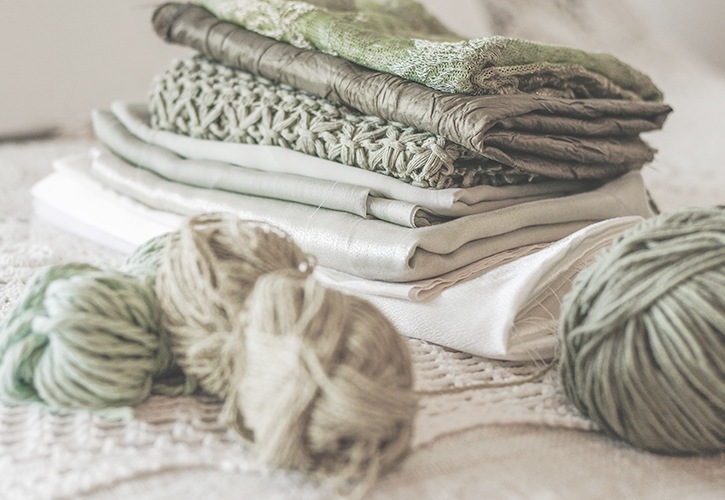 For this project you will need the following material and tools
– FABRIC  (use different types to add character to your mobile. I used about 7-8)
– YARN  (use a couple of different ones to match your fabric)
– EMBROIDERY HOOPS (two different sizes, mine where 21 cm and 13 cm in diameter)
– BUTTONS  (about 1/2 inch wide)
– SEWING THREAD
– PILLOW FILLING
– NEEDLE
– SCISSOR
– PEN  (to draw on fabric)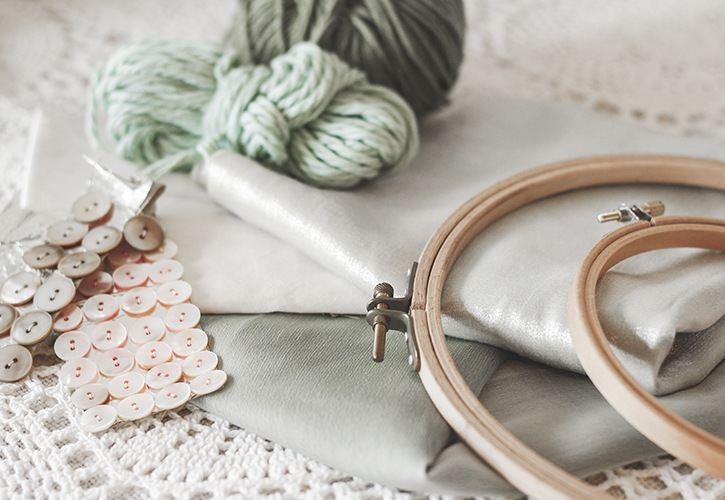 Creating Pumpkins
With all your material gathered, follow the how-to below to create you little pumpkins.
Hanging the Mobile
To hang the mobile, attach 4 pieces of yarn to each of the hoops and make those meet in a loose knot. Before you create the final knot, make sure everything is pretty level. Then thighten the knot.To easily place the pumpkins, hang the hoops before adding the pumpkins. Hang each of the pumpkins with sewing thread and place them equally along the hoop edge. Adjust pumpkins by dragging the thread knot, along the hoop, to even out the wight of the mobile.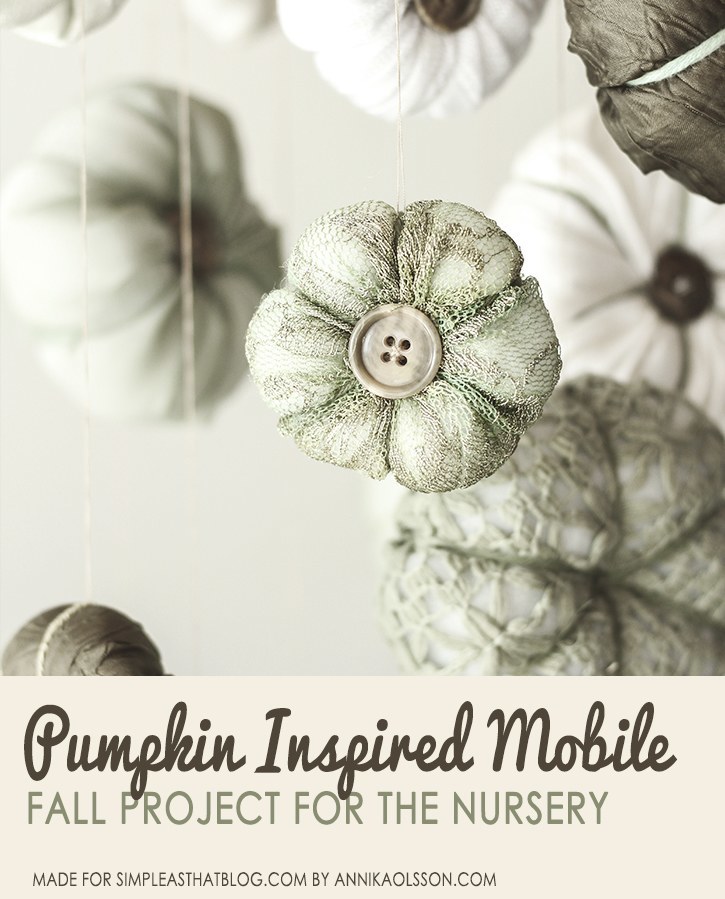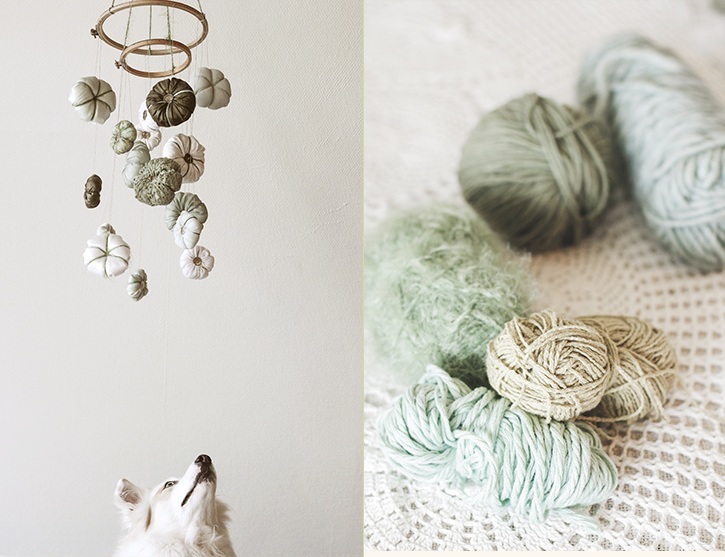 I hope you enjoyed this project. May you all have a wondeful fall.
 Annika