Rustic Summer Fruit Pie – a simple and rustic dessert, with sweet summer fruit filling and folded pie crust edges.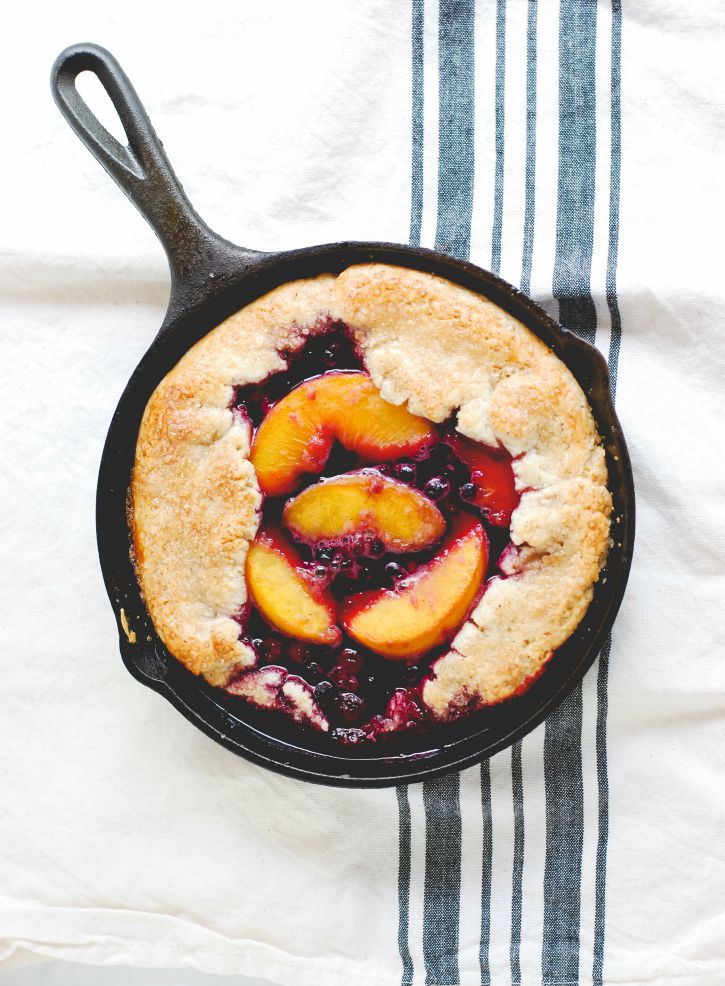 Hi, friends! It's Sara here… from Simply Happenstance! I hope that you are all enjoying a fabulous summer filled with lots of sunshine and quality family time! I've had a healthy dose of both this summer, and for that… I am so thankful!
Our family has had a summer of road trips. We left our home in Southern California for a week in Utah, followed by a week in Northern California at Donner Lake (near Lake Tahoe) for a family reunion. On our last night before leaving the quaint town of Truckee, we went to the most wonderful farmers' market in the downtown area. White pop-up tents with vendors selling handmade trinkets and goodies filled the vibrant street. Food trucks were parked selling fragrant homemade crepes, chocolate dipped ice cream cones, burgers, french fries… and PIES! Although crepes are honestly my all-time favorite food, I had a strong craving for a summer berry pie after seeing my cousin sharing a sweet slice with her son. The berry pie topped with a scoop of fresh vanilla ice cream did not disappoint! I knew when I got back home, I'd have to recreate the simple summer dessert!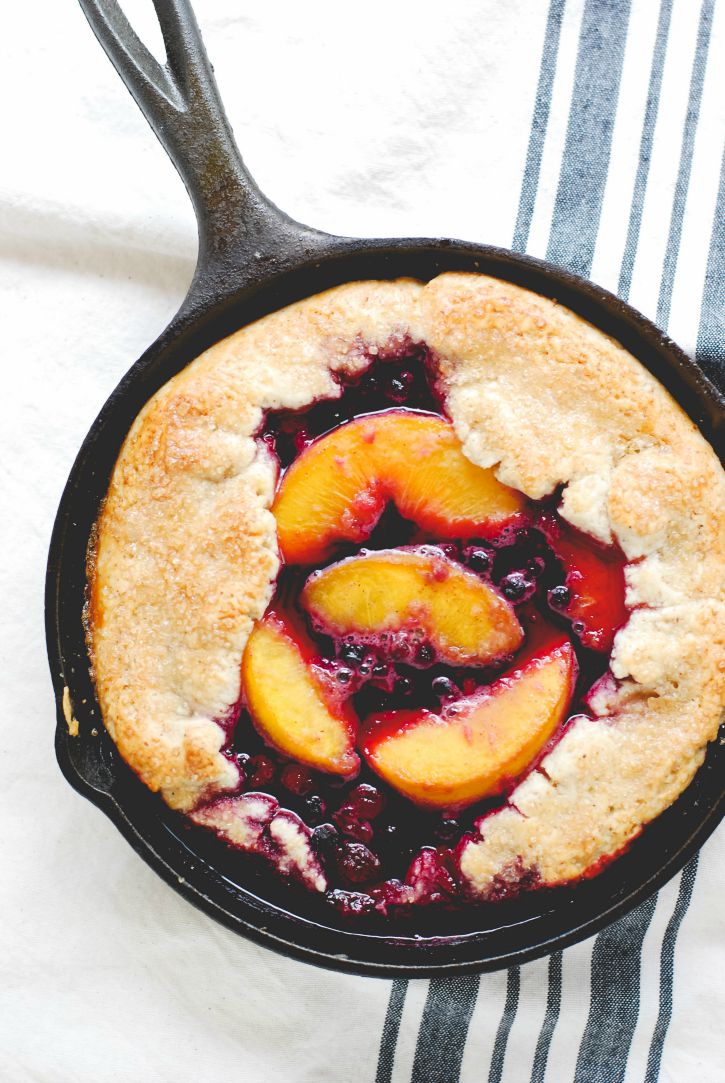 I enjoy cooking in a cast iron skillet. It's simple and rustic. Although fancy pie dishes with perfectly piped toppings have their place… a summertime pie can be more casual and earthy. This dessert, with its sweet summer fruit filling and folded pie crust edges is just that.
The crust can be whipped up in minutes (using a food processor) if your ingredients are ready and waiting. (Remember that using cold butter and ice cold water are key to a flaky, delicious crust!) In this recipe, there is a hint of almonds which adds a whole other depth of tastiness!
For the fruit filling, you can use your favorites. I chose to use 2 cups of wild blueberries, 1 cup of sliced peaches, and 1 cup of raspberries. (You can use fresh or frozen.) The sweet summer fruit filling compliments the rustic crust perfectly!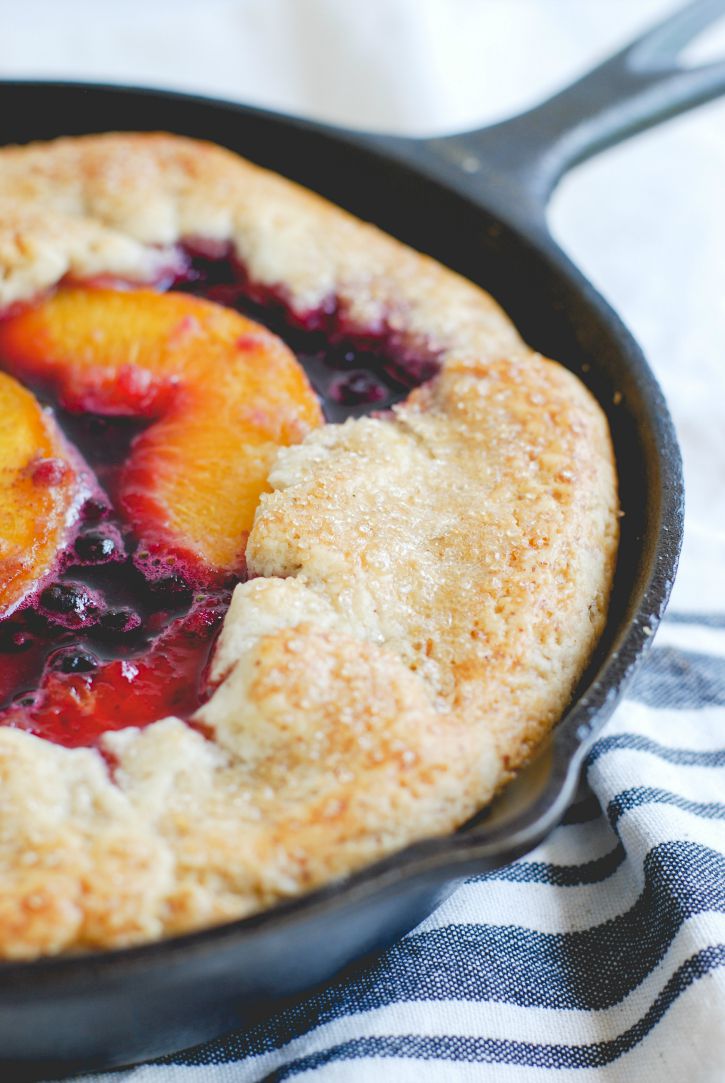 This summertime dessert would be wonderful shared at a BBQ, eaten after an intimate dinner at home, or even taken on a picnic! Just don't forget the vanilla ice cream! Enjoy!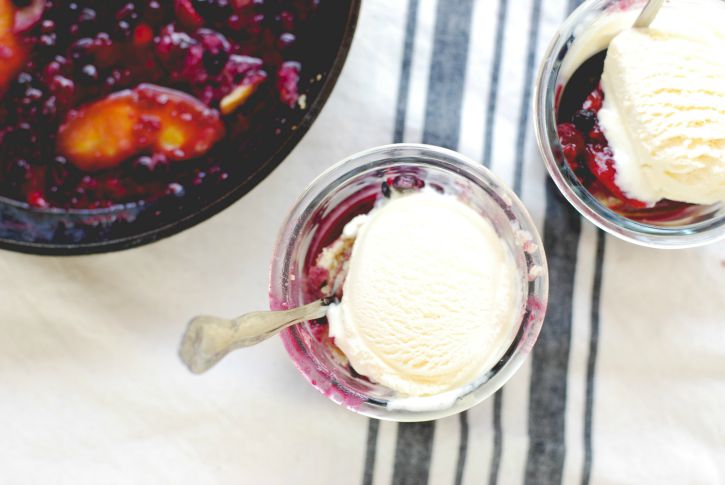 Rustic Summer Fruit Pie
Author:
Simply Happenstance for Simple As That Blog
Ingredients
CRUST //
½ cup sliced almonds
1½ cups flour
2 tablespoons granulated sugar
¼ teaspoon salt
½ cup cold butter, sliced into 8 chunks
¼ teaspoon almond extract
3-4 tablespoons ice water
*butter for greasing cast iron skillet
FRUIT FILLING //
4-5 cups of fruit (options include peaches, tart cherries, raspberries, blueberries, and/or blackberries)
1 tablespoon fresh lemon juice
½ cup granulated sugar
¼ cup brown sugar
3 tablespoons cornstarch
⅛ teaspoon salt
½ teaspoon cinnamon (optional)
OPTIONAL EGG WASH FOR CRUST //
1 egg white
1 teaspoon water
1-2 tablespoons turbinado sugar
Instructions
PIE CRUST METHOD //
Process the sliced almonds in a blender or food processor until finely chopped. Add the flour, granulated sugar, and salt and pulse to combine. Add the cold butter and pulse until it resembles small peas. Add the ice water, 1 tablespoon at a time, and almond extract, and process just until the dough comes together and forms a ball around the blades. (Do not overprocess.) Remove the dough from the processor, wrap it in plastic wrap, and chill at least 30 minutes or overnight (or freeze up to 2 months).
PIE FILLING METHOD //
Place the fruit (rinsed and sliced, if necessary) in a large bowl. Squeeze a slice or two of fresh lemon (equivalent to approximately 1 tablespoon) over the fruit mixture. In a small bowl, stir together the granulated sugar, brown sugar, cornstarch, salt and cinnamon until well combined. Add the sugar mixture to the fruit, stirring gently.
Turn the dough out onto a floured pastry cloth or surface and roll into an approximately 16-inch circle using a floured rolling pin. Fold it in half, transfer to a greased 10-inch cast iron skillet, and gently unfold the pastry, fitting it into the bottom of the pan and allowing the excess pastry to hang over the edge.
Spoon the fruit mixture into the crust, mounding it in the middle. Gently fold the edges of the pastry up around the filling, overlapping them in soft folds. (My circle of pie crust wasn't as big as it should have been. If this happens to you, do not be discouraged! It's a rustic skillet pie, so perfectly folded edges aren't needed!)
If desired, whisk together the egg and water in a small bowl. Brush the egg wash over the pastry and sprinkle it with the turbinado sugar. (This creates a golden brown, shiny crust.)
BAKE //
Bake in a preheated over at 375° F. until the crust is golden brown and the fruit is hot and bubbly, 35 to 45 minutes. Let cool for 1 hour to set the juices and serve warm with vanilla ice cream, if desired. Enjoy!
Notes
Adapted from My Recipes // http://www.myrecipes.com/recipe/rustic-spiced-peach-tart#mr-livefyre-ratings