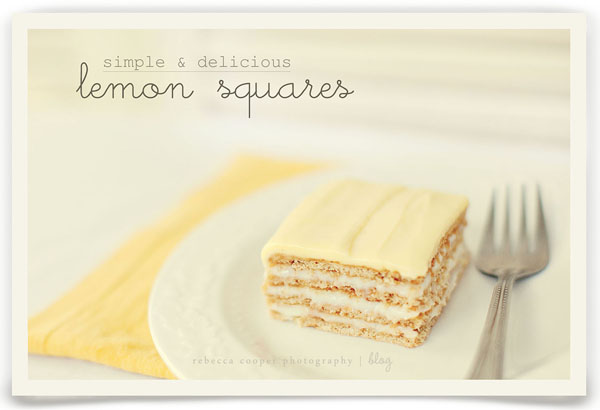 I've had the ingredients sitting around to make these squares for a little while now and was happy to finally have an excuse to make them the other day. These sweet lemon squares were a favorite growing up and one of my Grannie's specialties. No one can make them quite like she does! My mom thought maybe the recipe originated from the label on a can of Eaglebrand milk, but wasn't quite sure. Either way….we've been enjoying them in my family for years and now you can enjoy them too! 🙂
1 can eaglebrand milk
12 graham crackers
½ cup lemon juice {fresh/bottled or mixed}
1 tsp grated lemon rind
1 cup lemon icing
……………………………………
Blend condensed milk, lemon juice and lemon rind until thick. Layer bottom of a 9 X 9 inch pan with graham crackers. Pour a layer of milk mixture over top. Continue layering milk mixture and graham crackers.
Top with lemon icing.
1/4 cup soft butter
1 cup icing sugar
1- 2 tsp lemon juice
1-2 cups icing sugar
1-2 Tbsp milk
……………………………………
Cream 1/4 cup butter with 1 cup icing sugar. Gradually beat in 1 – 2 tsp lemon juice to taste.
Beat in remaining icing sugar. If needed, add milk until desired consistency.
Add a few drops of yellow food coloring and mix until blended.

mad in crafts
,
life made lovely
,
skip to my lou
,
a bowl full of lemons
,
tip junkie
,
todays creative blog
,
funky polkadot giraffe
,
blue cricket design
,
night owl crafting
,
reasons to skip the housework
,
design dazzle
free pretty things for you
,
sugar and dots
,
the trendy treehouse
,
ginger snap crafts
,
someday crafts
,
paisley passions
,