Hello, friends! I'm Rachel Gainer of rachelrebuilt.com, fitness contributor here at Simple As That. As we wrap up Thanksgiving and head into Christmas, I want to offer a few tips to help you enjoy all the holiday parties and neighbor treats without feeling overstuffed or deprived.
One of the biggest reasons we overindulge during the holidays is that every gathering feels special. We don't want to miss out on favorite foods, so we eat them even when we aren't in the mood. Instead, try listening to your body and giving it a good balance of nutritious meals and mindful indulgences.
You don't have to ban sugar to have a healthy holiday, and you don't have to eat every treat to have a happy holiday. Here are 11 tips to help you enjoy a little of both: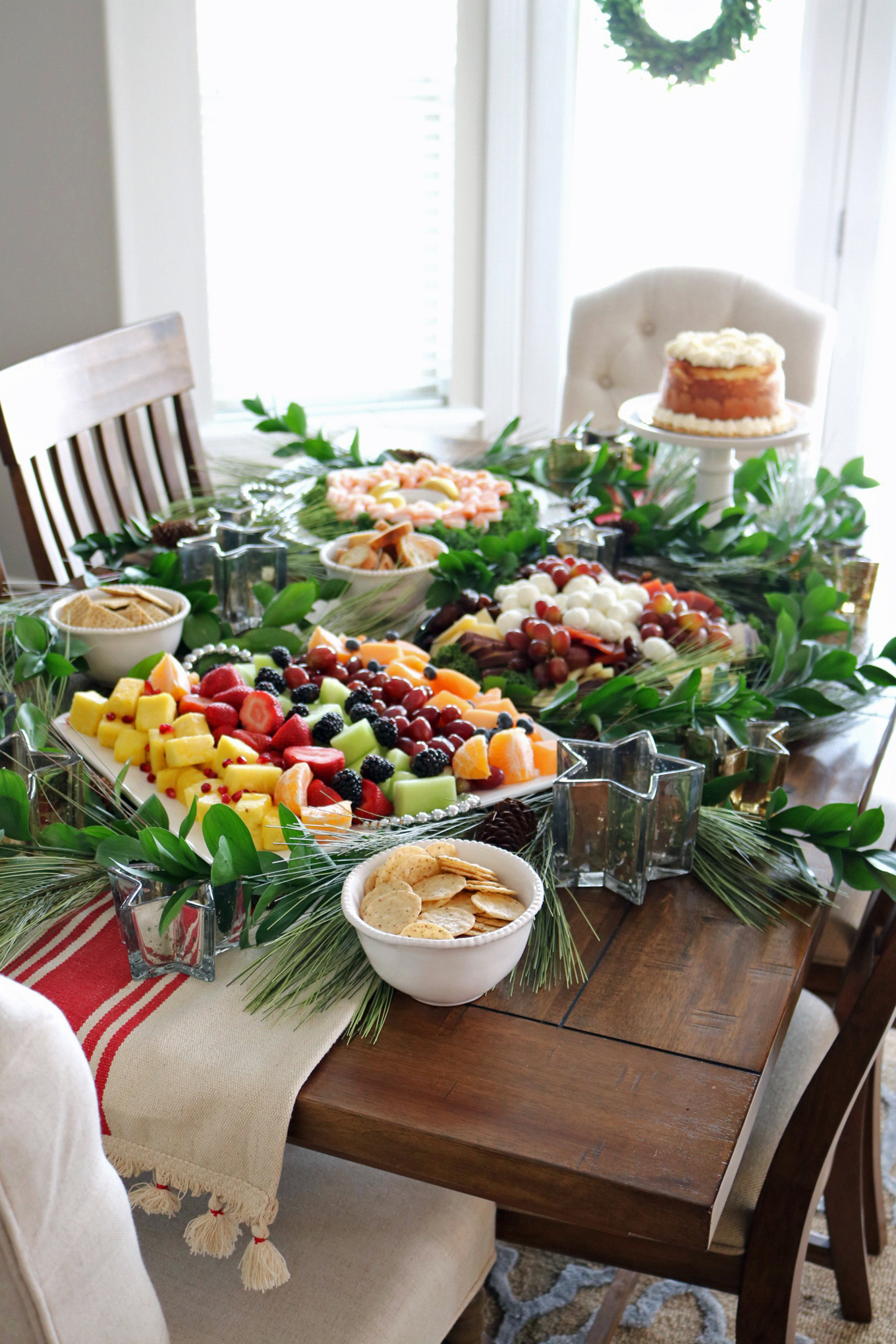 Tip 1: Plan ahead for social situations.
Instead of treating the weeks between Thanksgiving and Christmas as a month-long feast—where treats are always bombarding you—consider the big picture. How many events will you actually attend? What are your favorite food traditions? Plan for these celebratory meals, and try to make healthier choices on ordinary days.
Tip 2: Don't arrive hungry.
It's tempting to save up calories for big events, but everything looks good when you're starving. Hunger makes it harder to make healthier choices. Eat normal meals earlier in the day. You're more likely to make better choices when your brain isn't screaming, "FOOD!!"
Tip 3: Scope out the spread.
Take a walk around the table to see what's available. Before you even pick up a plate, note healthier options. Before the event, offer to bring a vegetable tray or salad to ensure there is at least one healthy choice.
Tip 4: Load up on healthy stuff.
Fill your plate three-quarters full with vegetables and fruits; then choose proteins and healthy fats to round out your meal. Limit yourself to one trip. If you're still hungry, grab some raw veggies or fruit.
Tip 5: Indulge when it matters to you.
Some meals and desserts are worth every bite. Splurge on high-quality treats or once-in-a-lifetime delicacies. Skip cheap, store-bought confections. Choose foods and moments that will help you truly enjoy the season.
Tip 6: Visualize your portion size.
If you plan to indulge, set mental boundaries. Make it reasonable. Remember, this is not the last time you'll eat dessert, so you don't need to eat until you're sick.
Tip 7: Savor your meal.
We tend to eat treat meals quickly, because they are so exciting. Take smaller bites. The first three bites are always the most satisfying, so take smaller portions of treat foods when you choose to indulge. Really savor each flavor.
Tip 8: Respect hunger and satiety.
When you choose to indulge, eat slowly, savor the flavors, and stop when you feel gentle fullness. If you aren't hungry, don't be afraid to walk away or save a treat for later.
Tip 9: Research your restaurant order.
If you'll be eating out, look up the menu online, and select your meal in advance. Use the nutrition and allergy guides to help you select a meal that fits your needs. Consider calling the restaurant to inquire about substitutions or ingredients.
Tip 10: Avoid "last-chance" feasting.
When you're trying to eat healthier, it's easy to get trapped in an all-or-nothing mentality. But this can lead to breakdowns in willpower that lead to uncontrolled binging. One splurge snowballs into a daylong feast, while you rationalize that you'll start fresh tomorrow. Instead, treat each meal, each bite, as a new decision.
Tip 11: Schedule daily movement.
As the days get colder and darker, it's tempting to cozy up on the couch and catch up on Netflix. There's nothing wrong with a little down time, but daily movement will keep your metabolism up and increase motivation in other areas of your life. Exercise also produces mood-boosting endorphins that can help you manage holiday stress and winter blues. Not sure where to start? Try my free #17MinutesStronger video series.
Many of these tips come from Clean Eating. Simplified. an eBook I co-authored with Shannon Sargent of cleaneatsandtreats.com. This eBook is a step-by-step guide to eating whole foods with over 117 tips and tricks to get you started and keep you going. Get full details and grab your copy here.
Photo credit: Shannon Sargent