Last year marked our first year with the Elf on the Shelf tradition and we had such a fun time during our visit from Harvey the Elf that we can't wait until he returns on December 1st! While this tradition was magical, I realized quickly that it could also get overwhelming. Trying to come up with creative ideas every night and weeding through the hundreds of Elf on the Shelf ideas on Pinterest was tricky. I'm doing my best to keep things manageable this year thanks to some of these ideas!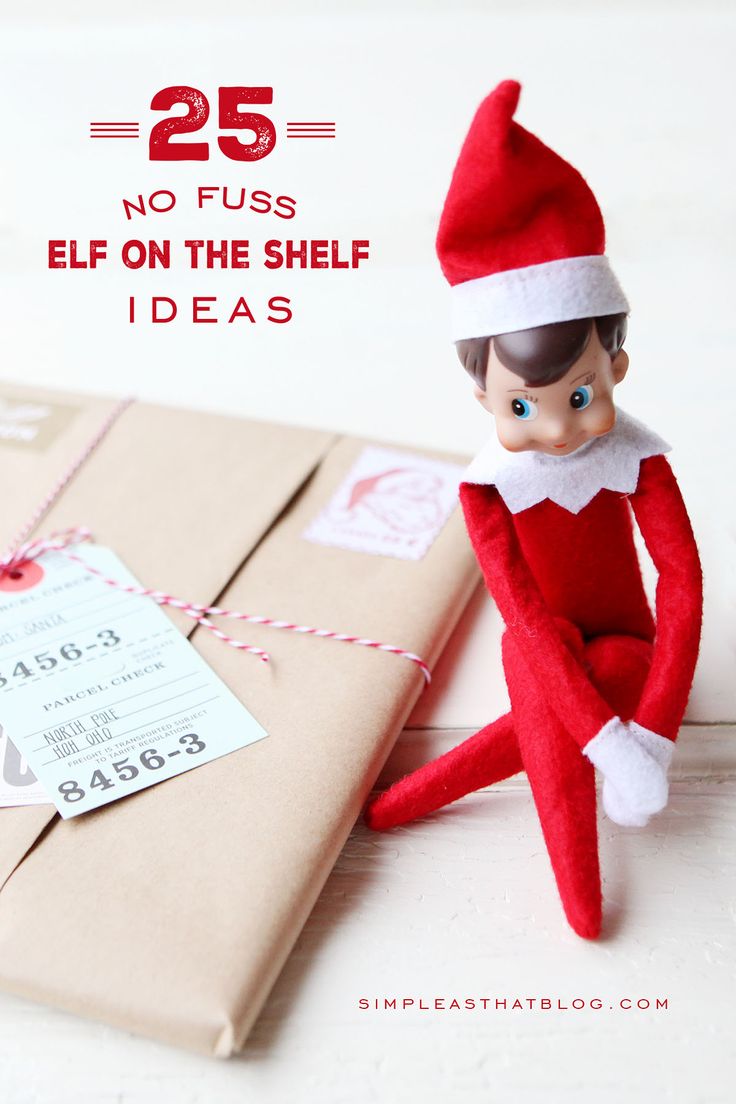 Today I'm sharing 25 no-fuss Elf on the Shelf ideas that you're going to love! These are things our Elf did last year and others I've found around the internet and on Pinterest. All of these ideas are quick, they involve little to no cleanup and they don't cost much. Most importantly, these ideas are sure to inspire magical memories this holiday season!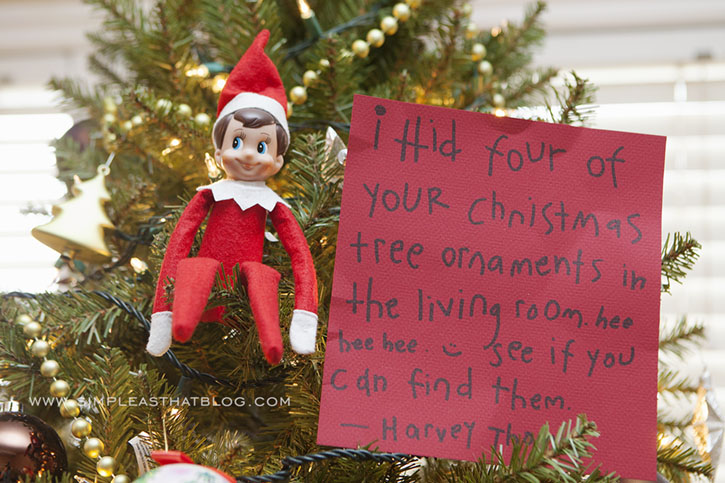 1. Play hide and seek with tree ornaments. My kids thought this was so silly and had fun searching for the missing ornaments. See photo above.
2. Roasting mini marshmallows over a flameless candle.
3. Writing an email or letter to Santa.
4. Playing a board game with the toys.
5. An Elf message spelled out with candy.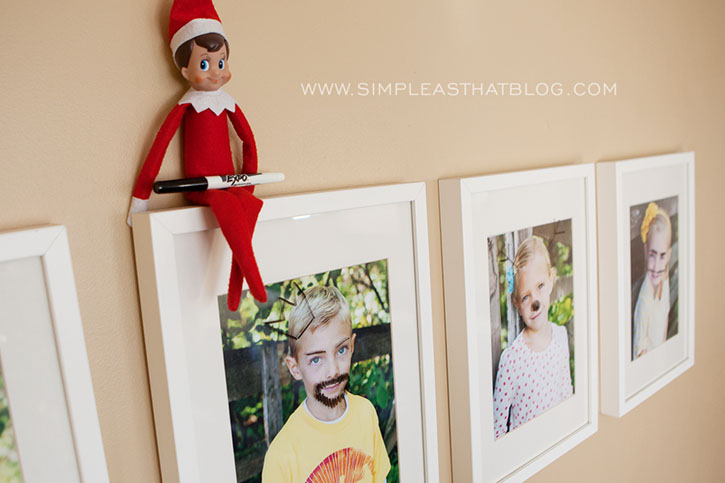 6. Making paper snowflakes.
7. Working out with mini marshmallow dumbells.
8. Elf captured by Lego figures or other toys.
9. Fishing for goldfish crackers.
10. Coloring silly faces on framed family photos using a dry erase marker. See photo above.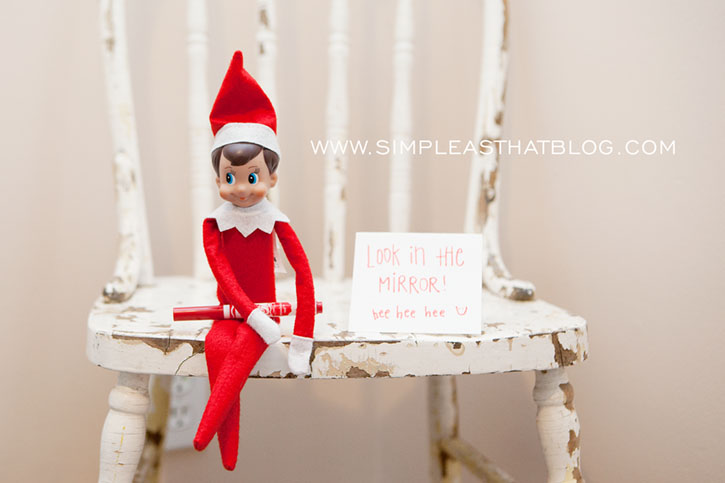 11. Draw a red rudolph nose on the kids while they're sleeping using a washable marker.
12. Go for a sleigh ride, animal toys dressed up as reindeer using brown pipe cleaners for antlers.
13. Have a paper sack race with stuffed animal friends.
14. Zipline through a room in the house with a candy cane.
15. Havw a bubble bath in the bathroom sink with mini marshmallows as bubbles.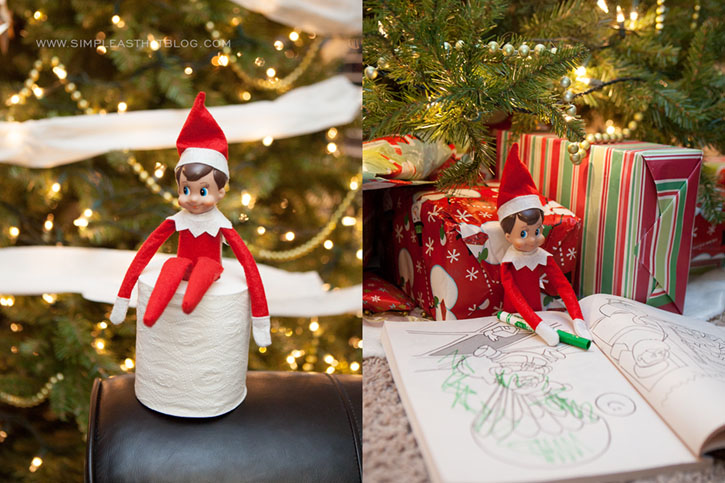 16. Elf tangled up in ribbon while trying to wrap Christmas gifts.
17. Tie Mom or Dad's shoelaces together.
18. Read a favourite Christmas book.
19. Toilet paper the Christmas tree, my kids thought this was SO funny! See photo above.
20. Color in a Christmas coloring book. See photo above.
21. Write "I will not…." lines on a chalkboard.
22. Sneak into a family members piggy bank. I made the money bag using kleenex and the mask with a piece of adhesive backed craft foam. See photo above.
23. Take a nap in a box of tissue.
24. Hide candy canes around the house, send kids on the hunt for them.
25. Trying to sneak a peek inside one of the presents under the tree.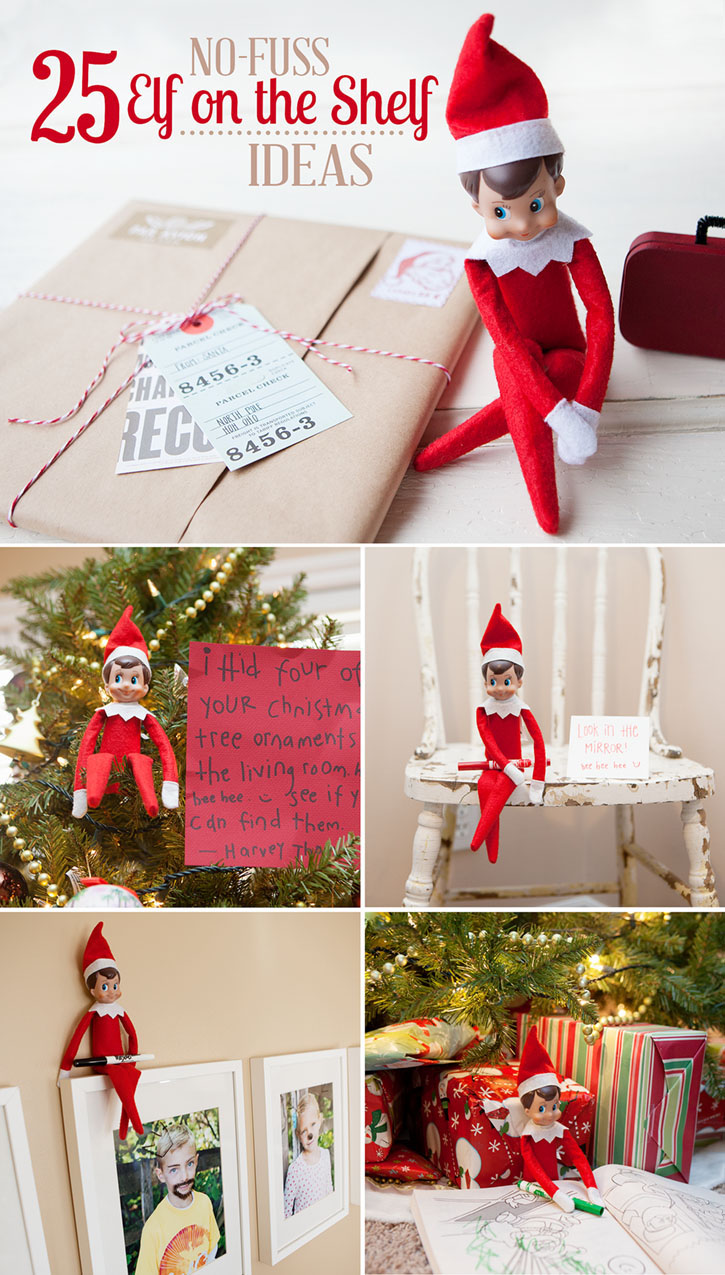 There are all kinds of Elf on the Shelf ideas to be found out there. If you're looking to keep this tradition simple then some of these things might be just what you're looking for! 🙂 Another resource you might be interested in is this printable Elf on the Shelf calendar from my friend Kristina of One Happy Momma!
Our Elf Harvey often leaves a little note for the kids to explain his antics or tell them about a special treat he's left for them, so I created some simple printable note cards to have on hand.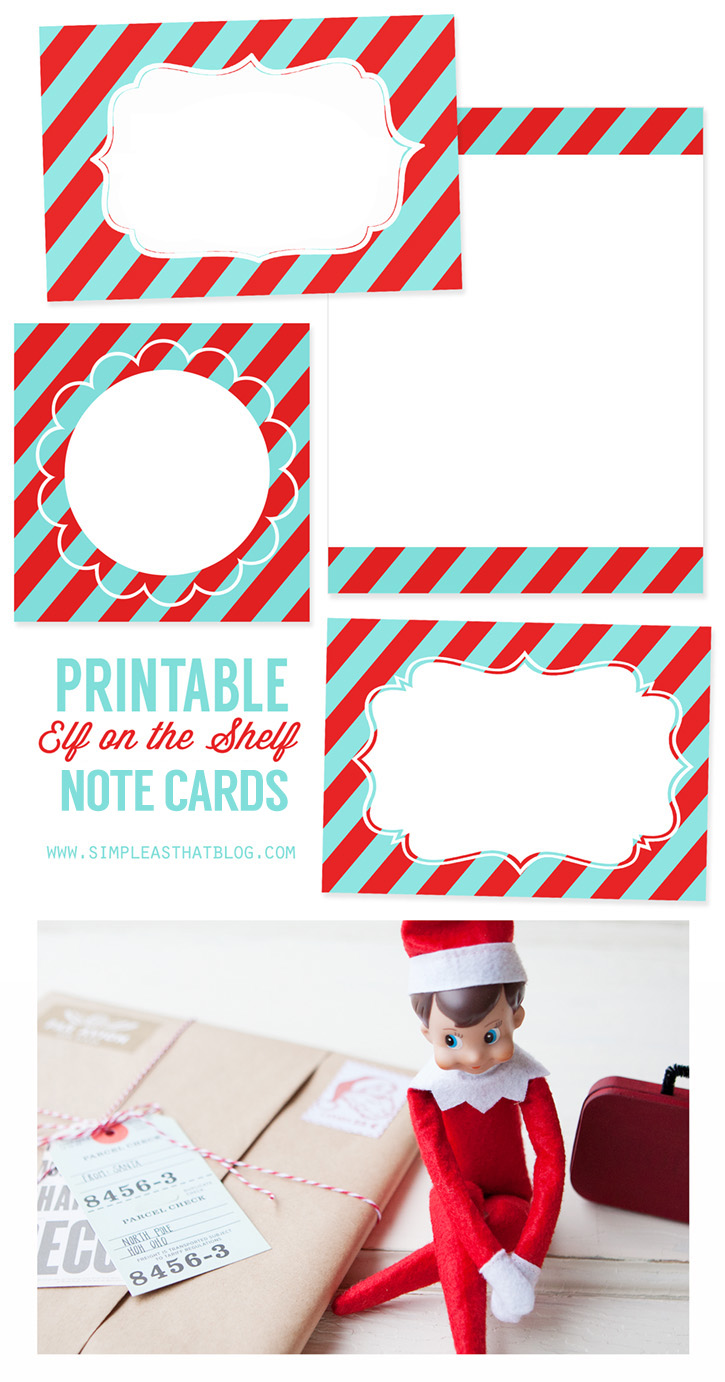 For more Christmas ideas and inspiration you may want to check out these popular posts:
Free Disney Frozen Printable Gift Tags
DIY Photos Cards using Digital Templates
12 Quick Tips for Memorable Holiday Photos
Snowflake Ginger Crinkle Cookies
Rudolph the Red-nosed Reindeer Hairdo

Reader Interactions