5 Benefits of Scheduling Instagram Posts – As a busy wife, mom and blogger, finding ways to stream-line my daily tasks is a must. In life and in business I need to be efficient with my time and scheduling my Instagram posts has been one small thing that helps me do that.
My Instagram account plays an integral part in my brand as a whole and is instrumental in helping me to connect with my audience and share new content with them. I devote a lot of time and effort into maintaining an intentional, inspiring and engaged Instagram feed and being able to plan and schedule out my Instagram posts in advance has been a huge game changer for me!
*This post contains affiliate links.
Benefits of Instagram Scheduling
Throughout my 10+ years of blogging I've learned a few things that have been essential in helping me run my business. A motto I've adopted in recent years has been to "work smarter, not harder" and I've found some really valuable tools that have allowed me to do just that.
Tailwind is a tool I started using last year mainly for Pinterest Scheduling and I've been so impressed with the services they offer and the resulting growth I've experienced in my Pinterest following. When they introduced their tool for Instagram it only made sense for me to give it a try based on the positive results I'd seen with Pinterest.
Below you'll find 5 benefits I've gleaned from scheduling my Instagram feed as well as some valuable information on what the Tailwind scheduling tool has to offer.
1. Scheduling Ahead Saves Time
As bloggers we have so many different roles to play during a given week. Wife, mom, chaeffeur, content marketer, social media strategist, photographer. Making the best use of your time isn't just a nice idea, it's essential when it comes to getting things done.
There are only 24 hours in a day and I don't know about you, but I don't have space to delegate 2 or more of those hours to social media. When it comes to posting on Facebook, Twitter, Pinterest or Instagram I want to get in and out as quickly as possible.
The ability to schedule my Instagram feed means I can block out a certain amount of time each day for the task and be done with it. I can prepare my Instagram posts in bulk and save time throughout my week by not having to come up with captions, research hashtags or edit photos on the fly.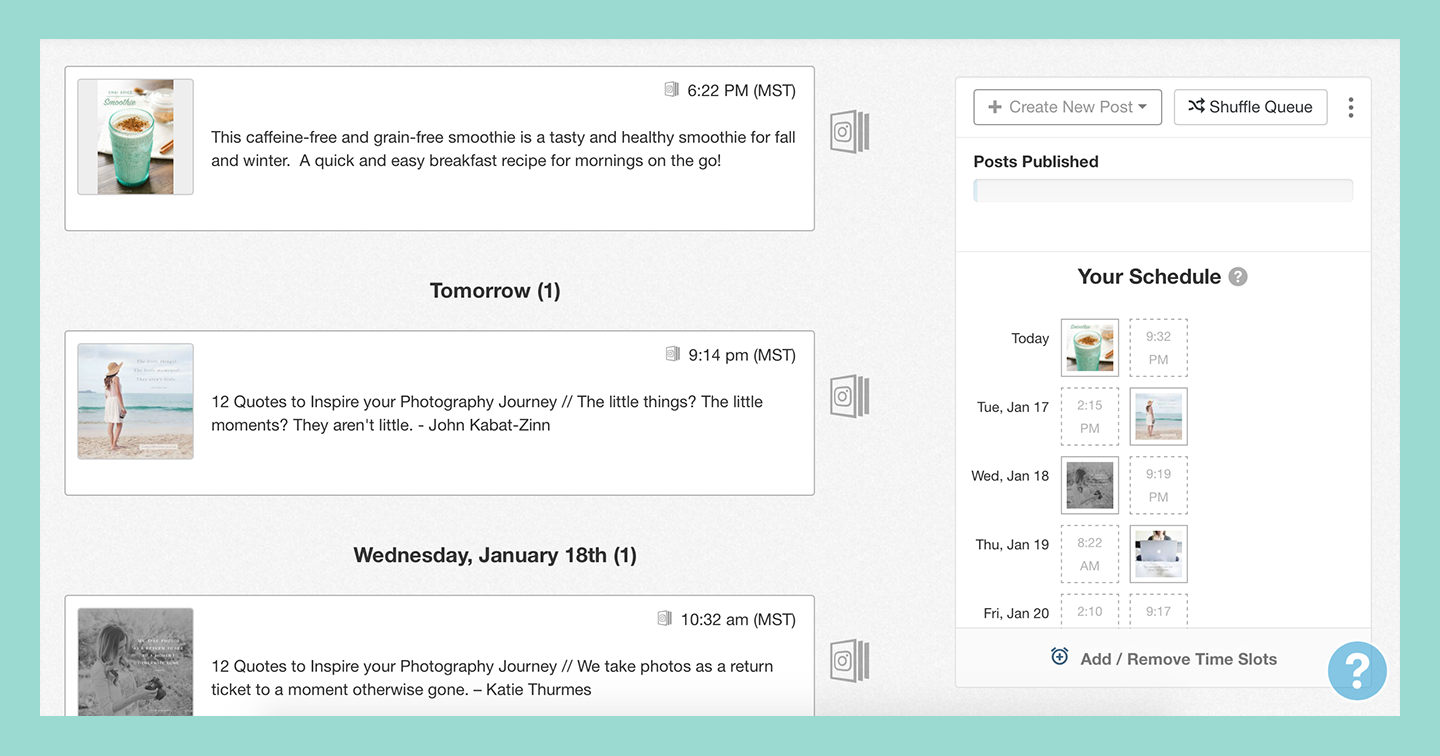 2. More Efficient Work Flow
I used to waste a lot of time waiting for or strategizing about the right time of day to post on Instagram but Tailwind has made Instagram posting so much more efficient for me.
Using their Smart Scheduler ensures that I'll always schedule at the right time of day for my audience –which is so important for engagement.
With the new Instagram changes you may have noticed a drop in likes and engagement on your account. These changes had a negative impact on my Instagram growth so I'm anxious to track how the smart scheduling tool helps with finding ideal times to post and interact with my followers.
If I'm taking the time to take beautiful photos and prepare thoughtful captions I want to make sure I'm using my resources in the most efficient manner by posting them when people will see my photos and potentially like or comment on them. I love how Tailwind takes the guess work out of knowing when to post!
As I mentioned, I use Tailwind to schedule on Pinterest as well. I love being able to schedule several of my social media channels using one tool. It's helped me be more efficient and has very positively impacted my social media growth.
3. Builds Consistency
Before I started to use a scheduler for Instagram I was relatively hit or miss about when I posted. Using Tailwind has given me the ability to post more regularly and to curate a consistent looking feed.
I'm no longer posting at random, I have a posting strategy that is working for me.  With Tailwind I can easily see what upcoming content I have slotted to share and I can edit my schedule quickly and easily by dragging and dropping posts whereever I'd like them to go.
The main reason I used to post so inconsistently is because I just wasn't available at peak posting times to be ON Instagram. The Tailwind app sends me reminders for posts that I have pre-scheduled making it handy to be able to post on the go.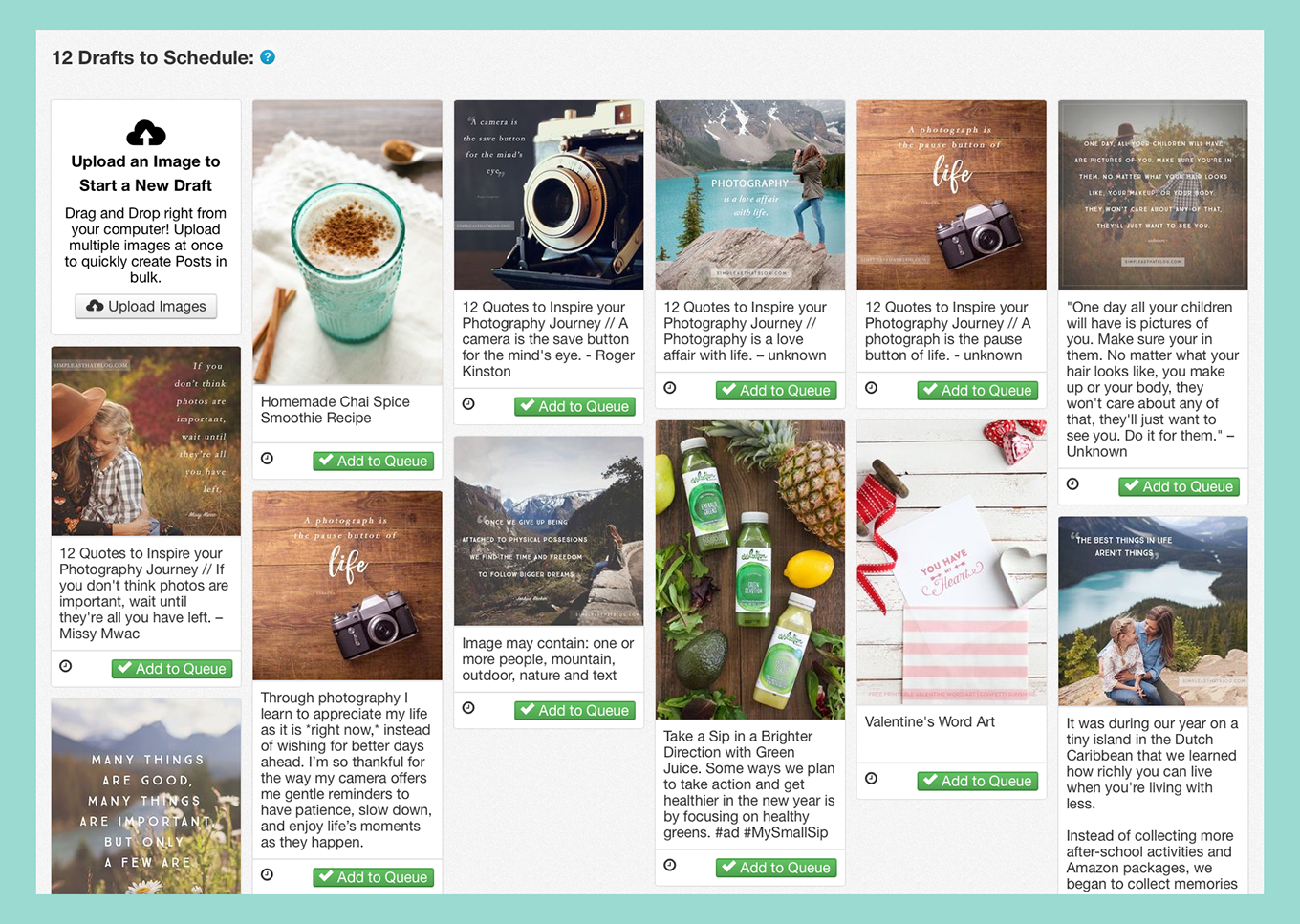 4. Allows you to Step away from Social Media
I love the ability to schedule out my Instagram posts a week or two in advance so that I can step away from my phone. We all know how valuable taking a break from constantly being on social media can be. It's refreshing to step away, focus on other things and come back to it with a new perspective.
Being able to step away from social media knowing that updates are still being posted in my absence does wonders for my peace of mind. I can take time away to be with family and not worry about my blog or social channels being stagnant.
The ability to schedule ahead and be off of Instagram itself has been huge when it comes to my productivity. We all know how easy it is to get sucked into the social media black hole that when we hop onto Facebook or Instagram to do one quick thing. You get scrolling and before you know it you've lost an hour of time you could have been using to do something more important. I love that tailwind helps me be less distracted by handling Instagram in chunks and being able to step away while my account remains active.
5. Keeps Things Organized
Scheduling my Instagram feed in advance has helped me to get myself organized by forcing me to put some forethought into my feed.
Their analytics help me strategize and really hone in on what my audience responds to and plan accordingly.
I do a lot of work from my desktop and being able to grab images from my own site or my Facebook page to schedule from has been amazing! I can type faster on desktop that on my phone making it easier for me to formulate draft posts and keep things organized.
I also like the ability that Tailwind gives me to search and draw content from certain hashtags. When I draft a post using another authors image it gives automatic attribution to the original poster – no more accidentally forgetting.
*Bonus: Tailwind just added this AMAZING Instagram scheduling feature that I can't wait to try!
Hashtag Lists
Save lists of top hashtags you commonly use for each type of content you post and save yourself hours by always having them at your fingertips!  No more memorizing, copying and pasting from spreadsheets, or switching between apps to hunt down tags from an old post.
Access your saved hashtag lists on any draft Instagram post in Tailwind – just find the "#" button (highlighted in the screenshot above). From there, click on the "+" button to create a new saved hashtag list, or click on any existing saved hashtag list to append it right to your post's caption!
Utilizing a scheduler for my social media posting has been a small, but pivotal way I've been able to save time and energy when it comes to blogging. I hope you found this post informative and if you have any questions for me I'm happy to answer what I can!
How to Start a Photography Blog
If you've ever considered starting a photography blog—whether to connect with other women, to motivate you to hone your skills, or to launch a professional business—I've put together 5 simple steps will give you a solid foundation for building a beautiful photography site in this blog post.