If you want family photos, but it's just not in the schedule or the budget to hire a professional photographer this year, try your hand at taking your own with these 5 quick tips for taking your own family photos!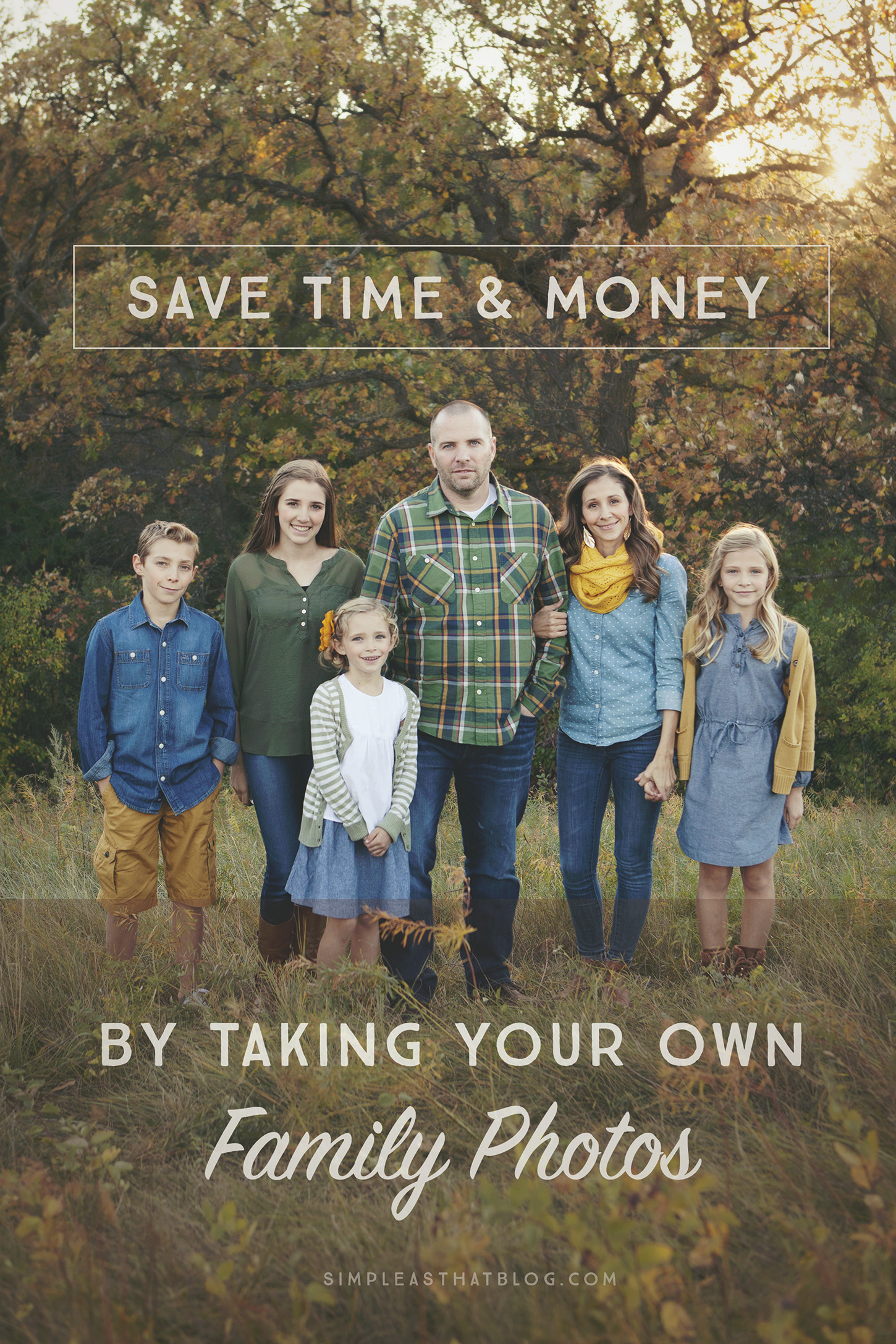 As a professional photographer I've taken thousands of photos for families through the years. Whether it's for Christmas cards or to simply record the growth of your family over the course of the year – family photos are so important to a lot of people. While having family photos taken is a priority, it's not always possible to invest the time and money in a professional photo session each year. Today I wanted to share some quick tips to help you photograph your own family – it's easier than you think!
My husband is a student and family photos just wasn't looking like a possibility this year as far as time or budget, so I decided to take matters into my own hands. I shopped through our closets for clothing that we already had that coordinated and on one of the kids days off school we carved out a couple of hours for me to snap our own family photos.
5 Quick Tips for Taking your own Family Photos
1. Plan ahead. Having a plan laid out ahead of time is key. Know where you'll be going – choose a location that isn't too far away and provides a beautiful backdrop. Plan a time where you won't be rushed, when everyone is fed and well rested. Have a plan as far as photos you'd like to take and poses you'd like to capture so you can be quick and efficient. Being realistic in your planning and let your family in on your expectations will do a lot to ensure the success of your family photos. For our family photos this year, I planned to shoot for 30 minutes, I let my kids (and my husband) know this and letting them in on this timeframe really helped .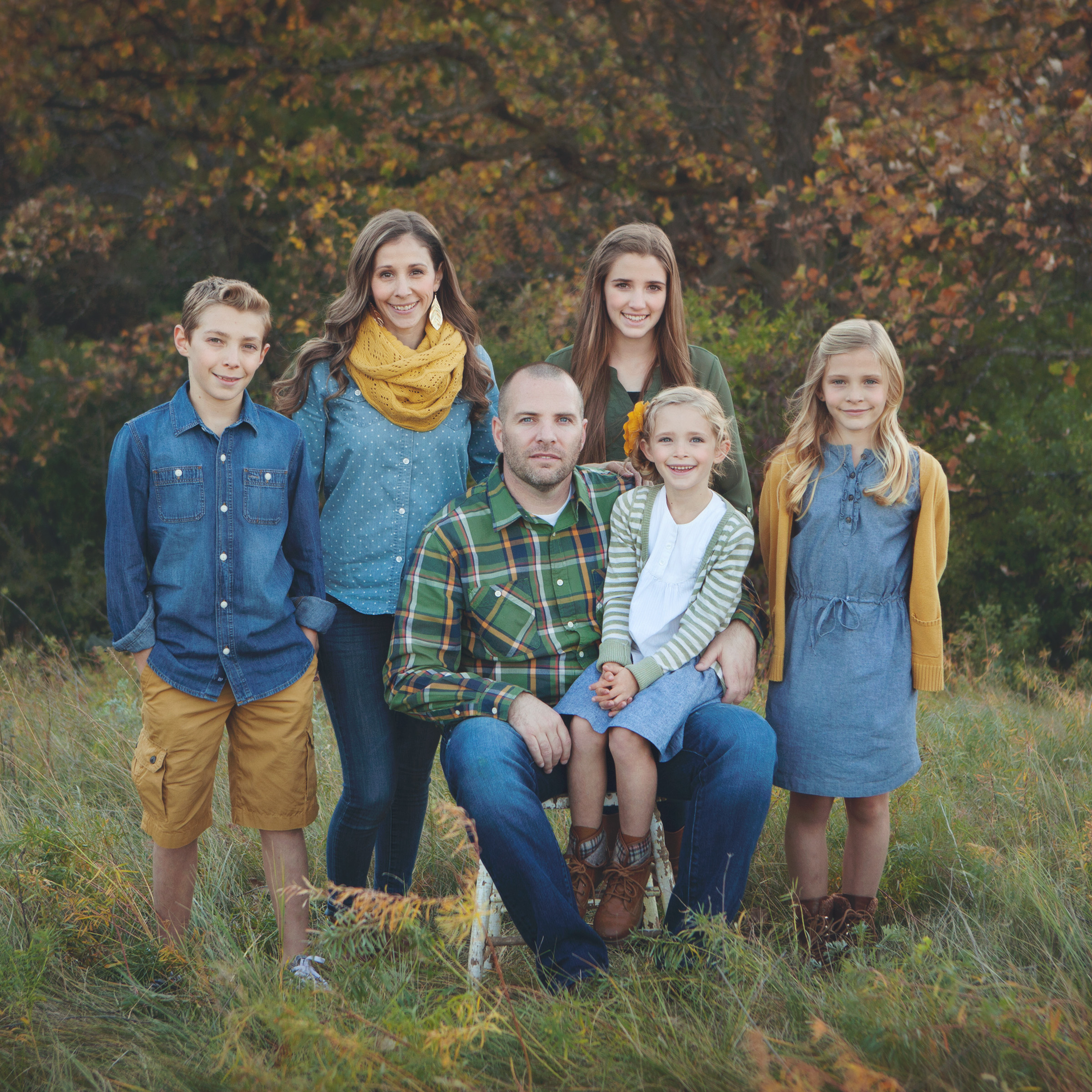 2. Use the right tools. To take your own family photos you're going to need to use a tripod and a your camera's self timer and/or a camera remote. The tripod I use is the Manfrotto MT 055 XPRO with Manfrotto Action Ball Head.
If you're planning to take your photos with a point and shoot camera or your phone, a Gorilla Pod flexible Tripod is helpful. You can mount it on anything really and snap a quick photo of your family. Many phone apps have a self timer option that you can use to get in the shot – I use Camera+.
You're also going to have to get familiar with using your camera's self timer in order to get in the shot.
Tricks for shooting with the self timer
Pose your family being sure to leave space for yourself to jump in
Take a test shot before getting in the shot to make sure your settings are correct, make any necessary adjustments
It's very important to set your camera's focus before getting into the shot. Choose an individual in your group to focus on. To lock your focus, press your shutter button halfway until you hear it beep. That sound signals that the camera has locked focus. Without releasing, press the button all the way down. Doing so will activate the self timer. Get into your position in the photo frame and wait until the shutter snaps.
Note: All images from this post were taken using my Canon 24-70mm lens. I can go on and on about why I love this versatile lens so much! Read my complete review here.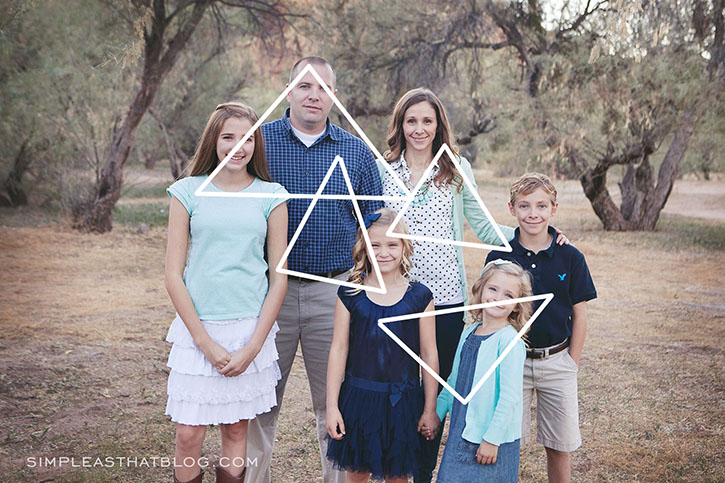 3. Strike a pose. When it comes to posing your family look for visual triangles. Have people's heads at different levels. Bring along a chair or utilize something in your environment to accommodate posing: like a set of stairs or a fence. Notice the visual triangles at work in the image above. They draw the eye around the photograph and create a pleasing composition.
With group photography posing is important and so are your settings, especially your aperture. Aperture settings are what will determine how much of your photo is in focus. With a group, you want to set your camera to small f-stop (larger number) so more of your group will be in focus. When you shoot in AV mode or aperture priority mode you can change the aperture setting and your camera will determine the rest of the settings for you in order to get a properly exposed image.
4. Keep it Simple. Taking the photos and being in them is a lot of work, so keep things simple. Choose a limited number of poses you'd like to capture and keep yourself to a specific timeframe. This helps family members cooperate when they know they have a set amount of time to do photos. Make the most of your time by knowing what images you hope to capture ahead of time and take advantage of the opportunity to snap a few shots of just the kids or just Mom and Dad while everyone is dressed up.
Keep your photo background simple as well, you don't want the backdrop upstage the subjects. Things like a neutral colored wall, a wooded area. Placing your subject – in this case your family – a few feet in front of your backdrop will help with blurring the background and will naturally make your family stand out.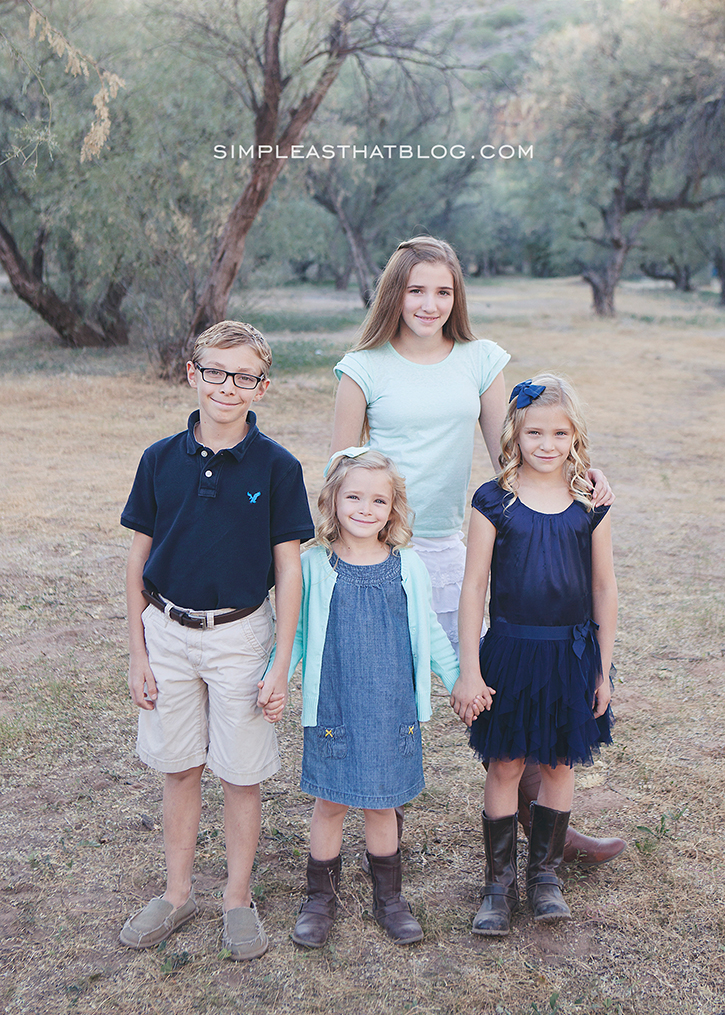 5. Make it fun. Make your next family photo session less about getting the perfect shot and more about the moment, eachother and the thought of what memories will be triggered by these photos years down the road. This will take a little bit of the pressure off and help everyone to relax and just enjoy the time together as a family. The perfect family photo may not necessarily be the one you envision. Open your mind, relax, have fun with it & the photos will reflect a lovely memory of time spent together. If you are relaxed, your children will be too.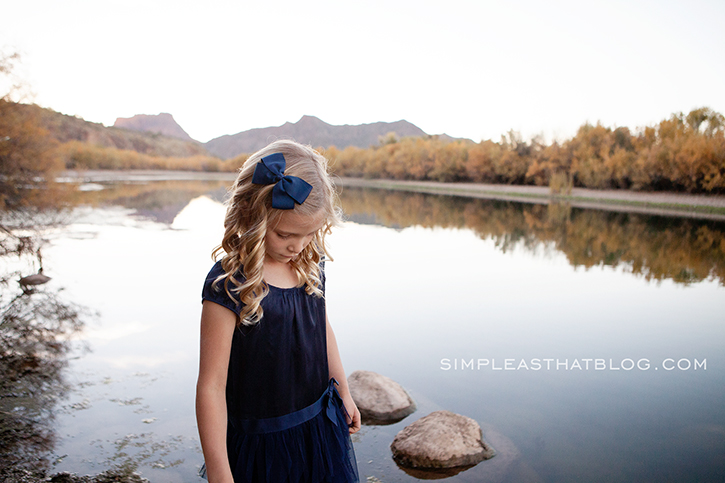 We did our little family photo session in a beautiful spot here in Arizona called Coon's Bluff. We brought a change of shoes for everyone and let the kids know that after photos were done we'd have some fun exploring the area. We had a lot of fun enjoying nature and made the whole family photo experience a memorable one.
With a few of the photos we captured during our DIY family photo session I put together this cute Christmas card via Minted.com. This is our second year using Minted for our cards and I'm just as thrilled with them as ever! They have such a wide variety of  holiday card choices available for all styles and their quality is incredible! You can take a peek at our cards from last year right here.