5 Things to do as a Family while visiting Sedona, Arizona – there are so many things to see and do amid Sedona's beautiful red rock landscape! If you're making travel plans this Summer, Sedona is the perfect place for your next outdoor family adventure! 
5 Things to do as a Family while visiting Sedona, Arizona
We recently spent three fun filled days in beautiful Sedona, Arizona and it was a trip we won't soon forget! There was a little bit of everything for the whole family in and around Sedona! I wanted to tell you about 5 things we really enjoyed as a family and were able to fit into a 3 day trip.
Out of Africa Wildlife Park
On our way to Sedona (traveling from Phoenix area) our first stop was at the Out of Africa Wildlife Park. With the promise of getting up close and personal with giraffes, tigers and other animals in the park we were excited to start our trip off with a little walk on the wild side!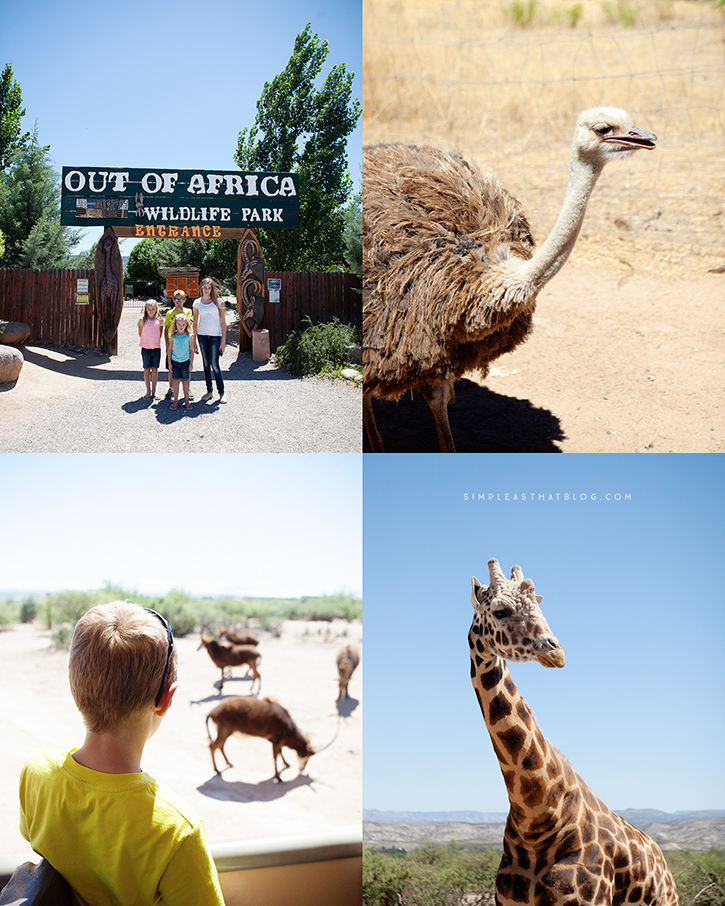 We kicked off the day at Out of Africa with an african bush safari and it was so fun, engaging and interactive! We got to feed the giraffes as our tour guide told us about each of the animals we encountered. The kids had such a great time!
Next we decided to take in one of the shows. The creature feature allowed the kids to see and touch a python and a mara and observe a gila monster from a safe distance. That contact with the animals was so exciting for the kids!
Kisses from one of the giraffes at Out of Africa Wilflife Park – so cool!
We stopped for a quick bite to eat after walking around the park to see more of the animals on foot then topped the day off with Out of Africa's signature Tiger Splash Show. The show was incredible, the kids were completely taken in with watching the tigers jump into the pool and race around their enclosure!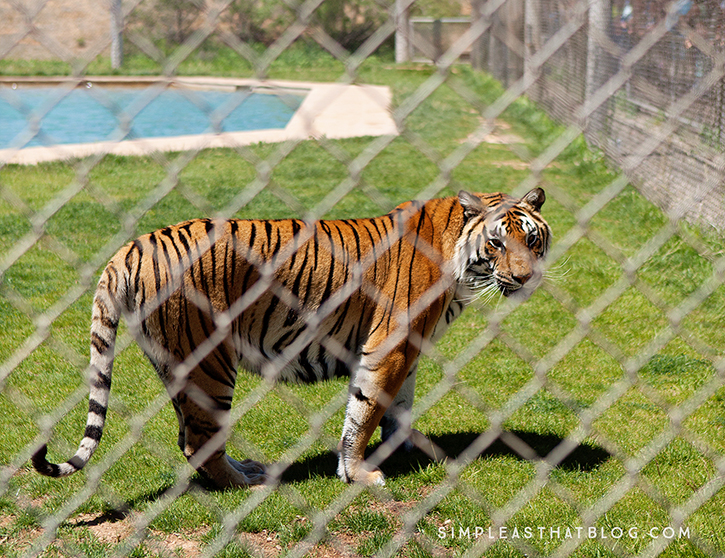 Slide Rock State Park.
We've wanted to visit Slide Rock State Park for some time now and we were excited to finally check it off our bucket list this trip! We spent the morning sliding on the natural waterslides and exploring around Oak Creek. It is such a beautiful spot and definitely worth checking out!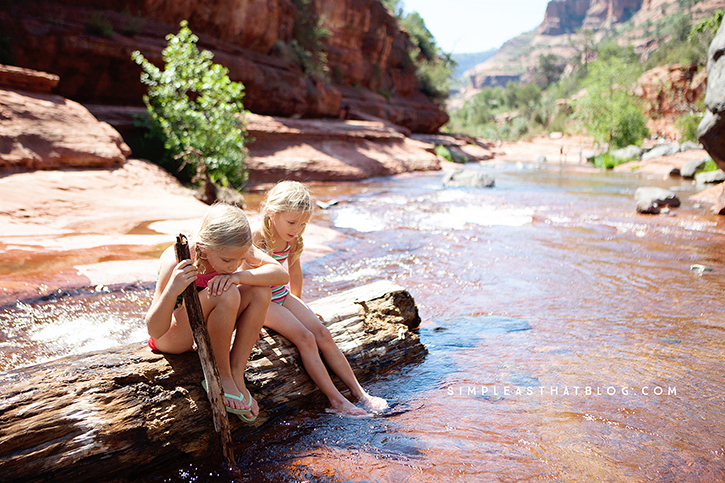 The water was cold but the kids didn't seem to mind. They were mostly excited (and a little bit nervous) to try out the natural waterslide and everyone did except our youngest (age 5). After getting their fill of sliding we stopped for a snack then headed up Oak Creek to explore. The kids had all kinds of fun wading in the creek, climbing on the rocks and my son even did a little cliff jumping!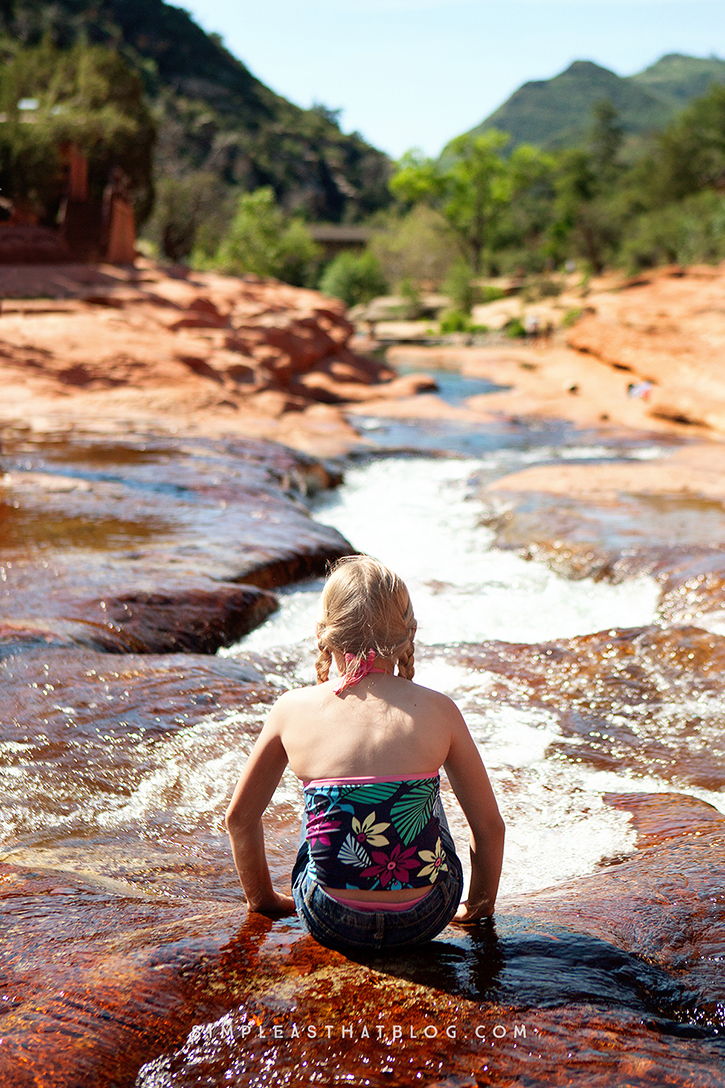 If you're planning a visit to Slide Rock State Park I'd recommend getting there early. The park gets very busy, especially in the Summer months, so consider starting your day early. The park opens at 8am in the Summer and we arrived around 8:20am and enjoyed a good 2 hours before it started to get crowded. Check before you go as the parking lot can reach capacity and there may be a wait to enter the park.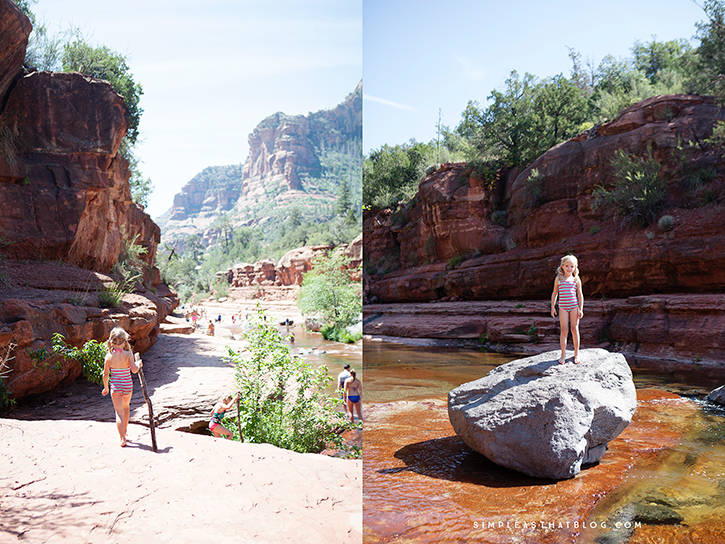 Bring some snacks or a lunch and make a day of it.
Wear watershoes. The rocks can be very slippery and having shoes that help to grip the slick rocks will help prevent any slips and falls.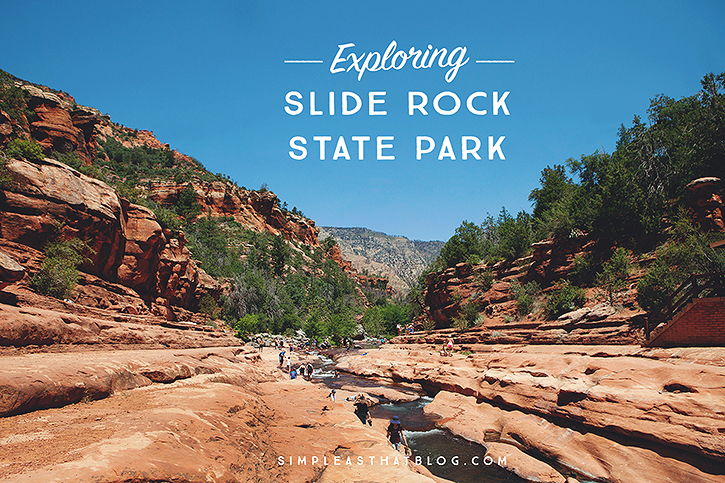 If you'll be sliding I'd recommend a pair of thick shorts over top of your swimsuit. The rocks are rough and can easily damage swimsuits. Our kids wore jean shorts over their swimsuits and it didn't make sliding difficult at all!
Be sure to visit the SRSP website for up to date information including fees, seasonal closures and amenities that the park has to offer.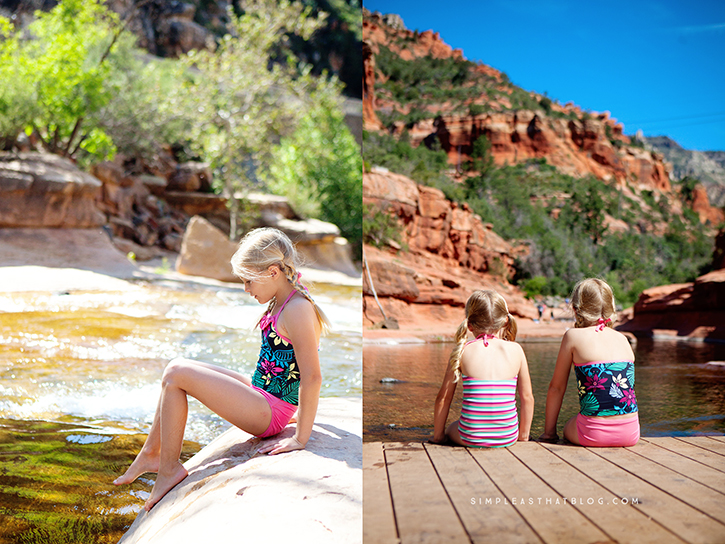 Sedona Horseback Rides
One evening during our trip we ventured just a few miles southeast of Sedona for an authentic western experience at M Diamond Ranch. Horseback riding is a favorite past time in Sedona and our visit to this 100 year old, family-run cattle ranch was definitely one of the highlights of our vacation!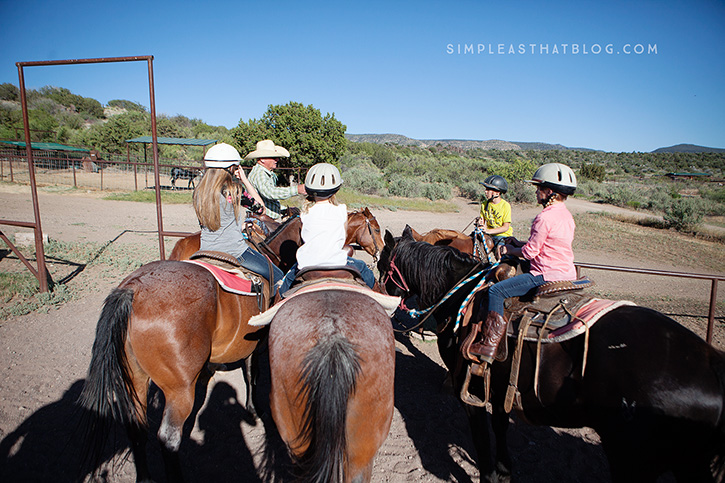 Our two youngest girls absolutely love horses so our trail ride adventure was a dream come true for them! It was far and away one of the most memorable experiences on our trip. We were introduced to our horses and then set out on a gentle trail ride along the ridge above the ranch.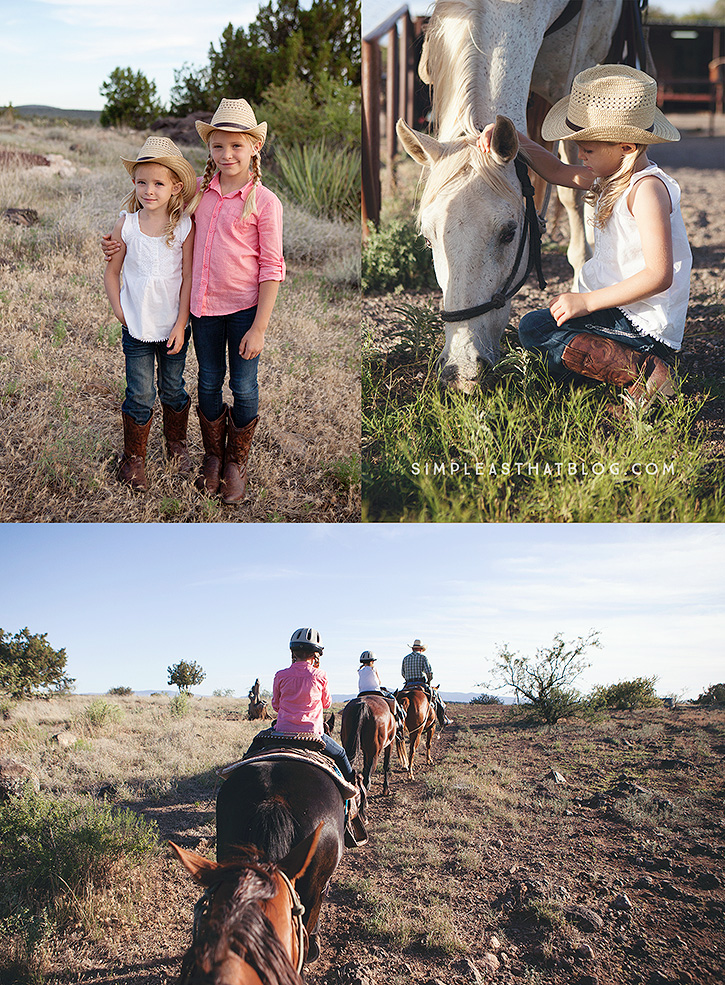 The views of the Verde Valley and Sedona's red rocks were incredible! The horses moved along at a perfect pace for the whole family – even our five year old was able to join us on horseback. Her horse was led along the trail by one of the guides and she did so well!
When the trail ride was over we got to ride a horse-drawn wagon up to "The Sedona Lookout" where we experienced an authentic cowboy cookout.  The kids got to try their hand at some roping and play horseshoes while dinner was being prepared.
We enjoyed the gorgeous view of the valley and listened to live music while we ate the most amazing steak dinner – oh my goodness!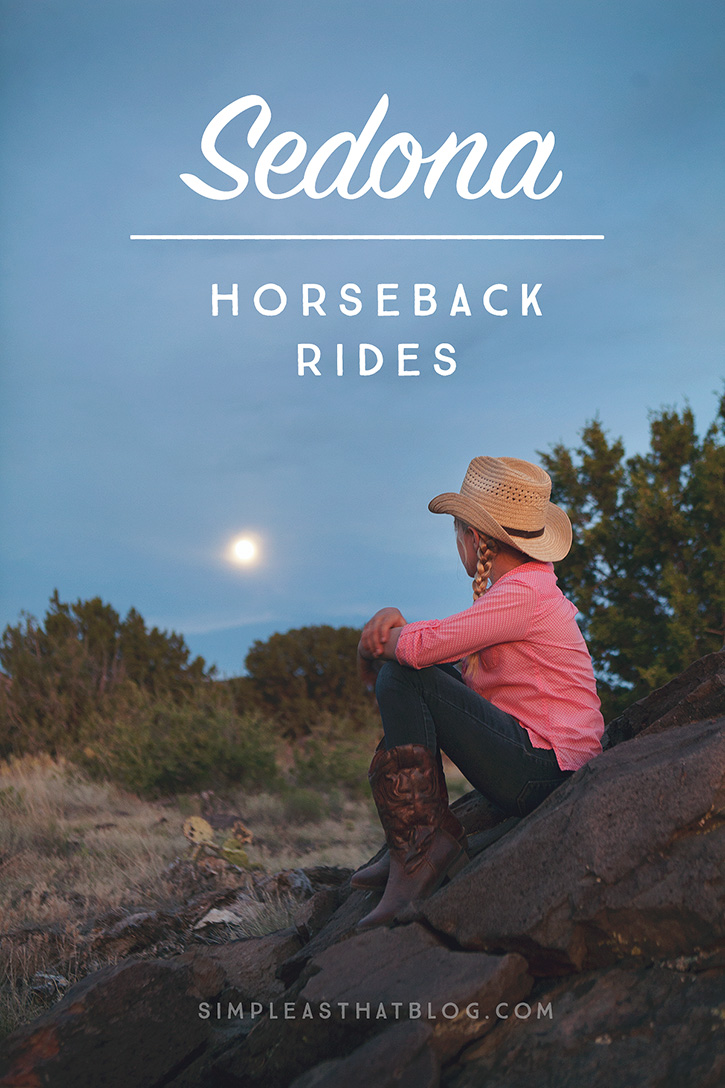 We topped the evening off with s'mores by the campfire and homemade peach cobbler all while watching a stunning Arizona sunset. It was a night to remember for sure!
Hiking Trails in Sedona
We've been to Sedona a couple of times now and have had the opportunity to do a some beautiful hikes in the area. If you're planning a visit, I encourage you to take in some of the gorgeous views via one of the many scenic hiking trails Sedona has to offer!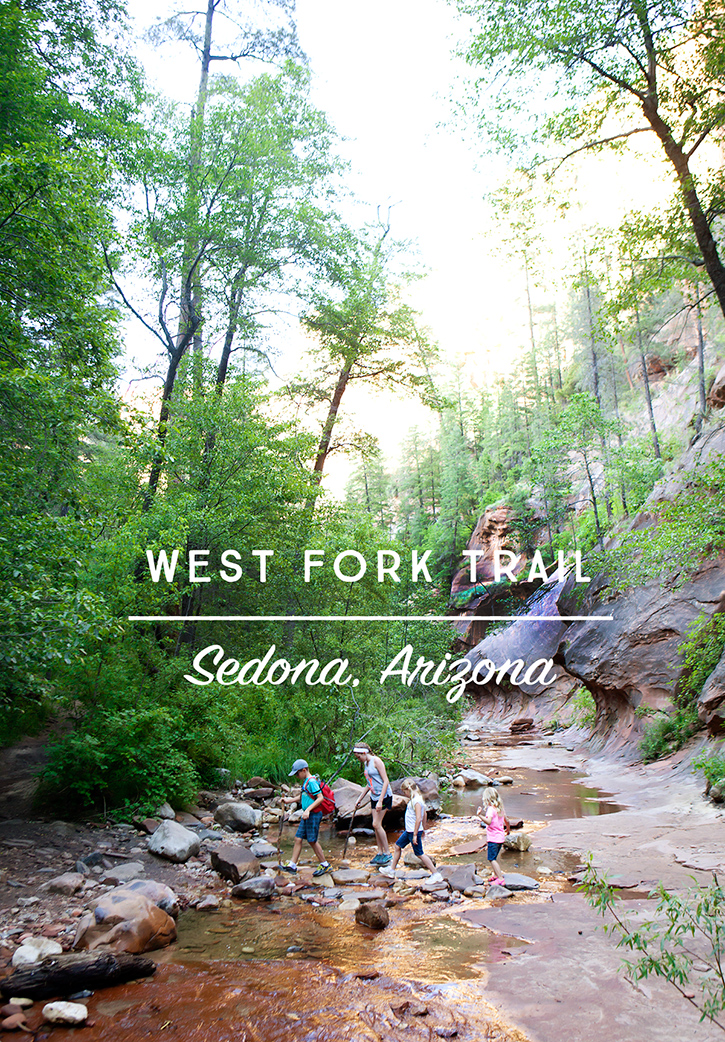 If you want to spend some time getting active outdoors as a family there are several trails worth checking out. I'll be sharing more details on some of our favorites in an upcoming blog post, but this trip we did the West Fork Trail and it was beautiful!
West Fork Trail is 5-7 miles round trip and depending on the level of the hikers in your group, you can go as far as you'd like.
Bring shoes that can get wet – in total there are 13 creek crossings along the trail. The creek crossings were a highlight for our kids!
The trail was shaded and was really pretty! Not too hard for even our youngest hiker (age 5) to tackle on her own. It's $10.00 to park and the parking lot closes at dusk, so plan accordingly.
Blazin M Ranch.
We had the opportunity to step back in time at the Blazin' M Ranch on the final day of our Sedona adventure. This old west experience was all kinds of fun! From roping to sharp shooting to a delicious chicken and ribs dinner with live entertainment the ranch had it all!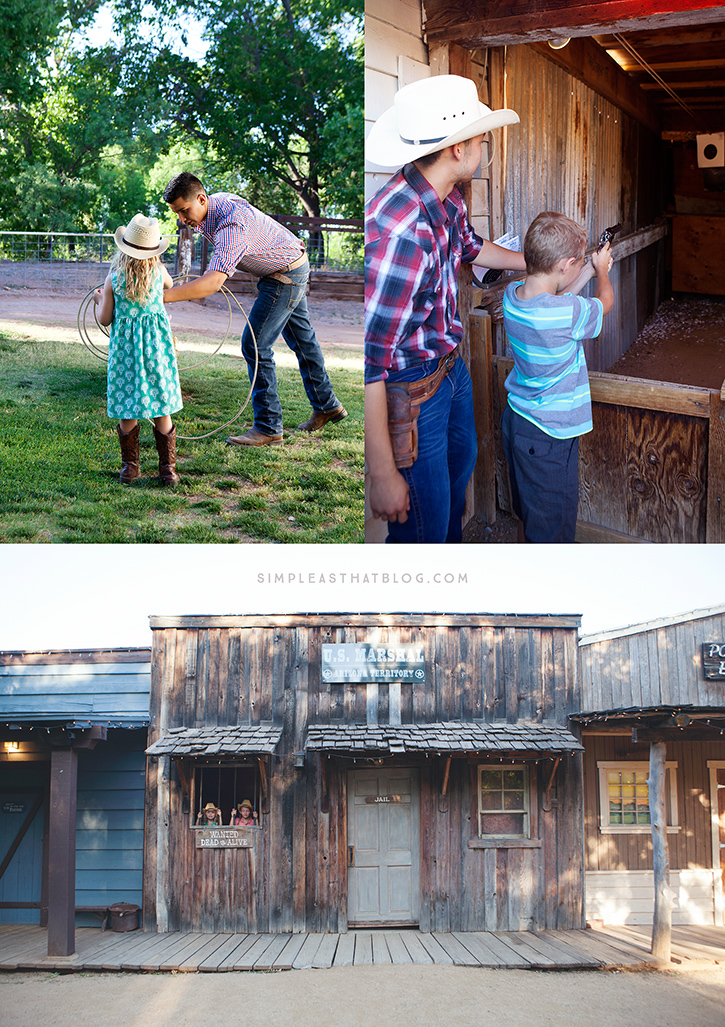 The Blazin' M Ranch is just 20 minutes from Sedona. The kids really loved the live entertainment after dinner! So much fun – they had us laughing and singing along throughout the show and beware the infamous ghost rider!
Hilton Sedona Resort and Spa
The Hilton Sedona Resort served as the perfect home base for our Sedona Adventure! Located in Oak Creek Village, this family friendly resort boasts beautiful red rock views, comfortable and spacious rooms, an 18-hole championship golf course and gorgeous pools!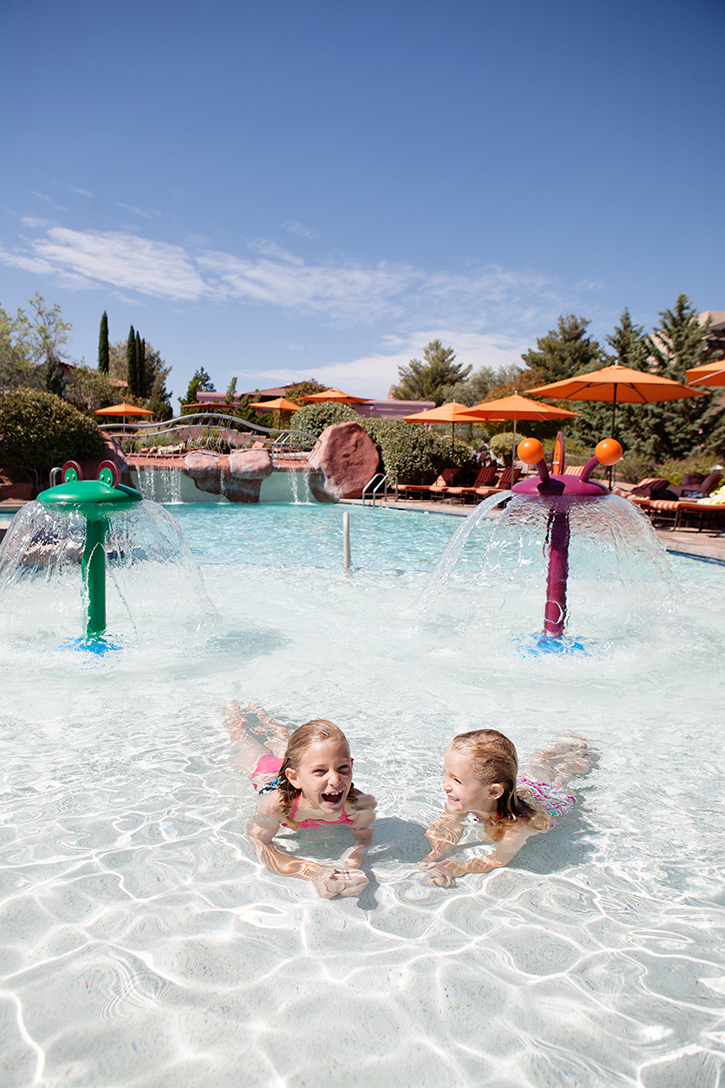 After spending time outdoors exploring around Sedona, heading back to the resort for a dip in the pool to cool off was heaven! My youngest loved the pool so much that at one point during our stay she asked if we could live at the Hilton indefinitely! Ha! Now wouldn't THAT be fun!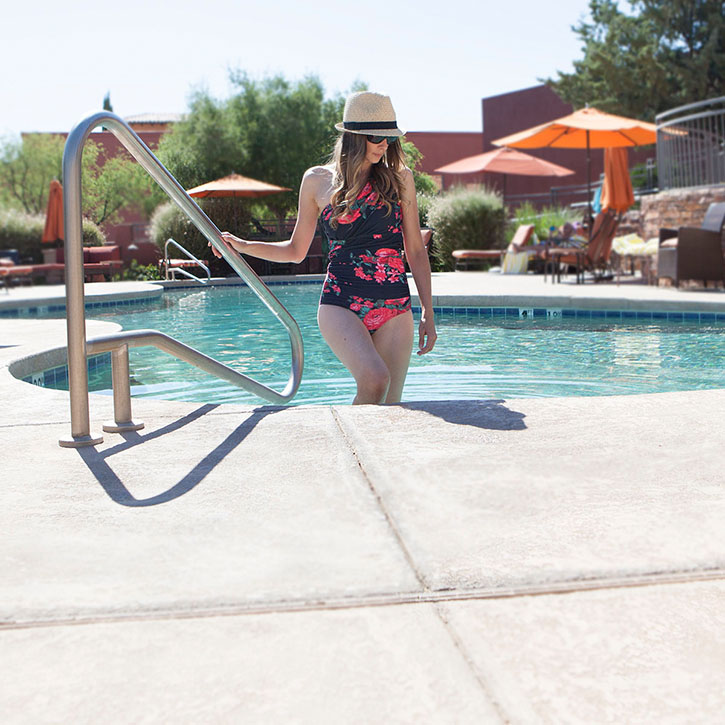 We were so comfortable in our beautiful 1 bedroom suite! Having a separate living room was so great and with two queen beds and a pull out sofa our family of 6 was able to sleep so comfortably! It was such a cozy, homey place to be able to relax and wind down at the end of the day.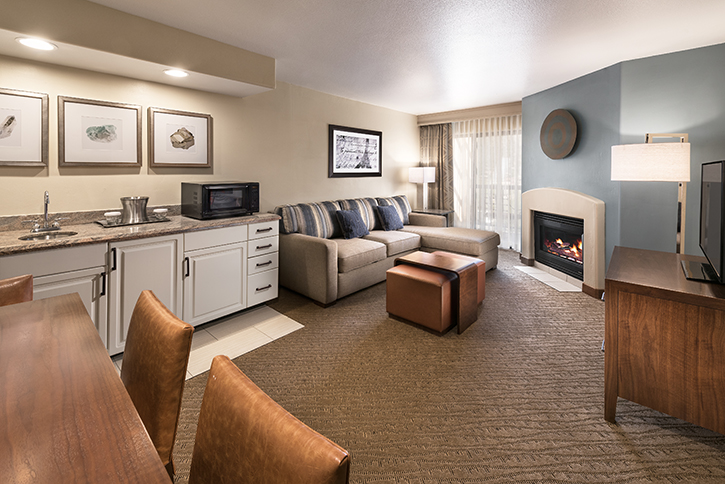 Photo credit Mark Boisclair Photography, Inc.
Next time we visit Sedona we'll definitely be booking at the Hilton again, it had absolutely everything we needed and we felt so welcome and taken care of during our stay! The resort has such a family friendly atmosphere which was something I really appreciated!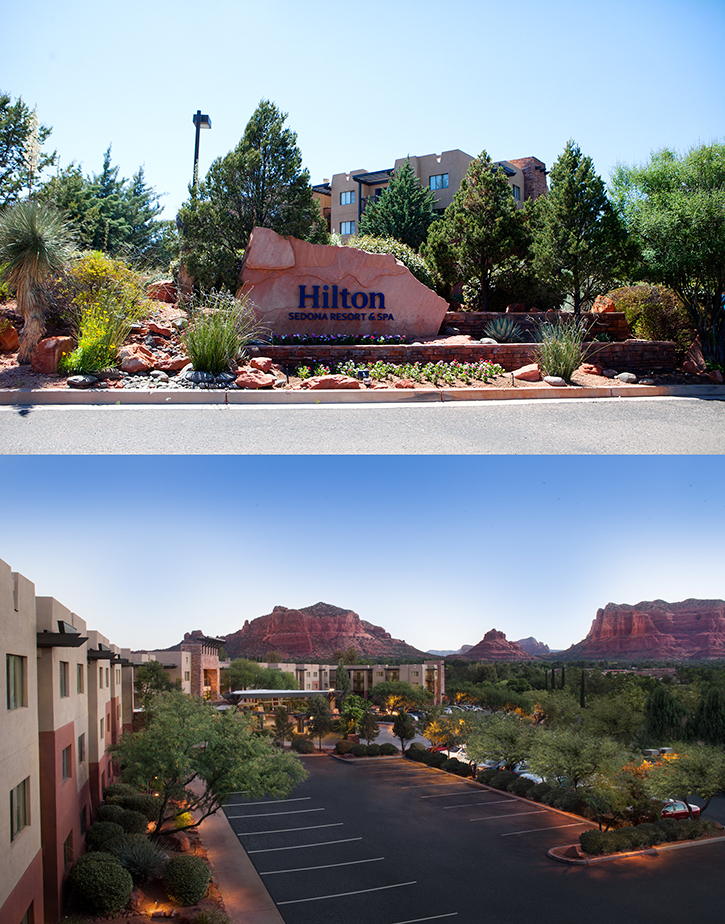 Photo credit Mark Boisclair Photography, Inc.
Have you ever been to Sedona? What were some of your favorite things to do and see? If you have any questions about our trip feel free to post in the comments!
If you're looking for Summer outfits or swimwear check out Tea Collection – many of their fun Summer styles are on sale now!