Our son turned nine last week + he wanted a monster themed party. We were able to have lots of fun with it, while still keeping things simple + budget friendly. I thought I'd share a few of the favours and activities from the party along with some quick + easy tutorials on how we put things together.
These are the invites we sent out for the party. I made them in photoshop then had them printed as 4×6's at Costco – super cheap + fast. If you don't want to make your own invites, I found all kinds of cute monster invitations on Etsy that were made to order or were available as an instant download to customize + print yourself.
The first thing we put together for the monster party were these cute party bags. My son helped me make them and they took no time at all. When it comes to party prep, I love including my kids in the work!
The supplies you'll need to make your own monster party bags are: an extra large circle punch, 1 inch circle punch, 1/2 inch circle punch, a regular hole punch, green party bags, and a gluestick.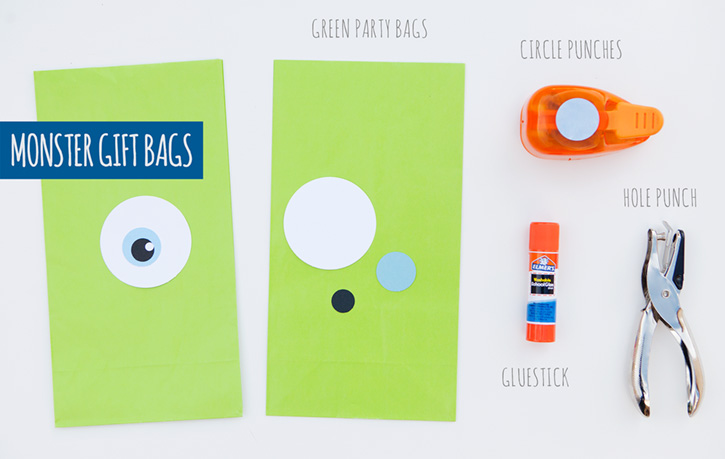 Monster Party Bag Instructions
1. Punch a circle out of white cardstock using the largest circle punch.
2. Punch a circle out of blue paper with the medium size punch and a black circle using the 1/2 inch punch.
3. Next glue the small black circle in the center of the blue circle. Using the regular hole punch, make a hole as pictured above, through the black and blue circles. This little hole is what will add a little sparkle to your monster eye.
4. Now glue the blue/black circle piece on top of the large white circle and attach to the center of the green party bag.
When the boys arrived at the party, my oldest daughter and I had this Monster Factory set up at the kitchen table where they could each make their own monster. We had 9, nine year old boys crafting up a storm with these little felt monsters and they loved it!
I cut out the basic shapes from felt and then the boys made their own unique monster with any combination of monster parts. We had bodies in different shapes and sizes, horns, teeth, eyeballs, mouths, arms and legs. It was cute to see all the one-of-a-kind monsters that the boys created!
These monster cupcakes were really easy. Just a batch of vanilla cupcakes plus green icing + wilton white candy melts and melted chocolate chips for the eyeballs.