We've had a wonderful first half of Summer around here! We've been able to squeeze in a whole lot of fun into the last four weeks, that's for sure! Here's a little peek at what July looked like for the Cooper family: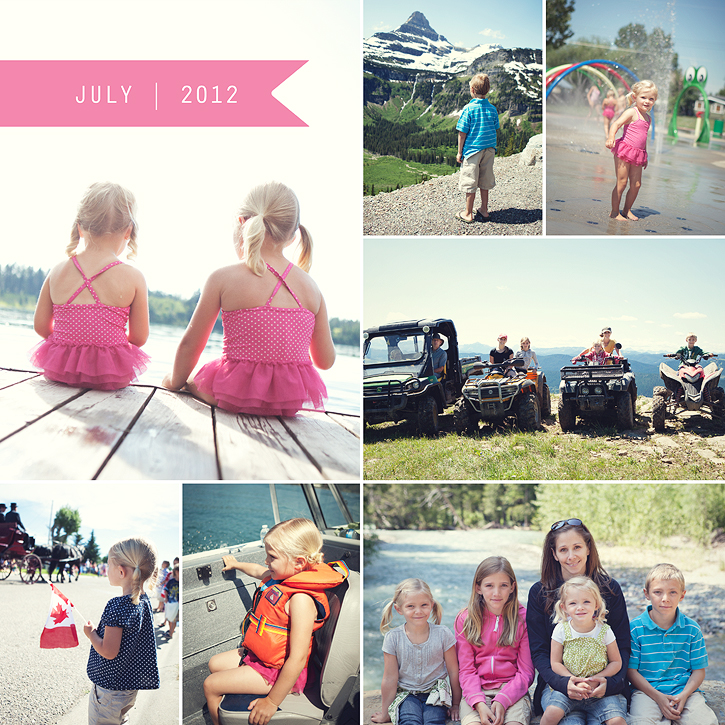 The kids had so much fun at the July 1st celebrations here in Raymond.
We travelled over Logan Pass to the cabin. Stopped for a picnic and a quick hike.
We had a fun time at Echo Lake fishing, tubing and relaxing.
We travelled to Calgary to attend a baby shower for our new cousin Jadyn.
My 34th birthday came and went and it was a good one.
I got to eat my favourite mint chocolate brownies.
We had so much fun at my parents farm for a week.
Helping Grandpa with the cows, playing in the bales and having a campfire.
We spent a day quadding in the mountains. The views were amazing!
The rest of our July summer days have been spent at the pool, doing crafts and playing at the park.
How are you all doing with your month-in-photos project?
We've got seven fun photo collages under our belt and are well on our way to documenting a whole years worth of memories! Doesn't it feel so great!?
I've actually begun putting my 2012 collages together into a book using Blurb.com and I just LOVE how quickly and beautifully its coming together. I'm brand new to using Blurb, how many of you have used them before? Even though I'm just getting to know my way around their software, it's super user friendly and has been a lot of fun! Here's a peek at the cover and a few of the inside pages that I've designed so far…
I have my photo collages all made and ready to add to the album. I just dragged and dropped them into BookSmart, Blurb's easy to use book making software, and after a few tiny adjustments to the given template had it positioned how I wanted it.
I actually created the journaling pages in photoshop and just dropped them into booksmart as well. The journaling came together so easily, I simply copied and pasted directly from my past month-in-photos blog posts and with a little tweaking so I didn't run over any margins, I was done.
I really look forward to seeing this book in print when I'm finished. I'm going to keep it really simple. The months photos on the right, journaling on the left of each two page spread. Love how easy it's been to put together so far with Blurband I'm excited to share more details of the album making process and my review of the finished product when the time comes!




If you've created a photo collage for July, I'd love for you to share it with us! Simply post your collage

somewhere online, c

opy and paste the html code for the month-in-photos button below and include it in your post,

then come back here and leave a link to your collage so everyone else can see your fun photos!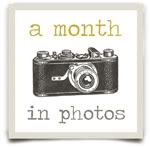 I can't wait to see your month in photos!
For more info about the month in photos project go here.You can download any of my free collage templates or use your own collage and join in the fun with us each month! Just think of the incredible collection of photos we'll have put together at the end of 2012!