The term "superfood" has been thrown around a lot in the last few years. It may not be as intimidating as you think. Check out this list and then add superfoods to your daily routine.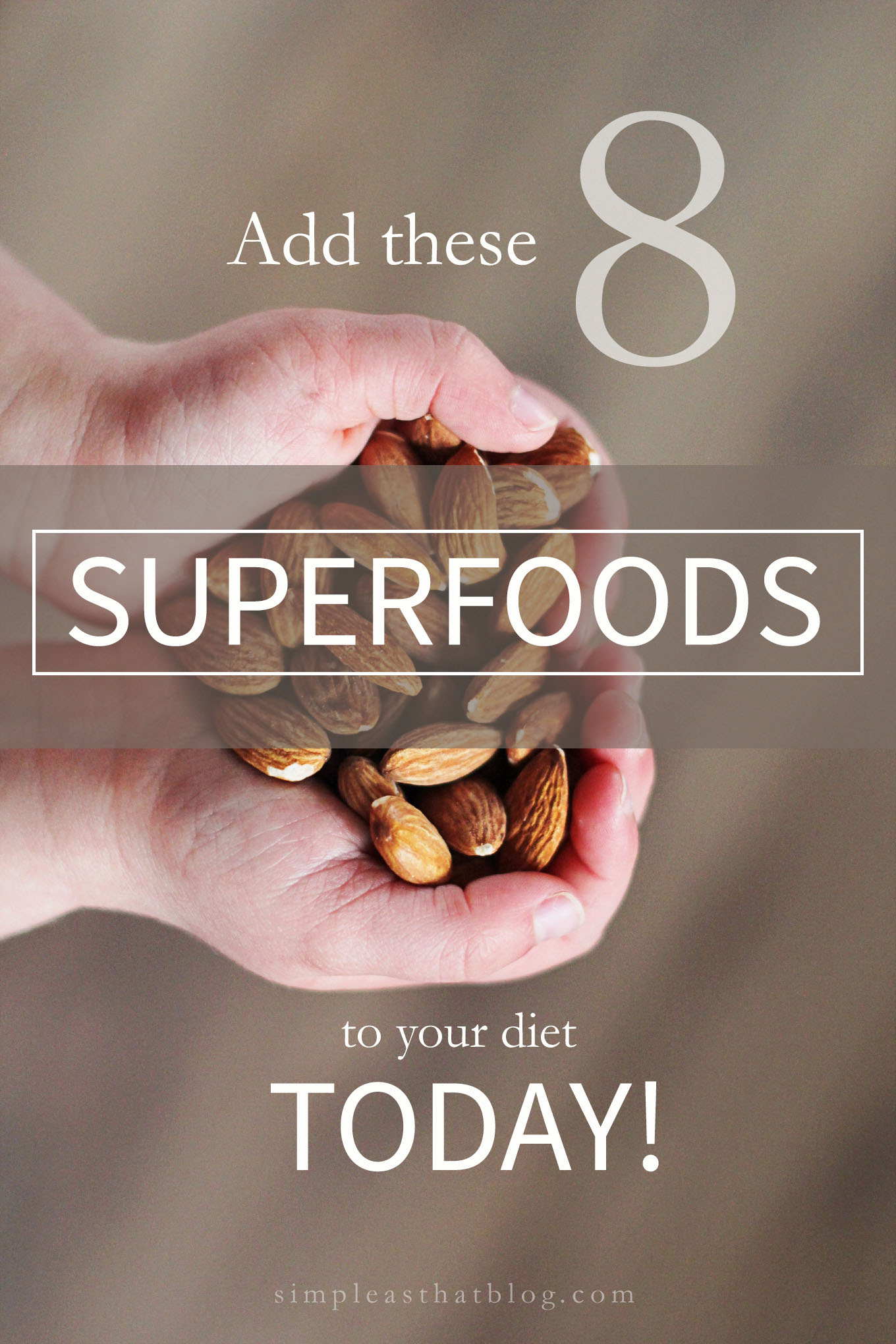 Hi everyone, it's Kelsey again from Simple Life by Kels. I am excited to be back talking about how you can add superfoods to your diet TODAY. Often when we hear the term, we start to think of mysterious things that grow in far off places that cost us an arm and a leg.
Today I am going to tell you about some superfoods that are easily accessible, power packed, and that need to be a part of your diet. Among them are some of my favorite foods. Let's get started!
Almonds
While all nuts are beneficial, almonds have the highest source of calcium at 23 mg/serving. They are loaded with fiber and monounsaturated fat, which both lower cholesterol. Furthermore, they are a great source of healthy fat and also a significant source of protein.
Blueberries
Blueberries are high in antioxidants, and rich in nutrients that help fight chronic disease. In addition, they contain lots of fiber, vitamin C, and phytonutrients. Fiber is extremely important, though often overlooked. Not to mention they taste lovely and kids think they are candy!

Sweet Potatoes
This root veggie has gained a lot of popularity lately and for good reason. It is loaded with beta carotene (which is converted to vitamin A in the body), vitamin B-6, vitamin c, fiber, and potassium. If your family isn't fond of sweet potatoes, try making them into baked sweet potato fries or throwing them in this Sweet Potato Quinoa Chili. 

Flax Seeds
Flax helps manage cholesterol and contains high levels of omega 3 fats. Diabetes, heart disease, and inflammation can be managed in part with flax seeds. Flax is full of essential vitamins and minerals and dietary fiber.
Because of its high oil content, flax meal is best fresh and refrigerated to prevent spoilage. My favorite source for flax is the sprouted flax meal from the Green Smoothie Girl.

Pastured Eggs
I am going to be picky here as far as sourcing since there are many varieties of eggs. It can be confusing to know which ones to buy, but I have a post all about deciphering labels to get the most nutrient dense eggs, HERE. If you read that, you know why I add the "pastured" to this superfood label. It is important.
Eggs are one of the most nutrient dense foods we can consume. They are one of the best sources of protein available, contain all nine essential amino acids, and are jam packed with nutrients. Often we have been told to avoid the yolk because of cholesterol, but egg yolks contain choline, which helps prevent cholesterol and fat from accumulating in the liver, as well as protects heart and brain function. They are actually helping you fight cholesterol! So, go ahead and eat the yolks!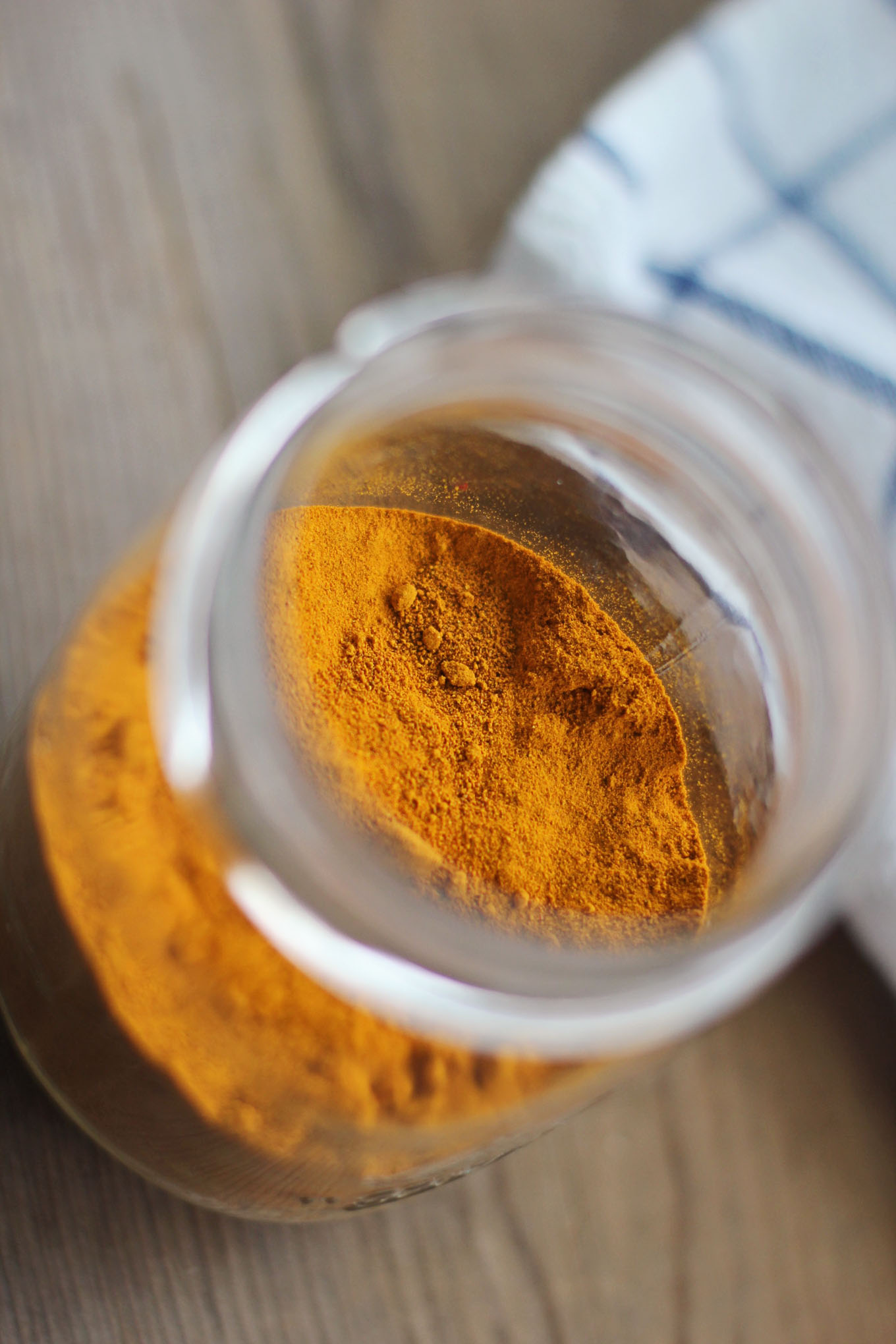 Turmeric
There have been over 6 thousand peer-reviewed journal articles published on the proven health and disease prevention benefits of turmeric. It has long been hailed as a super herb used in healing. The anti-inflammatory properties of turmeric alone would make it a great addition to any diet in my book, but the benefits go far beyond that.
Most chronic pain and disease is due to inflammation occurring in the body. Finally, turmeric has been used in cancer treatment, arthritis and diabetes management, digestive issues, as painkillers, steroids, and more.
This wonder herb can be taken in capsule form, or added to soups, broths, or smoothies.

Cinnamon
Try to find more ways to consume cinnamon! Not only does it soothe the stomach, cinnamon also improves brain function, can suppress and fight off UTIs, lowers bad cholesterol, and encourages healthy glucose metabolism in the body. There is a reason that ancient civilizations prized cinnamon!
Hit two birds with one stone by making my Maple Cinnamon Candied Nuts using almonds. Eating healthy doesn't have to taste bad!
Avocado
Full of healthy fat, avocados are one of the first foods I introduced to my four babies along with pastured egg yolk. Fats are essential for life, and yet, they are one of the first nutrients we shy away from because of cultural beliefs and some bad science that led to the no-fat/low-fat diet craze. Eating healthy fat is essential for life. Avocado is a perfect source of this life-enhancing fat, therefore it should be consumed regularly.
I hope this list helps you to realize that there are some foods right at our fingertips that can provide a major nutritional punch. Don't get caught up in the health food hype, instead choose some of these superfoods to incorporate right now and be sure to let me know which are your favorites!
How do you add superfoods into your routine?
If you enjoyed this post you might also like…