If you would like to give your loved ones gifts that will be enjoyed longer than the usual toys and trinkets, here are some great alternative gifts for the holiday season.
Five years ago, our perspective of the holidays changed forever when we left everything familiar to us and moved our family of six to a tiny island in the middle of the Caribbean Sea.
Our Christmas was incredibly simple that year — of necessity.
We borrowed a small tree and decorated our home with paper snowflakes and festive artwork the kids made. We exchanged the few gifts we could find for each other on a small island, and we spent the rest of the day playing on the beach as a family.
It was a foreign holiday experience for us (literally and metaphorically!), but it became our most treasured.
This year, as I reflect on those special moments, I'm filled with a desire to recreate some of that simplicity.
One of the best ways I know to do that is by buying gifts that reflect our values.
Gifts that create memories, not clutter.
Because I genuinely want you to find more awe and wonder (and less stress and overwhelm!) this December, I wrote a 12-day email course designed specifically for busy moms: 12 Days to a Simpler Holiday Season.
If you, too, would like to give your loved ones gifts that will be enjoyed and remembered longer than the usual toys and trinkets, here are some great alternative gifts for this holiday season.
Many of you contributed to this list in a thread on Facebook. Thank you! I'm so happy to share your ideas — and some of your words — here today. Enjoy!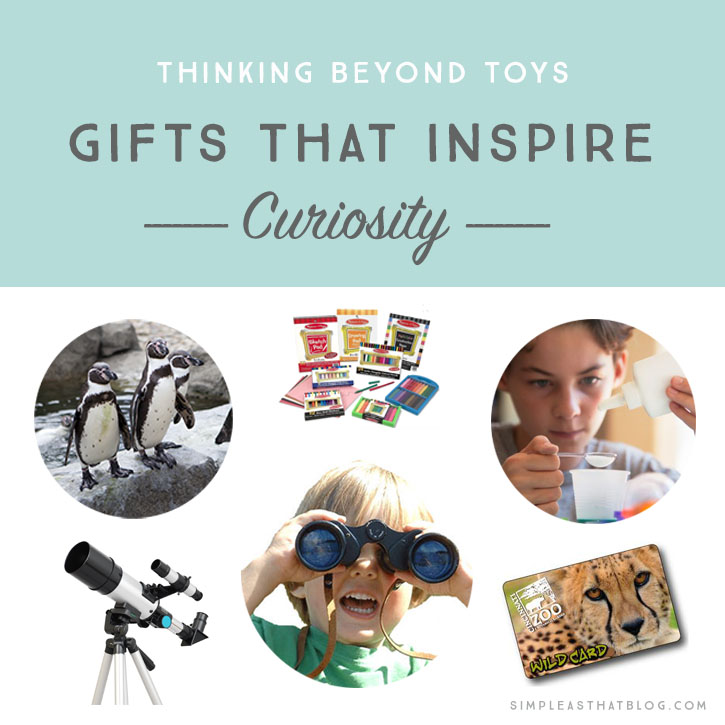 Gifts that Inspire Curiosity
Museum membership, aquarium passes, and zoo memberships are great for the whole family.
Art supplies. Check out our Ultimate Holiday Gift Guide for the Little Artist!
Butterfly Pavilion. I've always wanted to do this with the kids!
Binoculars. My kids love using binoculars and there are many types available that are kid-friendly. Perfect for taking on a hike, a road trip, or simply exploring in the backyard.
A beginner telescope for kids interested in exploring the night sky.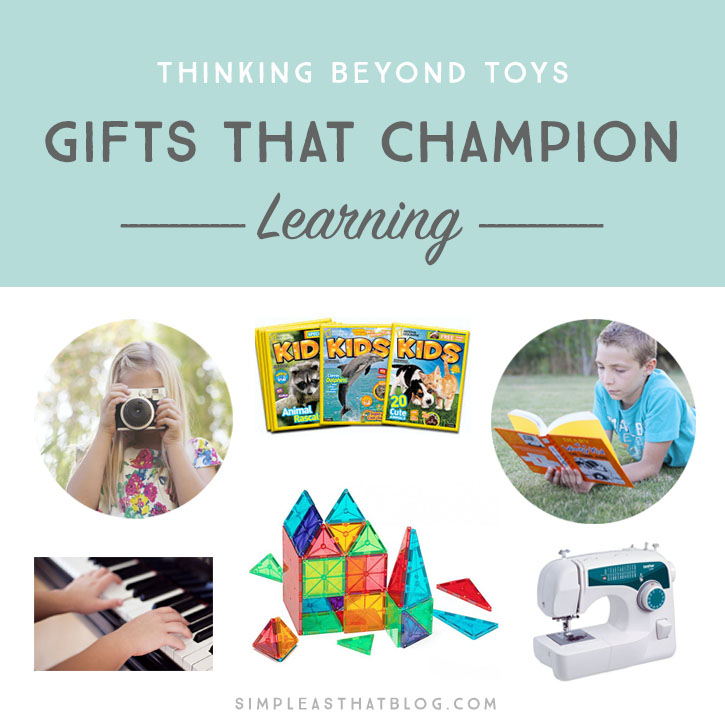 Gifts that Champion Learning
Books. I love gifting my kids books for Christmas. If you need some new ideas for a tricky age group, try this post on the best chapter book series for ages 7-12!
Magazine subscriptions. One of our family favorites is National Geographic Kids!
We invested in these Magnatiles as one of the kids' "big" gifts last year and haven't regretted it. They're great for open-ended building, as well as shape and spacial recognition. Our Magnatiles are getting played with more than anything we purchased last Christmas.
Skill-building equipment, like a camera, a sewing machine, or a kitchen mixer.
Music and art lessons.
A book subscription with Bookroo. Curated book subscriptions from Bookroo are a wonderful way to get kids excited about books and instill a lifelong love of reading.
Gifts that Encourage Family Bonding
Tickets to a surprise family vacation!
Two years ago we started trips as everyone's gift, but on Christmas morning we still give stockings with candy, socks, and small items. The kids haven't complained once. If the trip is scheduled for after Christmas, one thing in their stocking will be a clue as to what the trip will be. – Jessica Strickland
A family membership to a rock climbing gym, a kickboxing club, or a crossfit gym. These are a great way to encourage your kids' adventurous sides.
Activities that promote health and togetherness, such as a family membership to a yoga studio or a local YMCA. You could also sign up for a 5K race!
If you're local in Arizona or Texas they have these great POGO Passes that offer 12 month free access to a variety of local venues. It's an amazing price value.  We're getting them for the whole family this year!
Tickets to see your family's favorite team or musician.
Tickets to a monster truck rally or Disney on Ice.
A group game. We love to play games as a family, and this list of favorites is a good one! 
Photo books to help you re-live the memories of the last year. For inspiration, pop over to our Top 5 Places to Print Photo Books.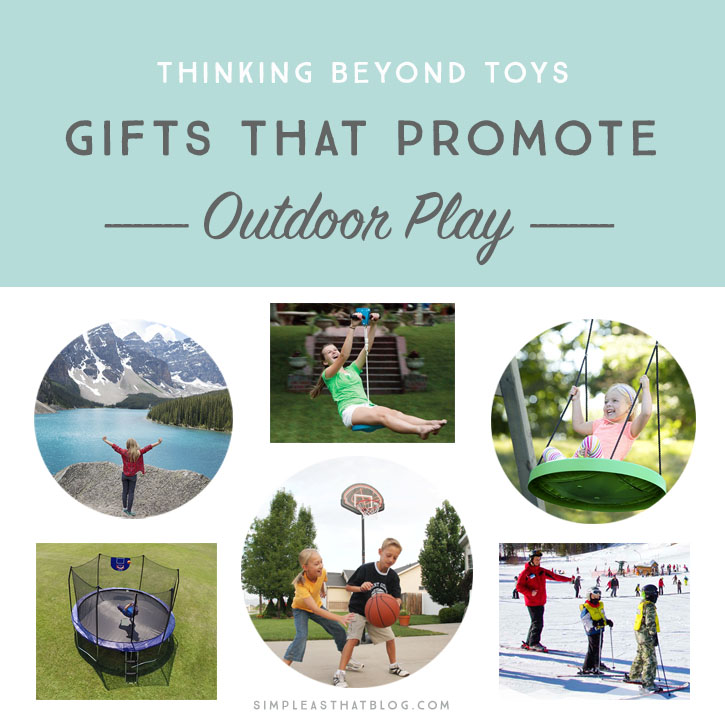 Gifts that Promote Outdoor Play
Sports equipment, such as baseball gloves and a bat, a basketball hoop, a soccer ball and a goal.
Season's passes to a water park.
A national or state park pass, so you can enjoy driving, hiking and mountain biking as a family throughout the year. There is so much to be gained from spending time together as a family in the great outdoors.
Ski or snowboarding rentals, passes, or classes.
Archery or other sport lessons.
Gifts that Encourage Giving
Through Heifer International, your family can purchase a domestic animal that will become a food and income source for a family in a developing country.
Organizations like Compassion International have gift catalogs from which you can select gifts and services, from literacy classes to a newborn package to home reconstruction.
Check with your local zoo to see if you can sponsor an animal. For an example, check out the San Diego Zoo's "adopt an animal" program.
"Some zoos have animal sponsorship programs. You pick an animal and make a donation for that animal directly. The zoo usually sends you some little things about your animal like information and photos. It gives kids a sense of pride and ownership the next time they see 'their' animal!"  Tammy Boutin
Support the St. Jude gift shop, where you'll find one-of-a-kind gifts and products designed with one thing in mind — to help St. Jude Children's Research Hospital continue leading the way the world understands, treats and defeats childhood cancer and other deadly diseases.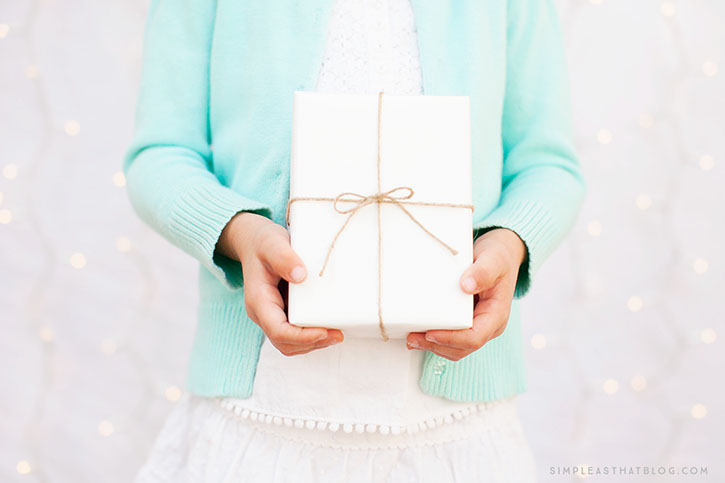 From encouraging young minds to creating memories as a family, I hope these gift ideas help you enjoy a holiday season that is more reflective of your values.
Do you have any other ideas to add?