While I've captured many milestones of my children's lives, none of those photos are quite as precious to me as the pictures of them as newborns. These tiny people are so fresh and fragile—and the newborn stage so fleeting. When we capture our babies in a way that showcases their sweetness and innocence, we also reflect the love we have for them.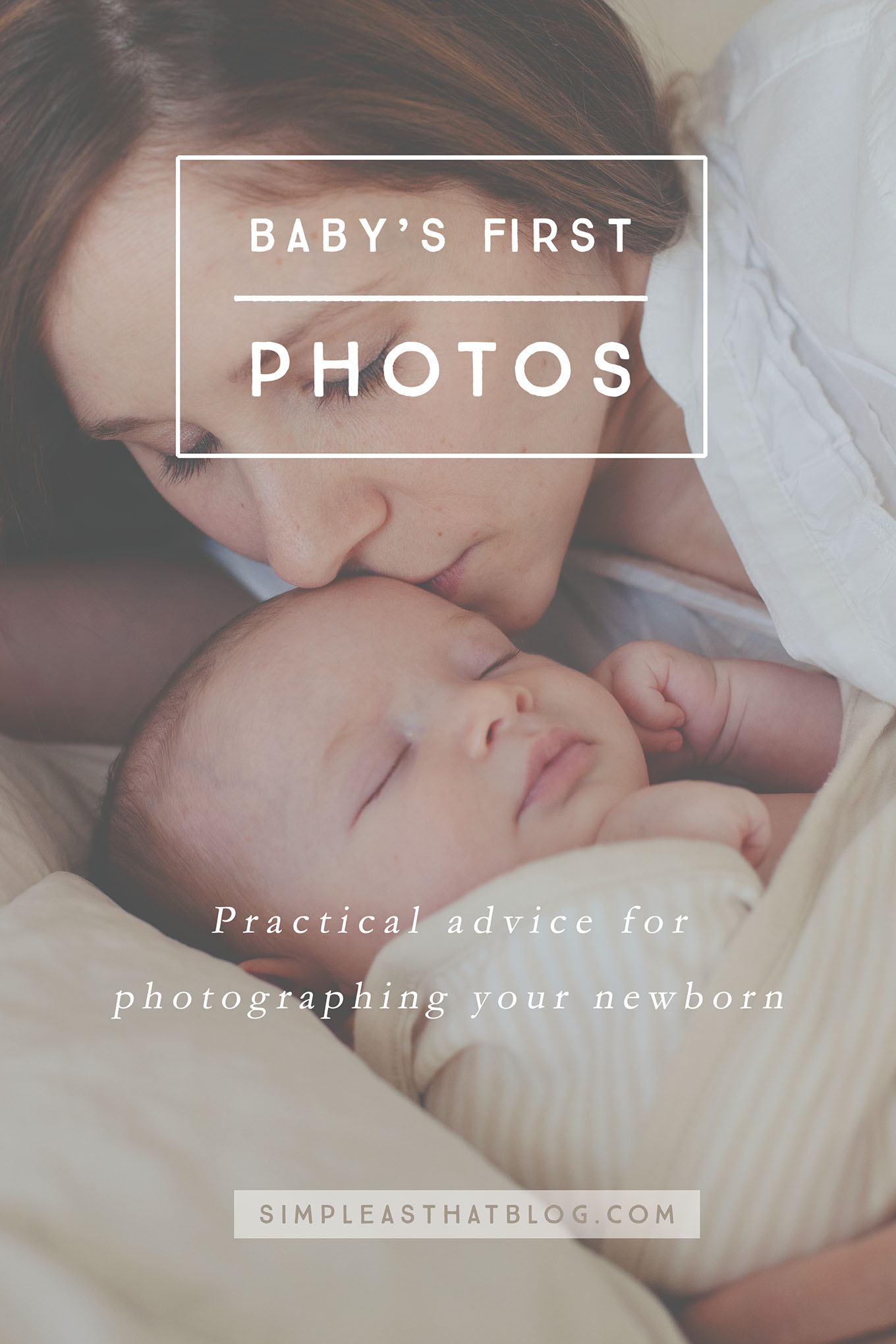 If you have a newborn or one on the way, I hope that you'll finish this post feeling like you have what you need to capture some priceless images of your little one. I also want you to remember that imperfection can be beautiful. Years from now, technical details like exposure and composition will fade when you look at these photos. All you'll really see is how small and precious your baby was and how much you loved (and still love!) that child.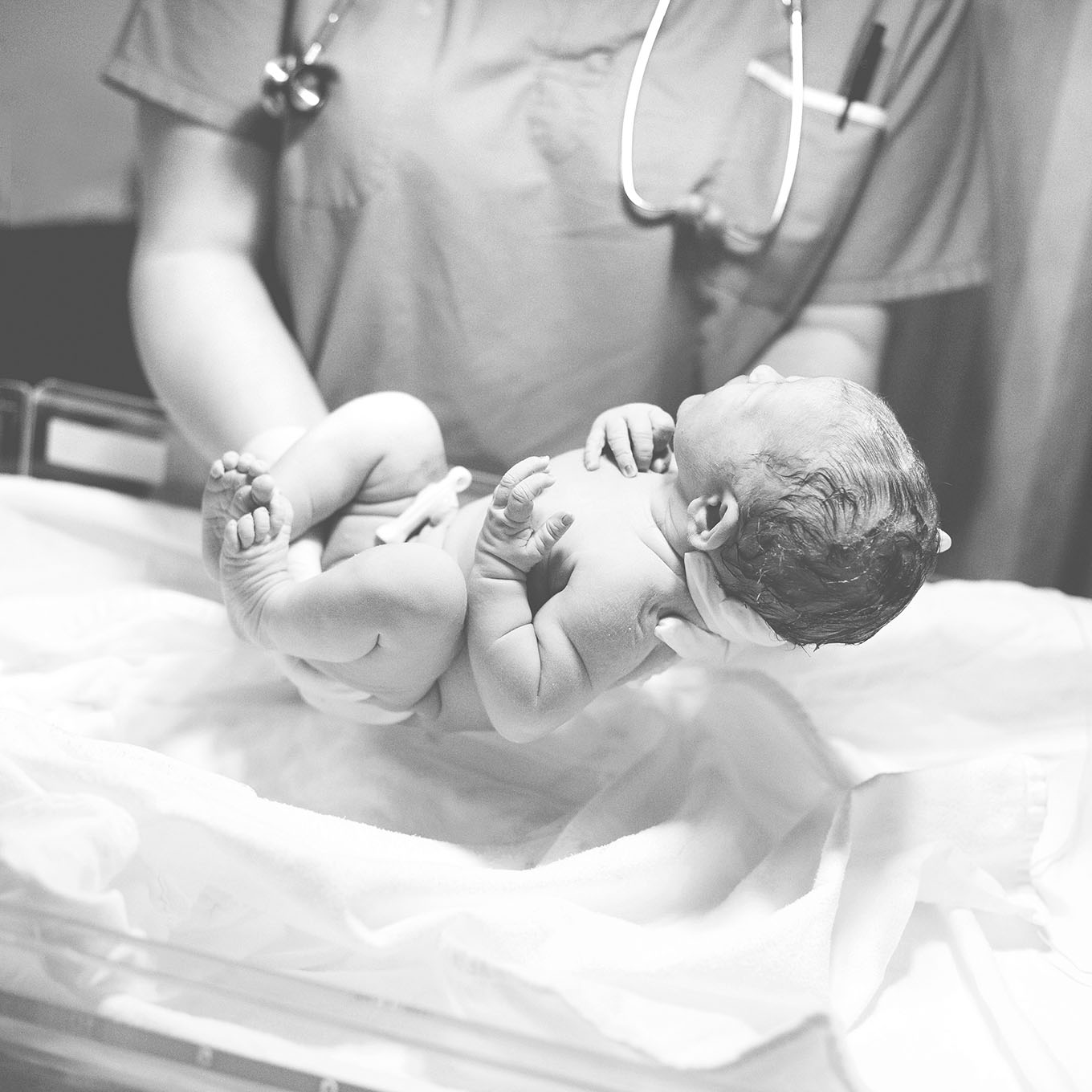 Note: Lighting in the hospital isn't always ideal and can leave your photos with yellow color casts. Change your images to black and white for a classic look. The black and white removes any distracting colors from the image and allows you to focus solely on baby.
Birth Photography
When welcoming Baby into the world, nothing is quite so special as capturing on camera those first few moments of their precious life. When packing that camera in your hospital bag, make sure you also pack a charged battery and a backup just in case. And remember that the best camera is the one you have. Don't let the type of camera you own keep you from recording those minutes. Even a phone can capture incredibly heartfelt images. 
Don't forget your memory card and maybe an extra one in case you get a little camera happy.
I recommend taking the time before birth to jot down a quick list of photos you'd like taken during your hospital stay. If you're going to in front of the camera, make sure you give the camera person a quick how-to on using the camera, where to find the extra battery and memory card, and the list of photos you want taken. 
In my mind, second only to those first minutes of life are those first minutes when your older children meet their newest sibling. Don't worry about eye contact with the camera; the interaction between your loved ones and Baby is what you really want to capture.
Pictures with Mom
Turn the camera over to a loved one, and make sure you get in a few shots too. Your camera's self-timer can be an incredible tool when it comes to getting in those photos. Did you know your phone has a self-timer too?
I know it's not a time when you FEEL like being in front of the camera, but it's so important. You are central to your newborn's story, and this experience is central to yours. Photos of the two of you together show how entwined you are—and always will be.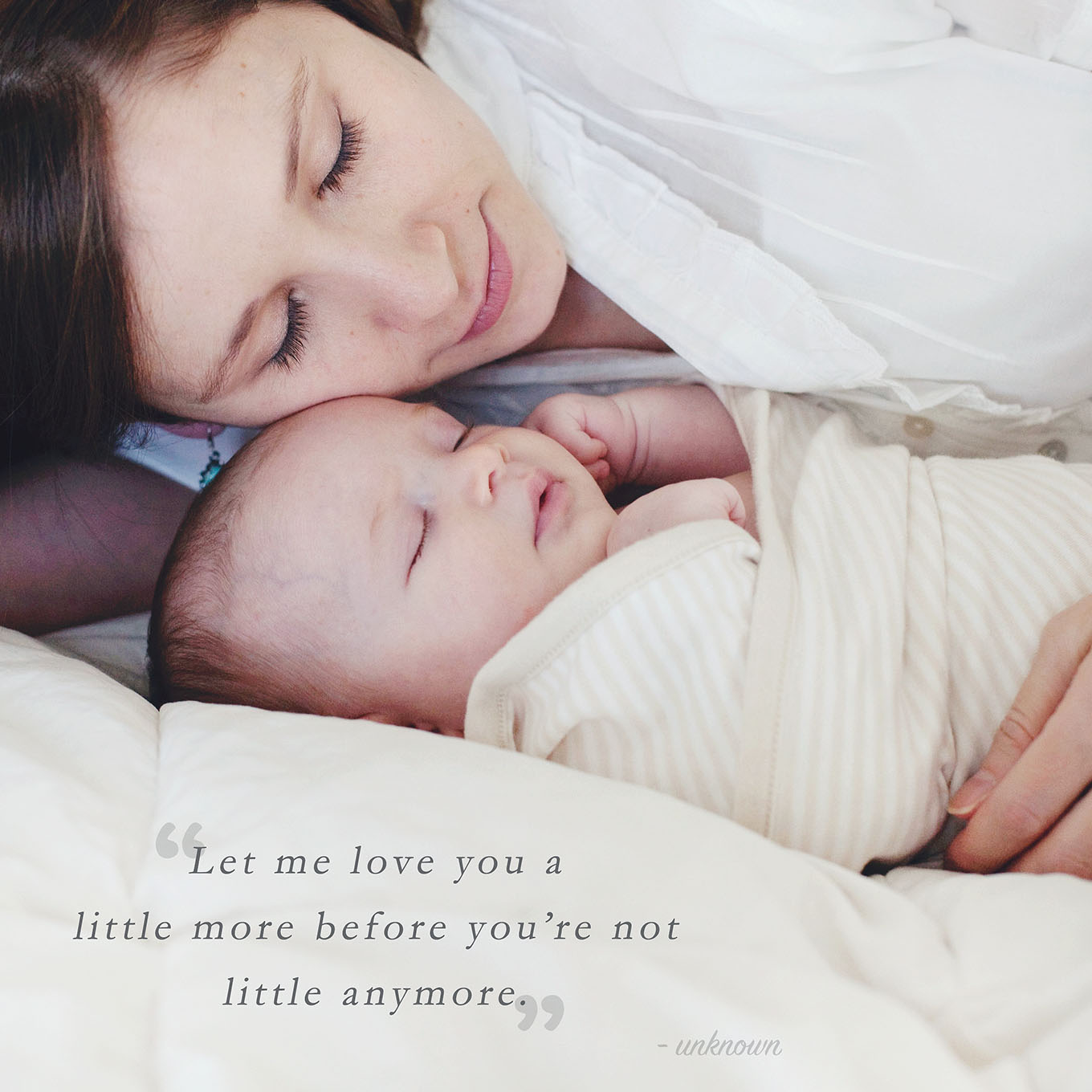 So no excuses, my friend. Those babies grow up into big kids far too quickly, and these photos with you in them are a precious gift to your children. No one will care about that baby weight or the fact that you look tired. It comes with the territory. As a mom of four babies who are now 7, 9, 12 and 14, I can tell you that as I look back on those photos of me with my babies, I'm so grateful for them, and the things that bothered me—the details about myself that I was feeling self-conscious about—hold little significance anymore. I see my post-baby belly and look back fondly. Those tired eyes remind me of a difficult but absolutely precious time in my life. I embrace those imperfections; they tell the story of this stage of life.
Related: 50 Photos to Take with Your Kids—Plus, Tips for Getting In Front of the Camera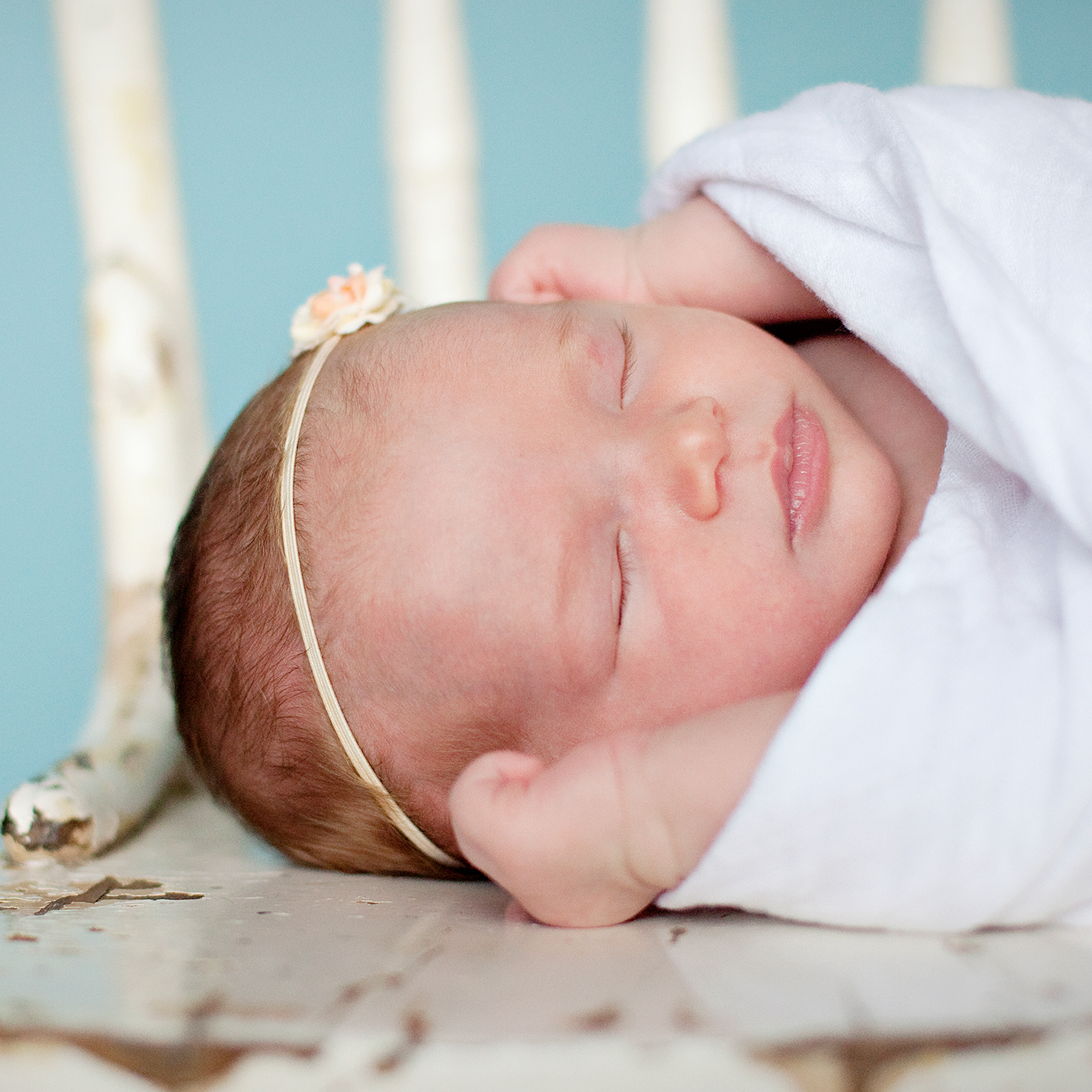 A Newborn Photoshoot
As important as those candid moments are to capture, a planned photoshoot with your newborn can be fun too! It's ideal to take posed photos of your newborn when they're brand new. After the two week mark, when Baby becomes slightly more alert, it can be trickier to capture these shots.
Your setup doesn't need to be elaborate. The most important thing is adequate lighting and a non-distracting background. Simply grab a large cushion off your couch, place it on the floor a few feet in front of a large window or doorway where you have ample light. Cover the cushion with a plain white sheet or a cozy blanket, and once you have Baby asleep, lay him or her on the cushion. Make sure someone is close by to help you in case Baby decides to roll. Position yourself directly above baby (you may need a stool) and snap away.
When I was photographing my newborns, I'd leave my backdrop and set-up out for a few days at a time so that I could attempt photos multiple times, in short spurts, when my baby was well fed and sleepy. Be patient and the magic shot will come.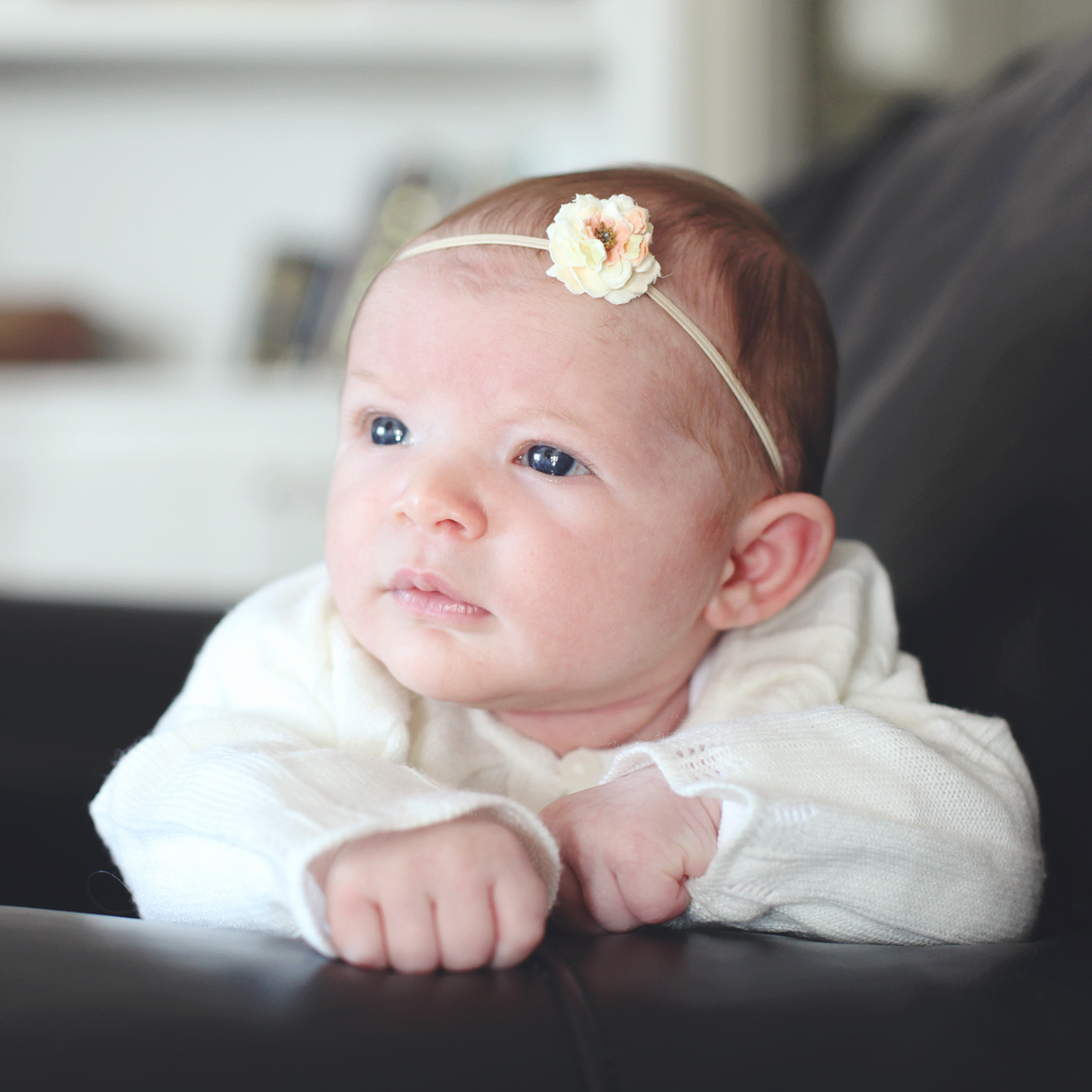 Tips for Newborn Photography
Warm the room with a portable heater, or place a heating pad beneath the surface baby is lying on (not against baby's skin—especially if baby isn't fully clothed. Infants are happiest when they're warm.
Have an assistant (your spouse, your mom, or even a willing sibling) remove a blanket for a quick shot and put it back on between takes. She can also help wipe spit-up, gently position baby, and be ready with a pacifier or soother.
To prepare baby for bare-bottomed shots, unfasten the diaper so it's easy to remove, but leave it on until you're ready to shoot. (This prevents accidents and helps eliminate diaper lines on baby's skin.)
Place a waterproof layer beneath your backdrop if that diaper is coming off!
Go with baby's mood. If she wants to be swaddled, photograph her that way. It will be just as precious. Even take a few shots of her being held, if that's what she prefers.
If you have the space, set up several photo backdrops ahead of time so you can get the greatest variety of shots while your baby is being cooperative. Don't waste precious time setting up a shot when you could be taking it.
Keep these items handy when photographing baby: diaper wipes, burp clothes, pacifier or soother, blankets, towels, waterproof layer, bean bag or Boppy pillow to position baby on, and a stool or chair to stand on for a higher perspective.
Note: Be sure to monitor space heaters and heating pads throughout the photo shoot to make sure they aren't too hot for your baby. Never leave Baby unattended when a heater or heating pad is in use.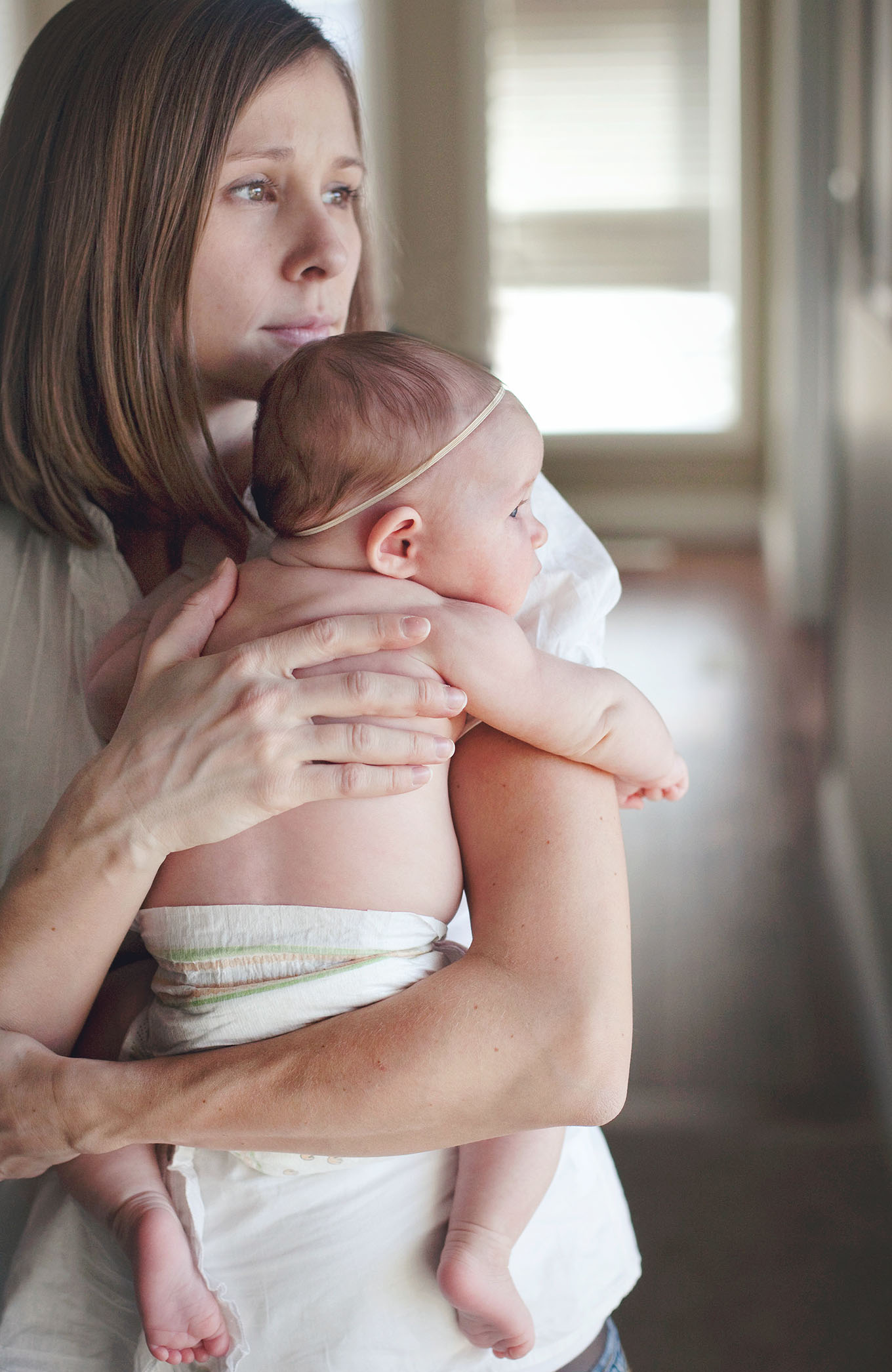 The Details You'll Want to Remember
No matter where or when you're shooting, don't forget to document all of the sweet little details that make your baby special! That little button nose, her chubby cheeks, his tiny fingers and toes—these are all things you will not want to forget as your baby grows. 
Photo Printing
Elaborate scrapbooks aren't necessary. You could write in a journal or print a basic photo book of your baby's first year. Simple and finished is much better than nothing at all.
Not long ago I discovered Chatbooks, an easy, inexpensive way to print your photos into books your family can enjoy. The last thing a new mom needs is to spend hours at the computer arranging her photos into complicated layouts. With Chatbooks you can order a book right from your phone, and you can also subscribe to have volumes of your Instagram photos printed and mailed to you monthly. If you'd like to create a book of images from baby's first year, decide on a hashtag to tag each of your baby's photos with. You can put together a chatbook using only images that include that hashtag. So handy!
Related: Top 5 Places to Print Photo Books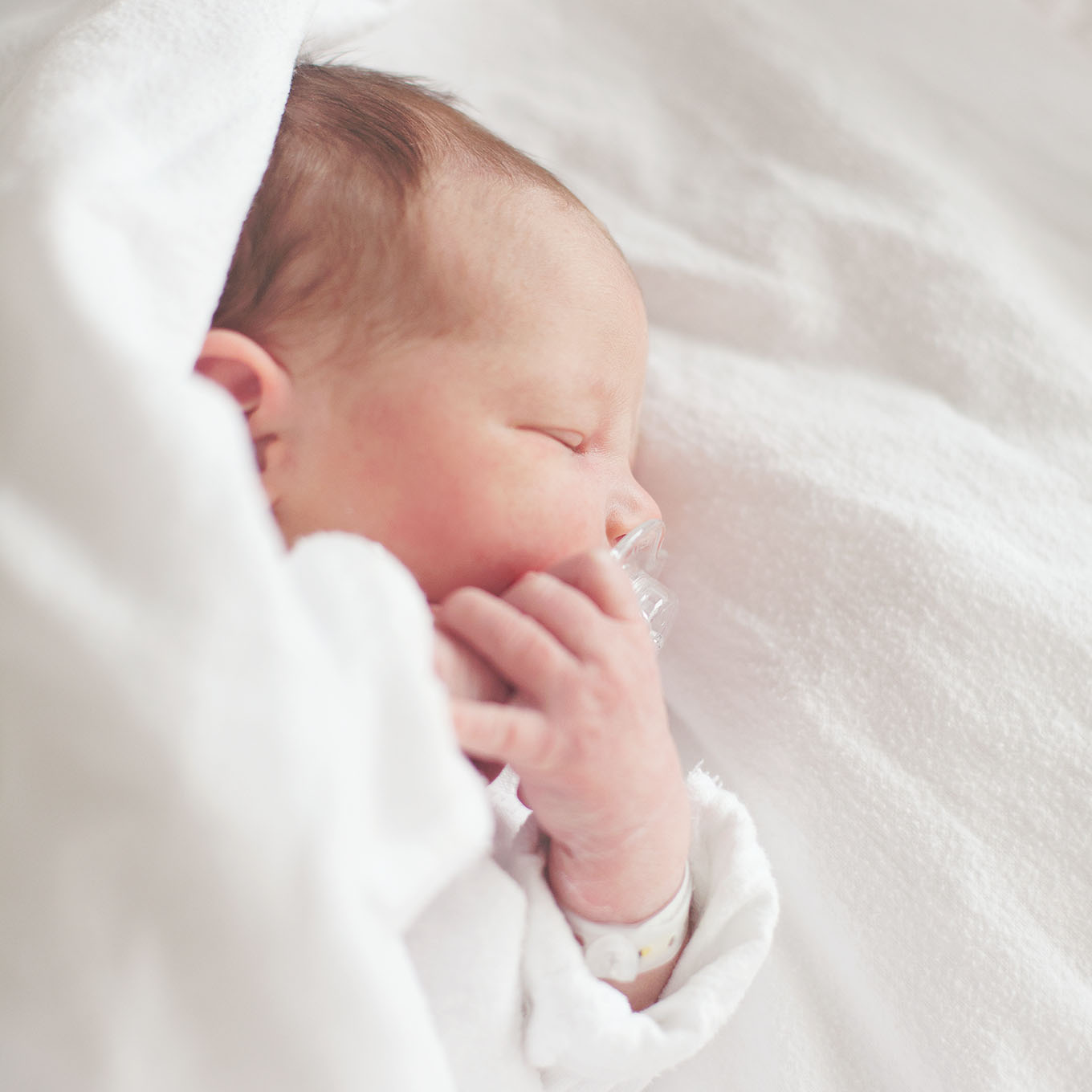 My Last Piece of Advice
As a mom of four who are heading straight for the teen years, I can't help but encourage you to savor this time with your little one. I know these days are overwhelming. But like so many mothers before me have said, they won't last long. Settle in to these moments. When you can, set down the camera, the laundry, the phone—and be all there.
50 Photos to Take During Baby's First Year
Of all the milestones we capture in our children's lives, none are quite as precious as the ones we document during their first year of life. Don't miss a single moment with this printable 50 Photos to Take During Baby's First Year checklist!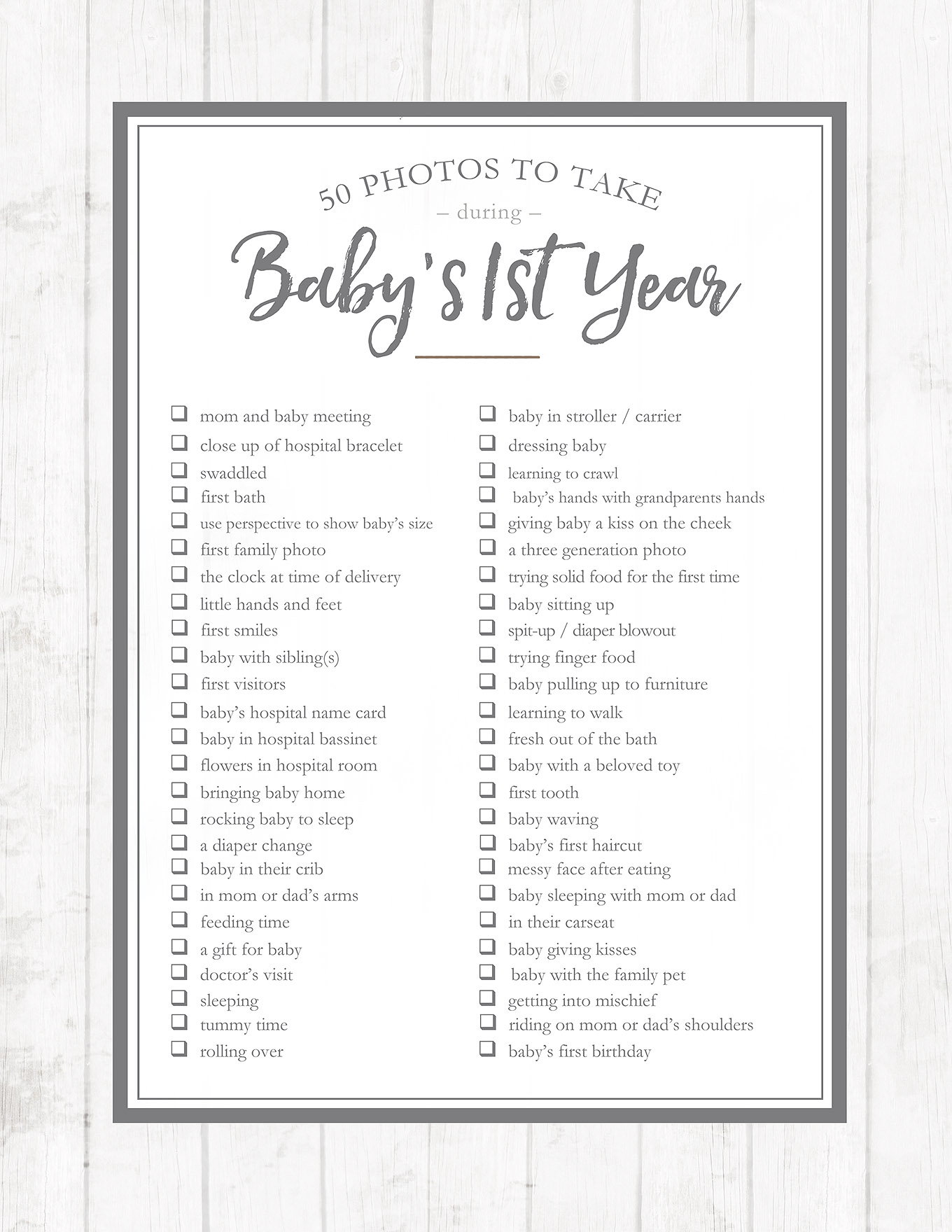 If you liked this post you might also enjoy…
Capture the Moments that Matter Most
Starting a Photography Blog in 5 Simple Steps
6 Ways Photography Helps me Savor Motherhood