Baked Corn Pudding – Be a holiday hero when you show up to the family gathering with this delicious sweet-and-savory side dish!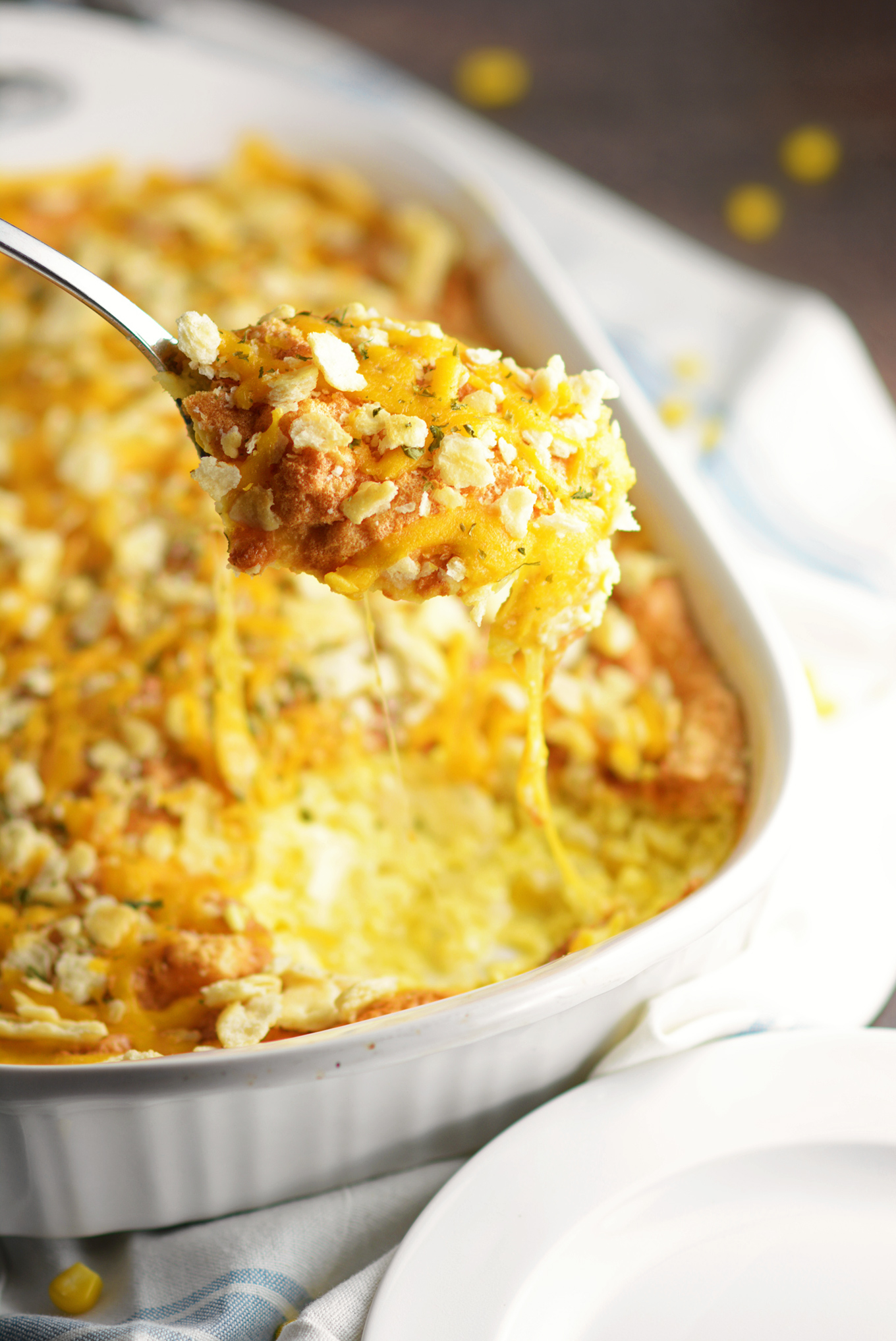 Hi Simple As That readers! This is Rachel from Simple Seasonal again and I'm excited to bring you another seasonal recipe! Now that Halloween is over it's time to start thinking about the holiday season…
I love how this time of year brings my family together. I love the cozy feeling of a Thanksgiving turkey dinner and the wonder in my kids eyes as we enjoy our family's Christmas traditions. You and I both know, however, that those magical family moments don't happen by accident. They're a product of hours of planning and preparation, and a little bit of stress.
When I was deciding what to make today, I knew I wanted to offer some kind of holiday side dish to help you with will all that planning and preparation. A couple of years ago I tried a side that was entirely new to me while having Thanksgiving with my in-laws. That is, Baked Corn Pudding. Apparently it's pretty traditional, but my husband and I come from very different backgrounds with different food traditions, so this one never made it onto my Mom's table.
I have to be honest, I was a tad skeptical of this dish before I gave it a try. Corn plus pudding just kinda sounds a little bit weird to me… Now, a word of wisdom for daughters-in-law everywhere: When your mother-in-law makes a side dish for a holiday meal, take a large serving. No matter what. And then announce to the entire dinner party how much you love it. Fortunately for me, I was pleasantly surprised when I gave my big helping of Baked Corn Pudding a try. It was SOOO GOOD!
Think creamy and savory clouds of pudding paired with sweet and salty flavors. This dish has totally got the richness that elevates it to the level of an awesome holiday dinner side! The secret to this recipe lies in beating egg whites into fluffy, snow white peaks, and then gently folding them into your batter. Check out my photos above and the recipe card below for guidance, so that you can plan on making a perfect Baked Corn Pudding as part of your holiday meal plan this season!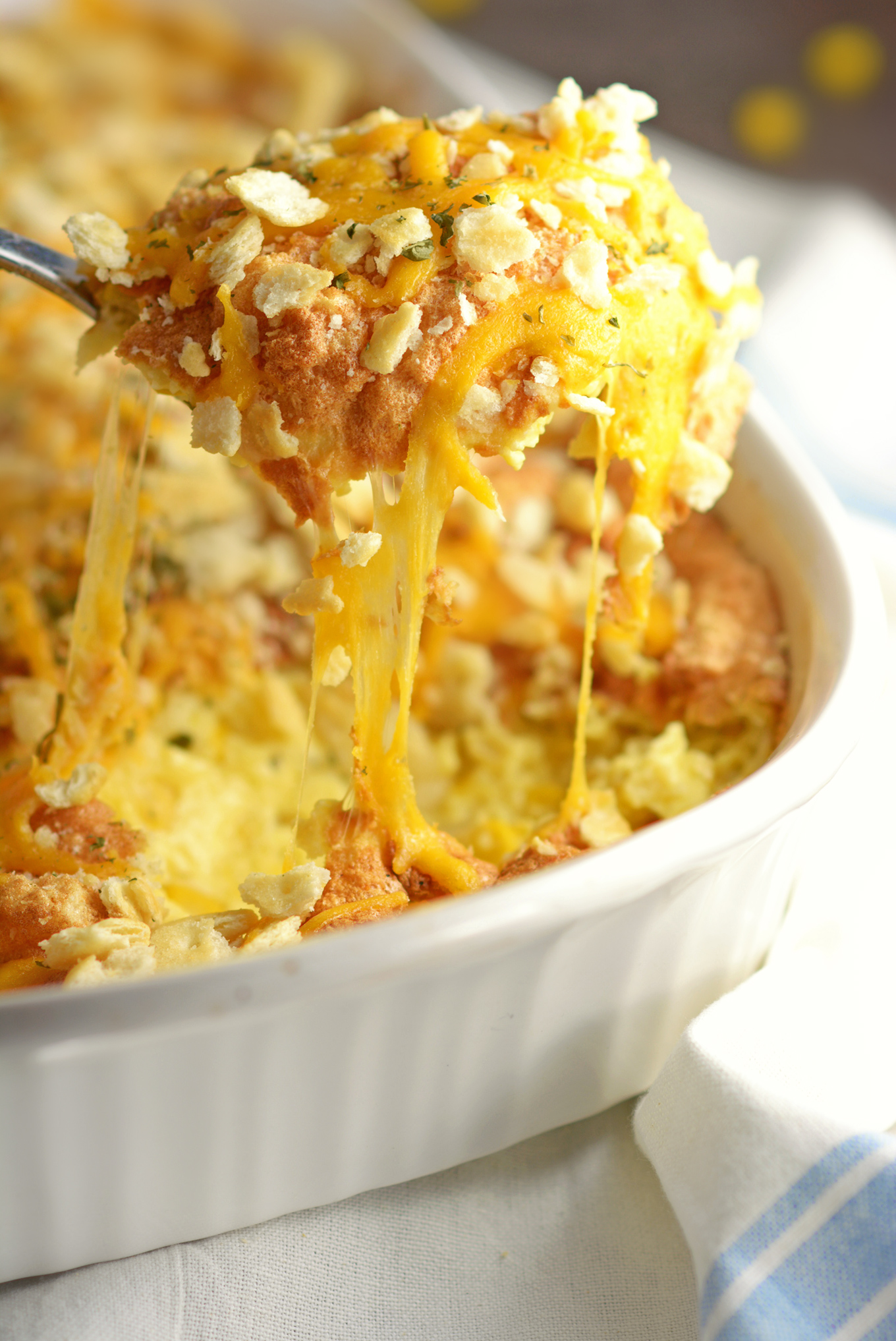 Baked Corn Pudding
Be a holiday hero when you show up to the family gathering with this delicious sweet-and-savory side dish!
Ingredients
1 can creamed corn
1¾ C milk
7 egg yolks
4 Tbsp sugar
3 Tbsp cornstarch plus
½ tsp salt
⅛ tsp pepper
1 can whole sweet corn, drained
4 Tbsp melted butter
7 egg whites, beaten
1 C shredded mild cheddar cheese
1 C crushed ritz crackers
Instructions
In a large mixing bowl beat together creamed corn, milk, egg yolks, cornstarch, sugar, salt, and pepper for one minute. Next, beat in the melted butter until combined and then stir in the drained whole sweet corn.
In another mixing bowl beat 8 egg whites for about 5 minutes, or until they form stiff white peaks. Then fold the egg whites into the corn mixture, taking care not to over mix.
Pour the mixture into a 3 quart casserole dish and bake at 400º F for 15 minutes. Reduce the oven temperature to 350º F and bake for another 20 minutes.
Meanwhile, mix together the shredded cheddar cheese and crushed ritz crackers. After the Baked Corn Pudding has been in the oven for 20 minutes, top it with the cheddar and cracker mix and return it to the oven and bake for another 3 minutes. The Corn Pudding is done cooking when a knife can be inserted in the center and it comes out clean. Remove the dish from the oven and allow it to sit for 5 minutes before serving.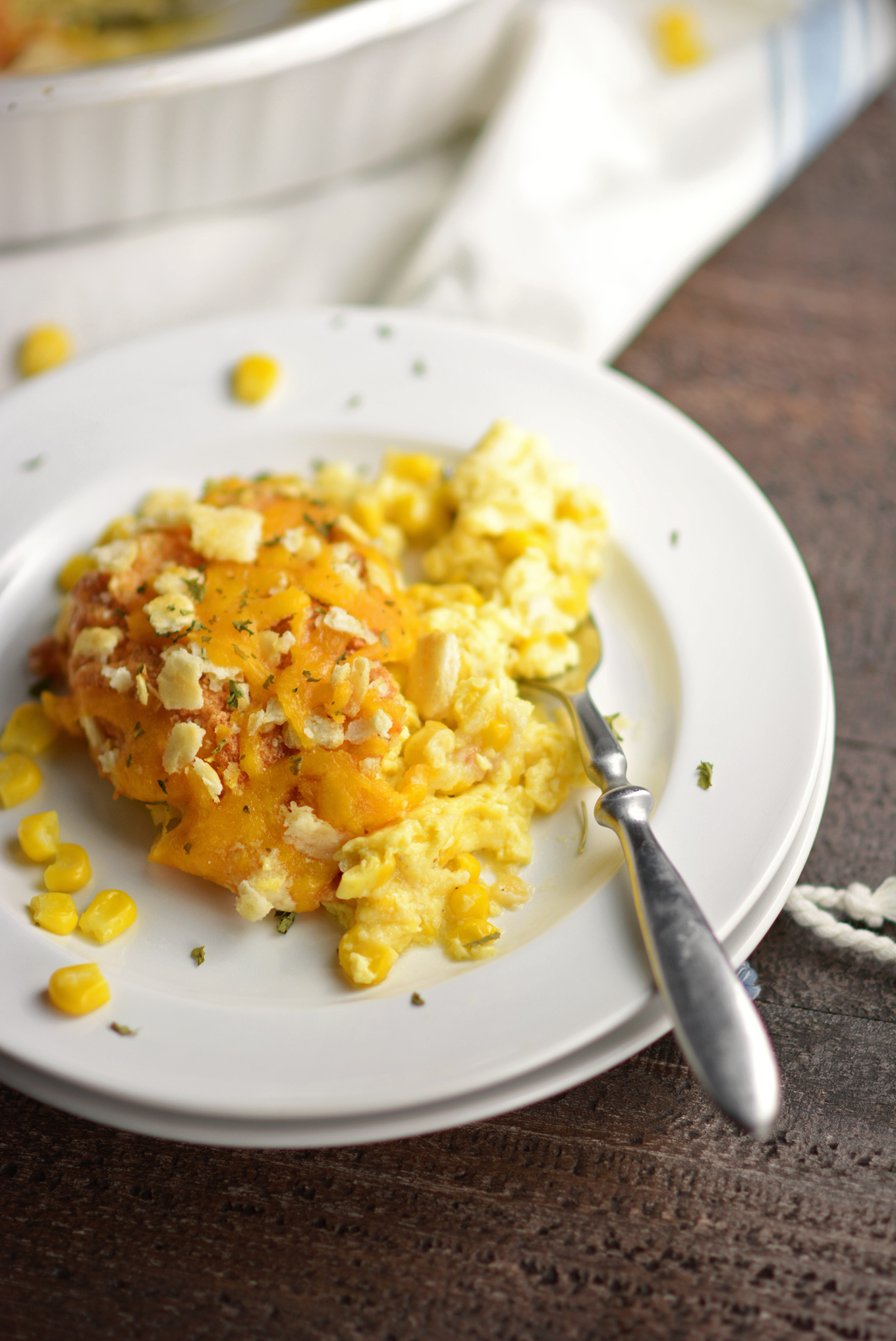 You may also enjoy…