Pumpkin Jack 'n Cheese Bowls – Your little trick-or-treaters will love this fun, savory recipe that's bursting with kid-food flavor and is also a well-balanced meal!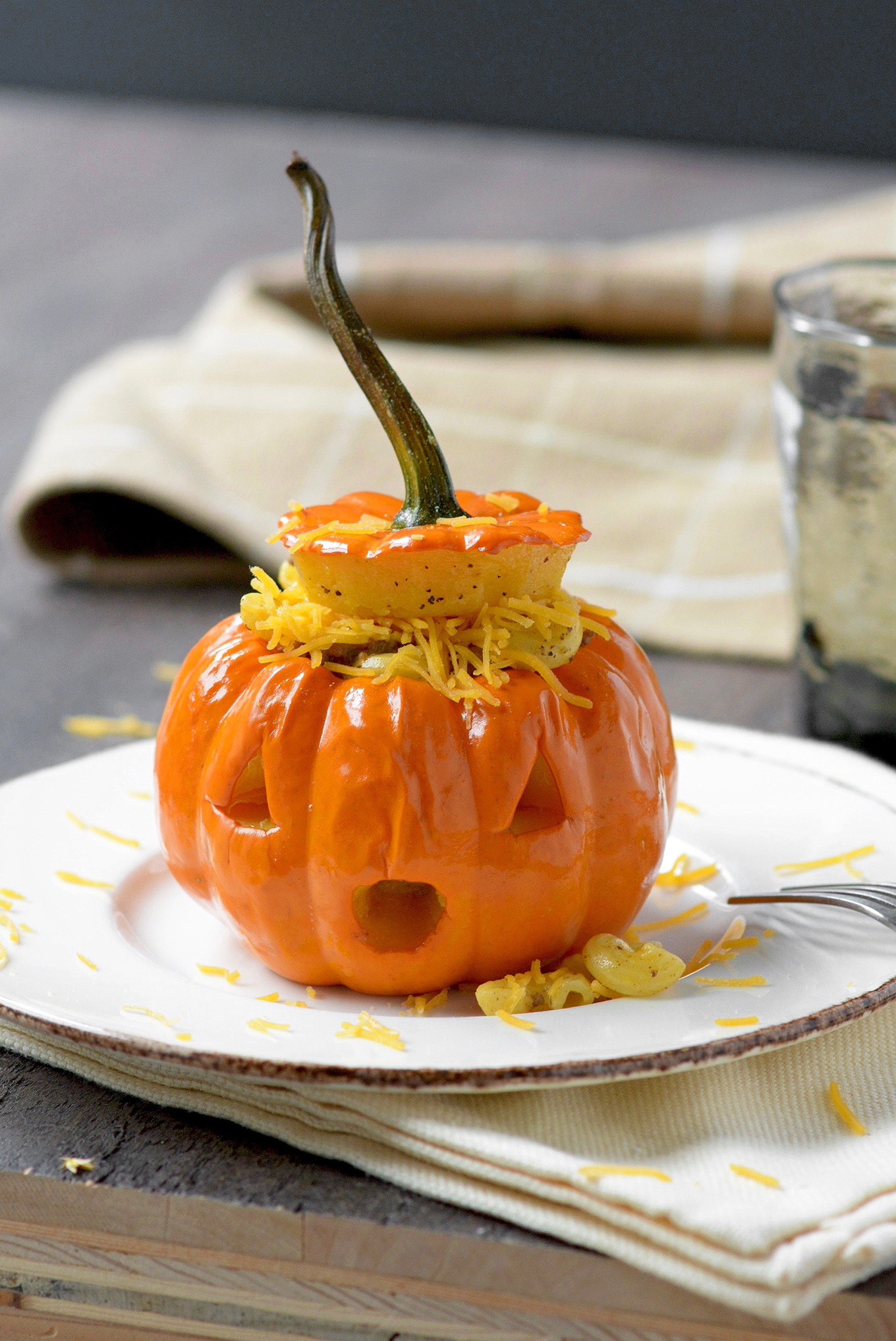 Hi! This is Rachel from the food blog Simple Seasonal. If you're anything like me, you're super excited that it's pumpkin season! I associate pumpkin-flavored everything with so many good memories!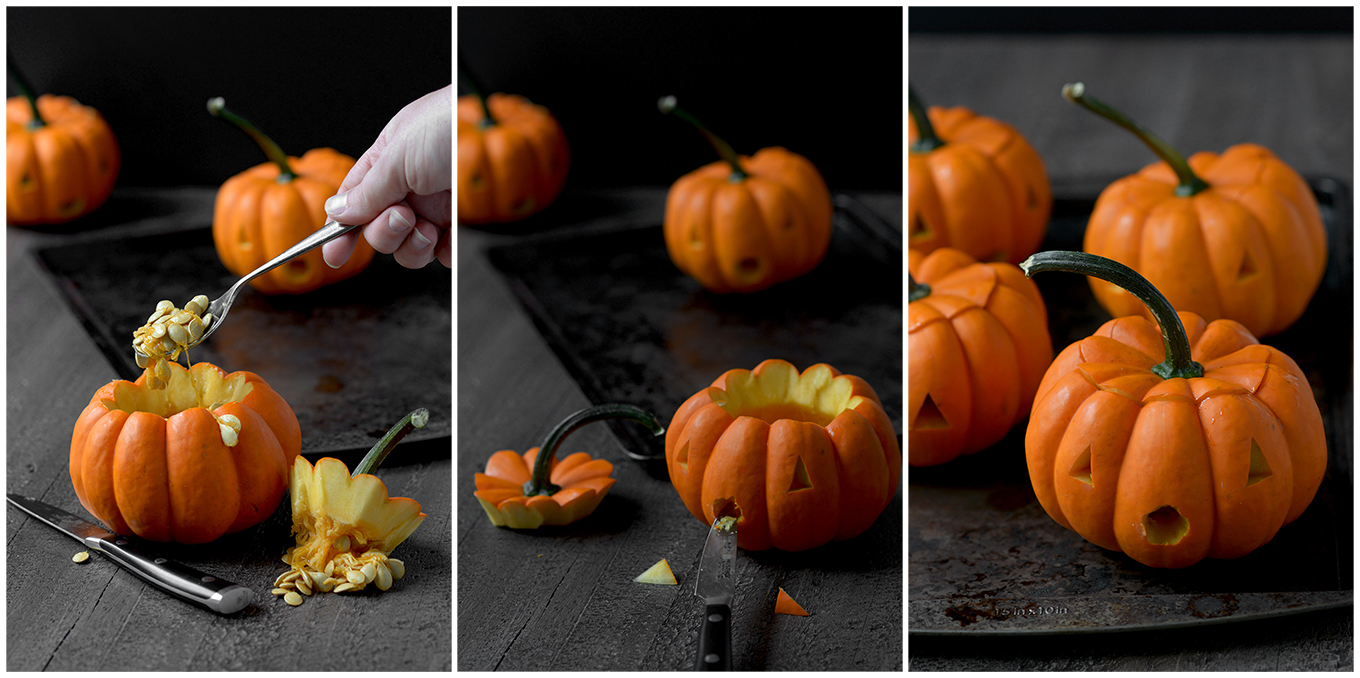 Pumpkins usher in bright reds, yellows and oranges to the landscape, a briskness to the air, and the chance to wear my favorite cozy sweater again while I sip on a Pumpkin Spice Latte. For my son, pumpkins are all about Halloween with it's pumpkin patches, jack-o'-lanterns and the promise of dressing up and trick-or-treating.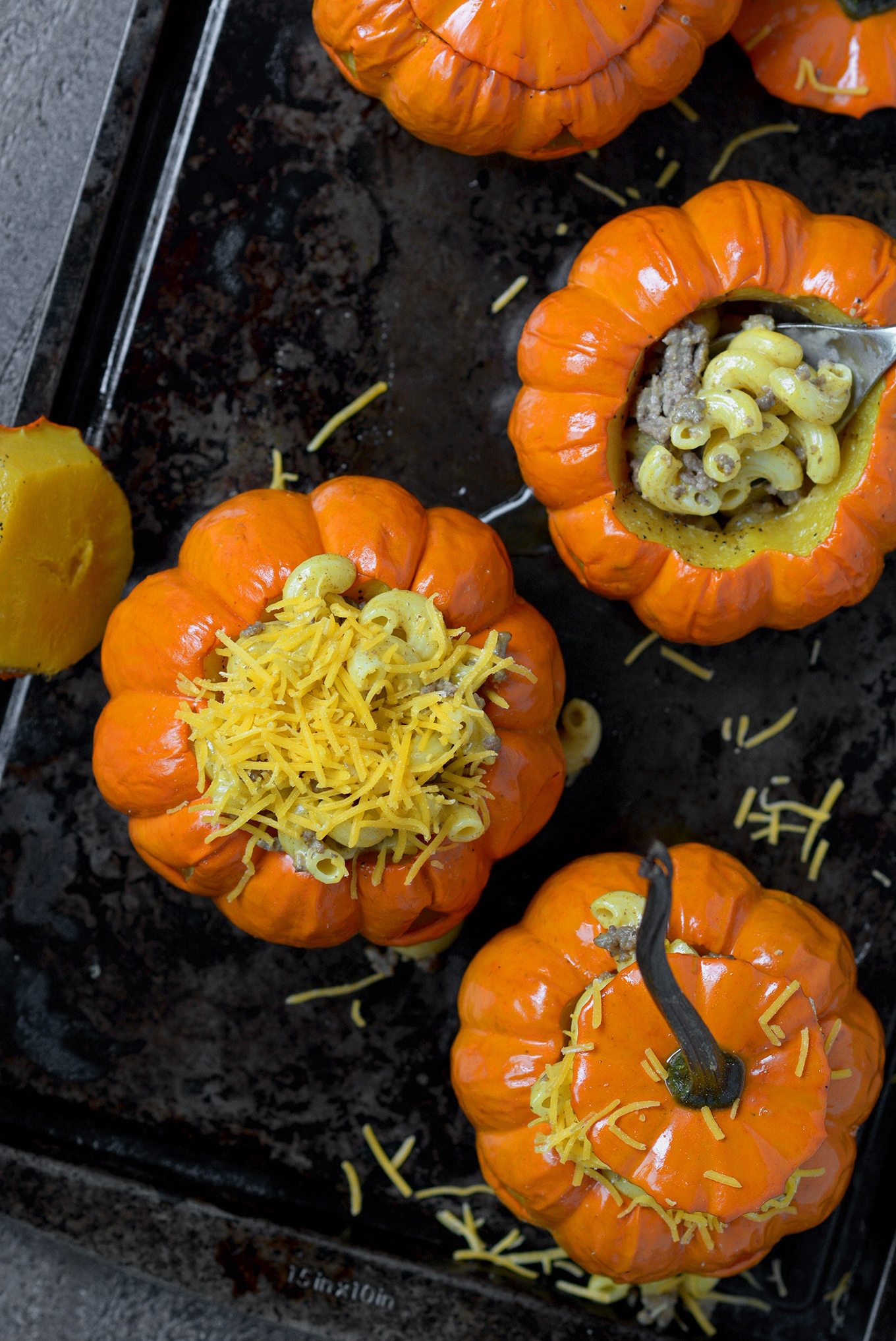 All that to say, I just had to make a pumpkin recipe for today's blog post! I decided to get in touch with pumpkin's savory side. The challenge is making a savory pumpkin recipe that my kids won't scoff at. After all, it is a vegetable. ?
When it comes to getting my kids to try something new, I have a couple of mom tricks up my sleeve. First, a trick well adopted by many parents is adding cheese – lots of cheese – to vegetables. It makes things SO much better for little palates. My second trick requires a little bit more creativity, and that is making food look like it's fun to eat! Sometimes getting kids to believe that they might like something new is half the battle.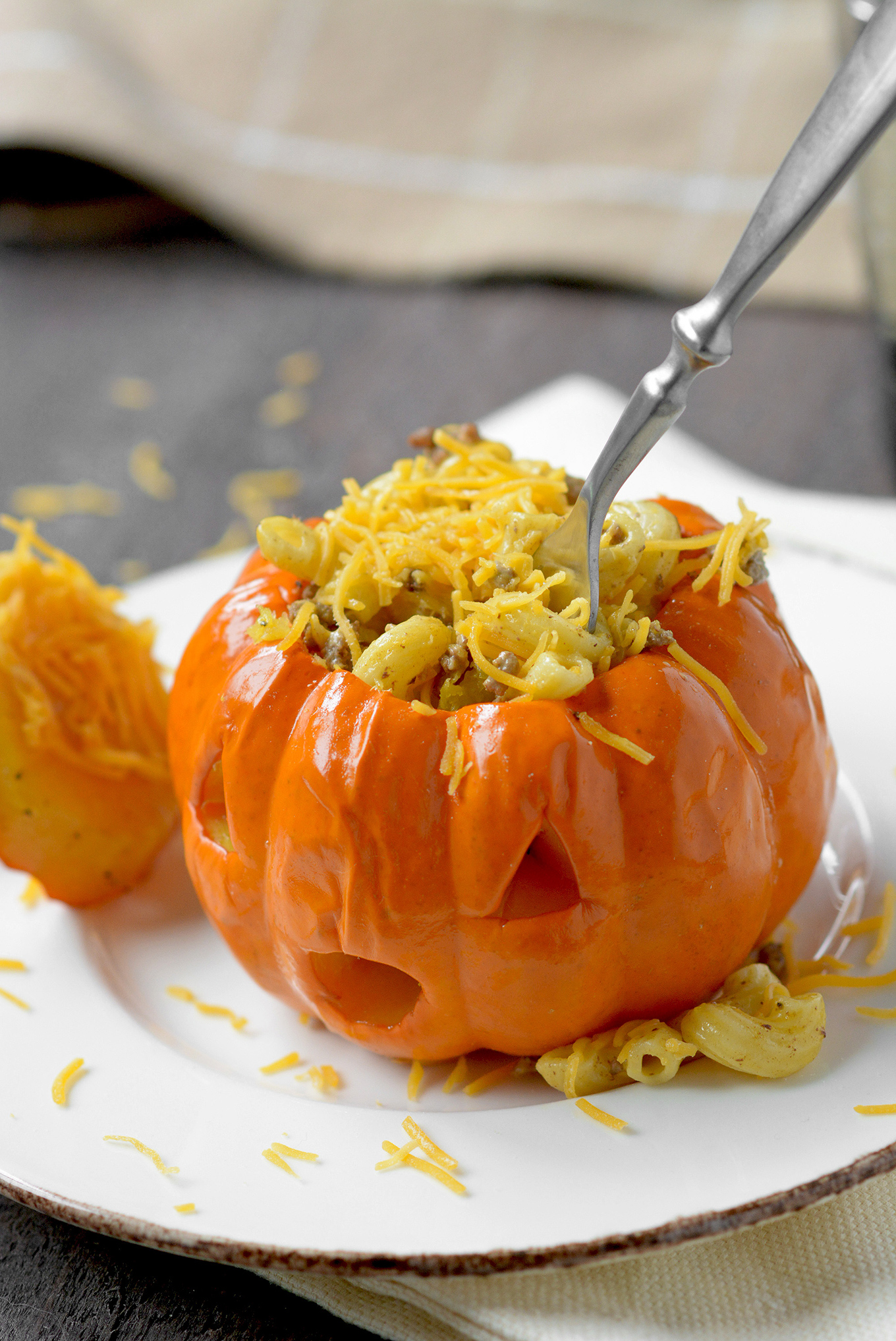 That's exactly what I did with these Pumpkin Jack 'n Cheese Bowls. I mean, what kid (or adult for that mater) wouldn't love eating out of a jack-o'-lantern this fall? The combination of pumpkin and cheese is truly scrumptious! The texture of the cooked pumpkin and pasta are similar, so between that and the cheese it tames the vegetable for your skeptics. I decided to add some ground beef to the mac 'n cheese mix, making this a complete, well-balanced meal. This recipe is definitely a trick (but also a treat) this mom has up her sleeve to nourish her little trick-or-treaters this fall!
Pumpkin Jack 'n Cheese Bowls
Ingredients
Jack-O'-Lantern Bowls
4 small pumpkins*
1 Tbsp olive
salt and pepper to taste
Beef Mac 'n Cheese Filling
¾ lb extra lean ground beef
1 10 oz box of organic mac 'n cheese mix
1 C finely shredded sharp cheddar cheese
Instructions
Preheat the oven to 400º F. Meanwhile, using a sharp paring knife, cut the tops off of 4 mini pumpkins and remove the seeds. When removing the pumpkin tops, pop them off with your knife and gently pull at the stem so that the stem doesn't break off. The seeds can be discarded, but they can also be reserved for roasting, much like larger pumpkin seeds. To cut the eyes into your pumpkin, make 3 cuts for each eye with the pairing knife and then pop out the triangular pieces of pumpkin. For the mouth drill a hole into the pumpkin by twirling the tip of your knife into the pumpkin until you have a mouth-sized hole.
Once the mini jack-o'-lantern bowls are cut, lightly brush olive oil over the insides and outsides of the pumpkin bottoms and tops and season with salt and pepper to taste. Bake for 30-40 minutes in a 400º oven with the tops on the pumpkins. The cook time may vary depending on the size of your pumpkins. The pumpkins are done when the inner flesh is fork tender.
Meanwhile, in a medium sized sauce pan, brown the ground beef. Once it's cooked through, drain the fat off the beef, cover, and set aside. You can then rinse out the pan that you cooked the beef in and prepare a 10 oz box of mac 'n cheese per the package instructions. I recommend using an organic brand for this item because they tend to be lower in sodium and they're free of artificial flavors and dyes. Gently stir the cooked beef into the mac 'n cheese once the macaroni is prepared to make Beef Mac 'n Cheese.
Finally, remove the cooked pumpkins from the oven and spoon the Beef Mac 'n Cheese into each one. Garnish with shredded cheddar and top with the pumpkin lids. Serve immediately. Note that pumpkin skin is tough, so the flesh should be eaten out of the pumpkin like a bowl and the skin should be left behind.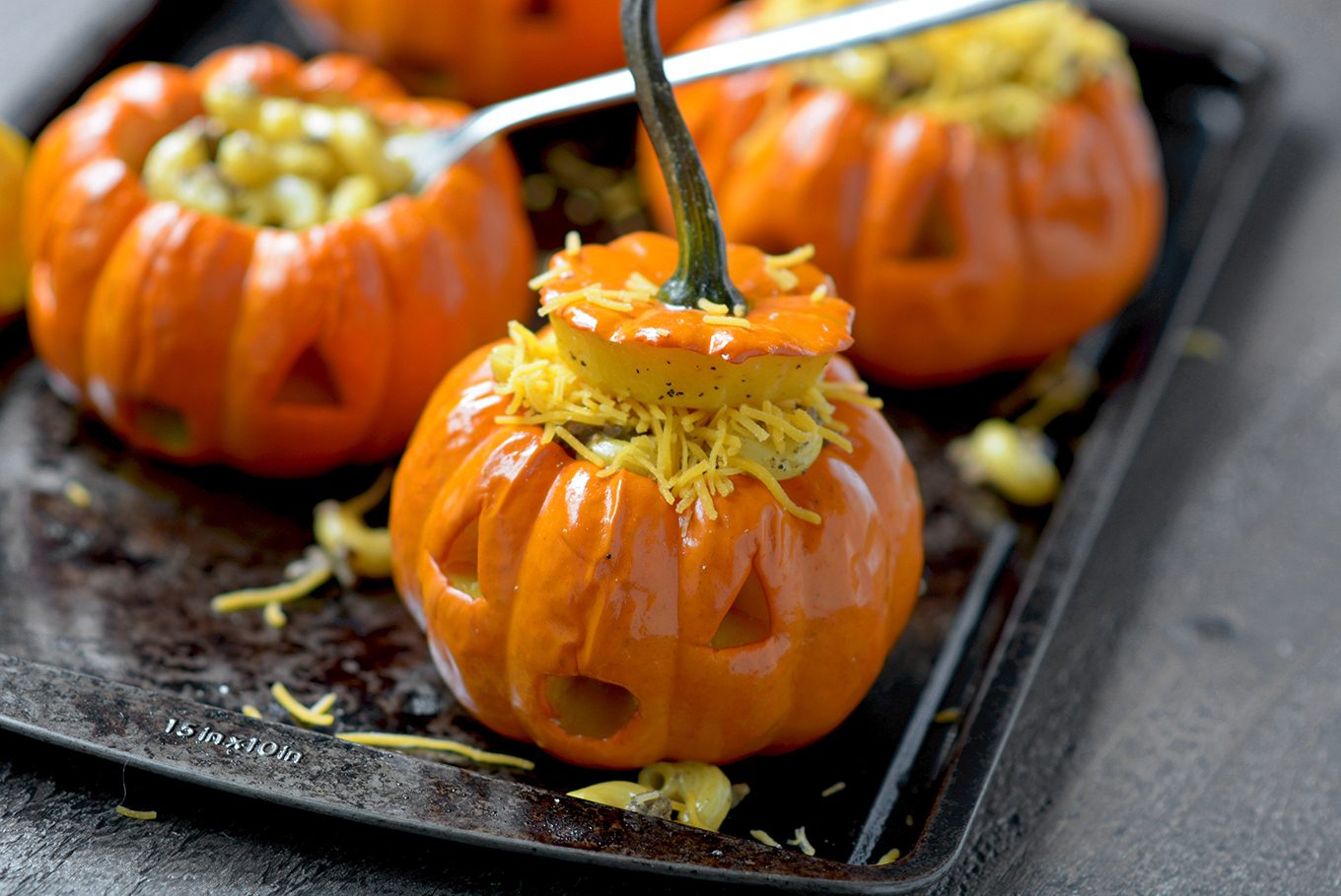 More delicious, fall recipes…