Have you ever struggled to find book titles that really captivate your child? I know I have – particularly for my son. Here are six tips to help your child develop a love of reading, as well a comprehensive list of the best chapter books and series that are sure to help light that fire.
My son (now 11) loves to read, but it hasn't always been this way. It's been through conscious effort and consistent reading habits at home, as well as finding books on topics that interest him, that his love for reading has grown.
I believe that a love of reading is best instilled at an early age. It's a gift that will stay with them forever.
6 Tips to Help Your Child Develop a Love of Reading
1. Read with your child from day one.
2. Give books as gifts, both to your children and to their friends. Encourage them to pick out a favorite book to give to a friend for a birthday gift (or as part of one).
3. Create book-related traditions, like running a family book club or reading your favorite holiday books around the Christmas tree on Christmas Eve.
4. Seek out books on subjects they're interested in, and include a variety of both fiction and nonfiction.
5. Expand your definition of reading. "Don't worry if your son isn't drawn to traditional boy classics like The Adventures of Tom Sawyer or Treasure Island. Magazines, comic books, baseball cards, newspapers, graphic novels, websites, joke collections — it all counts as reading." PBS
6. Turn the reigns over to your child. Children thrive when we give them some control over the choices in their lives. Letting them take the lead with their selections can greatly nurture an interest in reading.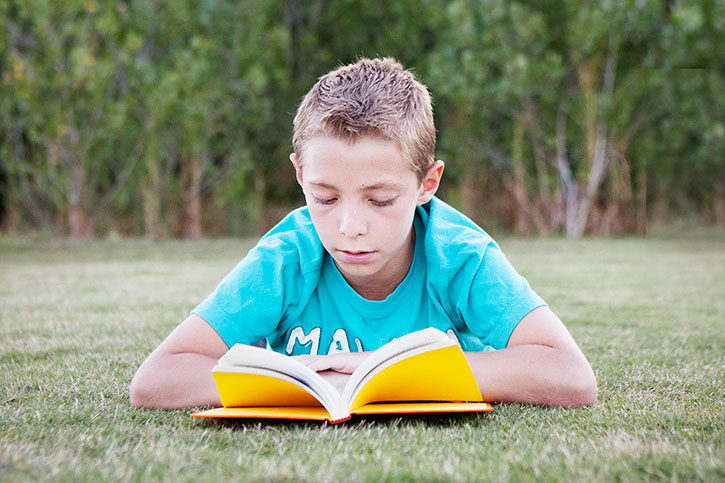 It can be a challenge to light the fire in boys, in particular. It's well documented that boys are less inclined to read than girls.
Research also shows that if boys are able to progress their reading skills through subjects they enjoy, they will be more inclined to want to return to books and learn more — a simple idea but one that invariably works.
I've found that my son is drawn to story lines with clever humor and epic adventure. At times I've struggled to find titles that would really captivate him, but over the years we've developed quite the list of books that took him into another world and kept him turning page after page.
I hope you and your child (boy or girl) will find some new gems on this list.
*this list contains affiliate links
Best Chapter Books and Series for Boys, Ages 7-12
I opened up the discussion on the Simple as That Facebook page asking you what books your child ages 7-12 has enjoyed reading and here are a few more titles that were mentioned.
A few More Titles to add to Your Child's Reading List
The Time Warp Trio by Jon Scieszka
Notebook of Doom Series by Troy Cummings
Swindle Mysteries by Gordon Korman
Janitors Series by Tyler Whitesides
The Nightshade Chronicles by Hilary Wagner
Soup Series by Robert Newton Peck
Wings of Fire by Tui T Sutherland
Hank the Cowdog by John R. Erickson
Beast Quest Series by Adam Blade
The Magic Treehouse Series by Mary Pope Osborne
Captain Underpants by Dav Pilkey
Percy Jackson and the Olympians by Rick Riordan
Encyclopedia Brown Series by Donald J. Sobol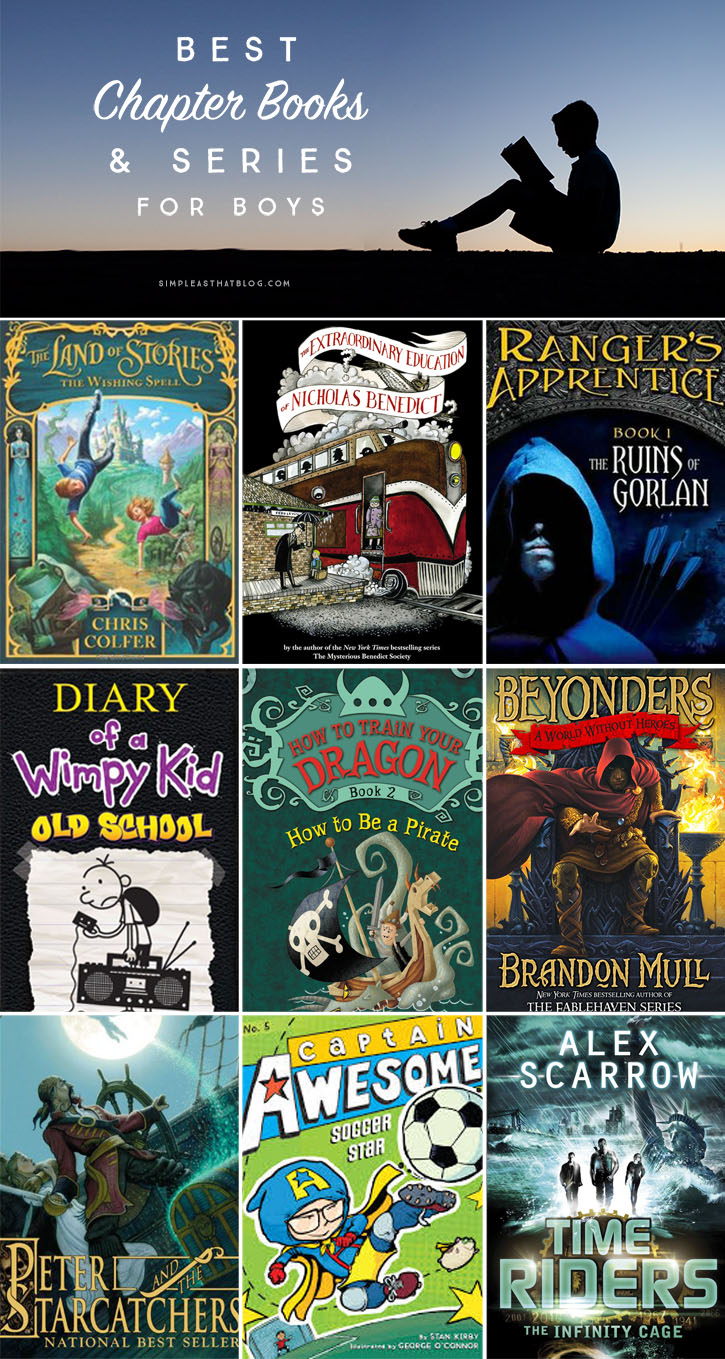 If you can relate to today's post, you might also enjoy this post where I share 4 Tips to Help Improve a Child's Focus. This is one of the best mom-hacks I have up my sleeve. The use of a simple tool that has made a world of difference in my children's ability to focus and take responsibility for their activities – especially when it comes to homework and reading.