Brown sugar keeps this simple vanilla crumb cake extra soft!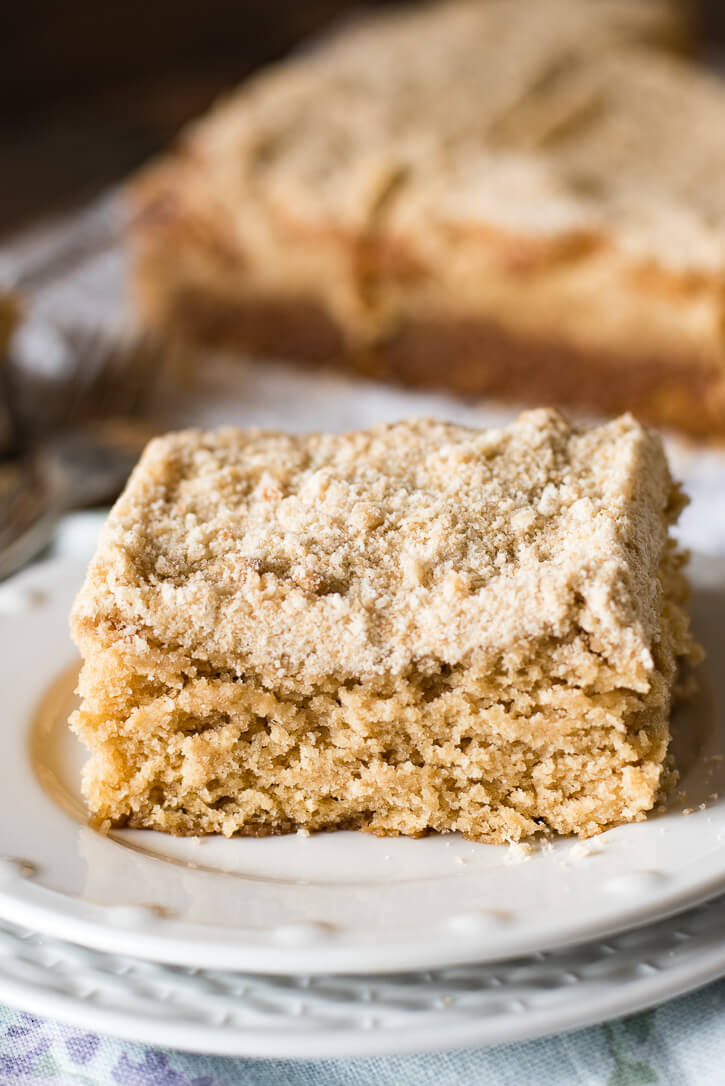 It's Julie from Tastes of Lizzy T sharing with you a classic recipe for Brown Sugar Vanilla Crumb Cake. Over on our little side of the world wide web we focus on sharing classic, comforting recipes. Think soups, barbecue side dishes, sweet little cookies and old-fashioned pies. Often we take those Amish-style recipes and make them just a little healthier for you. But sometimes we leave sweet treats as they are. Because every now and then you need a little happy with your healthy. 🙂
I got this vanilla crumb cake recipe from a new-to-me, old Amish cookbook that I found at a bookstore. If there's ever a lazy day around our house (which doesn't happen often with nearly three teenagers), you can find me under a warm blanket on the living room couch, flipping through cookbooks. This vanilla crumb cake recipe popped out at me immediately. Because really, who doesn't love crumb cake?!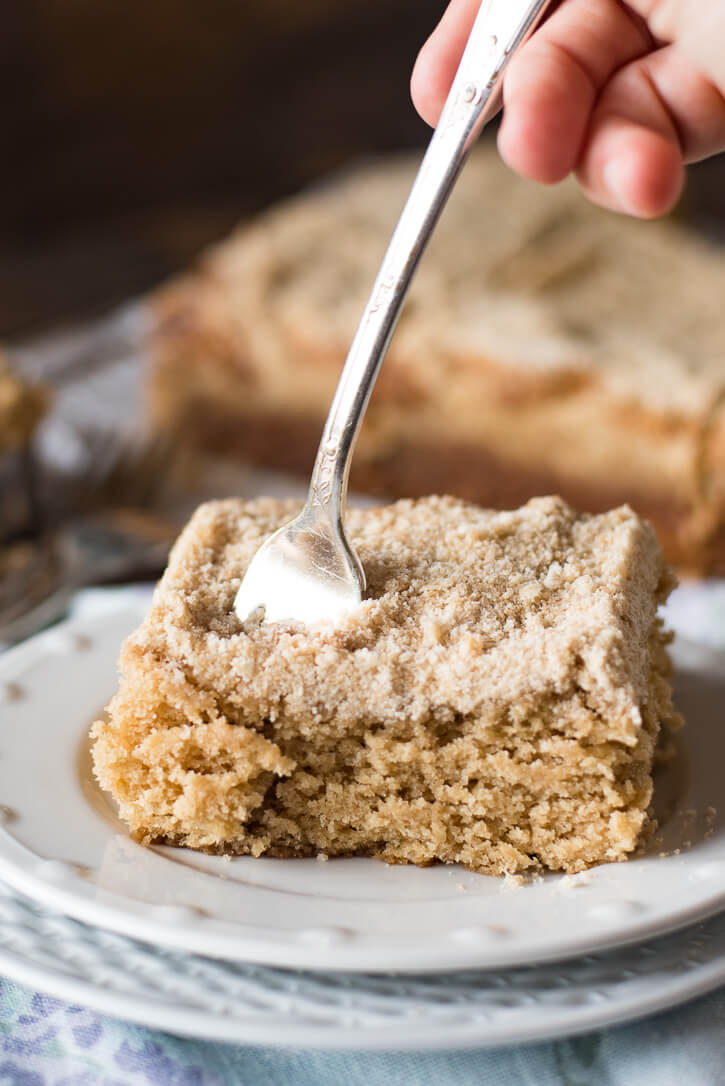 I often switch up those old-fashioned recipes just a tad. I swap out the shortening for butter, add a hint of vanilla and this time added dark brown sugar to replace the regular brown sugar. You can use either, but dark brown sugar has an extra touch of molasses which just deepens the flavor of recipes. So fantastically delicious.
What's fun about this recipe is that you make the sweet crumb topping first, separate out 1 cup of crumbs for the actual topping, then use the remaining crumbs to create the rest of the cake. It's almost a 1-bowl cake.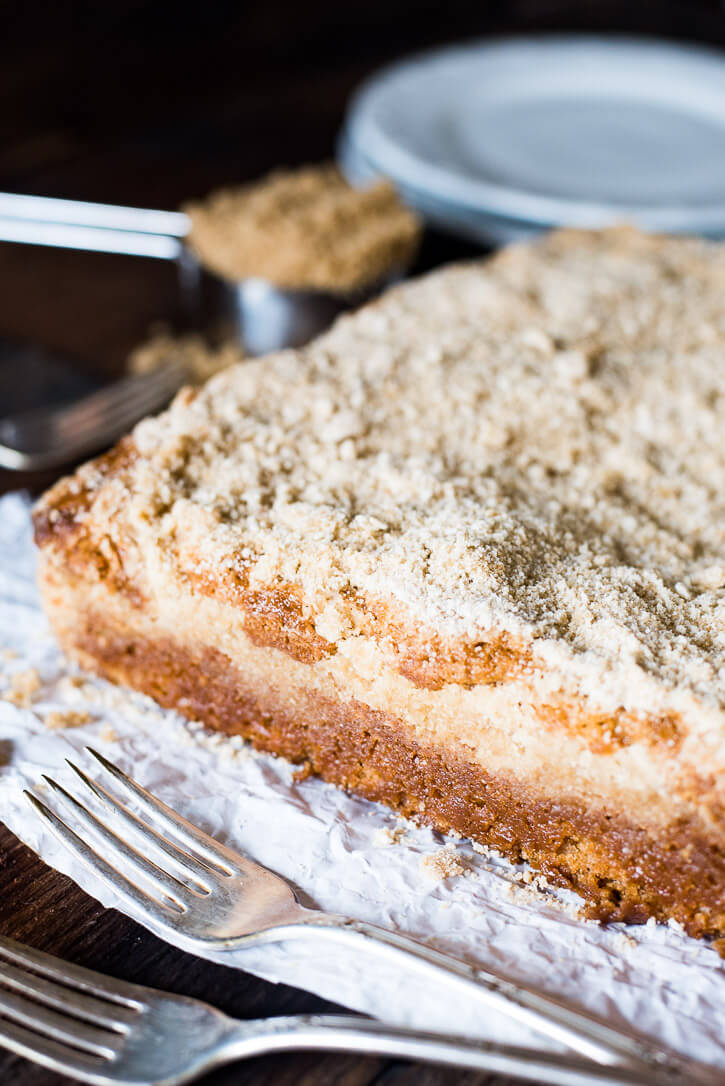 You'll love this simple, moist vanilla crumb cake. It's delicious fresh from the oven, but we enjoyed it even more the second day when the flavors had time to deepen.
Grab your favorite hot drink and a slice of this crumb cake for a sweet escape!

Brown Sugar Vanilla Crumb Cake
Brown sugar keeps this simple vanilla crumb cake extra soft!
Ingredients
2½ cups all-purpose flour
½ cup cold salted butter, cut into cubes
1½ cups dark brown sugar*
2 teaspoons vanilla extract, divided
1 teaspoon baking soda
1 cup buttermilk
Instructions
Preheat the oven to 350 degrees.
In a bowl, use a pastry blender (or two knives) to cut together the flour, cold butter cubes, sugar and 1 teaspoon of vanilla extract. Cut together until the mixture is coarse crumbs.
Measure out 1 cup of crumbs and set aside so you can use them for the topping.
To the remaining crumbs, add 1 teaspoon baking soda, buttermilk and the remaining teaspoon of vanilla.
Mix just until combined.
Spray a 9x9 pan with cooking spray.
Pour the batter into the prepared pan, spreading to cover the entire bottom of the pan evenly.
Sprinkle the reserved crumbs on top of the cake batter.
Bake for 25-30 minutes or until a toothpick inserted in the center comes out clean.
Notes
*You can also use light brown sugar.
Other recipes using dark brown sugar:
Mocha Chocolate Chip Cookie Pie
Chocolate Chip Butterscotch Bars