6 layers of deliciousness make up these Chocolate Cherry Magic Bars. If you love coconut, cherries and chocolate, this simple dessert recipe is sure to please.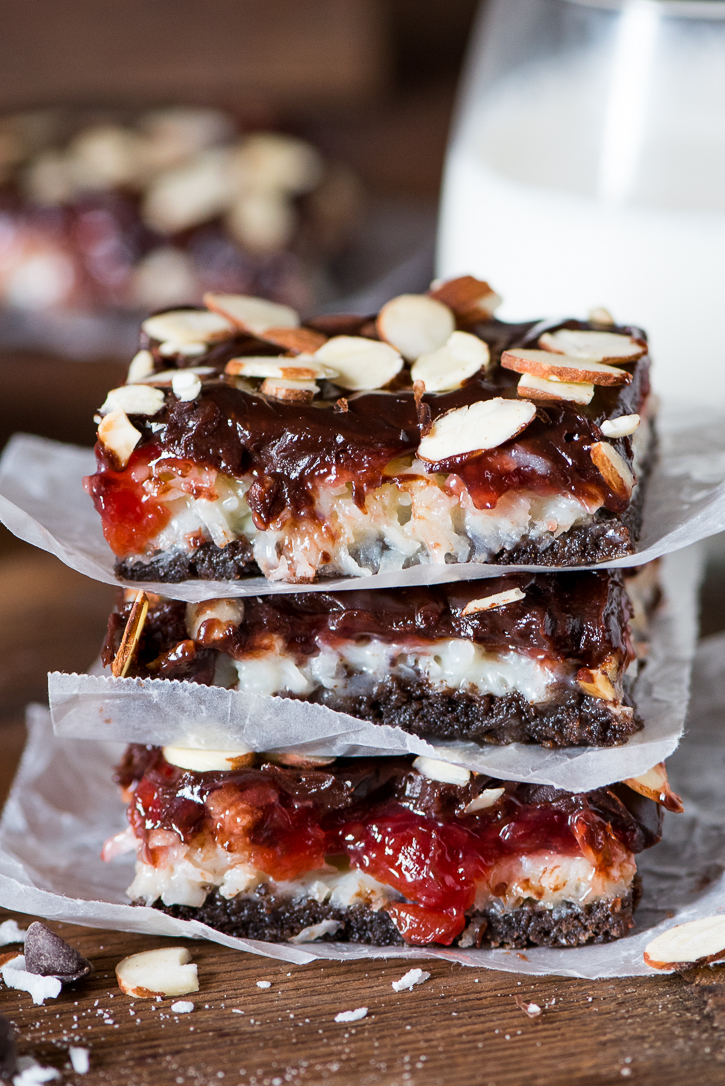 Hi. My name is Julie. And I'm a people pleaser. I like to make people happy.
Now this can be a good thing, but it can also be a negative thing because you know what? People are hard to please. And what they think they want always changes.
My favorite person to please is my husband. He's my #1 taste tester over at Tastes of Lizzy T. And there's one thing with him that will never change.
His love for chocolate, cherries and coconut.
So yeah…you can see that these chocolate cherry magic bars would take first place in his eyes.
Have you ever made magic bars? They're so simple and so versatile. I've made peppermint and pumpkin magic bars and I knew the next on the list to try would be a chocolate cherry magic bar.
Here's the layers…
Chocolate graham crackers
Coconut
Sweetened Condensed Milk
….baked together until gooey and golden brown.
You'll let that beautifulness cool to room temperature, then spread on some cherry jam. I chose to use Smuckers Natural Sour Cherry Fruit Spread. It tastes just like my grandma's pie filling and you'll often find me eating out of the jar with a spoon.
Shhh…don't tell anyone. 😉
Use whatever cherry jam you'd like, and you can even get brave and try a different flavor of jam.
Chocolate & strawberries, anyone?
Lastly is that lovely chocolate ganache. I'm a bit obsessed with ganache. If you'll remember, when I shared with you all last month, that recipe had ganache also. This time you'll use 1/2 cup heavy cream and 1 1/2 cups chocolate chips. This is going to make just the right amount and texture of ganache to spread over your cherry magic bars.
Dark chocolate and cherry jam. I'm in love.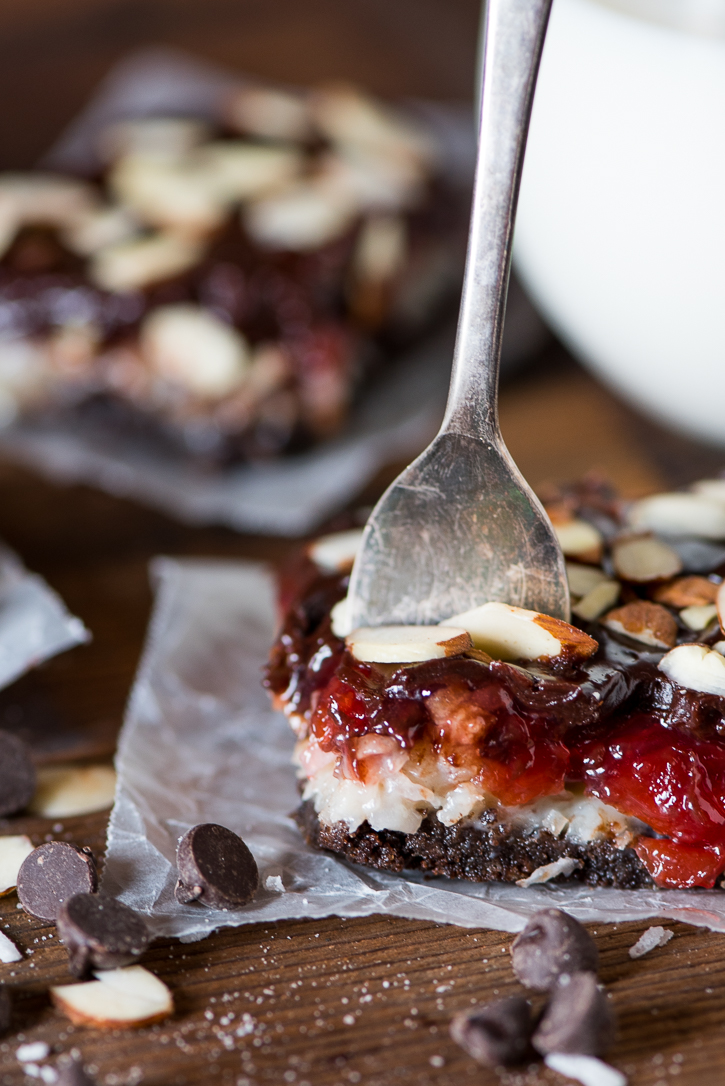 So did I win my husband over with these?
Yes.
More than I could've hoped for. I always wait with bated breath as he takes his first bite and processes the flavors.
He fell head over heels in love.
With the cherry magic bars, and all over again with me. 🙂
Chocolate Cherry Magic Bars
6 layers of deliciousness make up these Chocolate Cherry Magic Bars. If you love coconut, cherries and chocolate, this simple dessert is for you!
Ingredients
1¾ cups chocolate graham cracker crumbs
1 tablespoon granulated sugar
1 stick (1/2 cup) salted butter, melted
2½ cups shredded coconut (sweetened)
1 can (14 ounces) sweetened condensed milk
1½ cups Smuckers Natural Red Tart Cherry Fruit Spread*
½ cup heavy cream
1½ cups dark chocolate chips
⅓ cup sliced almonds
Instructions
Preheat the oven to 350 degrees.
Combine the graham cracker crumbs, sugar and melted butter in a small bowl.
Spray a 9x13 baking pan with cooking spray.
Spread the crumb mixture evenly over the bottom of the baking pan, pressing down to make a compact crust.
Sprinkle with coconut.
Pour the condensed milk evenly over the coconut.
Bake at 350 degrees for 20 minutes until lightly browned.
Allow the baked bars to cool to room temperature.
Gently spread the cherry fruit spread overtop the coconut layer.**
In a small bowl, heat the heavy cream for 30 seconds in the microwave.
Place the chocolate chips in a medium-size bowl.
Pour the heated heavy cream overtop the chocolate chips, cover the bowl and allow it to sit for 3 minutes.
Stir the chocolate and cream mixture. If the chocolate is not completely melted, heat it in the microwave in 10 second intervals***, stirring between each time, continuing until the chocolate is completely smooth.
Pour or spoon this melted chocolate overtop the cherry jam, smoothing with the back of a spoon until it completely covers the top.
Sprinkle sliced almonds over the chocolate, if desired.
Place the pan in the refrigerator to allow the chocolate to completely set.
Cut into 15 or 20 bars, as desired.
Store in the refrigerator.
Notes
*This is my favorite cherry jam. Feel free to use homemade or your favorite brand.
**To make the jam easier to spread, warm it for 10-20 seconds in the microwave and stir, then spread.
***Be sure to take your time melting the chocolate. Use just 10 second intervals and stir well between each time. If the chocolate gets too hot, it will harden, so be sure to take your time!