Creamy Cauliflower Alfredo Sauce – this simple, healthy vegetable sauce is full of alfredo flavor, but with added nutrition and less calories and fat! It's sure to be a new family favorite dinner recipe!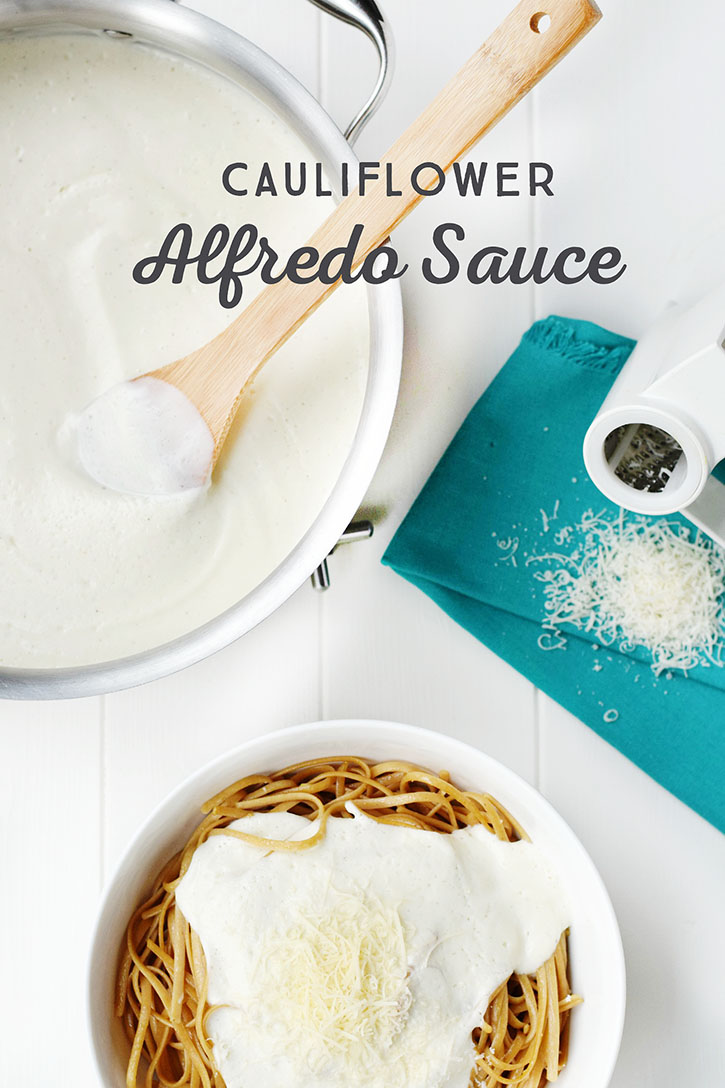 Hi guys! I'm Tiffany from Feel Great in 8 and I am so excited to be here! I'm a huge Simple As That fan and I am thrilled to be a new contributor! I'll be back often sharing simple, healthy, recipes I hope your family will love.
Today I am excited to share this delicious recipe for creamy cauliflower sauce with you. It's got all the yummy garlic and parmesan flavor of alfredo sauce, but with added nutrition from the cauliflower and a whole lot less calories and fat. It's awesome over whole wheat pasta noodles, as a dip, or even as a white chicken pizza sauce. I hope your family loves this one as much as mine does!
Creamy Cauliflower Alfredo Sauce
Ingredients
8 cloves garlic, minced
2 tablespoons butter
5-6 cups cauliflower
6-7 cups vegetable broth
½ cup freshly grated parmesan cheese
1 tablespoon olive oil
1 teaspoon salt
½ teaspoon black pepper
½ cup milk
Instructions
Bring the vegetable broth to a boil in a large pot (you can use water instead, but the vegetable broth adds good flavor). Add the cauliflower and cook for 8-10 minutes, or until cauliflower is fork tender. Do not drain.
While the cauliflower is cooking, sauté the garlic in the butter, over low heat. Cook for 1-2 minutes, until the garlic is soft and fragrant, but not browned. Set aside.
Use a slotted spoon to transfer the cauliflower into a blender (I use and love a Blendtec). Add one cup vegetable broth or cooking liquid, the sautéed garlic/butter, parmesan cheese, olive oil, salt, black pepper, and milk. Blend until very smooth. You can also add more milk or broth if needed until the sauce is the desired consistency. Serve hot!
Notes
Recipe adapted from Pinch of Yum.
 If you enjoyed this post you might also like this Cheesy Cauliflower Casserole recipe.