We're on our way to Disneyland for the first time ever this week and we couldn't be more excited! Before we left I wanted to put together a quick and easy way for the kids to collect character autographs at the park and today I wanted to share what I came up with.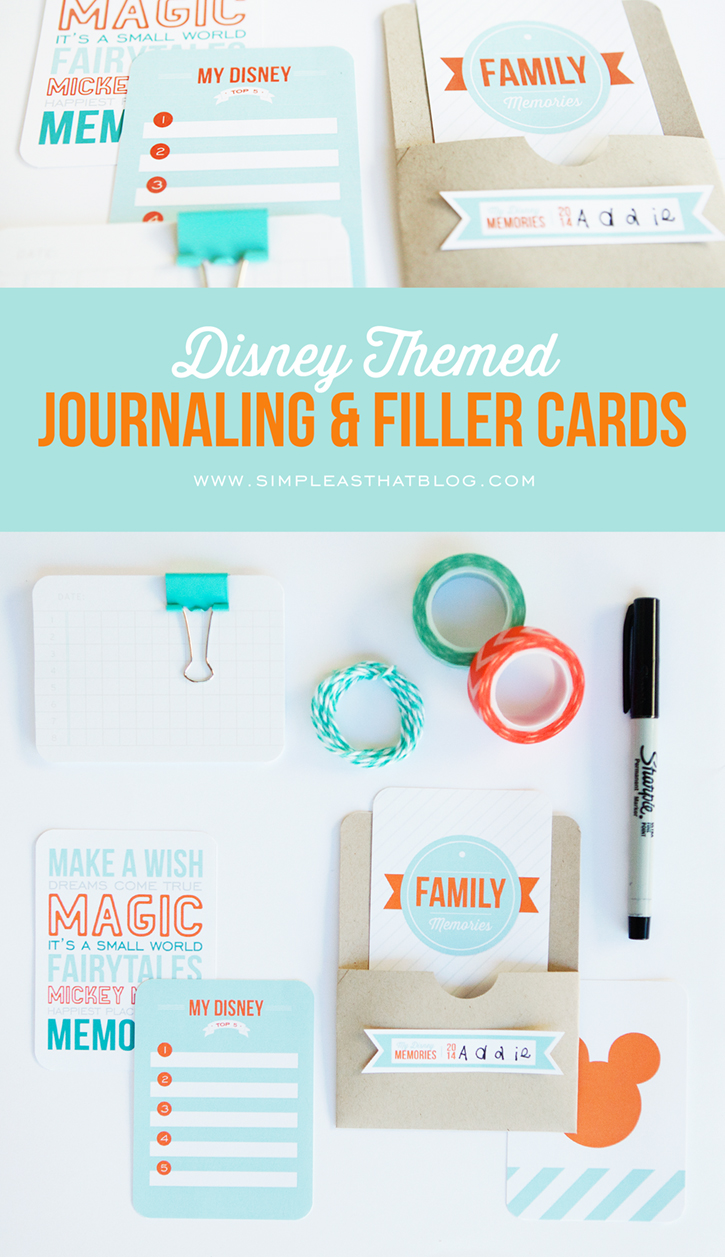 I always like to have a supply of generic, 3×4 and 4×6 project life cards on-hand for scrapbooking and they come in handy for a lot of other things too! These are a few of my favourite cards to keep in stock:
4×6 Grid Cards | 
3 x 4 Lined Cards
 | 4 X 6 Ledger Cards
 | 3 x 4 Ledger Cards
They go with any core kit or mini kit, they're great for jotting down favorite quotes, recording little journaling tidbits or having your child draw a quick picture on. Well, I think I've found yet another use for these handy cards!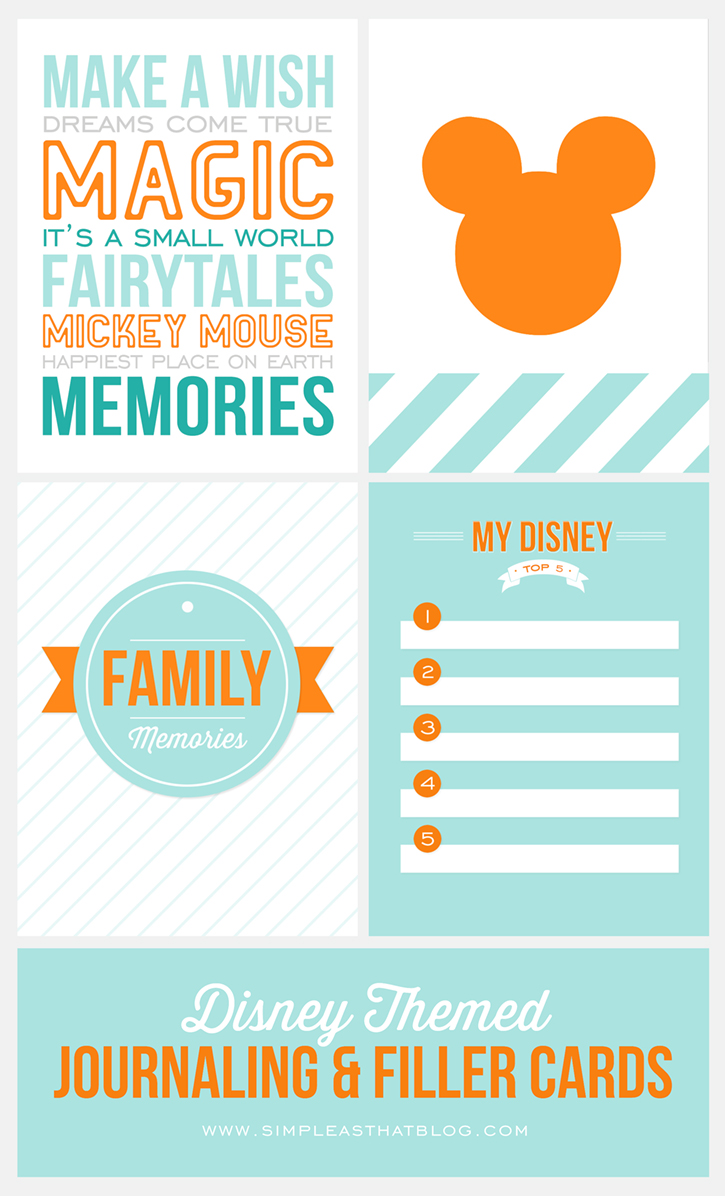 I'll be bringing a stack of them to Disneyland with us for the kids to get the character's autographs on. I've gathered a handful of cards for each of the kids, they're housed in a DIY library pocket secured with a binder clip. All the supplies we need fit in a ziploc bag! When the kids want an autograph they can take their stack of cards (secured with the binder clip) and get their favourite characters autographs.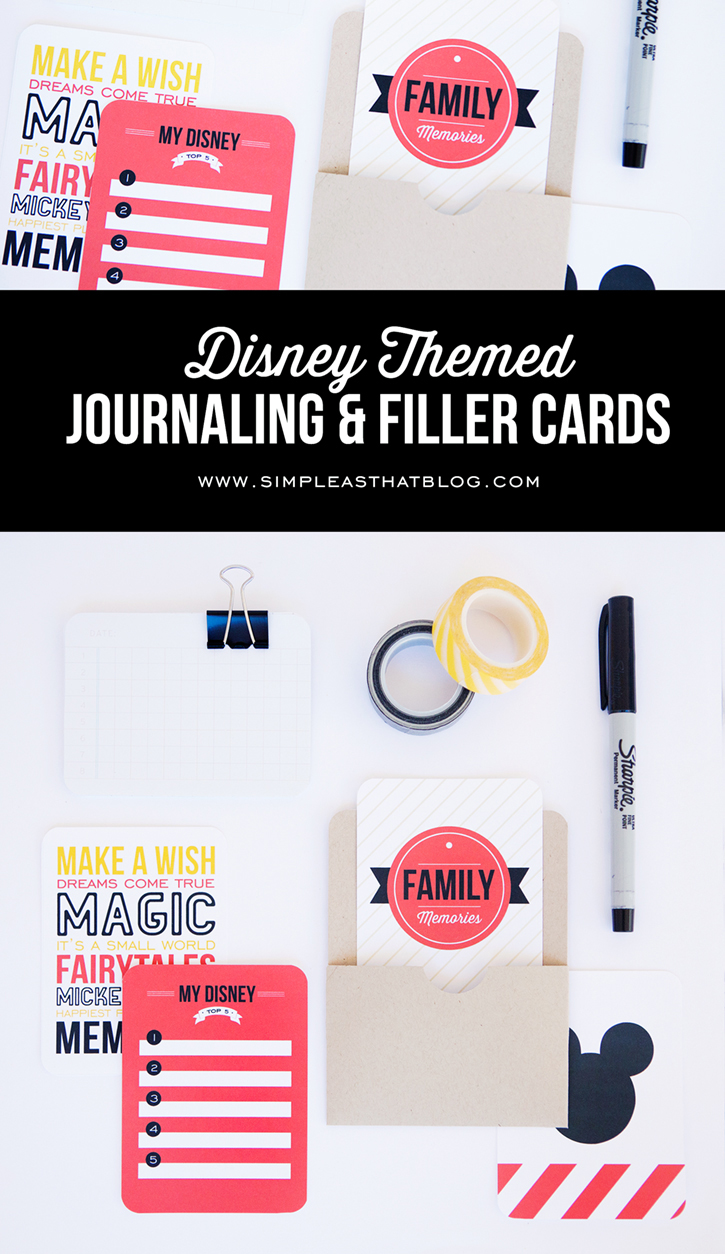 The best part is, when we get home I'll be able to quickly compile the autographs, along with our trip photos and memorabilia into a fun album!
I designed some fun Disney themed journaling and filler cards that will make a nice addition to the pages I create from our trip. These aren't just great for memory keeping, you could even use them as gift tags like I did here. I'll be sharing how I put these cards to use in my scrapbook album when we get home so stay tuned!
These Disney themed journaling + filler cards, are available for FREE to all Simple as That subscribers. You can sign up for email updates here or subscribe to the Simple as That monthly newsletter here. Once you've done one of those things, simply click on the links below to download your free set of cards in the color set you'd like!
Click here to download blue/orange/grey Disney Card Set
Click here to download red/black/yellow Disney Card Set
If you enjoyed this free download please take a moment to share with your friends on Facebook or Pinterest! Thanks so much and enjoy!
---

EXCLUSIVE DISNEYLAND DISCOUNT
Travel during September to get Adults at Kids' Prices on 3-Day and longer Park Hopper® Tickets, or take your kids in October during Fall Break! Either way, you're in for a treat.
Get Away Today is also offering all Simple as That readers exclusive hotel discounts PLUS $10 off a Southern California vacation package which can be combined with any current specials they're running! This is amazing and you aren't going to find prices like this anywhere else!!
USE COUPON CODE —> SIMPLEASTHAT