Create fun and colourful confetti party invitations for your next get together with these FREE printable party invites from Confetti Sunshine!
Hello! I'm Sara from Confetti Sunshine, and I am so excited to be here today. I've always admired Simple As That (especially her Instagram feed!) and am thrilled that I get to party with you today. Over at Confetti Sunshine, I am all about parties and celebrating life. So, naturally, I just couldn't pass up an opportunity to share some party ideas with you today.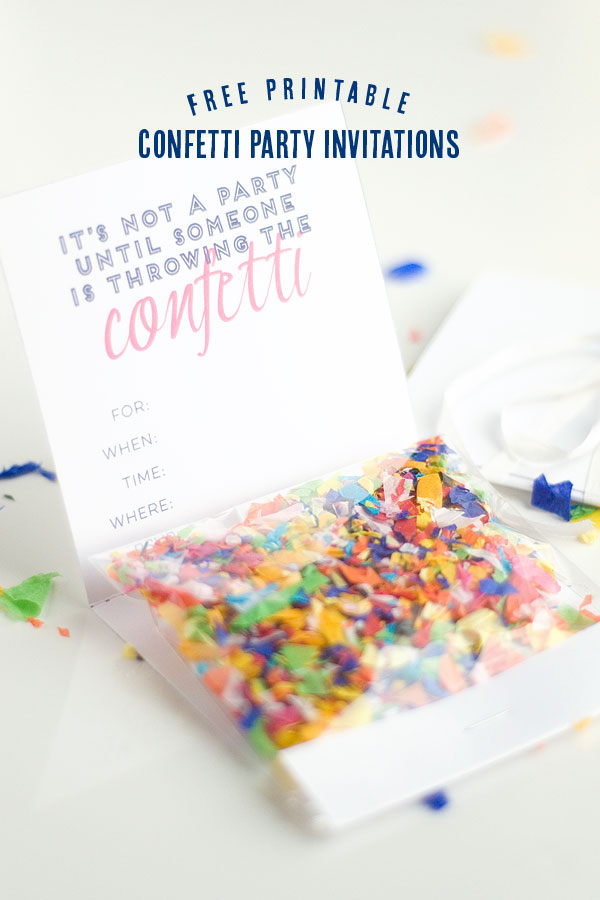 One of my favorite party themes is a confetti party. It's always makes such a fun colorful party. But, the start to every good party is a good party invitation. So, today, I am sharing a free printable confetti party invitation.
First, print and cut out the Confetti Invitation. Fold the invitation along the dotted lines. Fill your plastic bag up with the confetti. Trim you bag down if you need to. Roll up the opened end of the confetti bag and place it at the end of the invitation. Fold up the bottom fold of the invitation and staple the invitation to the confetti bag – matchbook style. Fold over the top flap of the invitation and tie the ribbon around the invitation.
One of the greatest parts of a confetti party is that it works for almost anyone and any age. A few months ago I ended up throwing an impromptu confetti party for my daughter's informal 6 birthday celebration with family. It was, by far, the best party we've ever had. While I'll admit that we were vacuuming up confetti for weeks, it was worth it.