Well, I'm officially on my way to Queensland tomorrow and I can't even tell you how excited I am to get there! It's sure to be a memorable trip and to keep a record of my travels I created this quick + simple pocket travel journal.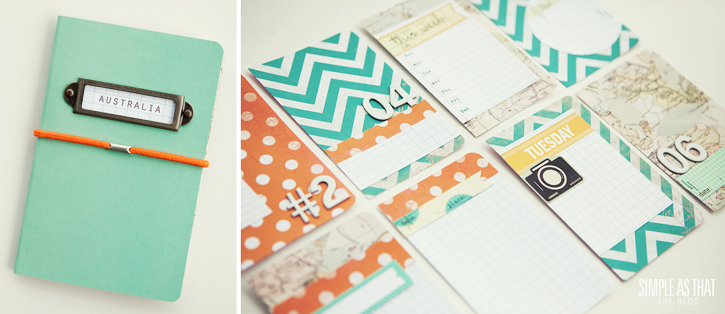 The pages are blank – ready to be filled with journaling, memorabilia and when I get home – photos. Since its a long trip and I'm packing as light as I can I didn't want to take anything too bulky, so this little journal is perfect. Created using a small notebook from the dollar store + various scrapbook supplies, the journal measures 3.5″ X 5.5″ and all I need to keep it up to date on the trip fits neatly inside a regular ziplok bag.
I'm excited to get to work on filling it with memories from my trip to Australia. When I get home I'll be sharing images of the completed album along with more detailed instructions on how to make your own. You can see the complete supply list for the album below.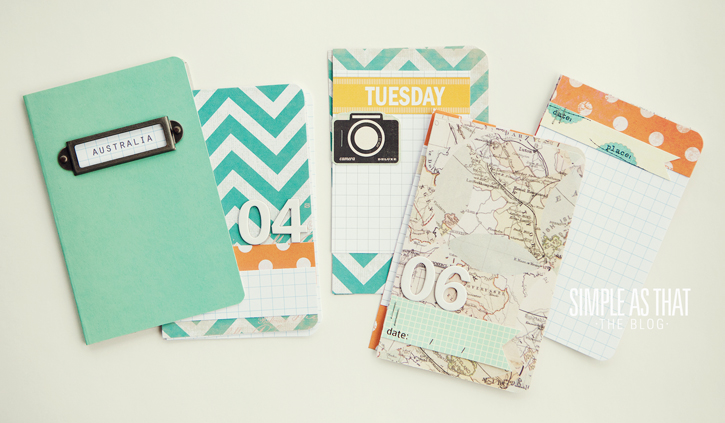 supplies: elle's studio tags || making memories bracket || heidi swap chipboard letters + chevron paper || printable graph paper || mini stapler || kaiser craft orange polka dot paper || pink paislee map paper || hair elastic
I don't know when I'll have time to blog again, but I do plan to post from the road as often as I can. I arrive in Australia June 4th and we have a packed schedule. I can't wait to share more about the exciting things Tourism Queensland has planned for us to do! Simple things Sunday will go ahead as usual…I've got my post scheduled to go first thing Sunday morning and I'll check back in here as soon as I can. 🙂
In the meantime, please follow me along on this
once in a lifetime trip! I'll be sharing updates regularly on
Facebook,
twitter and instagram @rebecca_simpleasthat. Be sure to
subscribe to my blog feed as well to get to stay up to date on my latest posts.
We'll see you soon from Australia!
Have a great weekend everyone.



I'm linking up with these fabulous blogs!