Just a quick and simple craft share this lovely Friday. I found these darling notebooks at the bookstore the other day and couldn't resist them. Aren't they so sweet? They're relatively small, lightweight and will be perfect to take along on
my trip next week
!
I want to take a notebook with me to jot down ideas for blog posts, to make notes during our two blogging workshops and to keep track of contact names, important phone numbers and such.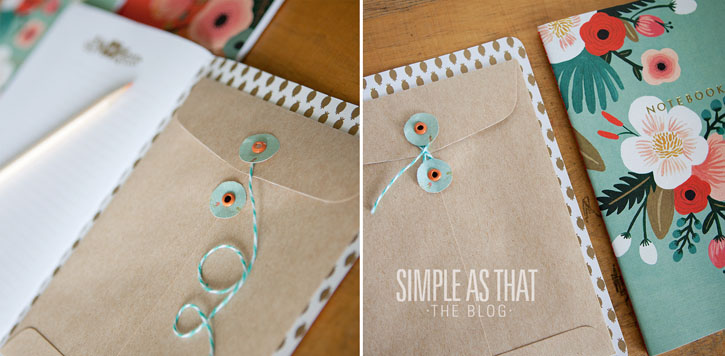 I know I'll have some loose papers that will need a safe place as well, so I added a quick little pocket inside the back cover of one of the notebooks to contain things like:
– ticket stubs and other memorabilia from the trip –
– photocopies of important documents –
– anything else I collect that needs a safe place –
I simply found an envelope that fit nicely inside the back cover of my notebook. Added a closure using
these instructions
and then glued my envelope in the notebook.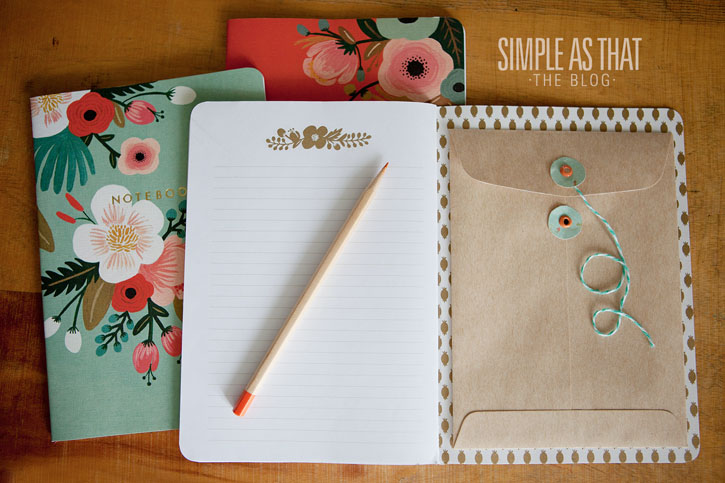 For more fun travel inspired projects visit
my brand new travel pinterest board
. There are so many great travel tips and travel inspired DIY projects online….take a peek at a few of my favs
here
.
I also shared a tutorial for making your own travel notepads with matching pens last year.
See images and instructions
here
.

I'm linking up at these super fun parties.
Have a great weekend everyone!
We'll see you back here again for
Simple things Sunday
. I'll be featuring some of my favourite photos
linked up this past week and I can't wait! If you're new around here and would like to join our weekly link up we'd absolutely LOVE to have you! Just snap a photo of a simple thing or moment that brought you joy this week and come share it with us!
If this is your first time visiting Simple as That I'd invite you to subscribe via
email or RSS feed
for the latest updates. You can also connect with me on
Facebook
, Twitter and Instagram.