Hi guys. How are you?
Are you feeling the holidays coming at you with the speed of one of those snowballs thrown when you aren't looking?
I feel that time is flying by so fast these days.
Everything is a bit unusual in our house this season. I would love to have all sorts of things planned for Christmas and do all sorts of crafty, cozy projects throughout December, but our reality is a bit different this year. Our little girl is set to join us in late December, right between Christmas and New Years. Since you never really know how and when this will happen, I decided that December is my "relax with no plans" month.
I have told everyone that I do not want to leave my house on Christmas and if our family wants our company, they should come over and bring their own food 🙂 So all my plans for this year ends this month. Kind of a nice feeling, to have one sole purpose at the end of the year, going into a new one, filled with new adventures.
Since it's still only November, I'm of course still crafting and I made this really cute little project, that you could make with your kids, and together create some beautiful Christmas gifts for friends and families.
The project will result in a wood block photo puzzle. There are endless ideas for what photos or images you could use. Maybe you have a stash of old photos, from when you were a kid, and maybe that would be fun for your kids to play with. It could also be vacation photos or maybe you have a stack of paper or wallpaper leftovers with patterns. Anything or theme could work, depending on who you are making it for.
I chose to use a selection of my illustrations and photos, turning them into a girly theme.
So let's start and get an overview of what you'll need for this project.

MATERIALS:
-WOODBLOCKS
I went to my hubby's garage and made 12 square wood blocks from scrap-wood, measuring 2x2x2 inches. This will give me a 4×3 block puzzle.  If you don't feel like making your own, hobby stores like
Michael
s will have square wood blocks.
-PRINTOUTS / WALLPAPER / PHOTOS
You need 6 images matching the size of your finished puzzle. In my case, my images measured 8×6 inches. (4×2 inch block on long side, 3×2 inch block on short side)
Prepare your images by drawing out a grid on the images with a pencil matching the size of your puzzle. You should end up with 12 identical squares in that grid.
If you like working with graphic software like Photoshop or Elements, then you can draw this grid directly onto your images in the program, and have it printed onto your photos to size.
-All in one DECOUPAGE GLUE(LIKE MODPODGE)
-SCISSORS
-BRUSHES
-PEN AND RULER

STEP 1:
Cut your images along the grid you drew on them. Stack the individual images and keep them separate from each other. Start by placing one cut up image on top of your blocks to get an overview of your image.

STEP 2:
Take a brush and start painting the glue directly onto the wood and attach one cut up piece of the image to each block.

STEP 3:
Go through the above step for each image and side of the blocks. You can finish about 3-4 images/sides of the puzzle and then let it sit to dry, before adding the last 2-3 images.

STEP 4:
When all your images are attached and dried, it's time to give the blocks a final finish with the glue. Again, work with 3 sides, let dry and then finish the last three. When you set them off to dry, make sure you use a plastic surface or something smooth that the glue won't stick to. Newspaper will leave marks on your images.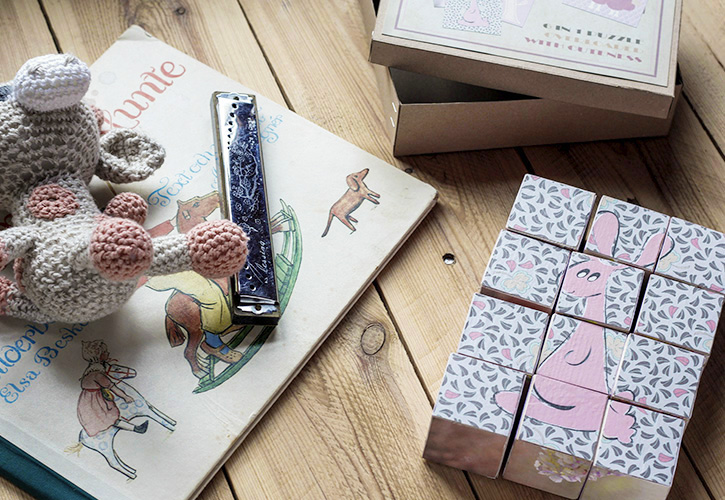 When the blocks are dried, you have yourself a finished puzzle 🙂
Since I started out by saying that this would be a lovely gift, a good way to top it off, is by creating some packaging for the puzzle. I'm not going to show you step-by-step on how I did. I think there are so many fun cute ideas to store a puzzle, like fabric bags, jars or just a cardboard box, that this is your choice entirely. I'll explain what I used and maybe this will inspire you.

CARDBOARD BOX:
I went to TemplateMaker where they have a cute selection of box templates. I used, specifically, this one template.
You can print it out and then you have your measurements and layout for your box. Then you trace this onto cardboard and cut out your box. I used simple staples to assemble the box.
To finish it off, I created a cover graphic to print and added to the top of the box. It made it look really cute and gave it sort of a retro look.
If you are not into making graphics, then some cool text or maybe just a printed image, will definitely make your box stand out.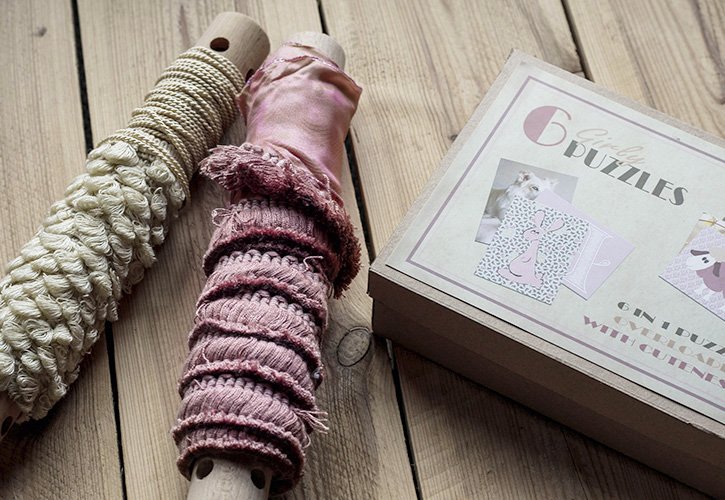 There's no gift without a ribbon 🙂 Since the packaging is so cute in and of itself, I decided that I only needed a ribbon and no wrapping. Turned out pretty nice, don't you think?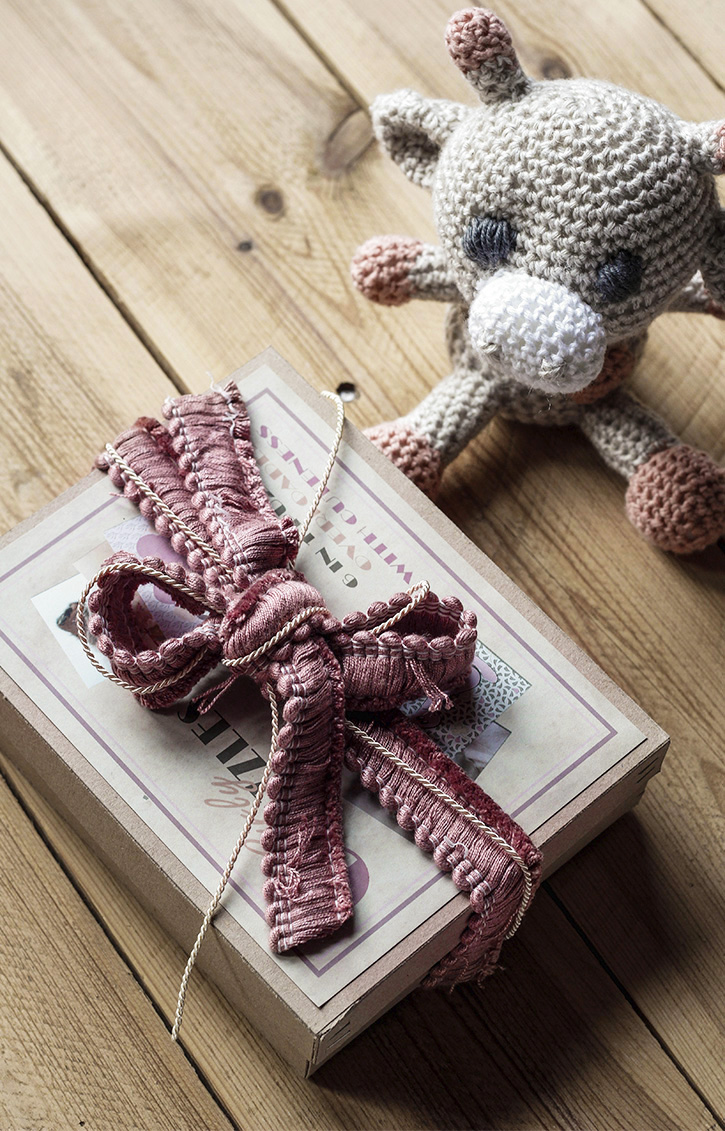 I hope you enjoyed this project and that it inspired you to create some personalized Christmas gifts of your own this year.
Have a beautiful November.
Annika