The
Back to School Week
fun continues and today I'm excited to share some simple solutions for documenting your child's school year memories with
Project Life®
+
Persnickety Prints
.
We just started a Project Life® mini album to record my kindergartners first year of school and we're having so much fun with it! My 5 year old thinks working on this together is the best thing in the world + I'm so thrilled to be starting her early on her Project Life® journey! We chose to use the Childhood Mini Kit – Mayfield Edition and one of these Project Life® Sunflower mini albums.
Come take a closer peek at some of the pages we've completed so far. We're keeping things as simple as we can – just photos, journaling + some school memorabilia. No embellishments necessary, its all about the story or her kindergarten year. If you need some tips on capturing your child's school year in photos, stop by this post from earlier in the week for some quick tips!
The first thing we did to get our little album started was order prints and we did this online with Persnickety Prints. This was my first time using them and I was so impressed with the quality of the prints, the colors and I really loved the convenience of getting my photos delivered straight to my door! I could go on and on about how much I love that I can order 3×4 size photos and that I can choose to have them done up with Project Life® rounded corners and everything, it's is so great and just cuts down on one extra step for me!
Next we started adding some journaling to the album. The Childhood Mini Kits are really helpful in recording school memories, there's so many great journaling prompts on the cards – its just a matter of filling in the blanks which makes it so easy! This is one of my favourite little cards…
Addie thinks it's so special to be writing and recording her own history in this album. Since we started putting the album together she's asked me several times afterschool if we can do more pages and add more to her scrapbook. She's really loving it and I love doing it with her! We're creating special memories while recording memories – it's so great!
I wanted to include some of Addie's school projects in this little album so I took photos of some things she's made or drawn. For tips on photographing your child's artwork visit this post. I simply cropped the photos I took to 4×6 size to fit into the mini album, uploaded to Persnickety Prints and ordered them printed on card stock. I just love how much these little pieces of art add to her album!
I'm so excited to continue adding to this mini album throughout the year. Project Life® continues to be my go to memory keeping system these days. It's perfectly simple and doable and easy! I can't wait to share more pages from our album as we continue to add to it!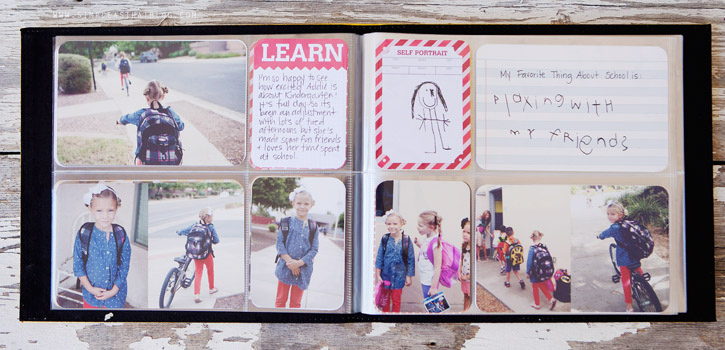 A little bit more about Persnickety Prints:
Persnickety Prints is a full scale professional photo lab operated by color and memory keeping specialists. We are fussy about the small details, and take pride in our work.
Simply upload your photos to your free online account at www.persnicketyprints.com and order prints. We've got square 3×3 instagram prints, Project Life 3×4's and anything else up to 30×40 enlargements.
Use coupon code Back2School for FREE shipping on orders of $20 or more // US only
Expires September 15th, 2013.
Enter to win a
Back to School
Project Life® Prize Package to help you get started documenting this school year with your child. Follow the prompts in the rafflecopter widget below to enter.
[1] Mayfield Childhood Edition
[1] Project Life Mini album of your choice
$25.00 in prints from Persnickety Prints
Giveaway open to US Residents only.