This is a sponsored post written by me on behalf of The Hillshire Brands Company. All opinions are entirely my own.
Easy Breakfast and Dinner Calzones – These delicious and easy breakfast and dinner calzones are sure to be a hit with the family! Fill them up with your favorite pizza toppings; we add sausage to ours and they are delicious! Keep reading for two variations of these easy, loaded calzones.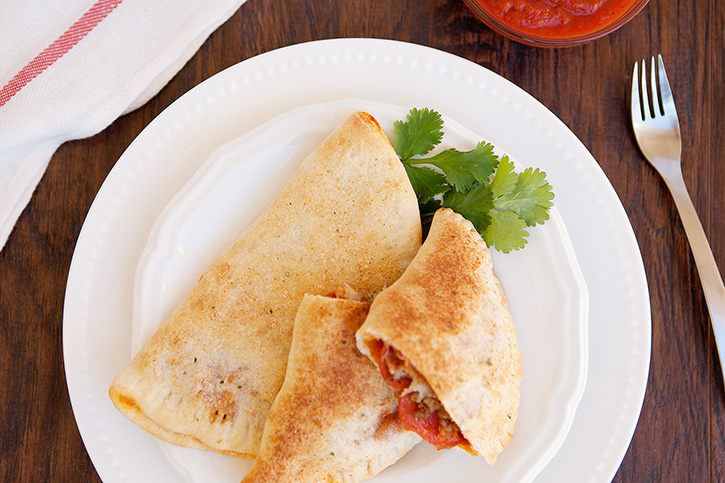 Today I've got two tasty variations of an easy recipe that you'll want to add to your meal rotation ASAP. I love it when I find a new recipe that the whole family enjoys and asks for again and again. These calzones are a new family favorite.
Easy Pepperoni and Sausage Calzones
These pepperoni and sausage calzones are as easy as it gets. My kids love helping in the kitchen and this recipe is great one to get them involved with.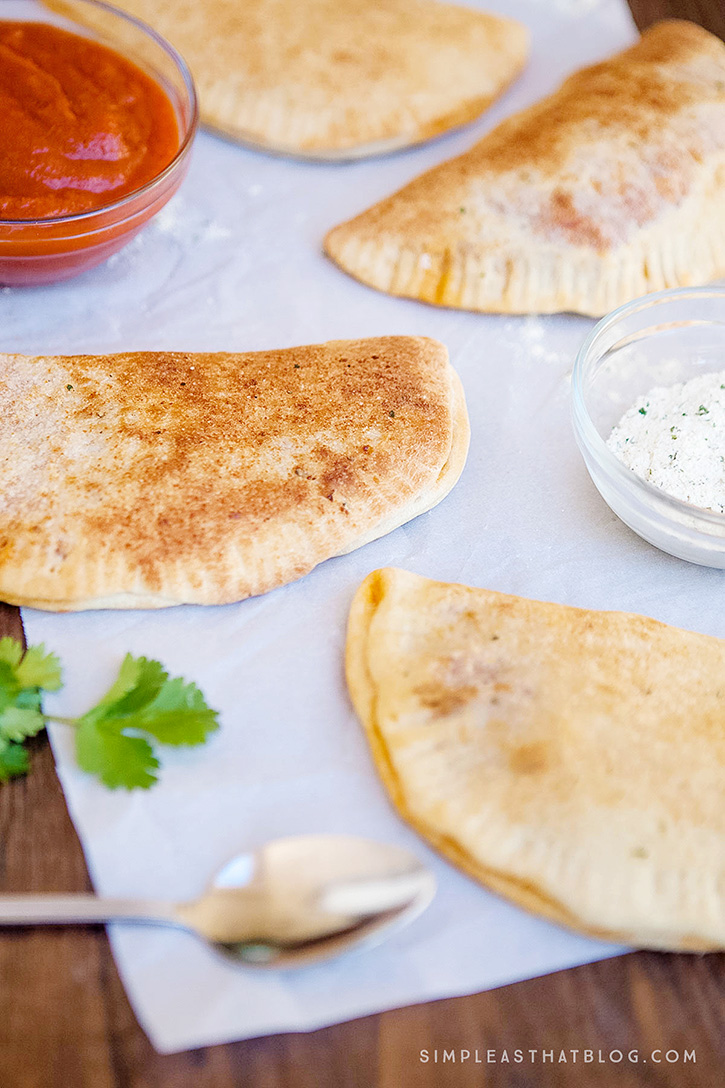 There's no precise measuring, no eggs shells that will end up in the bowl—just easy, kid-friendly steps they'll love helping with, from filling the calzones with their favorite ingredients to pinching the edges closed with a fork to brushing the tops with melted butter.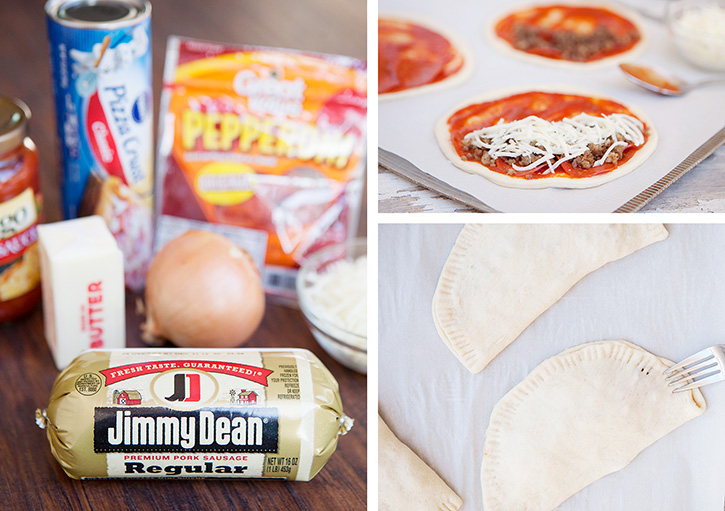 The ingredient that gives these calzones a bit of an edge is the Jimmy Dean® pork sausage that can be found in a variety of different flavors in the refrigerated section at Walmart. (What is it about sausage that always takes a recipe to the next level?!)

Easy Calzones
Ingredients
Pillsbury Pizza Dough
Mozzarella Cheese
Jimmy Dean pork sausage
Pizza Sauce
Pepperoni
¼ C. Melted Butter
Marinara Sauce
Ranch Salad Dressing and Seasoning Mix
Instructions
Chop one medium onion. Sauté over medium heat until soft.
Add ground sausage. Stir frequently. Cook until brown.
Drain and rinse.
Unroll Pillsbury pizza dough. Cut out circles using a large bowl.
Spread pizza sauce on each circle of dough.
Press edges with fork to seal.
Brush top with melted.
Sprinkle with Ranch Dressing mix.
Bake at 350 degrees for 10-12 minutes or until golden brown.
To add some extra flavor to our calzones we brushed the tops with melted butter then sprinkled ranch seasoning on top. I love that little ranch kick.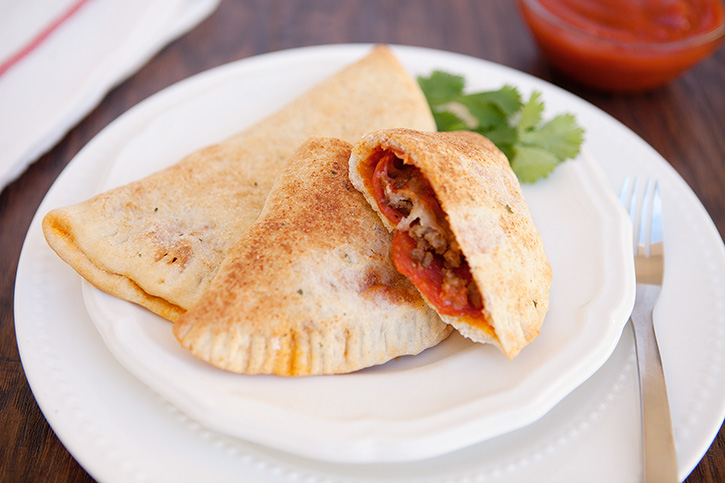 When your calzones are out of the oven you can enjoy them dipped in marinara sauce or ranch dressing. Serve with a healthy side salad, and you've got another dinner on the table!
Note: One container of Pillsbury Pizza dough will make 4-5 medium-sized calzones.
The possibilities are endless with how you can enjoy these little pockets. The savory dinner calzone is one way, or you can try these hearty breakfast calzones.
Easy Egg and Sausage Breakfast Calzones
I don't know about your house, but at ours school mornings can be crazy. I want to be able to get my kids a rounded breakfast, but it's often cold cereal when we're struggling to get out the door on time. Enter these delicious breakfast calzones, which help me take a weekday breakfast from "good" to "great."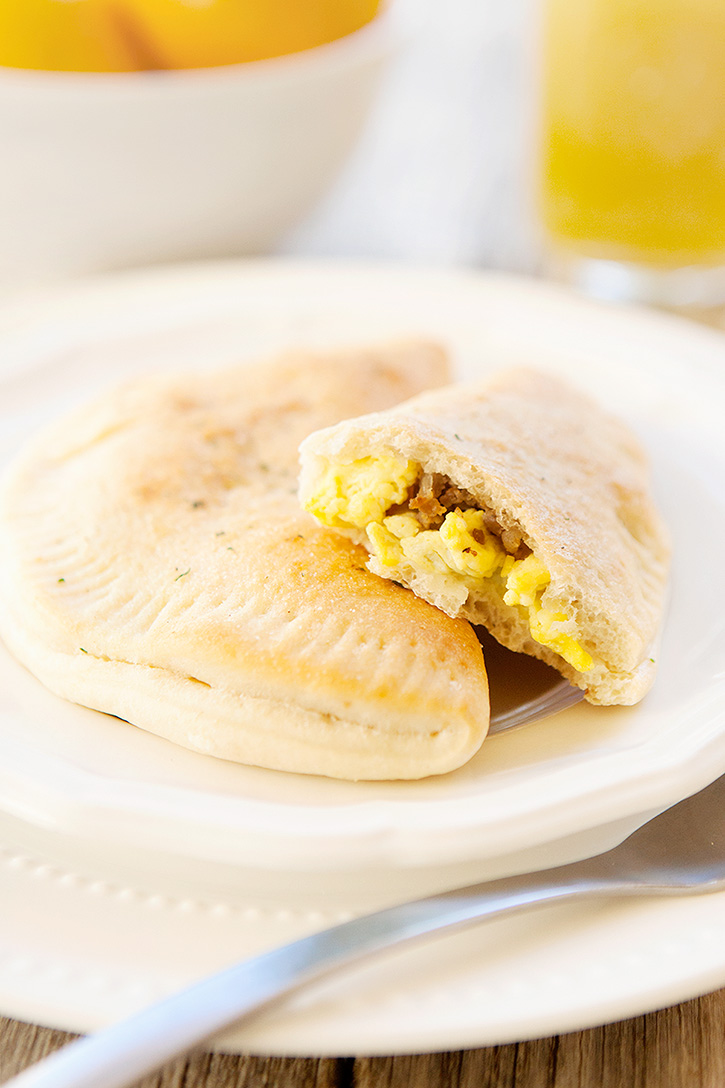 Filled with scrambled eggs, sausage and cheese, they're a filling breakfast that kids can eat on the go. What I love most is that they freeze so well and can be reheated and eaten on the crazy mornings.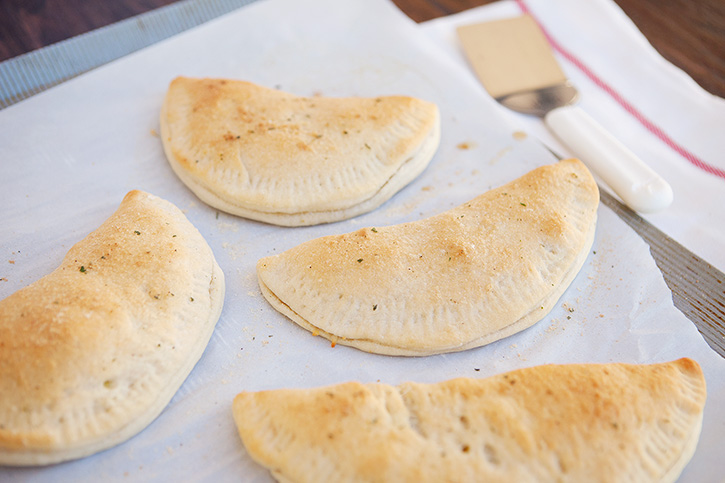 So when you're struggling to get the kids out the door with all their homework signed and your sanity in tact, send them off with one of these breakfast calzones and you can rest easy knowing they had a breakfast that will keep them full until lunch.
Ingredients
Scrambled Eggs
Mozzarella Cheese
Jimmy Dean Regular Pork Sausage
1/4 C. Melted Butter
Directions
Scramble eggs.
Prepare sausage and pizza dough according to the recipe above.
Layer eggs, cooked sausage and mozzarella cheese inside dough.
Fold in half; pinch edges closed with a fork.
Brush top lightly with melted butter.
Bake at 350 degrees for 10-12 minutes or until golden brown.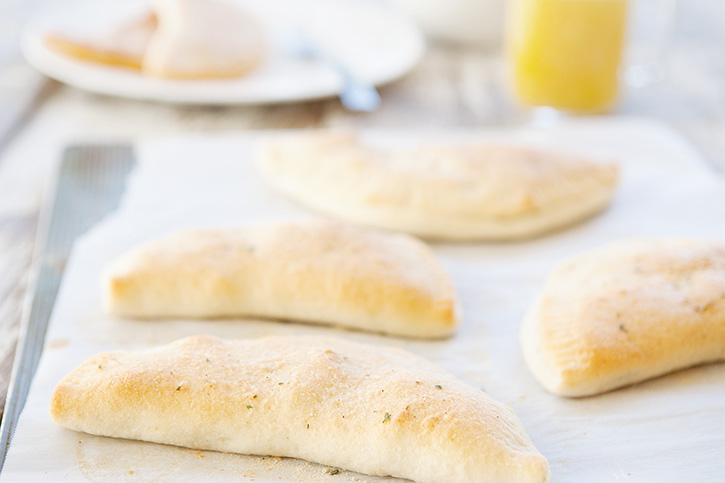 We tend to keep our breakfast calzones pretty basic, using eggs, sausage and mozzarella cheese, but you might think about adding fresh peppers or topping with salsa. I love avocados and I think some sliced avocados with these calzones would make a delicious, hearty breakfast.
If you're making a batch, consider doubling it so you can freeze some to have on hand. The sausage and pepperoni calzones would also be perfect for kids lunches.
I hope you enjoy this quick and easy calzone recipe. If you give them a try, you'll have to let me know what kind of fillers your family loved best. Visit joytothemeal.com for more fabulous recipes this holiday season and the rest of the year!
MORE SIMPLE AND DELICIOUS RECIPES TO TRY
25 Delicious Slow Cooker Recipes