Light and fluffy, this tropical fruit dip makes the perfect no-bake dessert for hot Summer days!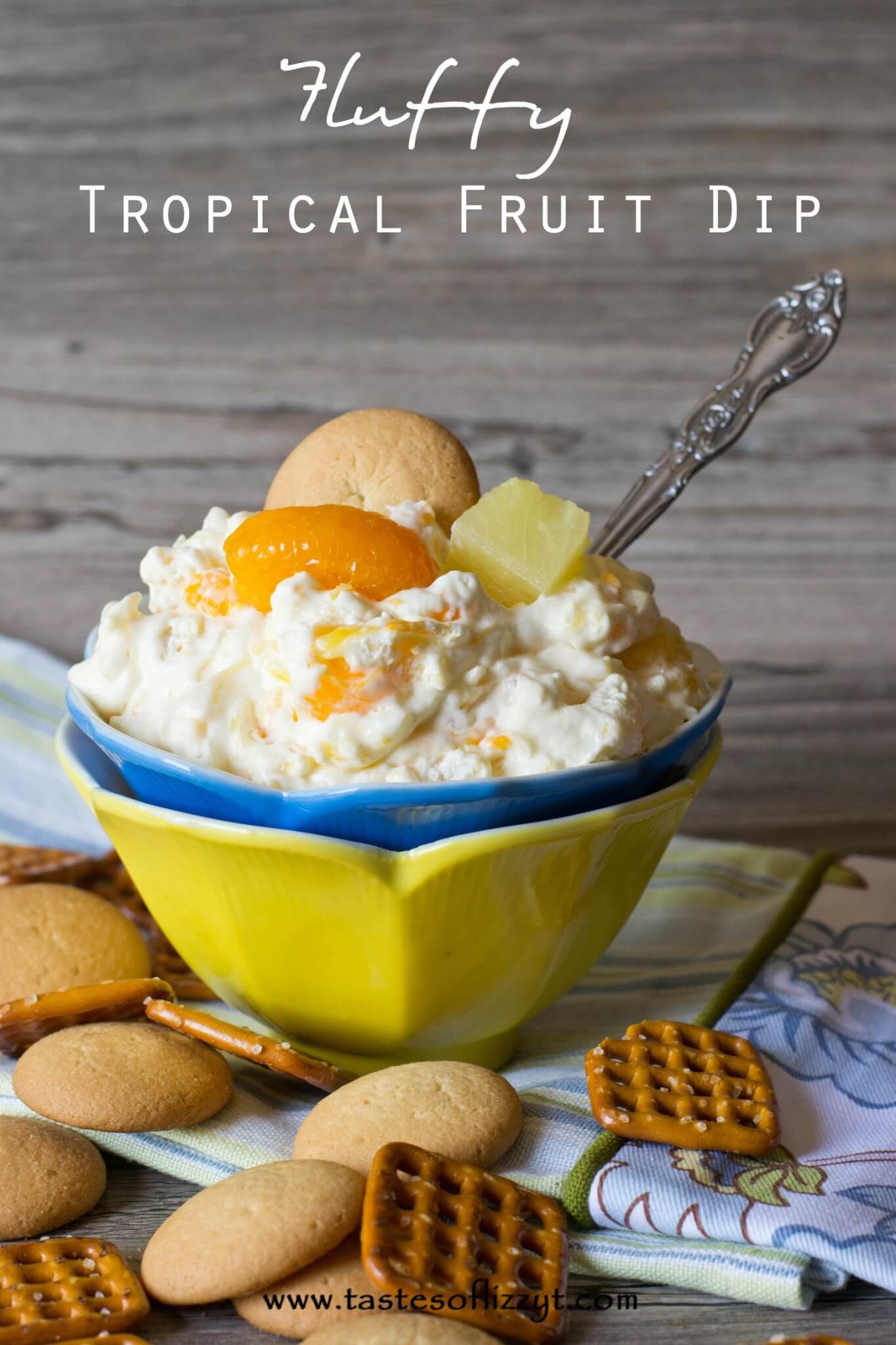 Hello to all of you Simple As That readers! We're Julie and Maddie of Tastes of Lizzy T. We're a mother & daughter team who love to spend time together creating in the kitchen. If you've seen us around, you know we love our sweets! When we think desserts, we usually head straight for the chocolate and peanut butter.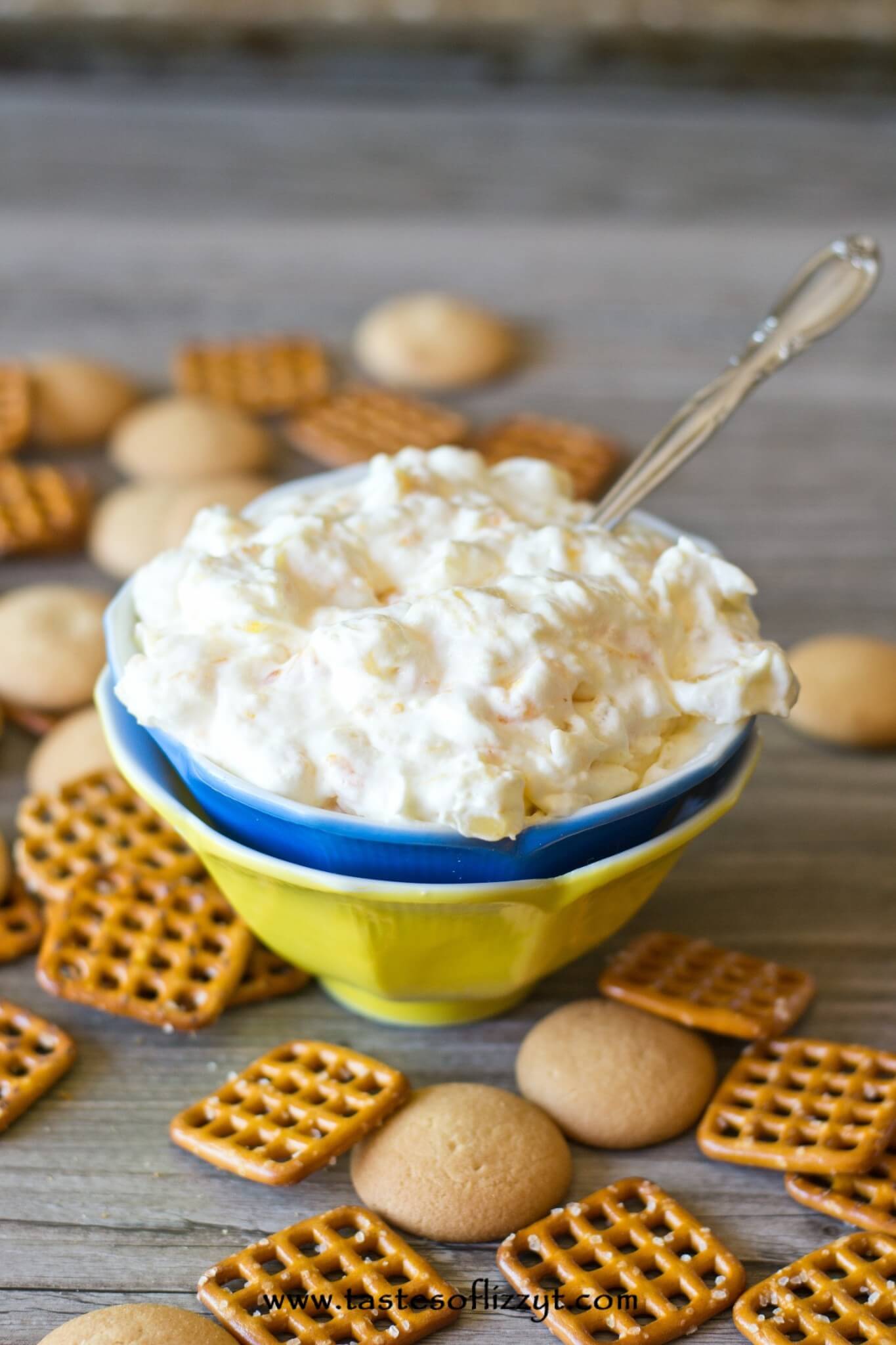 Even though rich treats are our favorites, every now and then we crave a light, fruity dessert. That's where this Fluffy Tropical Fruit Dip comes in! When the heat of summer hits, we all tend to think of no bake desserts. This fluffy dip is perfect for those hot, muggy days when you just don't feel like adding a single degree of heat to your house by turning on the oven. It's creamy, it's cool, and the oranges and pineapple make it tropically-refreshing.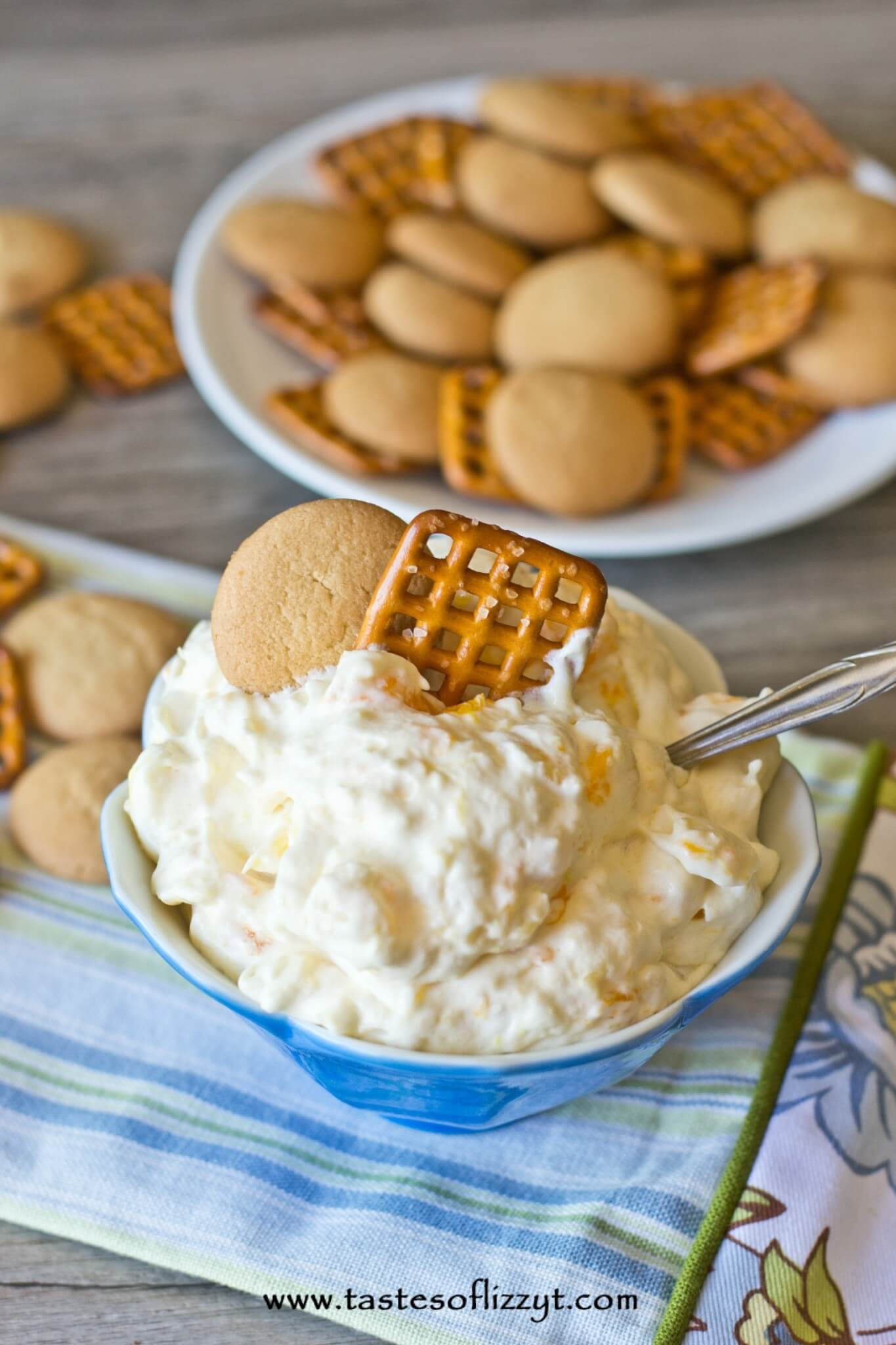 Not only is this dip no-bake,  it only takes 4 ingredients and about 5 minutes to throw together!
Here's what you'll do:
Drain a 20 ounce can of crushed pinapple. Place that drained pineapple and mandarin oranges in a bowl and add the vanilla pudding powder (from a 3.4 ounce box). Mix until all of the powder is absorbed in the pinapple.
Then you'll fold in 12 ounces of Cool Whip.
And then, you'll dig in with some pretzels or vanilla wafers. That's it. Simple as that!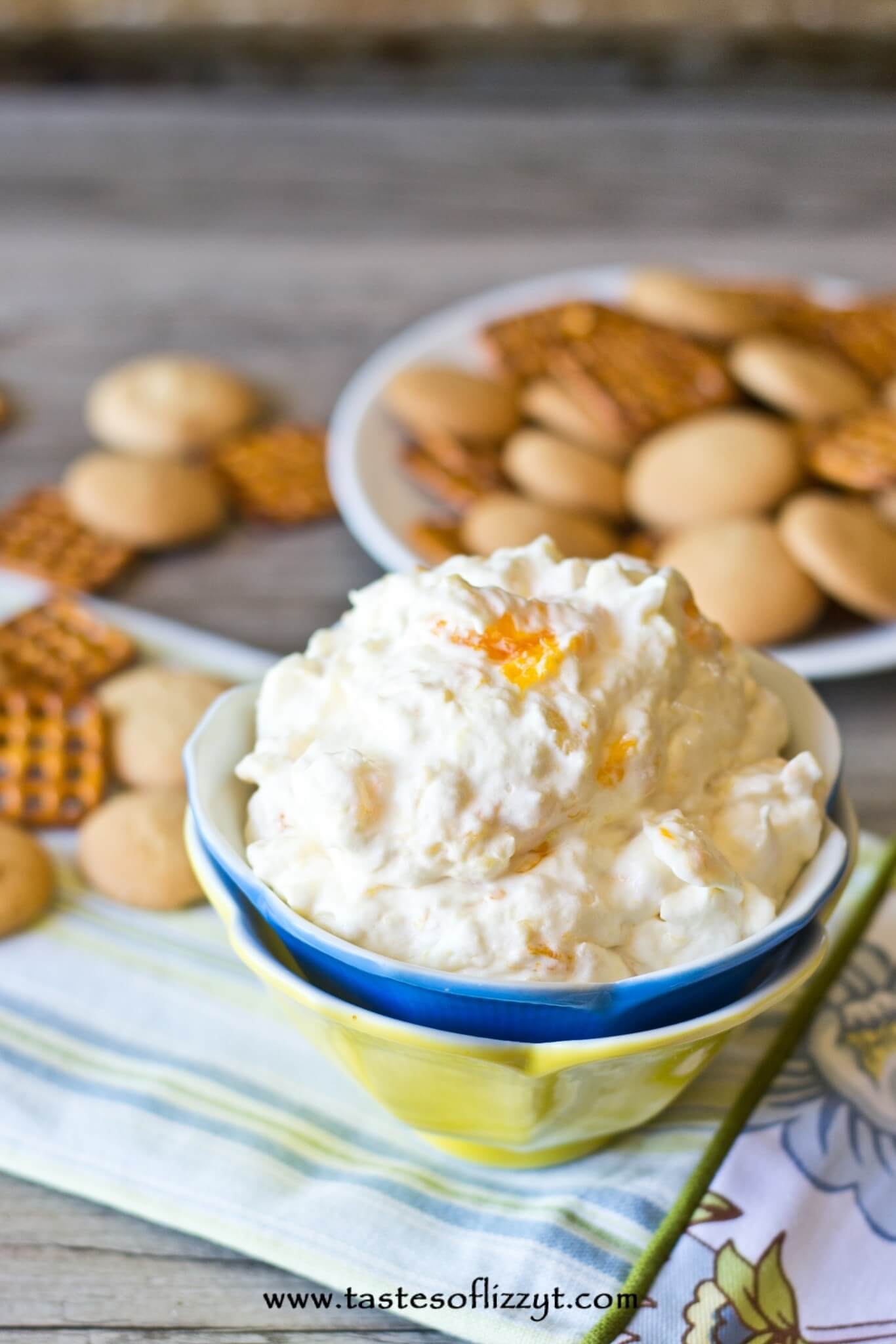 If you're on a low calorie diet, you can easily use sugar-free pudding and lite or fat free Cool Whip. Although the full-fat versions of Cool Whip make a dip that is creamier, the lite versions are just as good!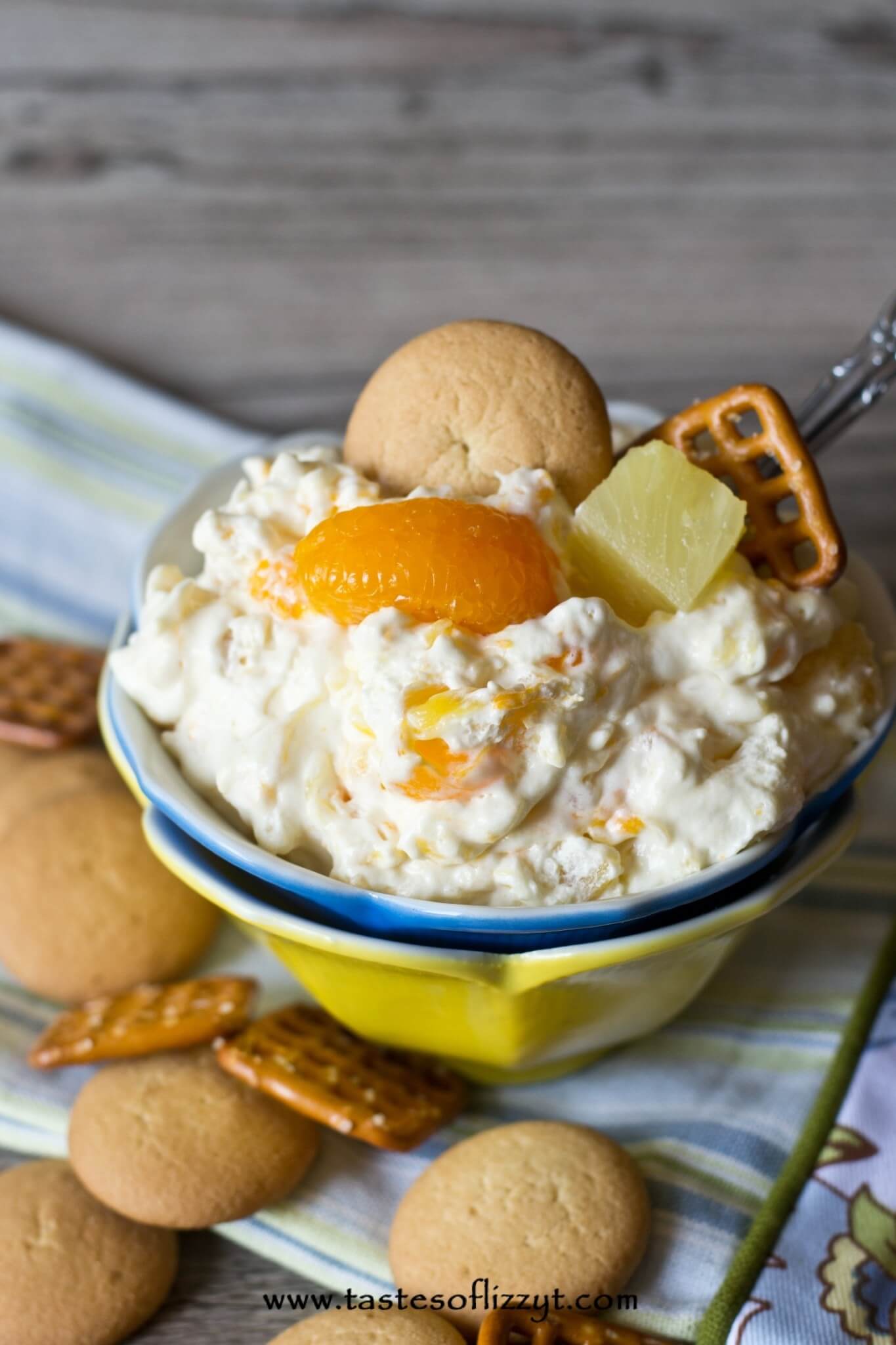 We're so thankful to Rebecca for allowing us to share with you today. We hope you'll come hang out with us on Facebook, Pinterest or Instagram! See you soon!
Julie and Maddie
Fluffy Tropical Fruit Dip
Ingredients
1 can (20 ounces) crushed pineapple, drained
1 can (11 ounces) mandarin oranges, drained
1 small box (3.4 ounces) vanilla instant pudding
12 ounces Cool Whip
Vanilla wafers, pretzels, or fruit, for dipping
Instructions
In a medium-size bowl, mix the drained fruit with the vanilla pudding powder until all of the powder is absorbed. Fold in the Cool Whip. Refrigerate until serving.
Serve with vanilla wafers, pretzels or fruit.