Use these printable Advent Calendar Christmas Countdown Tags to create your own advent calendar or to label packages in your Christmas book countdown. There are so many uses for these little tags this holiday season.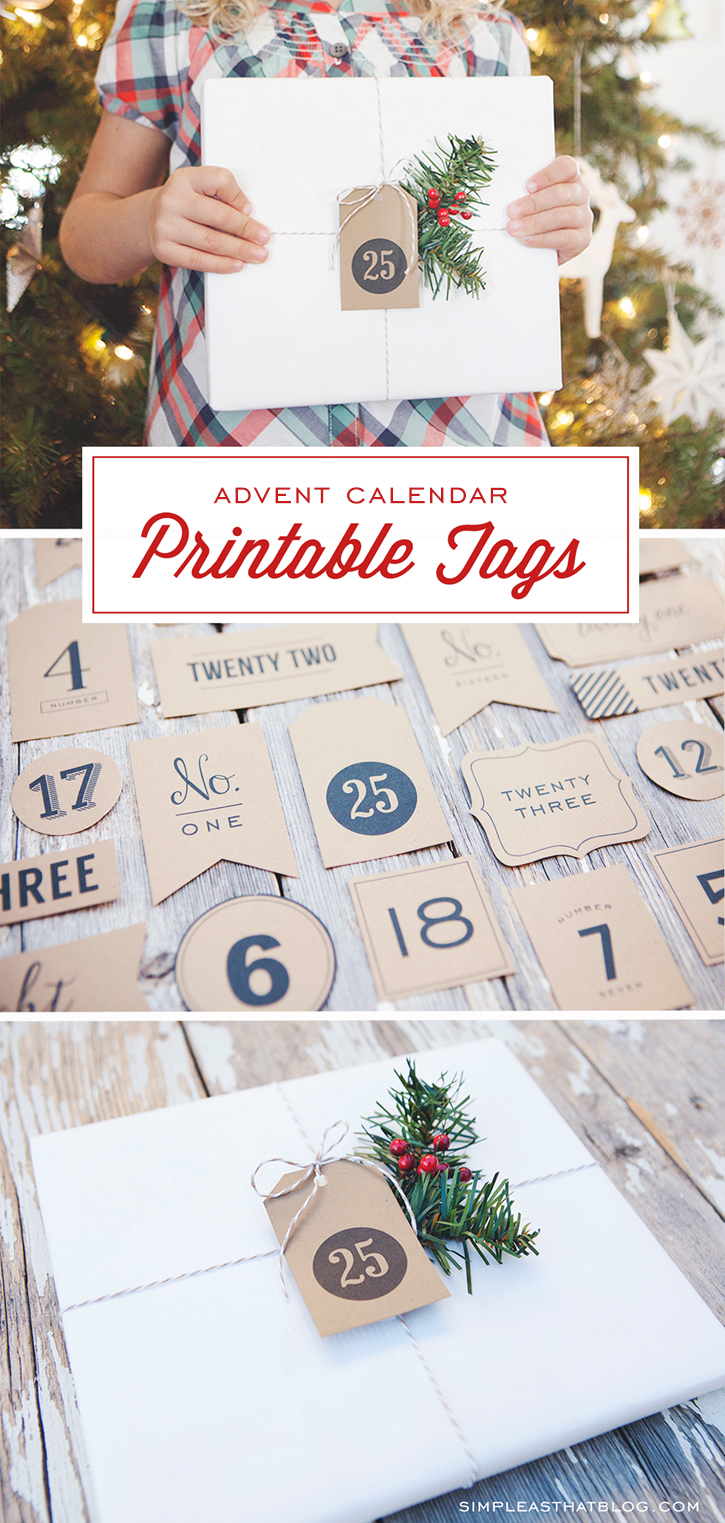 Focus on Meaningful Traditions
I've found that focusing our energy on fewer but more meaningful traditions brings so much more joy than spreading ourselves thin trying to do it all.
Enjoying a simpler holiday season is a priority for me so I let some of the other traditions go, but this is one of those tradition that means so much to us: our Christmas book countdown! I got our Christmas books out of storage a few weeks ago and have ordered a few new books to add to our collection this year! It's hard to believe December 1st is almost here!
We have many fond family memories of snuggling up on the couch and reading Christmas books by the light of the Christmas tree each year. I try my best to subscribe to a less-is-more mentality this time of year and I love that this simple tradition brings a bit of calm to the craziness of the holiday season. It gathers our family together at the end of each day, fosters connections and creates special memories.

About our Christmas Book Countdown
Through the years I've slowly added Christmas books to our collection. We borrow them from the library before we buy to make sure we'll really love them first. Near the end of November I pull our Christmas books out of storage and wrap them up to be place under the Christmas tree in a special basket/container.
We start our countdown on December first and the youngest child gets to open the first book. Each night before bed –pajamas must be on and teeth brushed first – we take turns opening that days book and then read it together as a family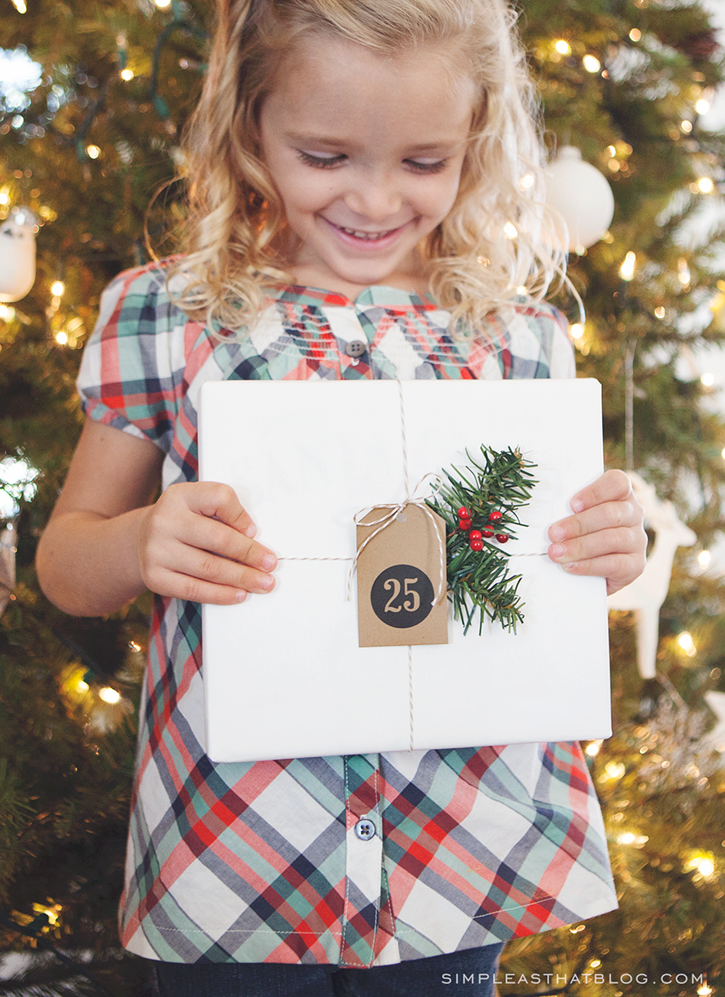 Packaging our Books
Wrapping 25 books is no small task so I like to keep the wrapping very basic, but still pretty, since these packages will be on display in our home throughout the month of Decemeber. I use white or brown wrapping paper – I love the look.
In an effort to keep things simple when it came to labeling all 25 of our wrapped books I created a a numbered set of advent calendar or Christmas countdown tags that I could easily attach to each package and reuse again each  year.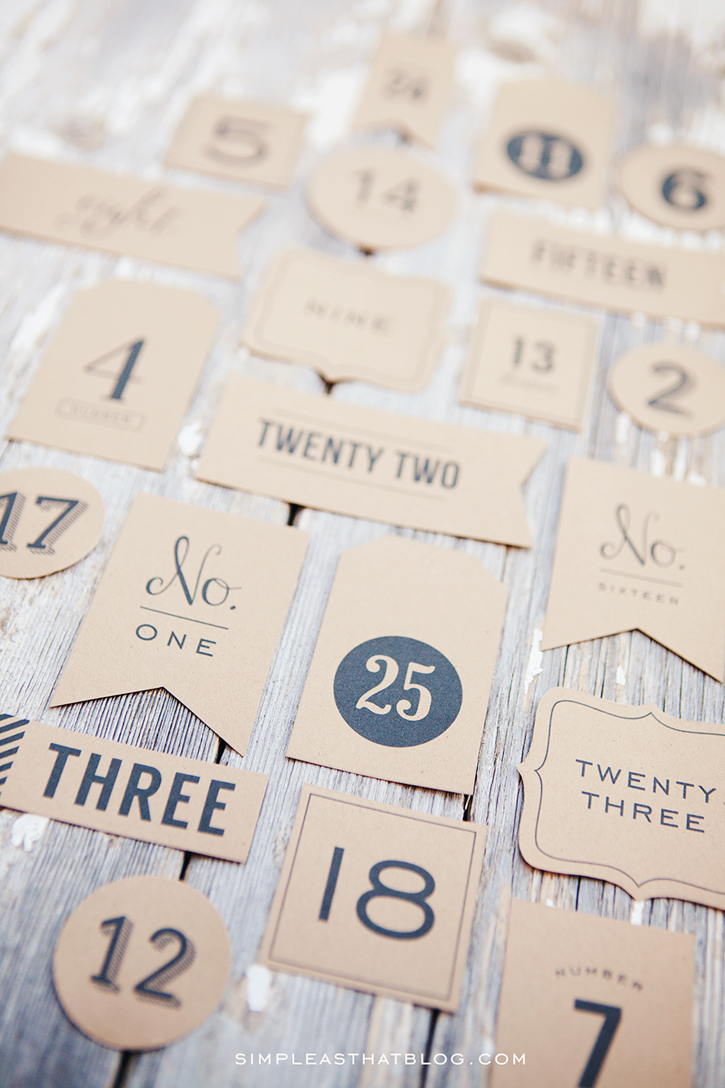 I created two sets of tags, one in black and white that can be printed on any colour paper  – I really like how they look printed on Kraft cardstock! I also created a pretty set of gold foil tags that add just the right touch of glitz and glimmer.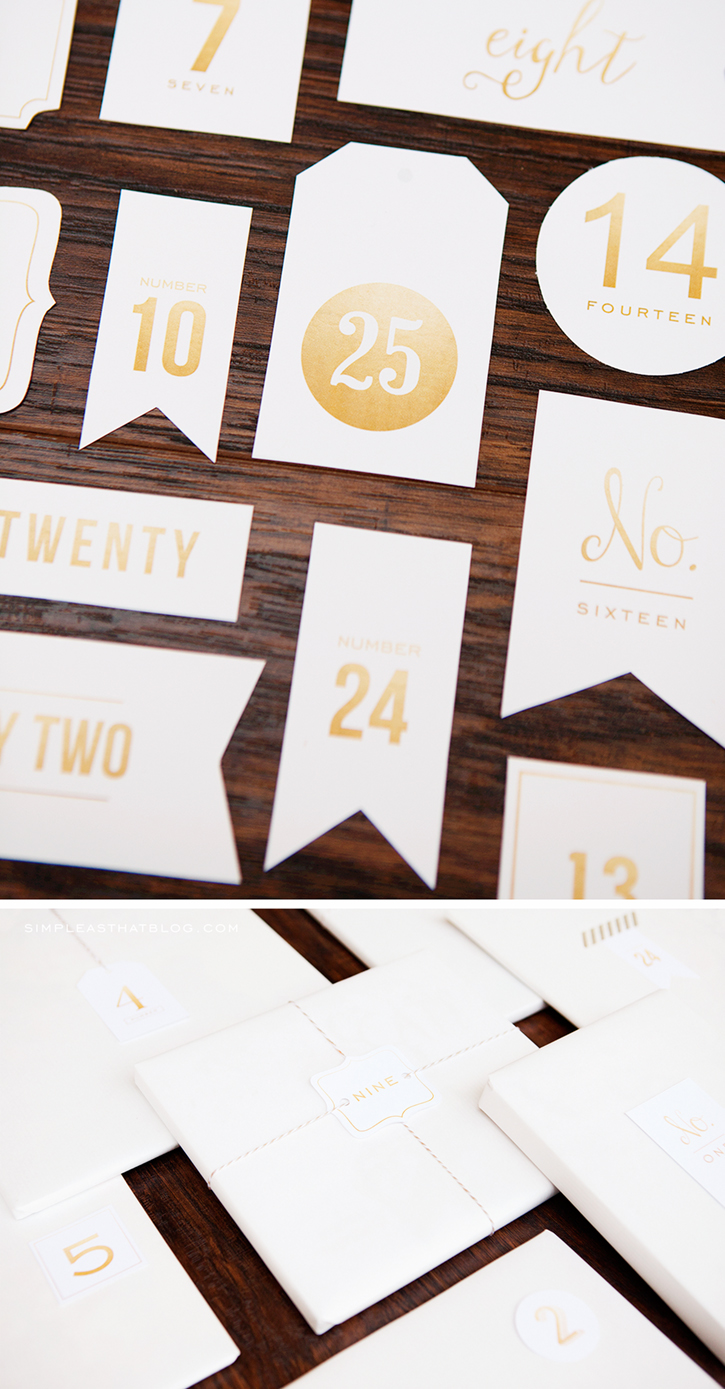 How to use these tags
You can use these tags to put together a simple advent calendar. Attach them to paper bags, a series of envelopes or small gift boxes to create your own countdown to Christmas OR you can use them like I did for our Christmas Book Countdown. Attach one to each wrapped book to be opened as you countdown to Christmas!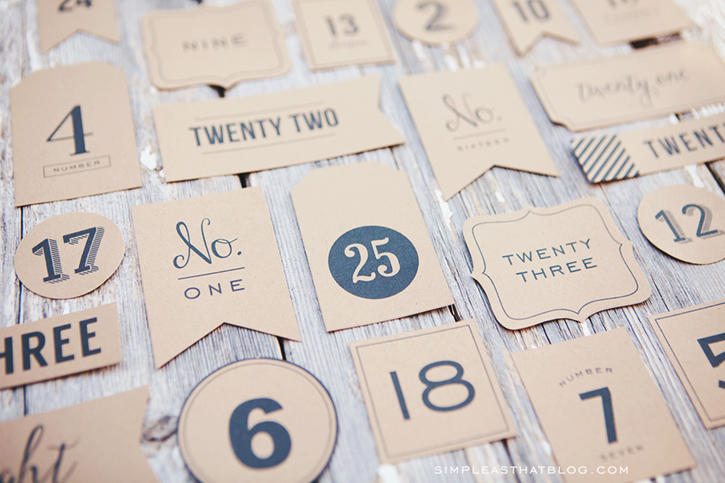 First you need to download the printable tags. They're available in PDF format. Next print the tags out. Print the gold foil tags on white cardstock and the black and white ones on kraft cardstock or another color of your choice.
Next cut the tags out, my current go-to scissors for craft and paper projects are these stainless steel softgrip scissors by Fiskars. After you've cut out your tags you can get as creative as you'd like with attaching them. You could use washi tape, twine, ribbon or simply tape the tags directly to your package and call it good.
I hope you enjoy these simple little tags, however you choose to use them this holiday season! I'm really excited to be using them to help wrap our books this year. You can find out more about our Christmas book Countdown in this post. I've collected some well-loved Christmas classics that we enjoy reading together as a family year after year.
Our top 12 Christmas Books
These are the books my kids look forward to reading the most and that I love reading with them! These books are sentimental and carry with them many special Christmas memories. You can find a list of 50 of our favorite Christmas books in this post.
If you liked this post you might also enjoy…