My girls are always excited to include their favorite Disney movie in any holiday celebration and Valentine's Day is no exception! This Valentine's Day we're keeping things cute, cheap and oh so COOL with these free printable Disney Frozen valentines! 
Handmade valentines don't have to take a lot of time and they definitely don't have to be expensive! I do my best each holiday to keep things within a budget – my husband is a student after all – and these Frozen fruit snack toppers make that easy!
My two youngest girls (ages 7 and 5) love anything Frozen and I think it's pretty safe to say, a lot of their friends do to! We'll be giving out these Disney Frozen fruit snacks this year and we're dressing them up with these cute Frozen themed toppers.
To put these together you'll need:
Disney Frozen fruit snacks
Disney Frozen fruit snack topper
Scissors or paper trimmer
Stapler
Click here to download Frozen Valentines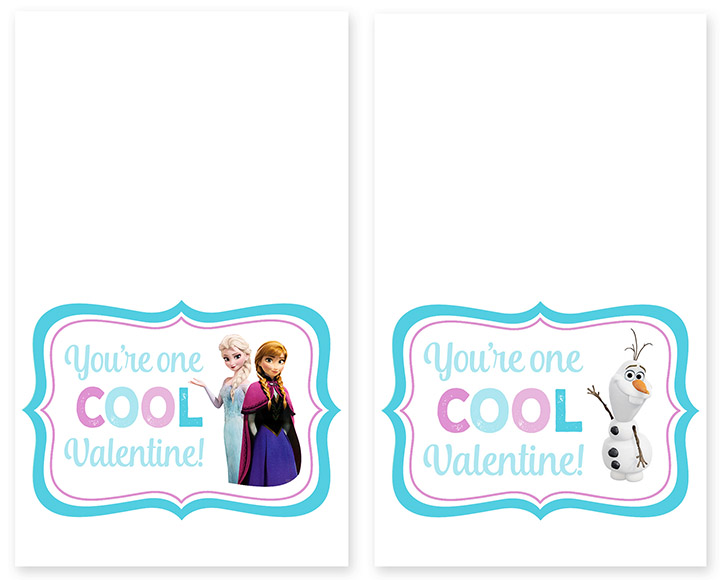 To put your Frozen valentines together first download and print the fruit snack toppers. There are four per sheet, print them out on white cardstock.
Next, cut out your valentines – their are guidelines to follow. Now fold your toppers directly in half and crease the fold. You'll then take the fruit snack topper, center it along the top of the fruit snack and staple in place.
The back of the valentine is blank so once you have them all put together you can have your child add their name to the back and that's it! You're done.
For more Valentine's Day inspiration check out these posts…
Printable Minecraft Valentines
Conversation Heart Sugar Scrub
Owl and Minion Valentines Boxes
Printable Pop Rocks Valentines
14 Fabulous Non-Candy Valentine Ideas