Hello Simple As That readers! I'm honored to be able to share one of our favorite crafts with you today. My name is
Brooke Leigh
– I'm the mother of a spastic two year old boy & a sassy two month old baby girl. You can find me (and my crazy, loving family of course!) over at
First Avenue
.
During this time of year everyone seems to go through a lot of these! I'm a firm believer in trying to reuse as many things as we possibly can, so why throw those old Kleenex boxes away when you can recycle them?
My son is HUGE into cars right now (seriously, we have an overwhelming amount here, I step on them constantly.) So, we turn these old Kleenex boxes into cars. You heard me right, cars! He'll push these around on the floor as if they were an actual toy car, & shove his matchbox cars in them. We even gave one away as a present box when we went to his friend's birthday party, & for a three year old boy – receiving a car shaped gift box filled with small goodies was like me opening a box from Kay Jewelers. Oh goodness, I got away with my rambling – I should get on with the project!
If you have an older kid, you can have them do the "prep" work with you. Since my son is so young, I have everything set and ready to go for him before bringing him over to the table. Each Kleenex box is wrapped in scrapbook paper – you can do a solid color or multi color – whatever your child's preference is. The wheels are circles cut out of thick foam. (You can purchase this at any craft store for about $1.50 a sheet. We use the bottom of an average size coffee mug to trace our circles – you can get about 16 wheels out of one sheet if you do it this way.) It's rather hard to cut a perfect circle out of foam, but since we don't mind imperfection here, it's okay their rough around the edges!
You can decorate the covered Kleenex boxes with a variety of things; stickers, markers, crayons, colored cotton balls, honestly pretty much anything you have laying around the house! I just recommend picking up some large googley eyes to give the car some attitude! However, you can just draw them on to save costs. My son LOVES making the eyes move. So, that's not an option at my house. (Oh, how wonderful it would be to be amused by such simple things!)

Oh! If your family is anything like mine – innocent crafting can turn into a fight if you don't keep nearby to be the referee! What one cousin has – the other surely will want!
Here is our finished products after we had glued on the wheels & googley eyes! Adorable, right?! They are ready to be played with, or even turned back into a Kleenex box if you want to add a little decor to your little ones bedroom. (just tuck those tissues back in & place on the nightstand!)
I hope we inspired everyone today! If anyone decides to make a Kleenex box car – send me a picture! I'd love to see how yours turned out! Thank you, Rebecca for allowing us to take part in your Friday craft series.
It sure was a blast!
– Brooke Leigh
Thank YOU Brooke for this adorable idea, I can't wait to make some of these kleenex box cars with my kids!
What kind of crafty fun have you been having with your kids this week? Link up below and share your ideas with us! Don't forget to grab a button (copy and paste the html code) and include it in your blog post.
Happy Crafting everyone!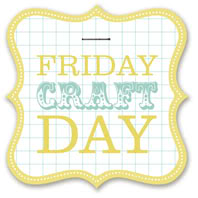 PS. I will be sharing more fun and simple children's craft ideas each Thursday and would love to feature some of the crafty things YOU like to do with your kids! If you're interested in guest posting here on simple as that, email me with your fun and simple
friday craft day
idea & you could be featured!